Picture this…Awe-inspiring canyons, sparkling glaciers, magical waterfalls, enchanting secret hideaways, secluded hot springs, the most refreshing air that you could breathe and the purest water on earth…Heavenly, you say? Welcome to Iceland.
Glorious Iceland is a place where you will become one with nature. It's a country that boasts and unlocks the incredible power of the earth. This otherworldly island nation is a nature lover's paradise. If you are searching for a peaceful and Zen-like getaway, Iceland should be at the top of the list. It truly is an unbelievable experience connecting with the beauty of this vast land and is so nourishing to the soul. Trust me when I say, you will return to your life feeling centred and calm.

My girlfriends and I visited Iceland in September and had the most amazing 6-day Iceland adventure where we indulged in the finest foods Iceland has to offer, stayed in the most quaint boutique hotels and experienced adventures like none other.
Thankfully, my friend and I love to plan holidays. For months, we carefully researched Iceland to create a luxurious and exciting itinerary for all. To ensure we didn't miss happy hour, we picked the most hospitable and cosy hotels that were a quick drive from our highlighted daily adventure tour. Our itinerary was so well done that we found ourselves slapping high-fives to each other at the end of every day! LOL
The Itinerary at a Glance:
One of the best and most surprising parts of this holiday was the relaxing and peaceful feeling of being able to take our time driving the Ring Road. We could enjoy the beautiful scenery along Iceland's south coast at leisure. This self-drive itinerary starting from the Keflavik airport is so easy to do, even if you've never driven in a foreign country. The roads are smooth, and well marked with minimal traffic. There are no congested NYC highways or bumper-to-bumper traffic jams here!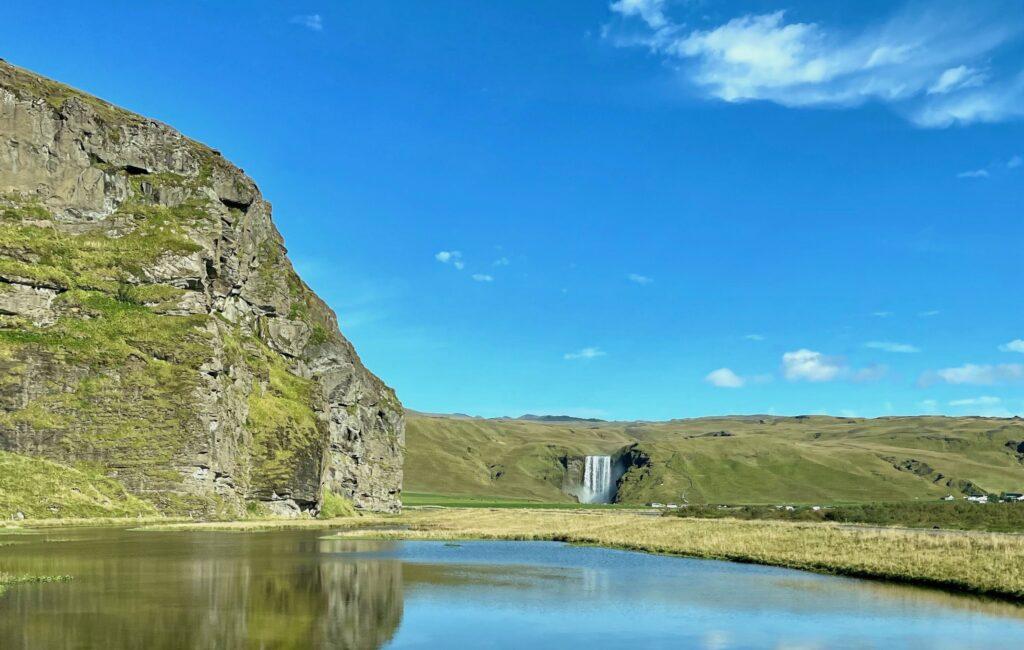 Take in the sights of the majestic waterfalls that dot the highway, black sand beaches, glacier lagoons, Diamond Beach, and endless thermal pools. The Golden Circle attractions include Geysir, Gullfoss Falls and Thingvellir National Park, where you can ( if you dare) snorkel in 35F water between the earth's tectonic plates- a breathtaking experience, literally!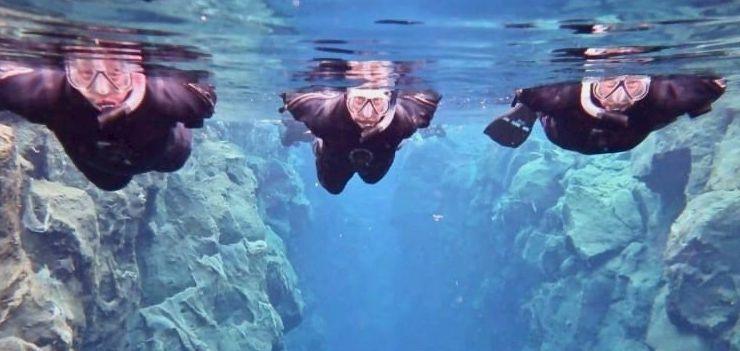 Prefer a heartwarming lunch, in a delightfully warm greenhouse, then Fridheimar Tomato Farm fits the bill. Making your way to Iceland's capital city, Reykjavik gives the opportunity to shop for handmade wool sweaters, while walking the pedestrian-friendly roads in this upbeat centre. Lastly, a visit to Iceland isn't complete without indulging yourself at the Retreat Spa in Blue Lagoon. This is an experience like none other. It will, without a doubt, be a holiday to remember.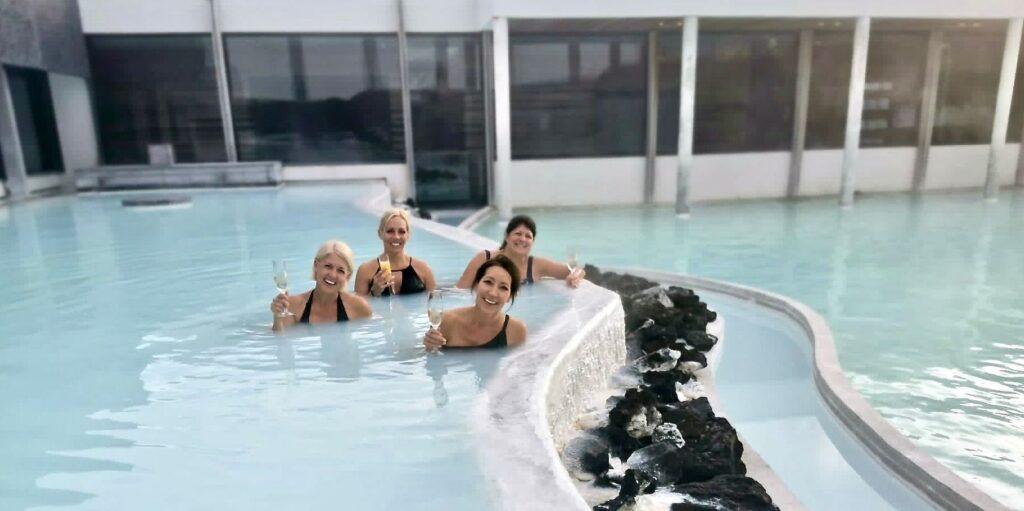 The Itinerary & Interactive Map:
Day 1: South Coast, Waterfalls & Hidden Gems
Day 2 – South Coast Highlights including Kayaking in the Glacier Lagoon, Jökulsárlón
Day 3 – Explore the Golden Circle & Retreat Hotel with Thermal Pools and Northern Lights
Day 4 – Take a trip Inside a Volcano & Tour Reykjavik
Day 5 – Snorkel between two Continents
Day 6 – Retreat to the Blue Lagoon & Home
Interactive Map Displaying All Itinerary Stops:
The Essentials:
I made these handy, printable & editable Iceland Itinerary brochures and also included an Iceland Packing List. This packing list is incredible and we even tweaked it since returning home as we missed some essential items! The best thing about the brochures was having all of our information at our fingertips. This included all of our scheduled adventure activities, dinner and hotel reservations. Everyone just loved how organized and easy it was to fit into our backpacks and purse.
Another essential planning guide that we used was Rick Steve's Iceland Guide. It was easy to follow and offered great tips for visiting Iceland!
Tips For renting a car in Iceland:
You will most likely arrive at the Keflavik International airport. Airport code: KEF
The airport is approximately 50-minutes from Reykjavik
Hire a Car! The best way to see Iceland is by renting a car. You may want to use Kayak or carrentals.com, to begin with for checking car rental rates. We used Avis. It was located inside the terminal and was quick & easy to get our car rental.
Be sure to check with your credit card for the car rental insurance that they cover. Most times they will offer better coverage than the car rental company. Note: you must use your credit card for the payment for the car insurance to be covered. You will also need to waive the insurance from the car rental company in order to be covered by your credit card.
Gas and filling up: It is important to note that most cars in Iceland take diesel so be sure to ask at the rental counter. In addition, gas stations are somewhat hard to notice. They are mostly unattended and resemble a pull-in rest stop with two pumps! You will pay by way of credit card.
Other ways to get around:
If a self-guided tour is not for you, there are plenty of tours that you can take. If you are looking for a bespoke luxury tour of Iceland, check out Nordic Luxury Tours. Nordic Luxury, offers specialized and carefully crafted trips throughout Iceland, Greenland, Norway, Finland, Denmark, Sweden and Faroe Islands.
There are also plenty of day trips that you can take right from Reykjavik where tour companies will pick you up at your hotel. Check out Arctic Adventures for a list of trips from Reykjavik.
Top 10 Tour Highlights:
Day 1: South Coast, Waterfalls & Hidden Gems
Total time driving for the day 1 – 2 hours and 37 minutes
After landing at the Keflavík International Airport and renting our vehicle, it was time to start our Iceland road trip in 6 days! The first day of your trip will consist of seeing some of the hidden gems along the South Coast of the island.
Stop 1: Lava Centre Interactive Exhibition is a wonderful introduction and a great way to kick off your visit to Iceland. The Lava Centre is an interactive, high-tech educational exhibition depicting volcanic activity, earthquakes and the creation of Iceland over millions of years. Don't miss climbing to the top of the building from the outside to view all of the Volcanoes from a distance.
Stop 2: Lunch at Skálakot Manor – Continue driving south for approximately 25 minutes to reach the Skálakot Manor hotel and restaurant. The hotel is nestled in amongst the foothills of the Icelandic mountain range. The restaurant is the perfect place to rest and relax and enjoy a delicious meal all the while looking out at the amazing scenery. This hotel also offers luxury rooms and amazing tours that can be organized right through the hotel.
Stop 3: Seljalandfoss & Gljúfrabúi  Waterfalls – located 13 minutes' drive from Skálakot Manor are the majestic Seljalandfoss & Gljúfrabúi Waterfalls. Park and walk a short distance to discover these magical waterfalls. You can walk behind the Seljalandfoss waterfall for some great pictures.
Venture along a path not too far away and you will discover the Gljúfrabúi waterfall. This awe-inspiring hidden wonder rises 40 meters high and is partially hidden behind a large cliff which gives it a mystical lure. You can hike through a shallow section of water that opens up into this awe-inspiring waterfall. It is incredible. *Note: We were well prepared for walking through the water after purchasing waterproof shoe covers. We motored past people and our shoes stayed dry.
Stop 3: Umi Hotel and a dinner reservation at 7 pm – Located approximately a 20 minutes drive from the Seljalandfoss waterfall is the super quaint and beautifully decorated Umi hotel. The Umi hotel is a family-run boutique hotel featuring 28 rooms in a very peaceful setting with views of the nearby mountains and along the south coast shore.
The rooms and interior design throughout the hotel are gorgeous. The hotel offers a first-class restaurant with a unique view of the Westman Islands and the southern coastline, as well as a lounge bar with a view of the famous subglacial volcano Eyjafjallajökull and the beautiful mountain terrain surrounding it. 
This hotel is very warm and inviting; from the drinks in the lounge to the five-star dinner, the views, the rooms and the breakfast that is included. This hotel is first-class all the way and I would highly recommend it!
Day 2 – South Coast Highlights including Kayaking in the Glacier Lagoon, Jökulsárlón
Total time driving for the day 2 – 3 hours
Stop 1: Visit Scenic Seljavallalaug: Become Awed at the hidden thermal pool and vast landscape of Seljavallalaug. Located 1 km from the Umi Hotel, and not far from the Seljalandfoss waterfall is this secret hideaway that should not be missed.
This secret thermal pool is tucked away amongst the mountains and was established in 1928. The man-made thermal pool is spring fed and not attended. I will note that the water was only lukewarm. We decided to take in the amazing scenery instead of swimming in the thermal pool. The views are absolutely incredible and there was a sense of feeling like you were completely immersed in an Icelandic postcard. We were so grateful that the hotel recommended that we make this stop as it was not on our itinerary.
Stop 2: View the breathtaking Dyrholaey landmark: Drive approximately 30 minutes toward Vik from Seljavallalaug to reach the Dyrholaey landmark. Dyrhólaey literally means "the hill island with the door hole" and is the iconic landmark of the south coast of Iceland. This arched peninsula is amazing on its own and also offers drop-dead gorgeous views of the Reynisfjara Black Sand Beach below. It is truly breathtaking.
Stop 3: Visit the mysterious yet glorious Reynisfjara Black Sand. Just a short distance from the Dyroholaey landmark lies the Reynisfjara Black Sand Beach. The "Black Sand Beach" is the most popular attraction in Iceland. Black volcanic sand, towering basalt rocks and the crashing waves of the Atlantic ocean give you a sense of majestic mystery. It is also here where filming for the Game of Thrones provided backdrops in Season 7.
Be very careful here, and never turn your back to the sea as the waves can change in an instant. The powerful surge could pull you out to the ocean very easily.
Stop 4: Kayaking at the Glacier Lagoon in Jökulsarlon. The drive from the black sand beach to the Glacier Lagoon Kayaking meeting point is approximately 2 1/2 hours. It is a scenic drive as you pass through the little town of Vik and then pass by lava fields, waterfalls and glaciers. At times it felt reminiscent of an almost alien type landscape.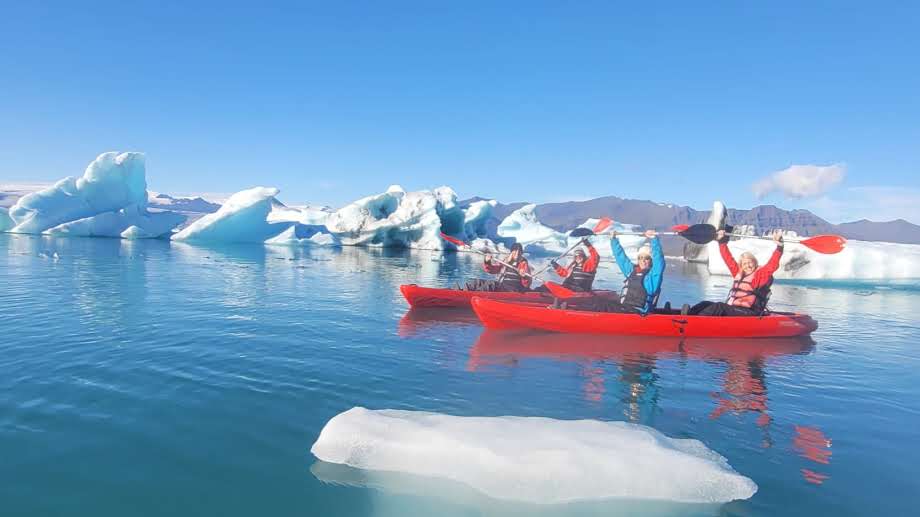 Kayaking at the Glacier Lagoon was Incredible! We had a beautiful day and the Glaciers were glistening. We booked a tour through Ice Guide Tours. Glacier Lagoon tours are offered from May to September. Paddling on the Glacier lagoon provides an outstanding experience and gives participants a magnificent view of the ice cap and the vast dome of ice that rises above. You will get up close to glaciers while watching the birds perched on top of the icebergs. If you are lucky you may spot seals swimming by!
Our guide was amazing and educated us on the glacier and the environmental changes that have been occurring. If you are a nature lover this tour will be perfect for you! It is a bucket list adventure for sure! The tour lasts approximately 1.5 hours.
Stop 5: Sparkling Diamond Beach: Directly across the street from the glacier kayaking is Diamond beach. The beauty of Diamond Beach is that it is a 365-day-a-year phenomenon. The ice in the lagoon and the glacier is constantly breaking away into the sea, meaning that there is always new ice diamonds being washed up on the shore all the time. Sparkling ice that resembles diamonds! How cool is that? This would seem like an Instagram worthy place for some great diamond-looking photos. A true one-of-a-kind place in our world!
Stop 6: Rest & Relax at the Fosshotel Glacier Lagoon: Approximately 20 minutes from the Diamond Beach & Glacier Lagoon area is your stay for the evening. This hotel offers stunning views of the ocean and the surrounding mountainous backdrop. It also has a gorgeous secret waterfall nearby and is walkable from the hotel not to be missed. The rooms were very comfortable and decorated beautifully.
Enjoy a hand-crafted cocktail in the modern tastefully decorated lounge along with a divine charcuterie board before heading to the restaurant for dinner. Dine under the stars in this gorgeous setting overlooking the ocean. Tastefully decorated and has a menu that is focused on the Icelandic nature surrounding the area. The food was incredible and definitely memorable.
Day 3 – Explore the Golden Circle & Retreat Hotel with Thermal Pools and Northern Lights
Total time driving for the day 3 – 5 hours
Stop 1: Marvel at the majestic Fjaðrárgljúfur Canyon: Approximately 1 hour into your journey towards the golden circle make a quick stop at Fjaðrárgljúfur: (Fiath – raor – gliu – vur) Canyon. Located just off the main highway and a short walk upwards you will have an amazing view of this vast canyon. Fjaðrárgljúfur Canyon was used as the location for the Game of Thrones filming the dragon flight scene in the first episode of Season 8 when Jon and Daenerys fly the dragons together for the first time. It was spectacular and didn't take a lot of time to make the quick stop.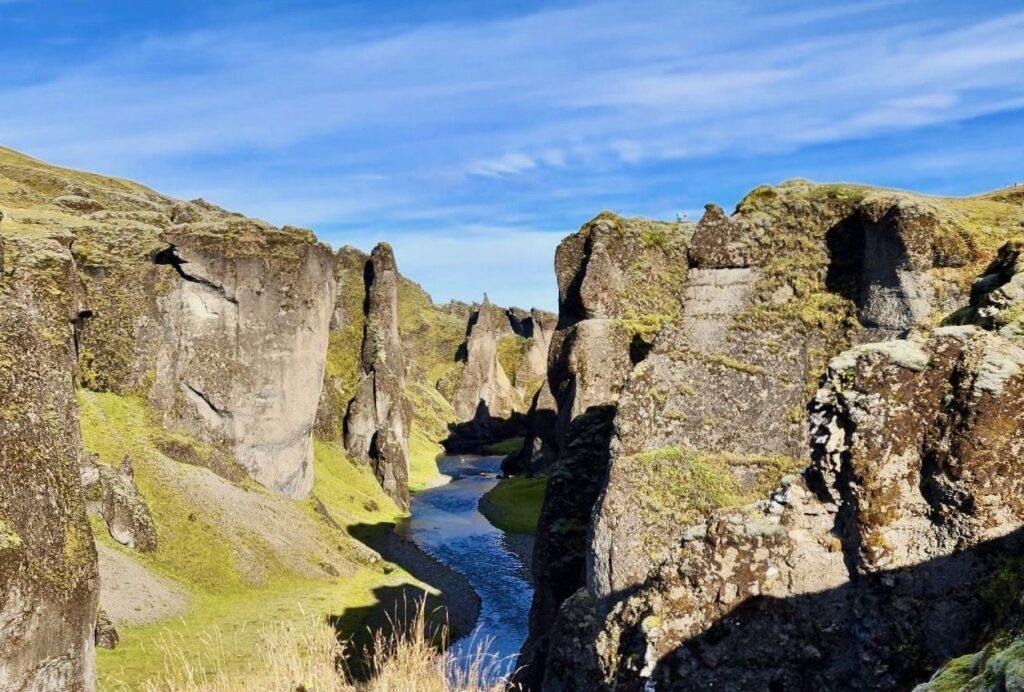 Stop 2: Enjoy lunch at the Friðheimar: a countryside restaurant located inside a Tomato greenhouse where tomatoes are featured in all of the dishes. The drive from the canyon to the Friðheimar is approximately 3 hours and will be the start of the Golden Circle. We enjoyed the burrata appetizer and a delicious bowl of tomato soup!
Stop 3: View the powerful Gulfoss Waterfalls: located approximately 25 minutes from the Friðheimar you will find these magnificent waterfalls. They have a really nice gift shop, restaurant and free parking!
Stop 4: Visit the Mighty Geysir: located just a 10 minutes drive from the Gulfoss waterfall is the Stokkur Geysir. Strokkur is found in the Geysir Geothermal Area. Strokkur erupts more regularly than Geysir ever did, blasting water to heights upwards of fifteen to twenty metres every five to ten minutes, although it is known to reach up to forty metres.  Watch all of the tourists with their cameras ready to take the perfect picture! That is quite a site to see also! lol
Stop 5: Relax and unwind for the Evening at 360 Hotel & Spa: Drive 45 minutes to reach your stay for the evening. The 360 Hotel is a spectacular hotel tastefully decorated and very inviting. This boutique stay features two thermal pools and two thermal hot tubs. The views offer a panoramic view of Iceland with the vast countryside surrounding you. It's almost like Iceland is giving you a big hug when you marvel at the 360 scenery.
A perfect location to see the Northern Lights! Our host Anna said she turned them on for us as they lit up the night sky when we were there! How spectacular is that? What a magical place! We all agreed that we were very lucky to see them, especially in September.
Dinner consisted of a full-course menu: Appetizer, main course and dessert. The food was incredible and plated so nicely. The fish feature was incredible, and the lamb dish was so tender and brilliantly plated. The brightly flavoured carrot soup was fresh, warm and memorable. Finally, we had a chocolate lava cake for dessert that was served with the BEST Vanilla ice cream that I have ever had! Iceland: we were told, has the best ice cream on earth! I would agree.
The breakfast the following morning had everything you could possibly think of wanting to start the day. From cod liver shots to matcha smoothies, bacon, eggs, tarts, jams, cheese and so on..This place was fantastic in every way and I can't wait to return!
Day 4 – Take a trip Inside a Volcano & Tour Reykjavik
Total time driving for the day 4 – 1.5 hours
Stop 1: Inside the Volcano Tour: Drive approximately 50 minutes to your meeting point for Inside the Volcano Tour. A truly unique and once-in-a-lifetime experience being lowered into a crater that is deeper than the height of the Statue Of Liberty to see what it is like inside a Volcano crater! It is mind-blowing, to say the least!
The tour starts by walking approximately 40 minutes to the "Base Camp" just near the top of the crater. The guides are amazing and will go through all of the details of the tour. You will then hike a short distance up to the crater where you will be lowered into the Volcano. Once you are lowered into the crater you will have some time to explore the crater. It is incredible, the colours, and peaceful sounds inside the earth are calming and wonderful. It's unlike anything else you will ever do anywhere in the world!
Once the tour is complete you will go back to the base camp and the guides will serve you the most delicious Icelandic Lamb Soup that you will ever have! Dögg, our guide was overly gracious to us with a warm inviting smile. She served us each a warm bowl of soup and tried teaching us how to say Icelandic words. We enjoyed her conversation and was the perfect ending to an incredible once-in-a-lifetime tour. This tour lasted approximately 5 hours from start to finish.
Stop 2: Tour Reykjavik: From the Volcano Tour, drive approximately 45 minutes to Reykjavik. For the next two nights, we will stay in Reykjavik at the Sand Hotel by Key Hotels right in the heart of Reykjavik. The street called Laugavegur is the main shopping street in Reykjavík, renowned for its boutiques, restaurants, and bars. This lively town has great restaurants and lots of music! We enjoyed a pre-cocktail at the Apotek Kitchen + Bar. Be sure to order the truffle fries with fancy mayo dips. Oh wow, they were so good!
We enjoyed dinner at the Seafood grill or Sjavargrillid Seafood Grill. A charming restaurant with warm decor featuring the authentic flavours of Iceland. Be sure to order the lobster tacos because honestly, they were so, so good! We indulged in the fish feature wolf fish! It was rich, buttery and so delicious! Mmmm…
Reykjavik has a lively music scene! Pop into Bókabúd Máls og Menningar on Laugavegur street. A bookstore/coffee shop/bar during the day converts into a bar and live music at night! The live band played so many great hits from Bon Jovi to Dolly Parton! All sing-along songs for sure. Great times!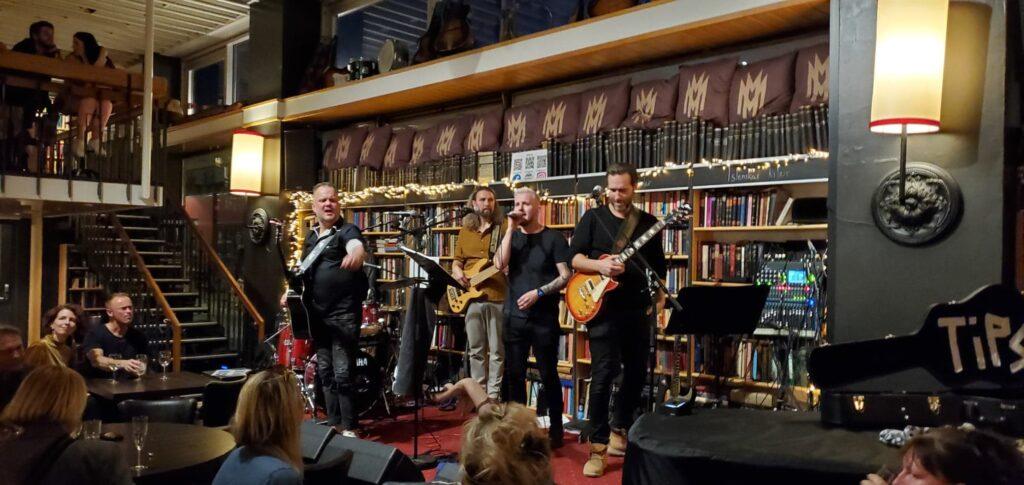 Day 5 – Snorkel between two Continents
Total time driving for the day 5 – 2 hours
Stop 1: Dive into this adventure! Silfra Snorkeling is noted as one of the "Top 5 activities in the world" by Trip Advisor! Located just 50 minutes from Reykjavik inside Thingvellir National Park lies the divide between two continents. The North American and Eurasian continents meet over crystal clear waters. Offering a once in a lifetime adventure you can float along and see the amazing tectonic plates underwater. The colours and view are like nothing you have ever seen before!
We were surprisingly not that cold considering that the water temperature is 2-4 degrees C (35-37 degrees F) all year round. The water comes from the Langjökull glacier which keeps it nice and cool, and very refreshing! What, you must drink some of the water? Yes, the Silfra Fissure offers some of the cleanest water in the world.
You will be provided a dry suit and so the only portion of skin that is exposed to the water is a small section of your face. It stung at first and then it was totally fine, or numb not too sure. Lol!
The tour company that we used was called dive.is. It was Voted #1 as the traveller's choice on trip advisor. Our tour lasted approximately 2.5 hours from start to finish. Dive.is also offers tours right from Reykjavik if you didn't have your own transportation.
Stop 2: Shop Reykjavik! For a cool little idea, we stopped in at an Icelandic grocery store to pick up some dried soup mix so that we could make the most delicious Icelandic Lamb soup when we got home.
I have since added two Icelandic Recipes to my blog here:
For our last afternoon, we perused around Reykjavik shopping for souvenirs. There are plenty of shops to choose from, offering wool sweaters, lava salts, Viking snacks and plenty more. Be sure to check out the Icelandic brand 66°North which offers top-quality clothing and top-notch outerwear.
Our dinner for the evening was at the incredibly popular Food Cellar Matarkjallarinn. Food Cellar is a Grill & Cocktail bar, nestled in a 160-year-old building in the centre of Reykjavík. The food is focused on using Iceland's finest ingredients. Where food is for your body and music is for the soul. This lower-level cosy and tastefully decorated nook offers great music and a low-lit environment for an elegant night out. The cocktails were creative, and the food was fabulous. The music though…Every song that was playing was fantastic, so we had to ask how we could get it!
Here you go! Check out the Food Cellar's amazing playlist called: Hadegi by Matarkjallarinn or click the link from Spotify here:
Day 6 – Retreat to the Blue Lagoon & Home
Total time driving for day 6 – will be approximately 1 hour
Stop 1: Retreat at the Blue Lagoon: To top off this amazing trip and before you say goodbye to this beautiful country you must visit the Blue Lagoon. Although, there are different ways to experience the Blue Lagoon I would highly recommend splurging a bit on the Retreat Package at the Blue Lagoon. What is included in the Retreat Spa Package?
A 5-hour Exclusive Entry to the Retreat Spa includes:
Retreat Spa
The Blue Lagoon
Retreat Lagoon
Private changing room
The Blue Lagoon Ritual
Skincare amenities
A drink of your choice
Access to the Spa Restaurant
Access to 8 subterranean spaces
Allow me to paint the picture of the experience…You will enter through the Blue Lagoon Retreat hotel entrance which is very private and exclusive. Once inside, you will enter the spa through a dark hallway with a large sliding door like something out of a sci-fi movie. The door opens to an amazing view of the private lagoon. Like this was definitely an Ah-ha moment and maybe a WooHoo after that. LOL
At check-in, you will be given your own private changing room complete with a rain shower, a large vanity space, Blue Lagoon skincare products, and robes. They will then take you for a tour of the space and then you have 5 hours to spa! It is Incredible!
The lagoon thermal pools are warm, milky-coloured and ultra-private. There is a space within the lagoon where you can ring a doorbell to order your champagne or drink of choice. It is so fancy.
There are quiet subterranean areas throughout, offering different experiences. There is a steam cave and a cold well plunge.
The Blue Lagoon Ritual is very cool, set in a dark cave-like atmosphere you will be guided through a series of steps of mud, salts, and creams..Your skin will feel amazing.
Although lunch is not included the restaurant is set within the spa retreat area and there is no need for a reservation. The restaurant is overlooking the thermal lagoon and the menu offers delightful cuisine.
All said and done, I can't dream up a better day. It exceeded all my expectations and I am so grateful to have experienced this most memorable last day in Iceland!
Stop 2: Keflavik Airport: Drive approximately 20 minutes to the airport from the Blue Lagoon and then home!
To Sum it All Up:
From the beautiful Icelandic people that we met throughout the way, the attention to quality in their food and culinary scene, and the nostalgic landscapes of Iceland make this a trip of a lifetime. My friends and I feel very gracious to have been able to visit this glorious country and can't wait to return again soon.
I hope that you will be able to find some good information here to help you plan your trip to Iceland! Feel free to send me any of your questions, comments and feedback! I would love to help!
Happy Planning!