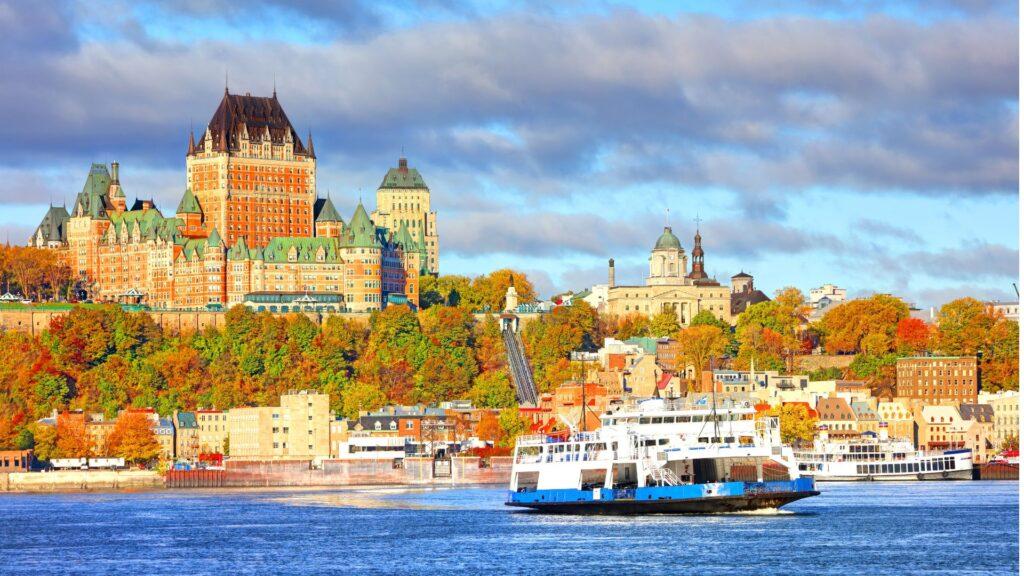 Bonjour and welcome to the BEST Girls' Getaway Quebec Edition! This ultimate luxury travel guide through Quebec City and beyond, includes beautiful, spa-like accommodations, quaint villages, cooking classes, e-biking, waterfalls, whale watching, Canadian maple syrup, delicious wine, charcuterie and more.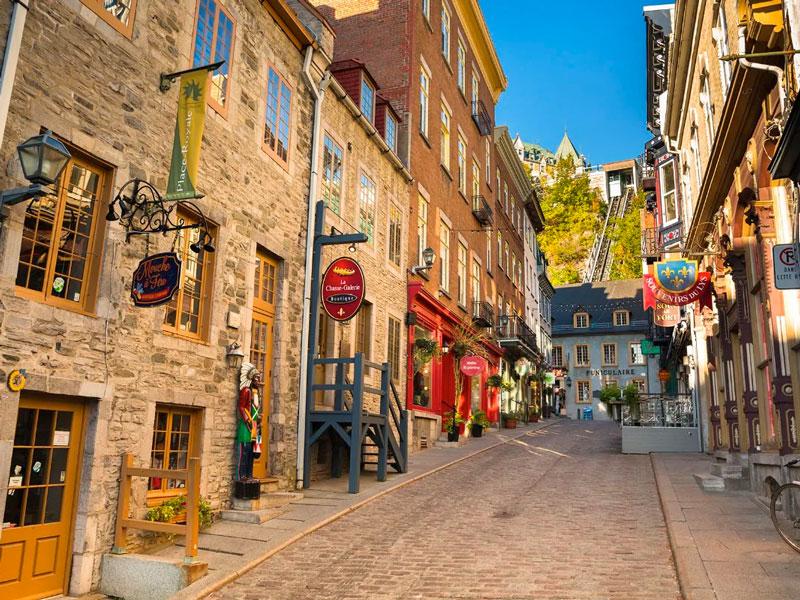 While there are tons of beautiful places to discover in Canada, the journey from Quebec City to the Charlevoix region should be on everyone's bucket list!
Visiting Quebec City will make you feel instantly transported to Europe, for a fraction of the cost. No time travelling or jet lag here!
The scenic drive up to the Charlevoix region boasts mountains on one side and the St. Lawrence River on the other, with picturesque villages along the way.
Be captivated by the majestic scenery of Quebec, savour amazing food, and immerse yourself in awe-inspiring outdoor activities.
Is there any better way to make lifelong memories with your friends than that?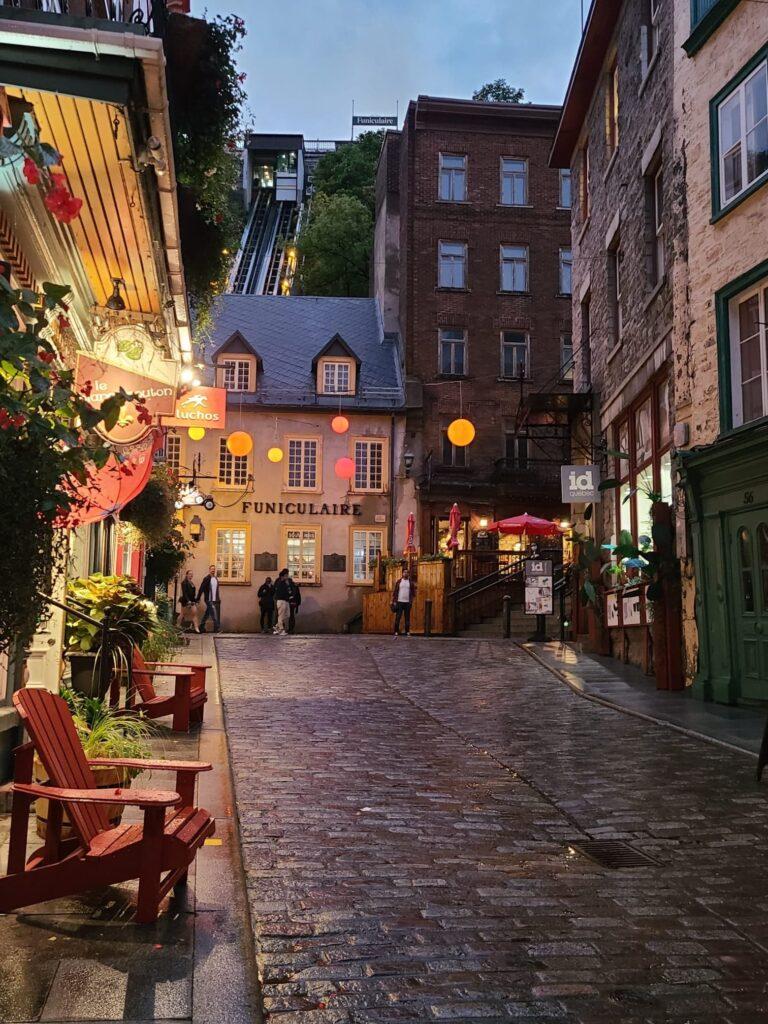 ---
A Glance At Our Itinerary:
Day 3: Île d'Orléans (stay in Quebec City)
Day 4: Baie-Saint-Paul (stay in Charlevoix Region)
Day 5: Tadoussac (stay in Charlevoix region)
Day 6: Grande Pointe: Massif (stay in Quebec City)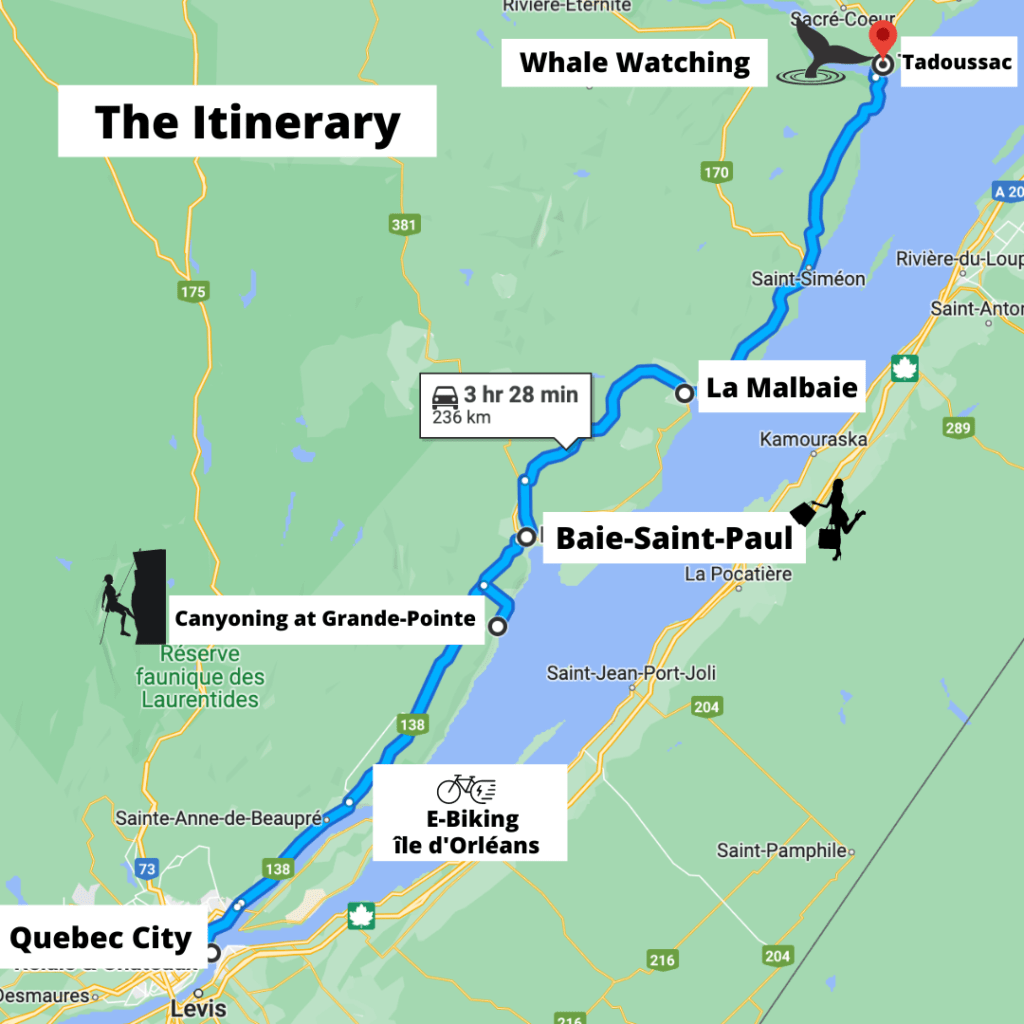 ---
Highlighted & Notable Activities:
---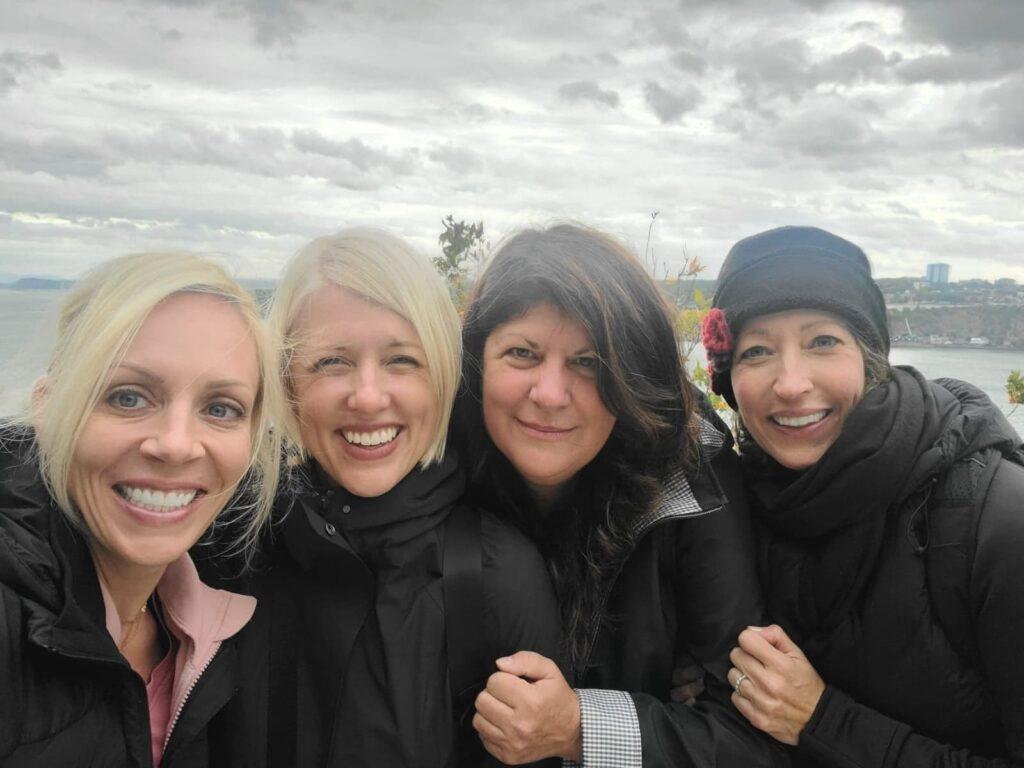 Why travel with friends?
Our trip was inspired by a close friend's recent retirement. Considering that the four of us love travel, adventure and good food, we thought what better way to celebrate than a beautiful tour of Quebec in the fall. Here are some of the awesome reasons to travel with friends:
It's cheaper to travel with friends because you split everything!
You feel safer travelling in a group
Being with your friends is good for your health & mind
Making memories with friends is wonderful
Reduces stress
Gives an escape from the everyday
Feel like a teenager again!
Head back to your family rested and energized!
Before leaving on our Quebec Adventure, I made the girls' a pre-trip gift bag, that included these super cute, customized Quebec Adventure Itinerary & Brochure. It was ideal as it outlined our entire trip including hotel reservations, flight information and activities that we had planned. It was honestly a great reference to have, at our fingertips, during our travels.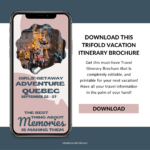 I also included, in the gift bag, a small travel kit with lip balm, hand cream and hand sanitizer. However, my friends especially loved the personalized ear bud cases that I made for each of them, using my Cricut machine.
I purchased the plain ear bud cases from the dollar store and then, using the Cricut, printed out a vinyl sticker with each of their names. It was so fun getting ready for our trip and, really, who doesn't love a personalized gift?
Tip: I always purchase the vinyl, for the Cricut machine from HTV labs.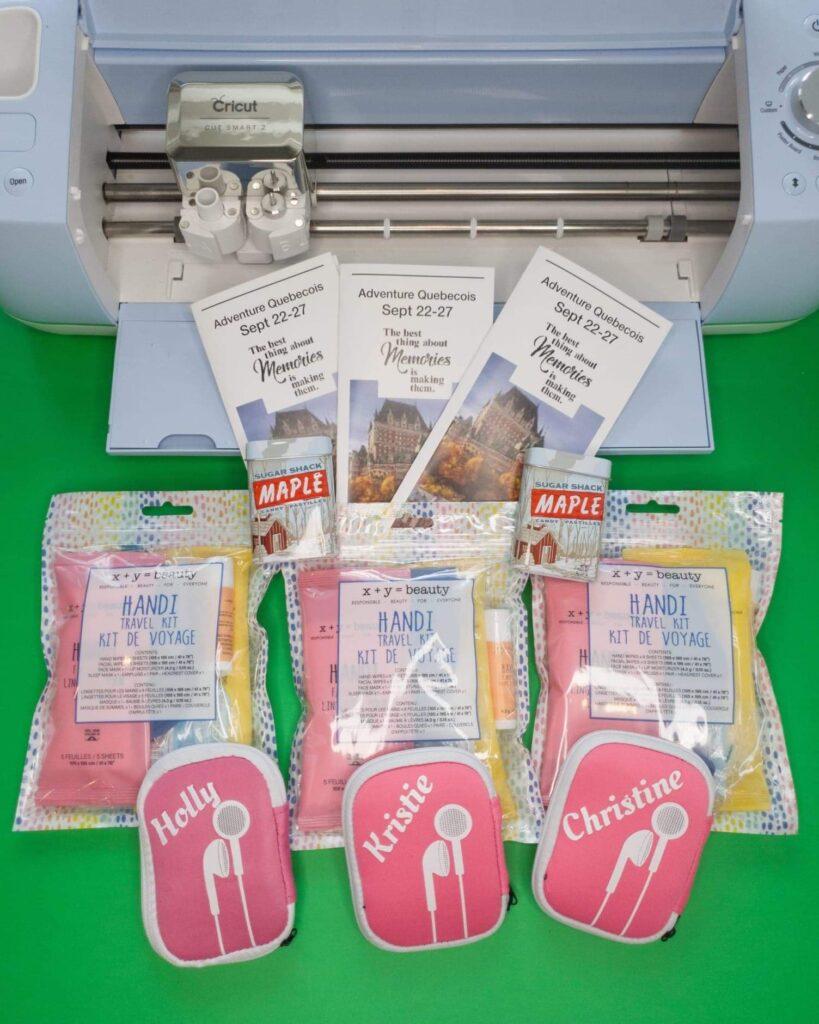 QUEBEC CITY: Day 1-2
Our journey begins in beautiful Quebec City. Quebec City sits on the St. Lawrence River and dates back to the 1600's. It is one of the oldest cities in North America.
Quebec City is mostly French speaking. However, most Quebecois speak perfect English and communication was actually quite easy. We did, however, try our hand with a few French expressions, jogging our memories of French 101.
Vieux-Québec and Place Royale, are known best for their stone buildings and narrow streets. This area is the site of the towering Le Château Frontenac and imposing Citadelle of Québec.
The Petit Champlain district's cobblestone streets are lined with bistros, boutiques and is close to the water.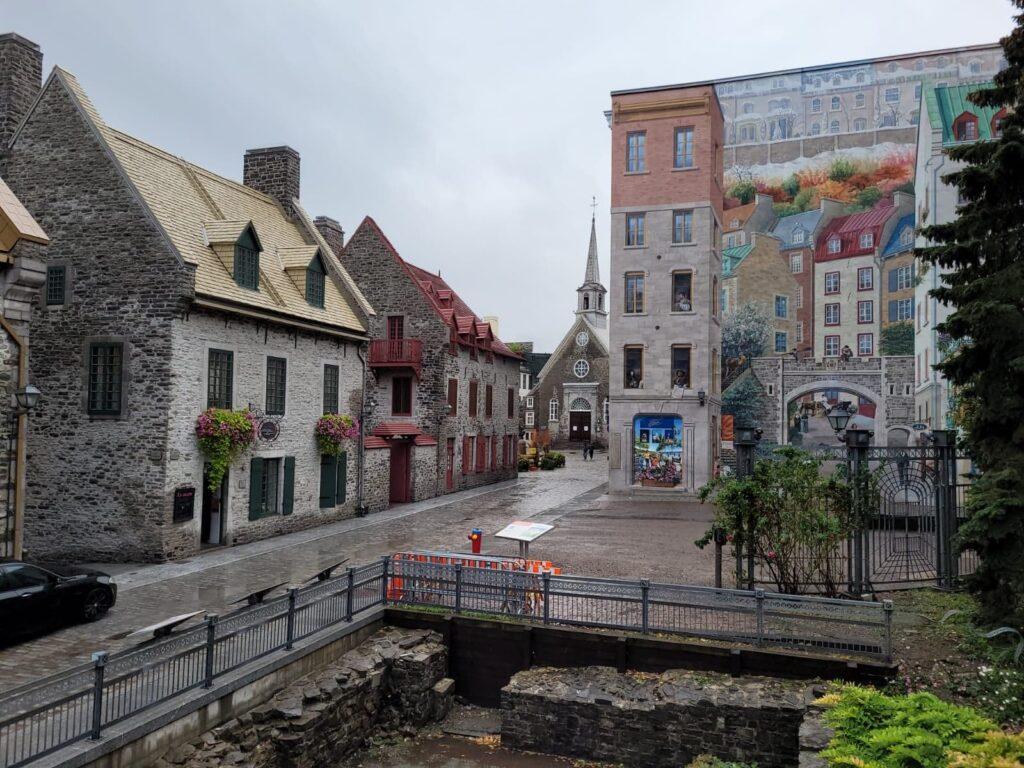 Where To Stay:
Our stay while visiting Quebec City was at the luxurious yet reasonably priced, Auberge Saint-Antoine. It is located in the Old Port and very close to all the amazing sites of the Petit Champlain District.
Auberge Saint-Antoine is a member of the Relais & Châteaux which provides exceptional service and attention to detail. This boutique hotel is outstanding, and truly a home away from home.
Not only is it modern, it's also very comfortable. We cannot forget mentioning the impeccable service and pleasant staff. Arriving in our room, we were welcomed with a personalized thank you note and gift box of goodies. The beds were like a warm cocoon, with fine linens, extra pillows and cozy blankets. Upon our departure, the friendly doormen provided us with bottled water, fresh baked cookies and wishes for safe travels.
It was top notch all the way! There is no question that this is the BEST HOTEL in Quebec City.
WHERE TO EAT:
There are so many superb restaurants and bars throughout Quebec City , that you really can't go wrong. Here are the ones that we enjoyed most during our stay.
Lunch Option:
Cuisine Alphonse restaurant is great choice for lunch or dinner. It is located near the The Fairmont Le Château Frontenac. The cocktails are handcrafted and, if you ever get a chance to dine here, you must order the Porc de Fume. It is a decadent dish of tender, smoked pork with roasted carrots and sweet potato puree, drizzled with a sweet bourbon sauce. Mmmmh..it is so good!
Cocktails and Drinks:
Looking for a breathtaking view of the St. Lawrence River and a fancy hand-crafted signature cocktail? 1608 Bar is the place to be! Located inside the beautiful and iconic The Fairmont Le Château Frontenac Hotel, 1608 Bar is a stylish lounge with a circular bar, amazing artisanal charcuterie boards, fine cocktails and is definitely a fabulous way to enjoy happy hour. We thought we would pop in for a quick drink and enjoyed all of the above well into the evening. It was a great start to an epic holiday!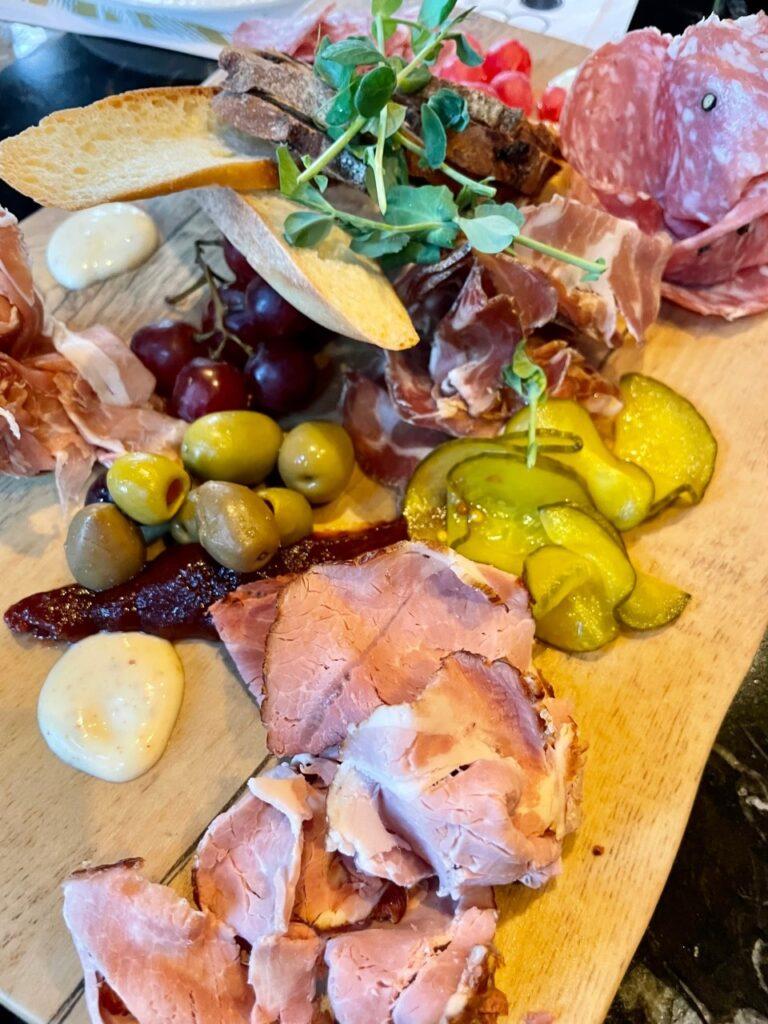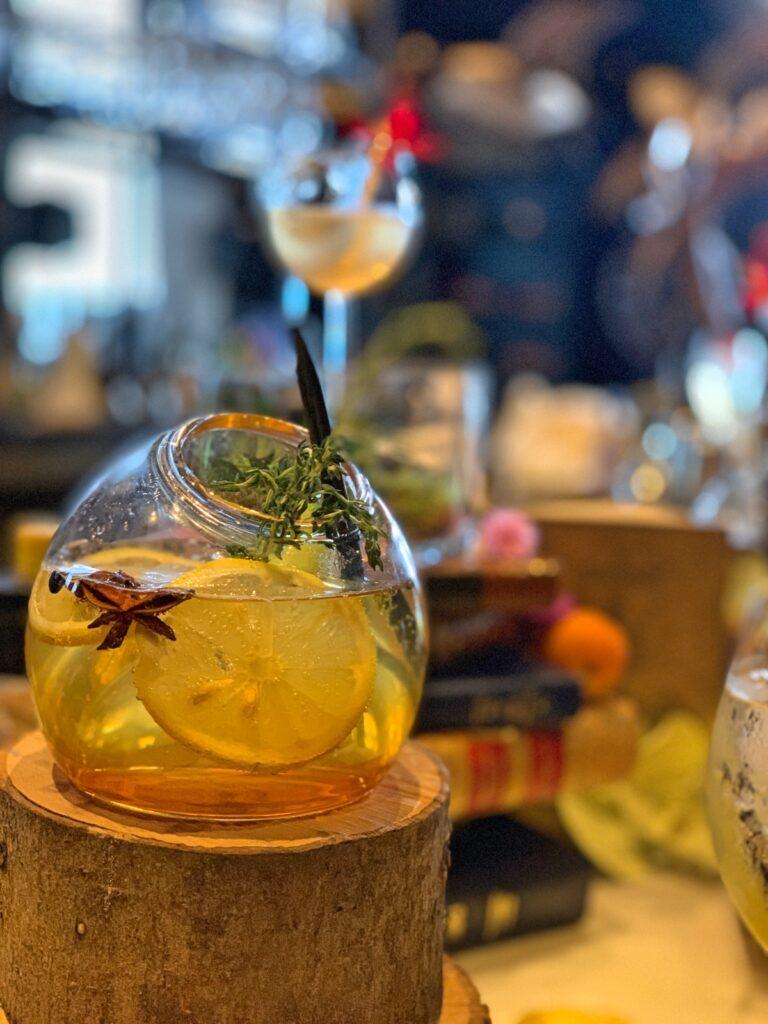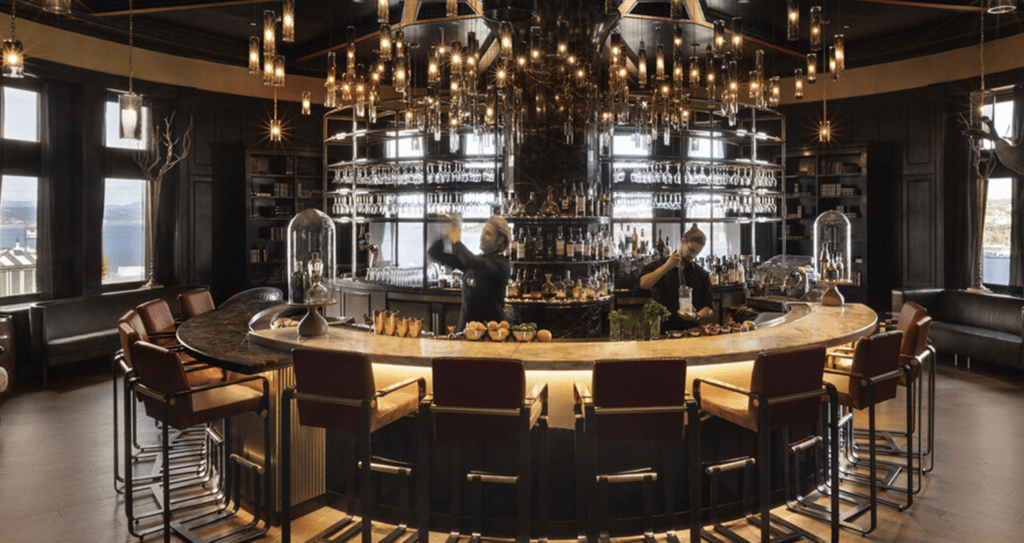 For another iconic and must-see bar in Quebec City, check out the oldest bar in Quebec called Pub L'Oncle Antoine. Pub L'Oncle Antoine is a 262-year-old stone cellar turned tavern, with low arched ceilings, giving it an intimate cave-like feel. High on the charm scale, you should definitely give it a try. There's nothing better than a cold brew in a cozy setting to relax the mind. Some say it's haunted, which adds a little intrigue, I must say! Pub L'Oncle Antoine is situated in the heart of Place-Royale.
Dinner Options:
Perhaps an authentic French bistro and fine dining experience is what you crave. If so, head to L'Echaude restaurant. For starters, the atmosphere is very inviting and the staff friendly and accommodating. Secondly, the drinks are delightful. We ordered the most delicious Lemon Drop Martini-bright, tart and refreshing. It packed a wonderful punch! Lastly, the food is exceptional. We ordered 4 different dishes and loved them all! It's worth noting that L'Echaude is rated as one of Quebec's Best Restaurants and for obvious reasons. L'Echaude restaurant is located in the Old Port and walking distance from the Auberge Saint-Antoine hotel.
Bistro Sous Le Fort is another noteworthy restaurant to try. Located at the foot of the Funicular and in the heart of Old Quebec, this bistro is cozy with a warm ambience. The food is delicious, especially the lobster ravioli and homemade crème brûlée.
Breakfast Options:
For a delicious breakfast, don't miss the opportunity to dine at Chez Muffy, set inside Auberge Saint-Antoine.
Focusing on fresh local ingredients from Île d'Orléans, the food is sensational. The interior design of the restaurant is impressive. Wood beams and gorgeous coral fabrics create a warm and inviting space to savour a luxurious breakfast. It's easy to say that Chez Muffy will not disappoint.
On the other hand, if you are looking for a family-friendly Quebec style diner, you definitely should enjoy a breakfast at L'Antiquaire Buffet, located in the Old Port. The family-run restaurant is a favourite with locals and is celebrating 40 years in business. As a coffee lover, it was so satisfying to start the morning off with one of their delicious brews. The portions are so generous that we were satisfied for a full day of sightseeing and shopping. What a treat it was to find this wonderful Canadian eats diner!
WHAT TO SEE & DO:
Walk the City:
Quebec City is a great walkable city. There are so many neighbourhoods to wander, each with a variety of unique boutiques, restaurants and sites. Following are areas you may want to include on your walk:
To start, stroll along the cobblestone streets of Vieux-Québec: Haute-Ville (Upper Town) & Basse-Ville (Lower Town) : These two areas are the most popular with tourists. Both areas are known for the Château Frontenac, street performers, restaurants and one of the oldest shopping districts, Petit Champlain. We loved meandering along the cobblestone streets, popping into artisanal shops with unique art work, handmade jewelry and clothing shops. We could have spent half the day here, but continued on to explore all Quebec City had to offer.
Consider this other neighbourhood to explore –Quartier Saint-Jean Baptiste. This quaint locale offers a bohemian vibe, with numerous boutiques, cafes, restaurants and markets. Not only can you find some unique European style clothing, but foodies will love the local cuisine and shops. Don't pass up opportunity to visit the cute clothing boutiques, such as Boutique Roba. In addition, Quartier Saint-Jean Baptiste connects to Saint-Roch district, via stairway or elevator. The stairs are not for the faint of heart, so thankfully, the elevator ensured a quick jaunt to the top.
Not to be forgotten, Saint-Roch is a hip district, with lively bars, restaurants, art galleries and music venues. Rue Saint-Joseph becomes a pedestrian only street, in the summer and makes for a great promenade to enjoy all this neighbourhood has to offer.
Art aficionados will appreciate the Montcalm neighbourhood. The Musee national des beaux-arts du Quebec (MNBAQ) showcases both Quebec and international art. The area is dotted with bookstores, museums and theatre- a sure treat for those seeking a cultural wonderland.
Altogether, these quirky, delightful and engaging neighbourhoods will provide you hours of enjoyment, wherever your interests lie
For more must see attractions check out this Amazing Top 10 List of things to do in Quebec City
Highlight Activity: Hands-On French Cooking Class
Foodie alert! For a fun, engaging and interactive evening, reserve a spot for you and your friends at Ateliers & Saveurs-Quebec cooking school. It's nothing like cooking a boring dinner at home. Here, you laugh and celebrate the art of cooking with friends.
Since 2008, Ateliers & Saveurs has been offering cooking classes, cocktail classes and wine tasting all in one perfectly designed venue. It has the warm ambience of a restaurant with a gourmet professional kitchen to display your culinary skills ( or lack thereof!!)
The staff are professional and welcoming and seem to have as much fun as the guests. Working together with your friends, you will prepare, cook, taste, learn, and share in this culinary adventure. After you participate in the cooking of the meal, dinner is served! It's a wonderful surprise seeing the beautiful meal YOU prepared.
In fact, our friends still talk about our wonderful, team built meal. We prepared many dishes in our cooking class and everyone had their favourite. In particular, I loved the recipe for Veal Polpette (meatballs), generously coated in a decadent, creamy gorgonzola sauce with apples and walnuts. The delicious blend of sweet & savory flavours makes this dish a great addition to your home recipe repertoire. Check out my tweaked version for this amazing meatballs with gorgonzola apple walnut sauce, including new cooking techniques that we took away from the class.
Day 3: Île d'Orléans Day & E-Biking
Île d'Orléans is located 5kms from downtown Quebec City and is definitely worth a day trip. We planned a day tour of the island (on ebikes!) with an early evening return to the beloved Auberge Saint Antoine hotel in Old Quebec.
Soak up the beauty of this island countryside. Sample local cheese, ice cream, maple products, and jams. Stop by the Chocolatier and indulge in the homemade chocolates. Depending on the season, pick your own strawberries, apples, or raspberries. The options to enjoy this foodie district are endless and there's nothing better than appreciating what nature can give us.
Enjoy a refreshing glass of wine and view the scenery at one of the many wineries. Cassis Monna & Filles was just the spot for all of the above. It had a cute little restaurant and lovely gourmet boutique, that made for a perfect stop. This little island is full of fertile land, and passionate purveyors of fresh foods. I must say…it is truly a Foodie's Paradise!
Highlight Activity: E-Biking on Île d'Orléans:
Don't be intimidated!! E-Biking is a fun way to discover Île d'Orléans. You can discover the island at your own pace in the fresh open air. Quebec Adventure Tours offers e-bike rentals and other modes of unique transportation to explore the island. The e-bike rental office is located a short distance from the île d'Orléans bridge.
Two friends of the group had never tried e-biking and by the end of the afternoon, they were pros! Thanks to the helpful demonstration we received at the start of the trip, we all developed the confidence needed to settle into our day adventure. Along with a detailed map of the island, we set off to explore the multitude of shops, wineries and sights.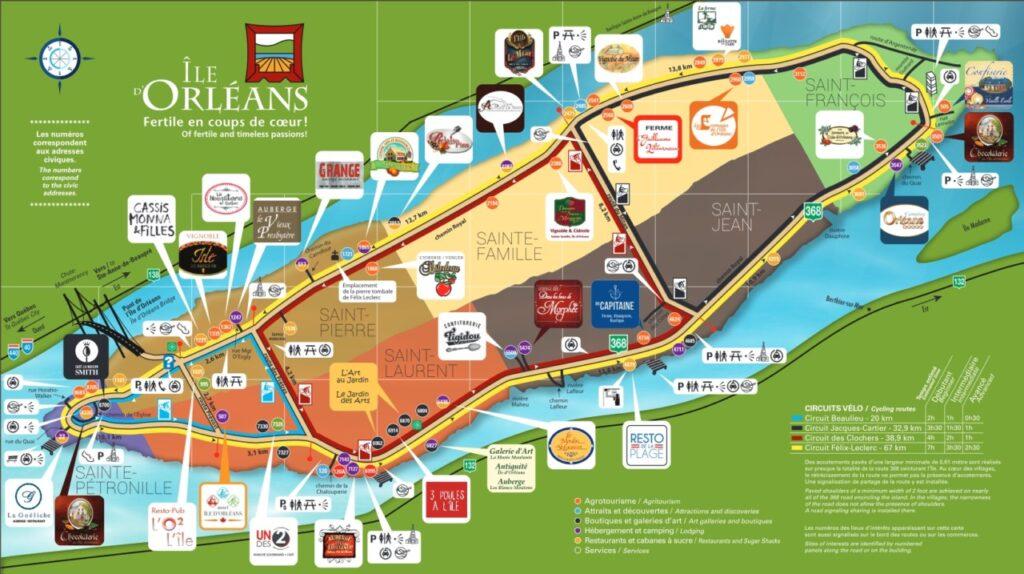 E-Bike Itinerary on Île d'Orléans
For instance, here's our day itinerary. We ventured off on the e-bikes and explored the Sainte-Petronille & Saint Pierre area. A couple of stops included one for handmade chocolates at the Ile d'Orleans Chocolate Factory, and another for some fresh raspberries and yummy maple syrup at the Polyculture Plant Farm. The beautiful landscape enticed us to take many photos to remember our day. Lastly, we sampled a lovely glass of wine at the Vignoble Ste-Petronille. As you can see, it was a exciting and adventurous way to spend the day!
A note of caution: we found that the main road was very busy and more like a highway. Thankfully, it's a quick jaunt off this road to more serene ones. Having done so, we were fortunate to traverse vast landscapes and have a wonderful view of Montmorency Falls.
Day 4: Baie-Saint-Paul & La Malbaie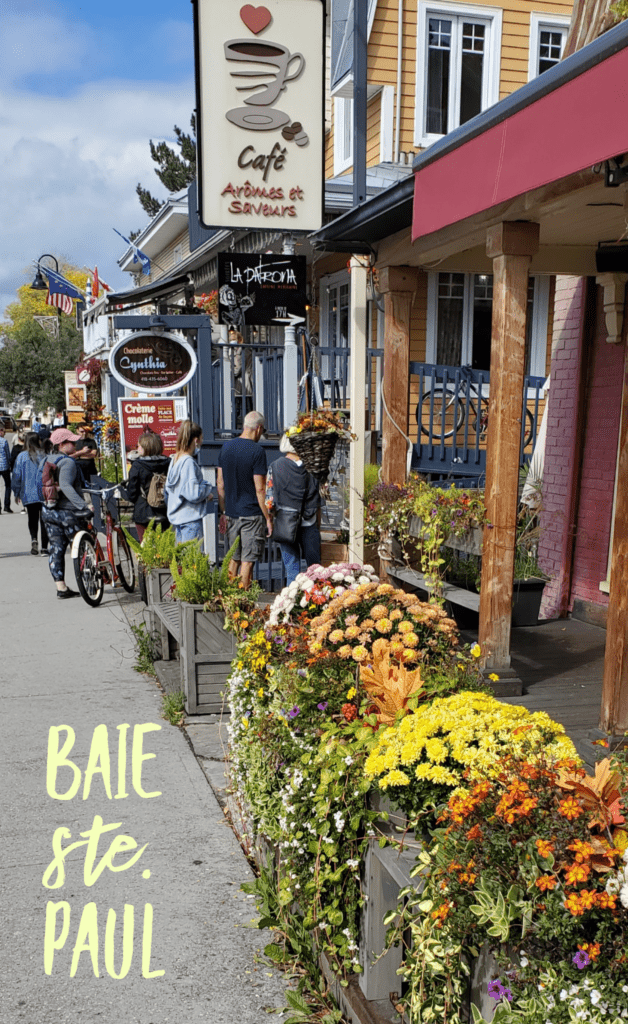 Today we travelled north towards La Malbaie with a stop in Baie-Saint-Paul for some local shopping.
It was quick and easy to rent a car in downtown Quebec City. Just a 10 minute walk from our hotel, Auberge Saint Antoine, was Hertz Car Rental located at 44 Cote Du Palais . Soon after, we were off!
Highlight Activity: Shopping in the village of Baie-Saint-Paul
Quebec City to Baie-Saint-Paul and the Charlevoix region is approximately a 70-minute drive and follows the majestic St. Lawrence River. It was a relaxing ride with unforgettable scenery.
Happily arriving in Baie-Saint-Paul, we were in awe of this colourful, quaint little village, flanked on either side by mountains and the St. Lawrence River. Rich in art culture, you will find art galleries, unique clothing shops and wonderful restaurants. This charming village has been noted as one of the 12 Best Small Towns in Canada by Travel & Leisure. Not to mention…only one hour from Quebec City. How can you go wrong? This town is the epitome of French Canadian charm.
If year-round, outdoor activities are what you seek, then you are in the right spot. The Charlevoix region has it all- hiking, kayaking, biking, skiing and canyoning.
( Yes..canyoning. More to come on that!)
Where To Stay in The Charlevoix Region:
The Charlevoix region offers a variety of accommodations depending on your wishes. Following is a short list, I created, of the luxurious accommodations to consider: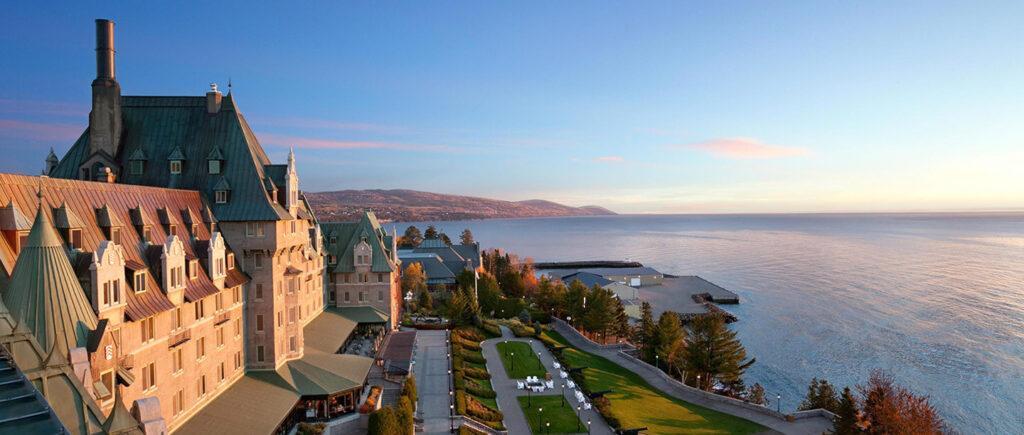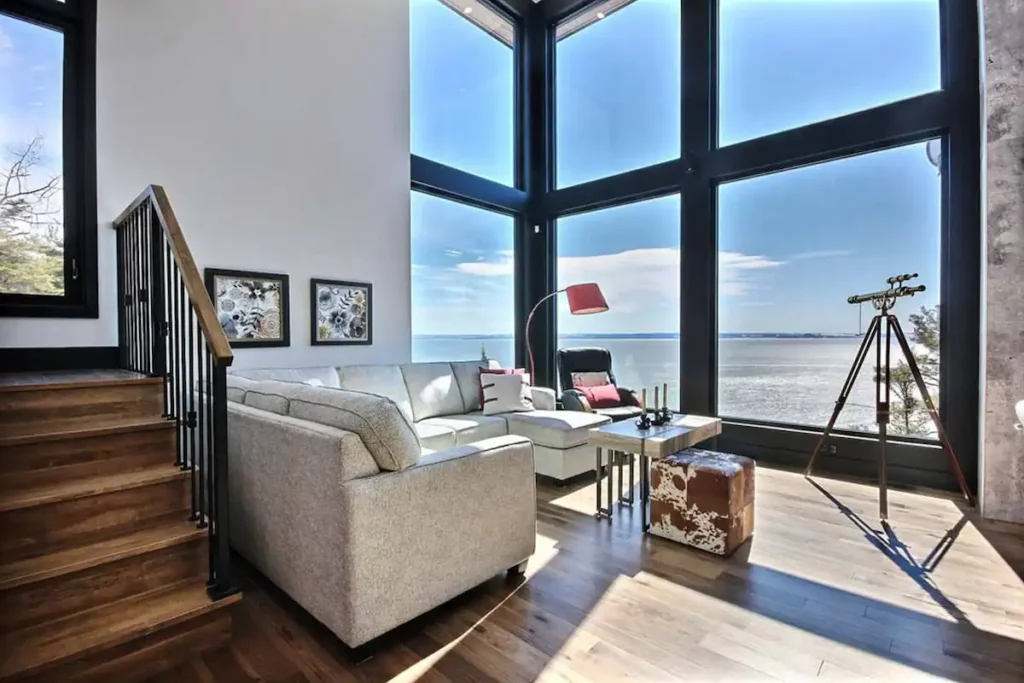 Where To Eat: Charlevoix Region
After all this activity, mouthwatering food is always on the radar. Charlevoix region is quite large and, as such, there are many restaurant choices. I mention our favourite eats including a special dinner in highlighted activity.
For such a tiny village, Baie-Saint-Paul has many dining options. Le Diapson Bistro is one we chose, based on google reviews and we weren't disappointed. Once again, a unique and hearty charcuterie board was enjoyed by all.
As mentioned above, we enjoyed a beautiful dinner and the scenery at the restaurant inside the Fairmont Manoir Richelieu called Le Saint-Laurent. Ideally seated by the window, our view of the St.Lawrence River was amazing. Looking for whales, we were charmed by the appearance of a perfect rainbow. Staff and guests were awestruck and ventured onto the large veranda to take in it's beauty. It was truly a moment we all will not forget!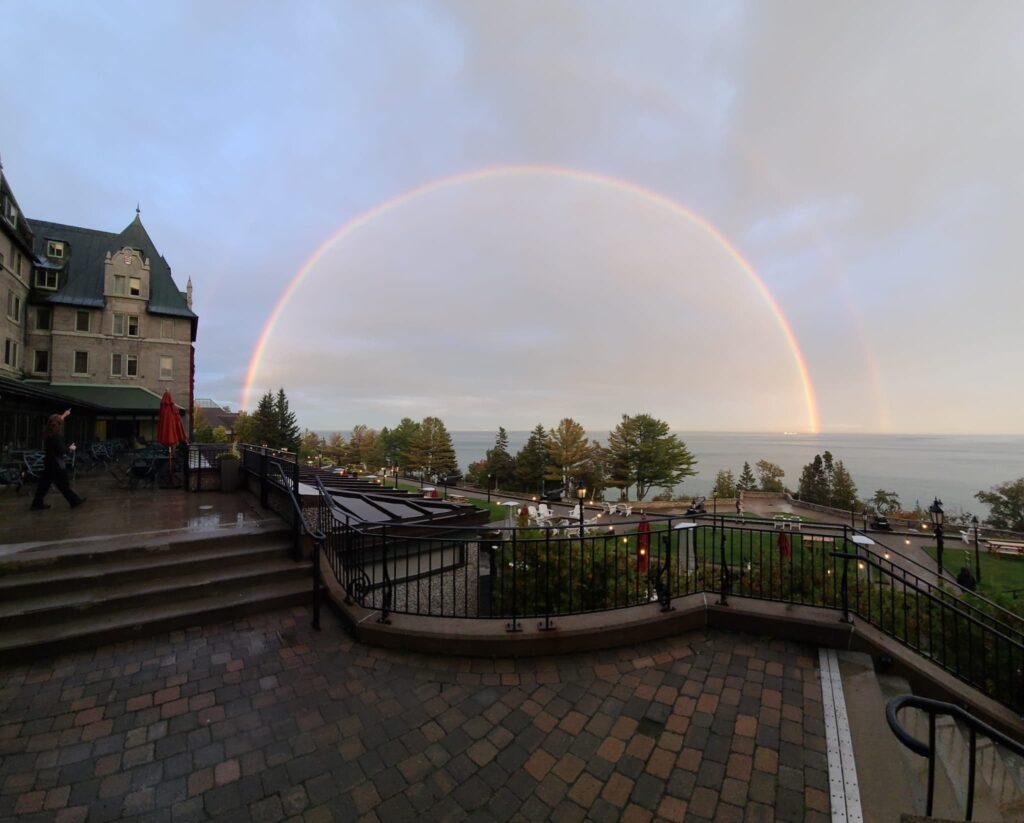 Highlight Dinner: Vices Versa, LaMalbaie – Charlevoix Region
Over and above our meals in Charlevoix, was our indulgent dinner at the spectacular restaurant, Vices Versa. Located in the little village of LaMalbaie, this unique and full culinary experience is an absolute must. Run by a passionate husband and wife duo, each possessing two uniquely different cooking styles, Vices Versa offers a prix fixe three-course meal that is sure to delight every foodie. The attention to detail and pride the chefs' took, made our dinner that much more special. Furthermore, the ambiance of this tiny French eatery only added to the night. Having said that, reservation made well in advance is highly recommended.
DAY 5: TADOUSSAC
Highlight Activity: Zodiac Whale Watching Tour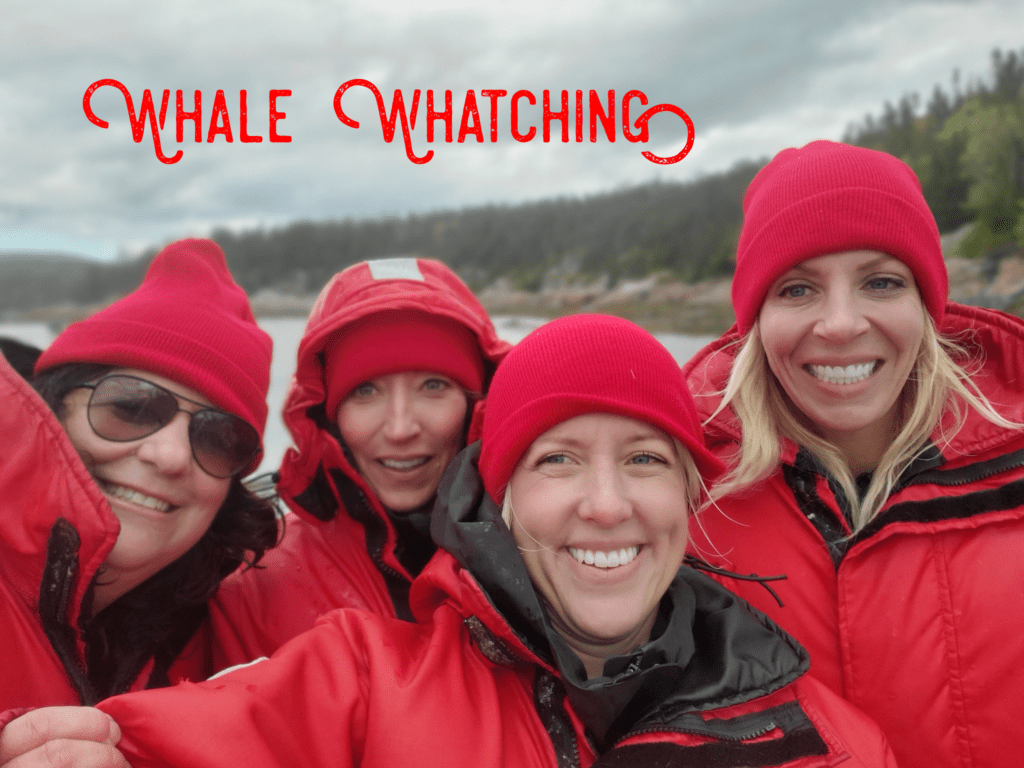 Few places in the world offer the opportunity of watching whales roam freely, as they do in the waters of the St. Lawrence River. So populous as they are here, a designated "Whale Route" exists for spotting these beautiful creatures. Not to mention, the Zodiac whale watching excursion is a wonderful way to enjoy the scenery, embrace the brisk salty air and occasionally feel the splash of refreshing waters.
A scenic 80 minute drive north from LaMalbaie, followed by a short ferry across the Riviere Saguenay, has you arrive in the village of Tadoussac. The drive alone is breathtaking with mountains and valleys abound. Follow that up with spotting a pod of Beluga whales traversing the river just added to the amazing experience.
Not to be outdone by nature at it's best, we set off on a 2 hour Zodiac Whale Watching excursion, courtesy of Croisieres Essipit/Whale Watching. I would highly recommend choosing an excursion with Essipit. Not only do they outfit you with warm, buoyant jackets, waterproof pants and bright red toques, but the staff are friendly, knowledgeable and entertaining. After being geared up, we were enchanted by our eccentric, yet competent captain, who brought us up close to the most amazing, massive humpback whales. Once again, we had an amazing afternoon!
A word of caution, though, if you plan to book a whale tour from Tadoussac: As mentioned previously, you need to take a car ferry across the river to reach the village of Tadoussac. ( We didn't know that until we were driving that day!) Luckily, we were able to book a ferry and cross with no delay.
But..if you are pressed for time, and worry about using the car ferry, you may want to consider other tour operators . Croissiers AML has whale watching tours that leave from Baie-Saint-Catherine (no ferry required) and on a previous trip, I enjoyed an excursion with this company.
In spite of it all, we loved our tour and would do it again for sure! We will just ensure we give ourselves enough time to travel and confirm the ferry schedule.
DAY 6: Grande-Pointe, Quebec
Highlight Activity: Canyoning at Le Massif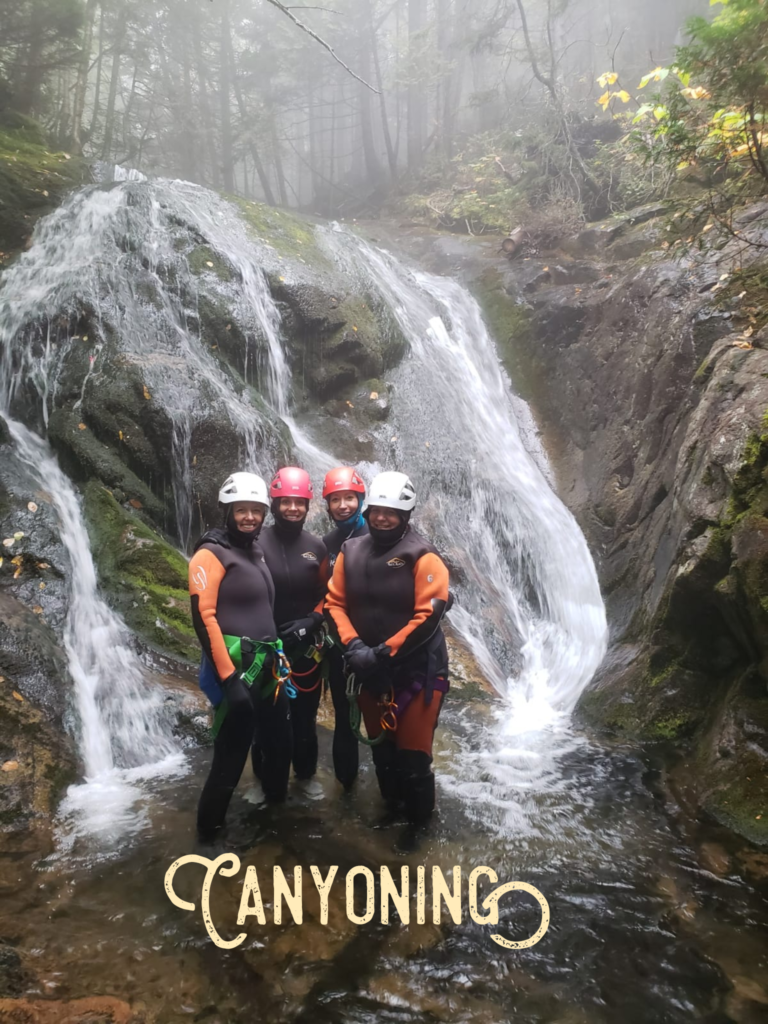 Canyoning is one of the coolest activities that I have done in my life! I had no idea what canyoning was until we were briefed on our adventure that morning…lol
On our last full day of our vacation, and on the way back to Quebec City, we booked our canyoning adventure with Adventure Quebec. Located on Massif Mountain, it is approximately an 80 minute drive from downtown Quebec City, a nice distance from LaMalbaie. Canyoning is the act of navigating down a mountain stream using a variety of techniques including rappelling, walking, scrambling and climbing. Our half-day canyoning excursion was on Massif Mountain, more specifically Grande-Pointe Canyon Canyoning Quebec.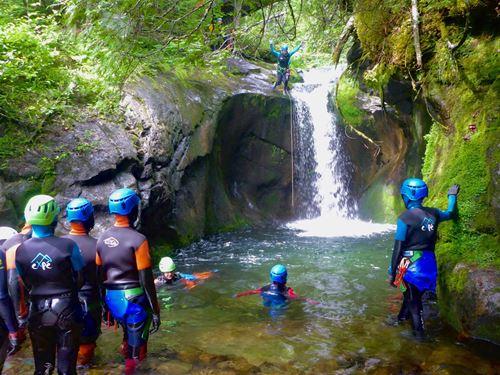 The activity begins at the top of a series of waterfalls. The professional and very personable guides have you traverse streams, rappel down waterfalls, hike and swim among canyon walls, while safely harnessed in and guided by the experts. Beginners and ages 8 and up are welcome.
Once again, don't be intimidated and consider trying this with a group of friends. NONE of us had ever done this kind of activity before. We had one friend in the group researching unique activities we could try in Quebec.
Lo and behold, look what came up!
Canyoning was an extraordinary adventure and definitely memorable for all. It was the perfect way to spend our final day in Quebec, one of Canada's prettiest provinces.
DAY 7: HOME
Our relaxing, exciting and adventurous girls' getaway to Quebec City and beyond, came to a close on Day 7. With the creation of wonderful memories and an even greater bonds between friends, we couldn't have asked for a more enjoyable way to see and experience the sights of this beautiful land.
I hope that you enjoyed our Girls' Getaway itinerary to Quebec City and Beyond. Perhaps, it will be the impetus to start planning your own getaway with friends.
I am so thankful to have wonderful friends and travel companions. Our adventures, the sights, the wine and the food will all be cherished forever.
I would love to hear from you! Any feedback or questions, please let me know. Don't forget to take a look at our customized Quebec Adventure Itinerary & Brochure.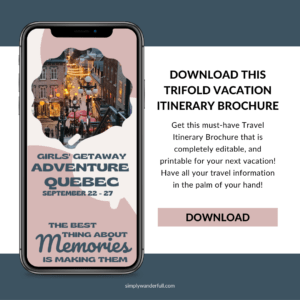 I hope you liked this blog article on Quebec! If you have any questions or comments please feel free to comment below! Thanks for reading and Happy Planning!