Jump to Recipe
The butter board craze has flooded the internet with a buzz! I mean why not? A delectable shareable appetizer so easy to make topped with any of your favourite ingredients! Yes, all the way! You can use regular butter if you are pressed for time. Although, if you have a bit of time on your hands and are willing to take this recipe to the next level homemade butter is the way to go. All you will need is some heavy cream, salt a Vita-mix and some patience. lol! Pair this butter board with some freshly baked bread and nice hearty bowl of Icelandic Lamb Soup, perfect for a cozy chilly evening.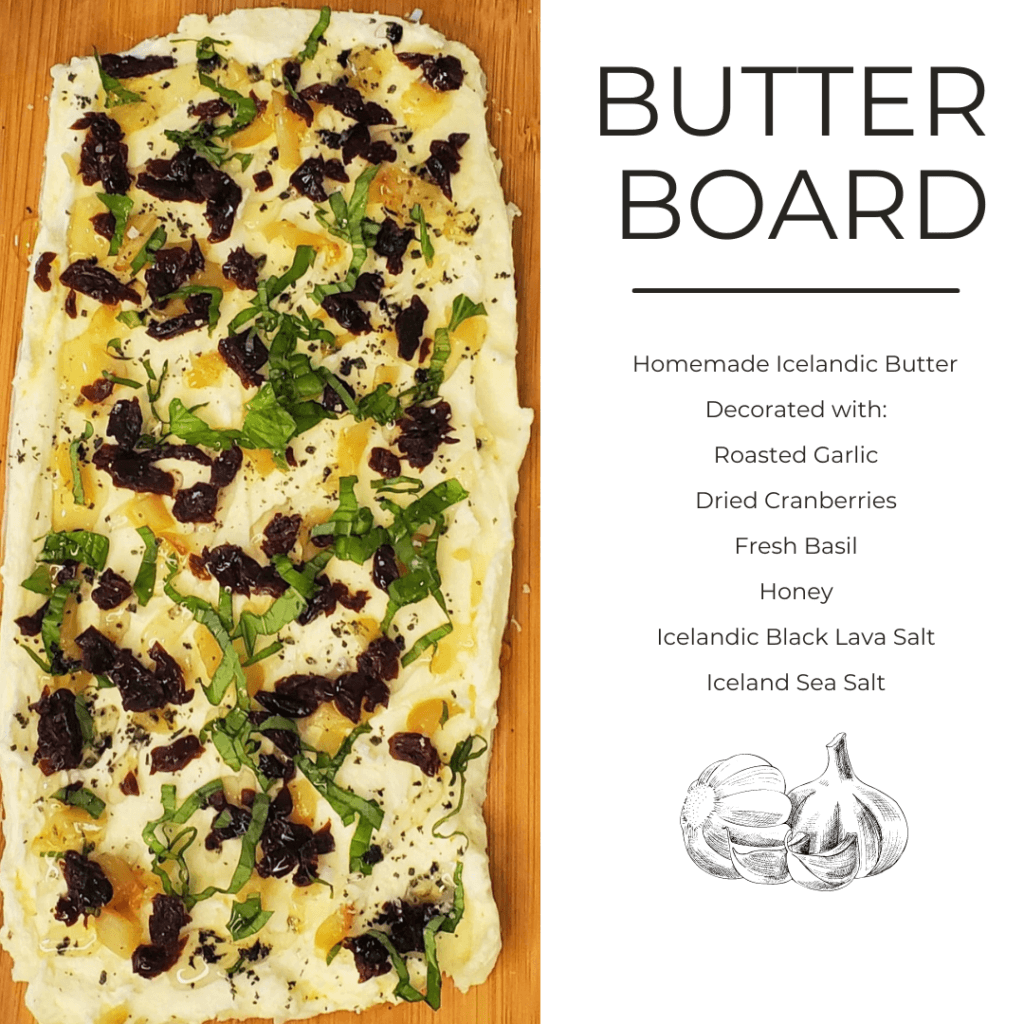 How to Create your Butter Board
First things first, you need to get the right sized wood board. I was lucky to have found a medium sized board that was not too big and not too small but just right at the Dollarama!
Next step, is crafting your board. To craft your butter board, simply spread softened butter in a some aesthetically beautiful way and then pair some of your very own creative way.
I love to alternate colours and flavours that include salty and sweet for a perfect balance! Some Toppings that you may want to include are fresh herbs, nuts, seeds, fruit, radishes, honey, jam or even bits of smoked salmon or diced, cured meats. The sky is the limit and you can get very creative no doubt.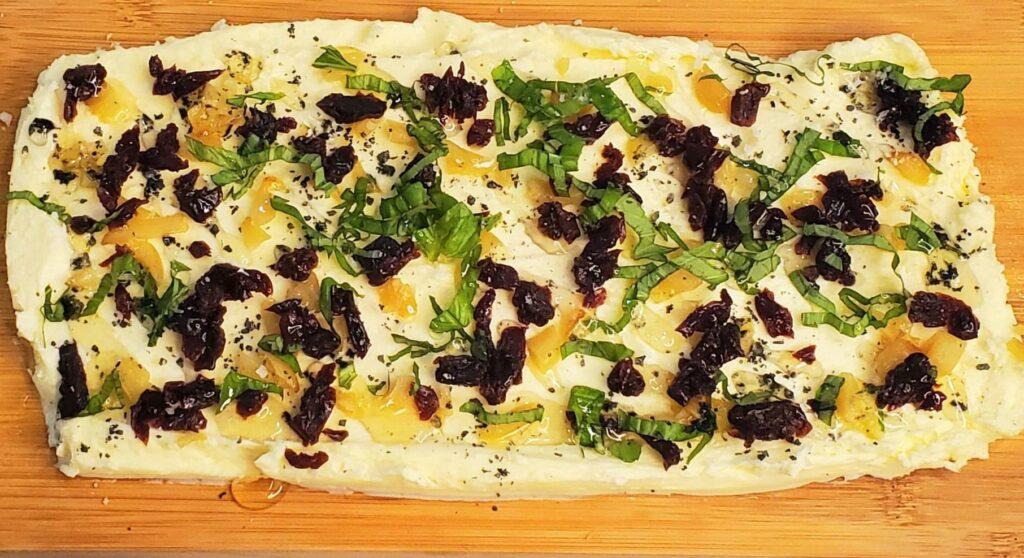 Flavour Affinities and Pairings:
Pairing is Essential! Need a little inspiration? Try some of these Flavour Affinities:
Fresh Basil + Sun dried Tomatoes + Roasted Garlic + Honey + Maldon Salt
Fresh Dill + Smoked Salmon + Capers + Red Onions
Fresh Parsley + Oregano + Lemon Zest + Garlic + Pomegranate seeds
Fresh Basil + Parmesan + Prosciutto + Figs + Lemon zest + Arugula + Honey
Fresh parsley + Roasted Garlic + Olive oil + Parmesan Cheese + Balsamic Vinegar
Radishes + Fresh Dill + Salt + Pepper
Pistachios + Cherry Jam + Fresh Basil + Bacon + Salt + Pepper
Drizzled warmed Peanut butter + Cinnamon + Honey + Maldon Salt
Icelandic Black Lava Salt + Fresh basil + Dried Cranberries + Roasted Garlic
How to Make Homemade Butter
Making homemade butter has come a long way since the pioneer days where they churned butter by hand for hours. Although, making butter in a Vita-mix can be done but will require a little bit of patience. It is made with 1 ingredient and that is heavy whipping cream.
I use the recipe directly from the Vita-mix cookbook to be most precise: Vita-mix Homemade Butter. I recently visited Iceland for vacation and I enjoyed the homemade beach and everyday! They served the BEST Butter that you have ever tasted. I found out that they make homemade butter and then add Skyr, their probiotic plain yogurt which can be purchased in most grocery stores in Canada! It added a creaminess with a slight tang to the butter. So very good!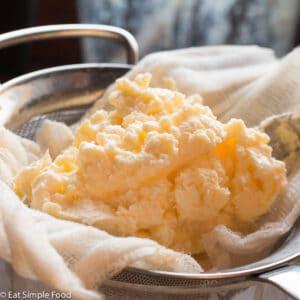 Tips for Making the Best Butter!
BE PATIENT! It takes at least 30 pulses of that damn vita-mix to draw the liquid out of the whipped cream. It feels like it is never going to turn into butter!
Make sure that the Vita-mix is turned off completely before scraping the sides.
Have a strainer over top of a measuring cup ready to drain the excess liquid and before setting it in the cheesecloth
If you don't have cheesecloth, no worries just use a coffee filter. It works just as good!
You may add in 1-2 tablespoons of Skyr and call it Icelandic Butter! Do not add it until the liquid starts to form in the whipped cream. Whip the mix together really good.
You can also make flavoured butter. Add flavourings after adding the cream and before you start blending. I have used strawberry jam, sun dried tomatoes, roasted garlic and cinnamon. You can get really creative here!
I hope that you enjoy this amazing appetizer! Great to bring to a party and easy to make!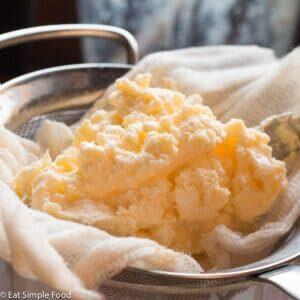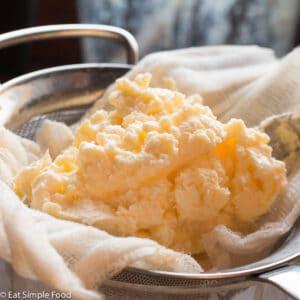 How to Make Homemade Butter Recipe
Using your Vita-mix blender make this homemade butter recipe with only 1 ingredient!
Ingredients
2

cups

heavy whipping cream

1/2

tsp.

salt

1-2

tbsp.

Skyr plain probiotic yogurt
Instructions
Place cream into the Vitamix container and secure the lid

Select Variable 1

Press start and quickly increase the speed to HIGH

Blend until mixture is thick and you hear a change in the sound of the machine. Sounds like the motor is running high.

Stop machine and scrape down the sides of the container with a spatula to bring ingredients in the center of the container.

Press start and blend for 5 seconds, stop and scrape sides again.

Repeat this process many time until you see the mixture start to flow easier and fluid appears. (This may take up to 20-30 times of stopping and starting) Be Patient.

Once the fluid starts to appear, you may add a tablespoon of Skyr probiotic yogurt. This creates a nice creamy blend to the butter.

Blend for a few seconds more until solid butter starts to set up in center of the container on top of the blades.

Pour out the excess liquid first and then add the butter to a fine strainer lined with coffee filters or cheesecloth. Squeeze out as much liquid as you can

Remove the butter to a bowl and add salt.
I hope you liked this recipe! If you have any questions or comments please feel free to comment below! Thanks for reading and Happy Cooking!