Are you planning a dream vacation to Iceland, but you need somewhere equally dreamy and luxurious to stay? There is nothing better than combining the serene landscapes of Iceland with a luxury hotel experience. It doesn't get any better than that, right?
The hotels in Iceland are outwardly understated, but superbly fabulous once you walk through the front door. This article reviews the Top 5 hotel picks along the south Route 1 that will not disappoint. From the decor, to the amazing food and modern amenities, these hotels superseded everyone's expectations. You will not go wrong booking any of these ideally located hotels. The proprietors are unbelievably gracious and accommodating. I was pleasantly surprised at not only the property but the service was incredible.
One of the nicest things about these charming Icelandic hotels, is that they are located near the main roads and within close proximity to the main attractions. Rest assured, you will not need to venture far off the route 1 to find these luxurious hotels.
Staying at one of these luxury hotels, in Iceland, is ideal for a romantic hideaway, friend getaway or a celebratory trip. No matter how your travels get you here, Iceland will not disappoint! If you are looking for an amazing self-guided tour of Iceland, check out Iceland 6-day Itinerary guide. This itinerary is a perfect balance of adventure and relaxation, with approachable, farm-to-table dining and luxurious, affordable accommodations. The adventures are not over the top or dangerous, but exciting and easy for all ages. They include: glacier kayaking, snorkeling between tectonic plates and descending into a dormant volcano. The best part is all of these attractions are close to these luxury hotels.
Not sure how to pack for Iceland? Before travelling to Iceland I made these handy downloadable, editable and printable Iceland Packing Lists and a 6-day Itinerary foldable brochure. I have to say that they kept us completely organized and we were grateful that we had them at our fingertips!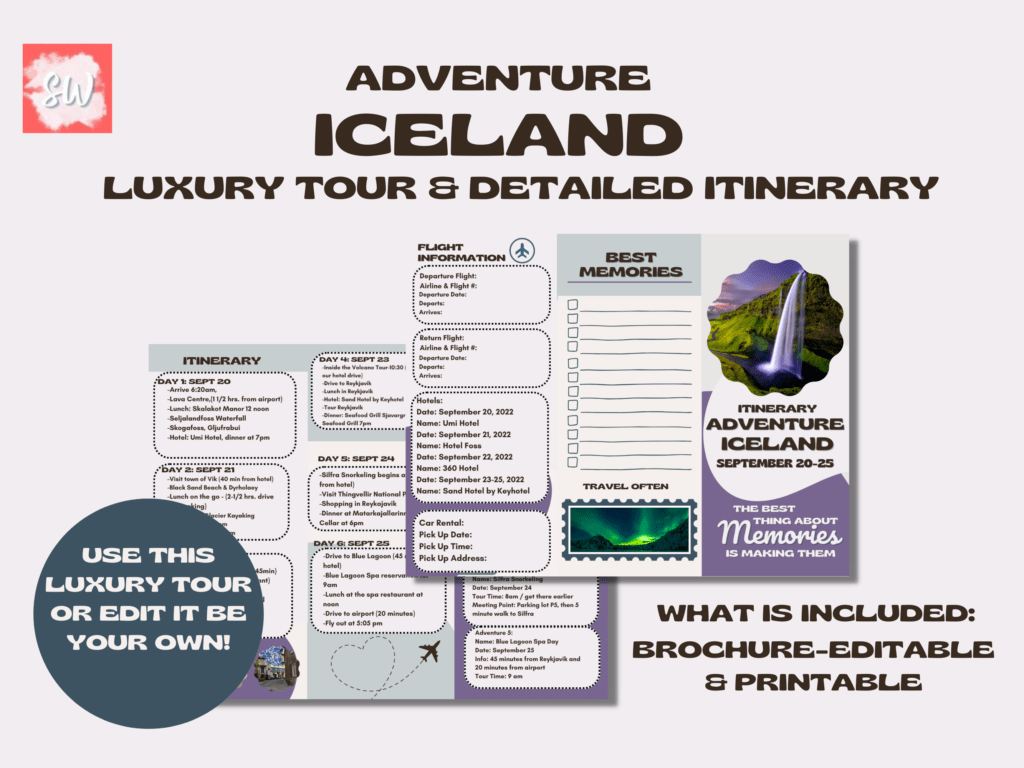 Trip Planning Tips:
There is a whole lot of logistics when planning any trip, and we believe it's important to be close to your hotel for "happy hour" (4-6pm). Relaxing with a cocktail or mocktail, in the late afternoon and enjoying the evening at a delightful hotel, is not only gratifying, but an important part of a successfully planned trip. Trust me, after a long day of "adventuring", there is nothing better than putting down roots, if only for a night, at one of these properties. Our Iceland itinerary had a nice balance of adventure and relaxation, timed to perfection. Most of our adventures were done around 4pm, so we could enjoy the hotels' amenities and wonderful evening meals.
The Umi hotel, is perfectly situated for a one night stay, if you have rented a car from Keflavik airport and are travelling the Ring Road ( route 1). It is approximately 2.5 hours from the airport and only a 20 minute drive from the Seljalandfoss waterfall. Umi hotel is tastefully decorated warm, inviting and comfortable!
The Umi hotel is a family run boutique hotel featuring 28 rooms in a very peaceful setting with views of the nearby mountains, along the south shore.
The interior design is modern, clean and the rooms are equally fabulous.
The lounge/bar is an ideal spot to take in panoramas of Eyjafjallajökull, the famous subglacial volcano. Offering hand-crafted cocktails shaken, stirred or smoked, they have any concoction you may be looking for. I will also mention, the beer in Iceland is fresh, crisp and totally refreshing!
Pour yourself a crisp glass of wine and take a walk to the black sand beach, which is located a short walk from the hotel. This beach is truly impressive and a peaceful reprieve. Take a 360 view around to view the subglacial volcano Eyjafjallajökul. It's a little, private piece of Iceland without tourists that will leave you breathless. The natural beauty that surrounds you is surreal…and it is steps away from your cozy nighttime retreat!
The hotel's first class restaurant serves Nordic and Icelandic cuisine with a Japanese twist. The dining area offers panoramic views of the Westman Islands and the southern coastline. We enjoyed fresh bread and homemade Icelandic butter. The scallops, fish of the day and the most delicious lamb were plated to perfection. First class all the way!
If you plan on hanging your hat here for a couple days, there are many action-packed activities to choose from such as glacier hikes, kayaking and ice-cave adventures. All of these activities can be easily arranged by the hotel.
Before leaving this peaceful place, you MUST visit the hidden thermal pool and the magnificent surrounding landscapes of Seljavallalaug. It is located a few minutes from the Umi Hotel and is absolutely stunning! Hike through the magnificent valley and take in the vivid landscape. It is incredible. We chose not to use the thermal pool, as it was only lukewarm however they do offer an indoor (and I will say, dated change room) if you choose to dip a toe.
The Fosshotel Glacier Lagoon is situated between the Skaftafell and Jökulsárlón Glacier Lagoon. This hotel offers stunning views of the ocean and the surrounding mountains. This is an ideal location if you plan to go Glacier Kayaking or visit Diamond Beach.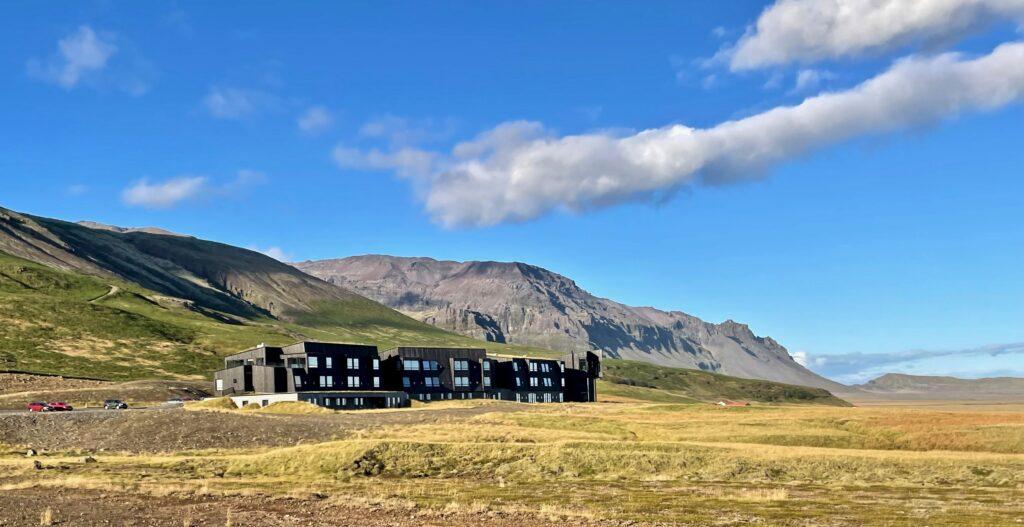 The hotel offers 128 contemporary rooms with comfortable bedding, an inviting lounge bar, a top notch restaurant, and a fitness and spa area.
Surrounded by rolling mountains and quiet countryside, the location is perfect for nature lovers! It also offers a gorgeous cascading and slightly hidden waterfall nearby, that is a few hundred feet from the hotel.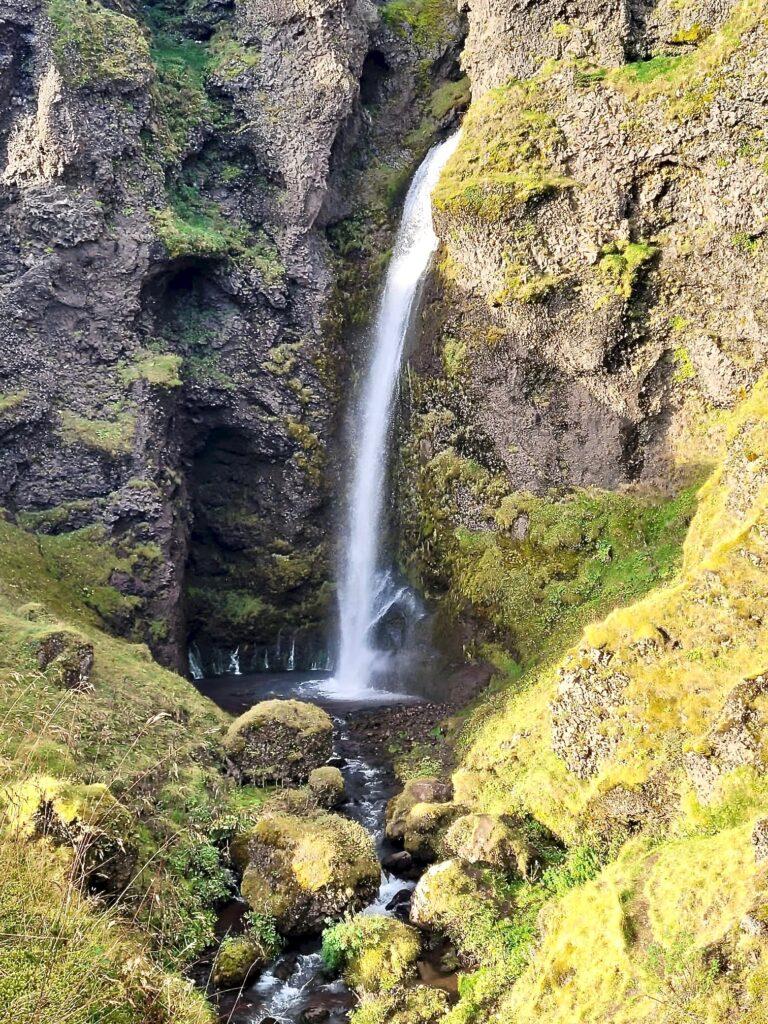 Enjoy a hand crafted cocktail in the modern, tastefully decorated lounge or choose to sit on their outdoor terrace and enjoy the views. You may want to order this delicious charcuterie board before heading to the restaurant for dinner.
Dine under the stars in this gorgeous setting overlooking the ocean. Tastefully decorated and a menu that is focused on the Icelandic nature surrounding the area. Some of the dishes that we tried were:
The 360 Hotel and Spa is one of my favourite hotel picks! Perched up on a hill in the countryside of South Iceland offering panoramic views of beautiful Iceland. Located just off the ring road, and very close to the Golden Circle makes this hotel a practical choice for any travelling direction that you are taking.
This 4-star luxury boutique hotel offers spacious and modern suites and deluxe rooms. All of the rooms have high ceilings, large bathrooms, and floor to ceiling windows so you can enjoy the beautiful outdoor view. The beds and pillows are lofty and cozy. Opened in 2018, this family-run hotel features 12 rooms and feels like a home away from home.
Warm and inviting, Anna and Oliver are the owners who take special care in making sure that you have a wonderful stay. From the food to the super lofty beds, the thermal pools and the friendly Icelandic conversation, this hotel wins hands down!
All guests have access to the onsite spa which includes a warm geothermally heated, two thermal hot tubs, a dry sauna and a relaxing lounge with fireplace. The richness of the minerals in the water baths is said to have therapeutic and healing benefits. Unwind and relax with a glass of wine in the thermal pools. It was soothing and uplifting, at the same time.
I can't forget to rave about dinner. It was beautifully plated and absolutely delicious. The prix fixe menu changes daily and included an appetizer, main course and dessert. The fish feature was incredible and the lamb was so tender and satisfying. The brightly flavoured carrot soup was memorable. Finally we had a creme brûlée for dessert that was served with the BEST Vanilla ice cream that we have ever had!
360 was the perfect location to see the Northern Lights! We were so fortunate the night that we visited to have seen the skies light up. Anna, our host and owner, jokingly said she turned them on for especially for us! What a magical place! We were very lucky to see them especially at the beginning of September.
The breakfast buffet had everything imaginable including a healthy shot of cod liver oil! It featured everything from bacon and eggs to homemade granola, and fresh matcha smoothies. The care the staff took to elegantly present a delightful, comforting breakfast was impressive.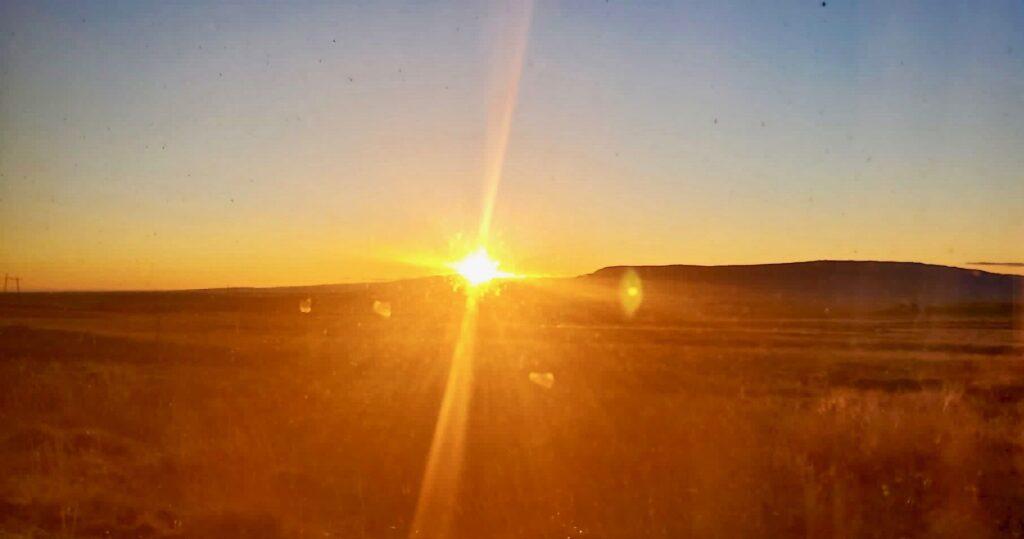 You will literally gasp when you enter the Blue Lagoon Retreat Hotel. It is truly that incredible and like nothing you have ever seen before! The Retreat at Blue Lagoon Iceland is an award-winning luxury resort. It boasts 62 elegant suites, a subterranean spa, Michelin-recommended dining and a private lagoon, sourced from the same healing waters as the Blue Lagoon. The hotel is located 20 minutes from the Keflavik airport which couldn't be more conveniently located. I would even consider flying to Iceland just to stay here for a perfect layover en route to Europe.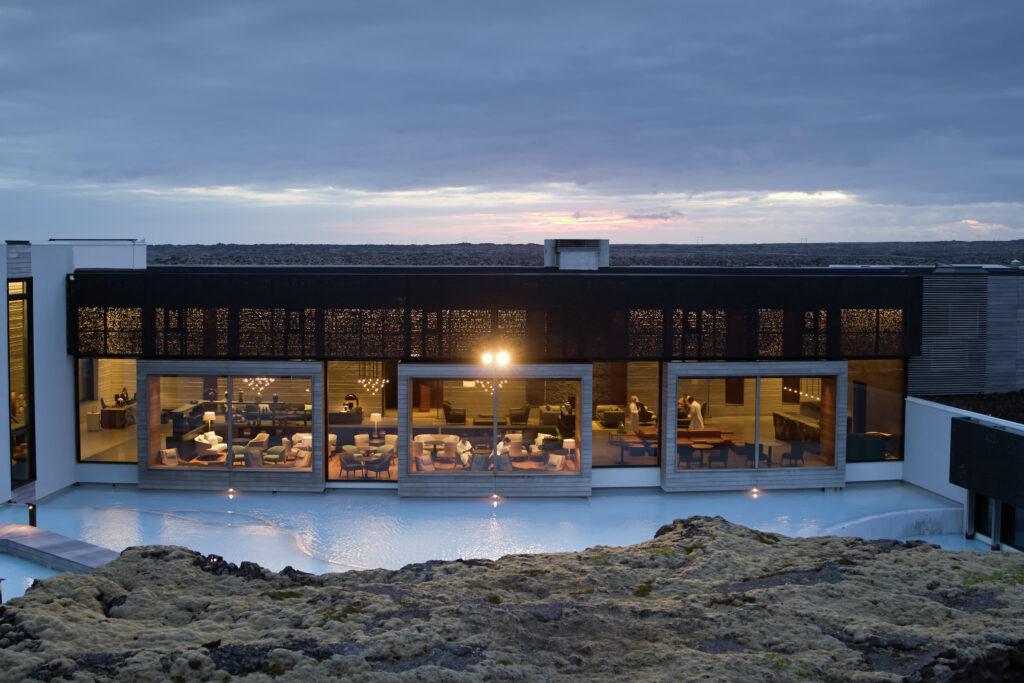 There are two areas that comprise the Blue Lagoon. The Blue Lagoon Retreat Hotel is separate from the Blue Lagoon, and has its own exclusive thermal pools for hotel guests. Included in your hotel stay is the unlimited access to the Retreat Spa and the Retreat Lagoon.
In the Retreat space you will find peaceful subterranean areas throughout, offering different experiences. There is a steam cave, and a cold well plunge. The Blue Lagoon Ritual is a unique skin rejuvenating experience, set in a dark cave-like setting. One is guided through a series of mud wraps, salt scrubs and moisturizing creams, using all signature products derived from the mineral rich waters of the Blue Lagoon. Your skin will feel amazingly soft and refreshed!
Guests also have the opportunity to partake in daily yoga classes and guided hikes. A delicious and healthy breakfast is also included with your stay.
From the moment you step into the Retreat at the Blue Lagoon you will feel like a VIP. The architects took great care in unifying the beauty of the lava fields with modern clean lines and environmentally friendly design and construction. The services offered and amenities are truly first class. Adding to this is the exemplary service from all staff members, you will not be disappointed adding a day or two here. The Retreat creates tranquility, calm and an easy sense of belonging right from the start. It was hard to leave but left a lastly memory. It is worth every penny!
The on-site restaurant specializes in re-imagining traditional Icelandic cuisine. Staying at the Retreat at Blue Lagoon is an immersive experience that transports you to another world of ultimate relaxation, which is why is it one of the best luxury hotels in Iceland!
The Sandhotel by Keahotels is an intimate boutique hotel set right in the heart of Reykjavik's city centre. The homey aromas from the in-house bakery are intoxicating and draw you in for delicious fresh made croissant, which can be enjoyed during breakfast after a comforting stay.
The rooms are stylish to say the least, elegantly decorated with a contemporary flare. The bedding is absolutely unforgettable and I do love a cozy bed! It is plush, lofty and perfect to fall into at the end of a busy, sightseeing day. In my opinion, the bedding and the breakfast are the highlight of this hotel! However, the bathrooms are on the smaller side and we found that there was not a whole lot of space to put your toiletries or hang your towels.
You may want to request a room on the backside of the hotel as our room overlooked Laugavegur street. Laugavegur street is the bustling main street in Reykjavik which features shops, cafes, and restaurants. While pleasantly vibrant during the day, it can get a little rowdy late into the evening. Unless you're a night owl, you will likely prefer a room distant from Laugavegur.
Are you a foodie? If so, I would recommend booking well in advance to enjoy either of these two fabulous restaurants in Reykjavik-The Food Cellar Matarkjallarinn and Seafood grill or Sjavargrillid Seafood Grill. Both restaurants are charming with a warm and inviting decor and focus on the authentic flavours of Iceland.
We enjoyed lobster tacos, wolf fish, beef tenderloin and fabulous desserts. The cocktails were delicious, as was the Icelandic beer. Once again, don't forget to book ahead as both spots are popular with both tourists and locals. Another nice thing is both restaurants are within walking distance from the Sandhotel!
I truly hope you enjoyed learning about these undeniably luxurious hotels within Iceland. Each hotel is unique and special in their own way. I would love to hear your feedback, or if you have questions about any of these hotels feel free to reach out! Happy planning, and get your Iceland bucket list trip going today!