A mouthwatering Reuben sandwich made with layers of thinly sliced pastrami, coleslaw, Swiss cheese, and a generous slather of tangy Russian dressing on toasted rye bread is a flavour explosion in every bite. The juicy meat, the crunchy slaw, and the zesty dressing combine to create a taste so good that it will make you want to come back for seconds and thirds!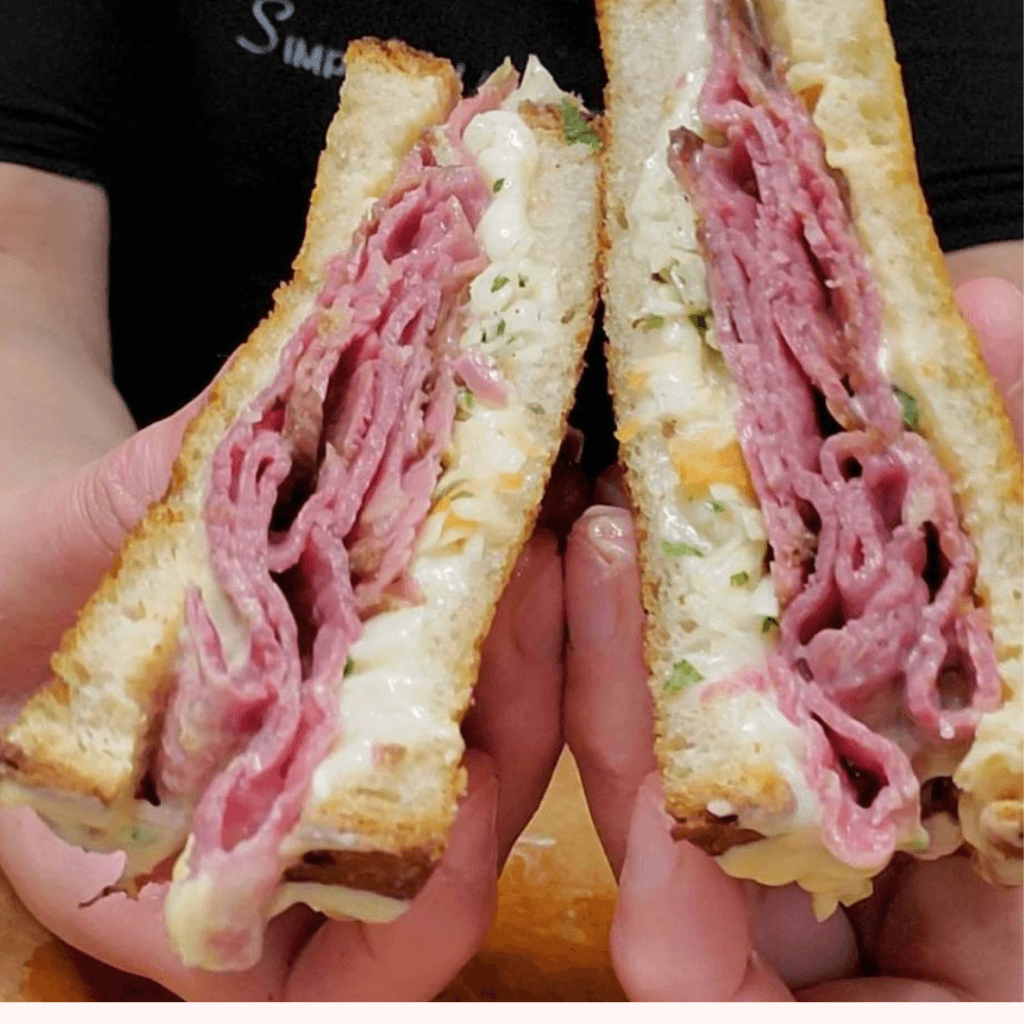 One of my first jobs was working at a Deli. It was a beautiful family-run deli in my town called Elias Delicatessen. My boss's name was Louie. Everyone in the city knew Louie. He was my boss, but also my friend. People would come to eat his delicious food and have great conversation. He laughed and enjoyed meeting people.
Without a doubt, he served the most delicious corned beef sandwiches I have ever tasted, to be honest. His close-knit family worked alongside him and treated us all like family. He really taught me so much about how good cooking brings people together. He definitely had a following! I love cooking, I learned so much from him but wished that I had learned more. Everything he made was homemade, from soups to dressings to coleslaw. He put so much of his heart into his food and people knew it. I was so lucky to have worked for them. 
He made this sandwich that he called a Darby. It was made with Pastrami, swiss cheese, Russian dressing and coleslaw. He would serve it with some hot peppers on the side and it was the BEST! 
Here is my attempt at making Louie's Darby Sandwich, and yes just an attempt…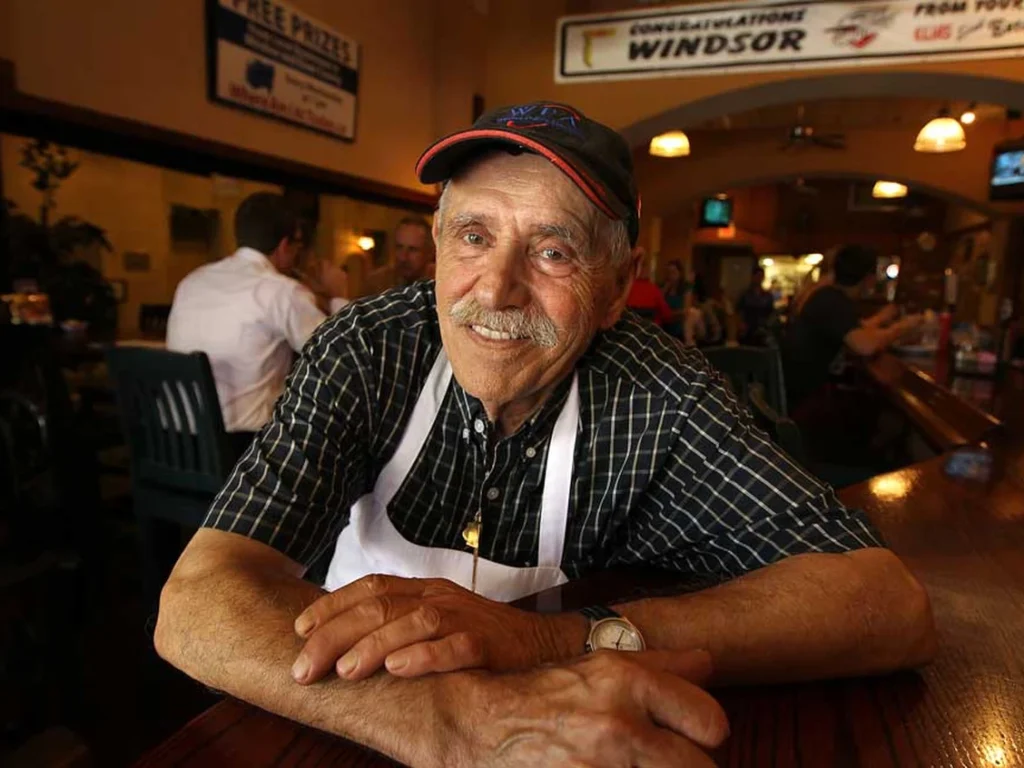 Homemade Russian dressing
A homemade Russian Dressing uses pretty simple pantry ingredients. It requires mayonnaise, sour cream, parsley, sweet garlic chili sauce, minced onion, dill pickle, horseradish, and worsteshire.
Ingredients for Russian Dressing
1 cup mayonnaise
1/4 cup garlic chili sauce
2 tbsp. sour cream
2 tbsp. parsley
1 tablespoon sweet onion, minced
1 tablespoon dill pickle
1 tsp. prepared horseradish
1/4 teaspoon Worcestershire sauce
Blend everything together.
Ingredients for the sandwich
Now to the star of the show: making the sandwich!
First things first, we need to steam the meat. Louie always steamed the meat so we must also! Obviously, he used big commercial steamers so for us at home we must steam the meat on a small scale. I like to use a steamer. We steam the meat for only a few minutes. It warms and gives a moist tender taste to the meat. It is so worth taking this step.
Instructions for making the sandwich
Take two slices of our Rye Bread and butter them up. Place them onto a medium high skillet. 
Add Russian Dressing to the bottom of the bread.
Add our delicious steamed meat. I like to add a spoonful of the Russian dressing to the meat also because it tastes so damn good.
Add on some freshly made coleslaw and a slice of Swiss Cheese.
Put the other piece of butter Rye bread on top and grill until golden and the cheese has melted.
Serve with a dill pickle, hot peppers and some kettle baked chips! Wow
Although this sandwich will never be as good as when Louie made it but it brings back fond food memories of my friend Louie and one of the best jobs that I ever had!
Drop me a line and let me know how it went for you! I hope that you enjoy this delicious sandwich!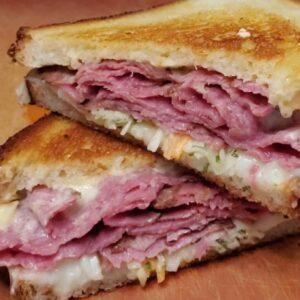 The Best Reuben with Homemade Russian Dressing
This tangy Russian dressing is the perfect addition to your Reuben sandwich. Made with mayo, sweet chili sauce, horseradish, and spices, it's the ultimate condiment for a zesty kick!
Ingredients
* 1 cup mayonnaise

* 1/4 cup garlic chili sauce

* 2 tbsp. sour cream

* 2 tbsp. parsley

* 1 tablespoon sweet onion

minced

* 1 tablespoon dill pickle

* 1 tsp. prepared horseradish

* 1/4 teaspoon Worcestershire sauce

* 1 package Smoked Meat Pastrami or Corned Beef Beef Your Choice

* 1 package of sliced Swiss cheese

* Russian Dressing that we made

* Coleslaw

* Rye Bread
Instructions
For the Russian Dressing: Blend all of the ingredients well and set aside.

For the Coleslaw: I like to shred a bit of cabbage, and carrot. Chop a bit of fresh parsley. Add it all to a bowl and add a tiny bit of vinegar, honey, coleslaw spice salt and pepper.

Assembling the Sandwich:

Take two slices of our Rye Bread and butter them up. Place them onto a medium high skillet. 

Add Russian Dressing to the bottom of the bread.

Add our delicious steamed meat. I like to add a spoonful of the Russian dressing to the meat also because it tastes so damn good.

Add on some freshly made coleslaw and a slice of Swiss Cheese.

Put the other piece of butter Rye bread on top and grill until golden and the cheese has melted.

Serve with a dill pickle, hot peppers and some kettle baked chips! Wow