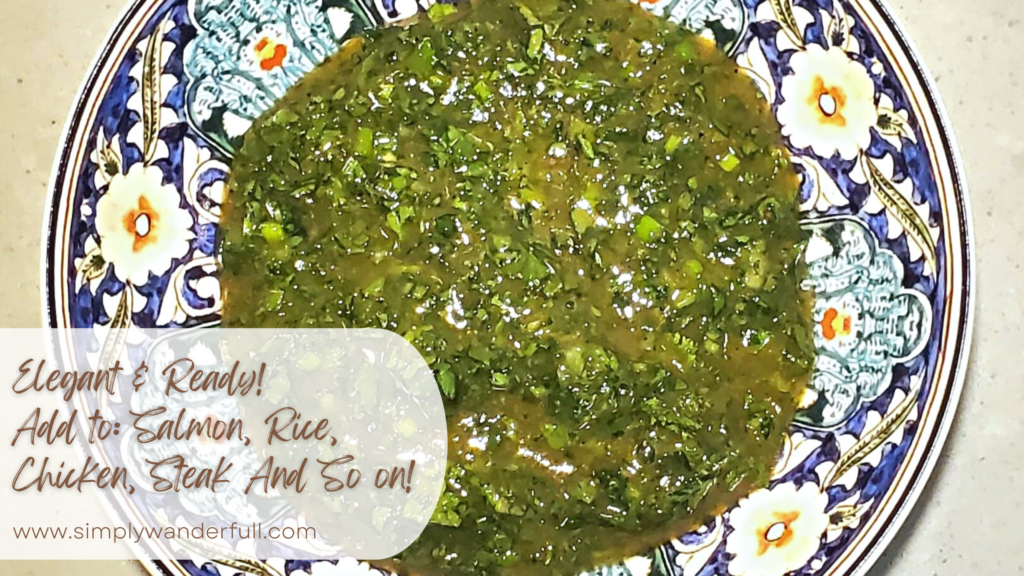 This fresh herb maple dijon sauce is a quick recipe that is perfect for so many dishes because it takes minimal time to prepare and your dish will be bursting with fresh herb flavours! This fresh herb dijon sauce offers so much flavour to many dishes including chicken, salmon and even rice. It is a perfect blend of sweet, salty and mustardy goodness.
I use and use this fresh herb sauce for my Cedar Plank Salmon recipe. It is really easy to make, and looks impressive. I think it is a great recipe if you are having guests over.
How to make the Herb Topper:
To make the fresh herb sauce chop approximately 1 cup of the fresh herbs of your liking, 1/4 cup maple syrup, 1/4 cup dijon mustard and 1 tsp. each of the garlic and onion spices. Add Salt and pepper. That is it!
These are the herbs that I like to use:
Fresh Curly Parsley
Fresh Basil
Fresh Dill
Fresh Thyme
Fresh Mint
Maple Syrup
Dijon Mustard
Granulated Garlic
Onion Powder
Salt & Pepper
Grill Chicken and add this herb topper at the end of cooking! It tastes Amazing!
For a quick and healthy vegetarian way to use this Maple-Dijon Topper add it to cooked rice! Mix it all together after the rice is cooked!
Health Benefits of Fresh Herbs:
Fresh Herbs: Where health & deliciousness meet! Adding herbs to any recipe brightens and lifts the food and adds a healthy goodness giving you a double-whammy of benefits! Several herbs, including parsley, have significant amounts of the essential vitamins A, C and K.
"…But the true power of herbs lies in their wealth of protective polyphenols — plant compounds with potent antioxidant and anti-inflammatory effects. Piles of studies show that polyphenols in herbs help combat such diseases as cancer, heart disease, Alzheimer's, diabetes and more. Polyphenols are anti-microbial, so they can help protect us from harmful bacteria as well. Although many of the studies on herbs' effects have involved concentrated solutions of the leaves' active components, there is evidence that their benefits still apply when they are cooked and eaten as part of a regular meal, too." Source: Washington Post Article: The Health Benefits of Herbs.
This recipe of blending herbs, dijon and maple syrup will not be soon forgotten! It can be used in so many ways! It is also extremely healthy!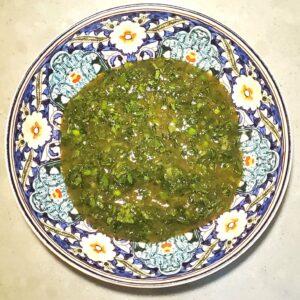 Fresh Herb Maple-Dijon Sauce
This Recipe is perfect for any dish! It takes minimal time to put together and is bursting with flavour! Add as a topper to Salmon, or Grilled Chicken. For a Vegetarian option, add this mixed into cooked rice! It is Fantastic!
Ingredients
1

cup

loosely packed herbs such as parsley, basil, and fresh thyme, dill, or mint

1/8

cup

Pure Maple Syrup

1/8

cup

Dijon Mustard

1/2

tbsp.

Diamond Crystal Salt

1/2

tsp.

Granulated garlic

1/2

tsp.

Onion Powder

1/4

tsp.

Black Pepper
Instructions
Stir together all of the mixed herbs, maple syrup, Dijon Mustard, and spices.

For Salmon: Add to the top of a piece of fresh salmon. Bake at 400 degrees on a parchment lined baking sheet. Bake for 15-20 minutes

For Chicken: Add to the top of Grilled Chicken while it is resting in tin foil.

For Rice: Prepare Basmati Rice in a rice maker. Add the herb topper to the cooked rice. You may want to crumble up some feta cheese over top the rice. It adds a nice saltiness to the herbed rice.