These most delicious grape leaves are so enjoyable to make and extremely healthy! I just love a fun cooking project and this is definitely one of those recipes! Yes it takes time, but it is really very simple. I think the key to success here, is having everything set up before you start making the recipe! Call a friend over or put your favourite playlist on and start rolling! I actually find it very calming! A Zen Style Cooking Therapy! lol
My mother & father in law have been making these grape leaves for years. This recipe comes from my father in law's mother. She was Lebanese. I did however tweak it a tiny bit by using chicken stock instead of water as the liquid for the pot. I feel that it just adds a little more flavour to the grape leave.
Another very important step is too not skimp on the fresh lemon juice. Have lots of lemons in your house before making these grape leaves! It is important to add fresh lemon between the layers of grape leaves as this brings so much of the delicious flavour to the grape leave.
I also rolled them fairly tight to avoid any of the grape leaves from popping! This seemed to work very well! Needless to say they were delicious. I made them on Saturday and they were all gone by Sunday! Happy Rolling!!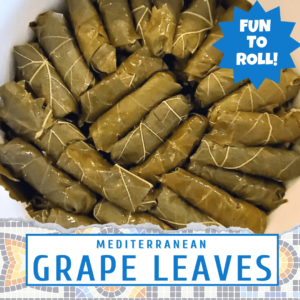 Meat Stuffed Grape Leaves
These Most Delicious Gluten Free Stuffed Grape Leaves are the BEST! Fresh Tasting and Super Healthy! Grab a Friend and Plan a Day of Making Grape Leaves! It is so Relaxing and they are so much Fun to Roll! A Great Cooking Project!
Ingredients
I jar of grape leaves

rinsed very good and place in a large bowl of water

1 1/2

lb.

Lean ground beef

1 1/2

cup

Calrose Rice

1

Vidalia onion

chopped fine

1

tbsp.

All spice or Mixed Spice or 7 Spice

1/2

tsp.

Cinnamon

1

tsp.

Paprika

1/4

tsp.

Grated Lemon Zest

1 1/2

tsp.

Salt

1- 1/2

cup

Lemon Juice

3-4 Large Lemons

Chicken Stock

3

yukon potatoes

Sliced for the bottom of the pot
Instructions
Directions:

Filling Prep: Sauté Onion until translucent. Add a little salt, pepper and sugar to taste. Cool.In a large bowl, place uncooked ground beef, seasonings, rice and sautéed onions. Mix good.

Grape Leave Prep: Drain the grape leaves and rinse under cold water really good. I then fill a large bowl with water and put the leaves in the fresh water to loosen more of the brine. Separate the leaves as best as you can.

The Assemby: To stuff and roll the grape leaves, lay a grape leaf flat on a cutting board, scoop out a heaping teaspoon of the rice mixture into the center of the grape leaf, and carefully fold in the sides and roll it like you would when making a wrap.

The trick is to roll it tightly enough so that it doesn't unravel while cooking, but not too tightly since the rice needs room to expand as it cooks.

Pot Prep: Slice potatoes and place them on the bottom of a heavy pot. Salt and pepper them. Place some extra grape leaves around the bottom of the pan and come up the sides slightly. Line the grape leaves around the pot and tight together. Squeeze fresh lemon over each completed layer.

Once complete, add the rest of the lemon juice and the chicken stock. Add enough liquid to cover the grape leaves by about 1/2 inch above.

Place a Plate over the grape leaves. This keeps the grape leaves down while cooking. Bring to a boil. Boil until most of the liquid is evaporated and the rice is cooked 25 -30 minutes. Do not let the pot run dry. Make sure to have enough liquid for the entire cooking process.

Remove from the heat, and let stand to cool for an additional 20 minutes.Sprinkle with fresh lemon and enjoy!* You can also freeze them in Ziploc bags! They freeze very well!