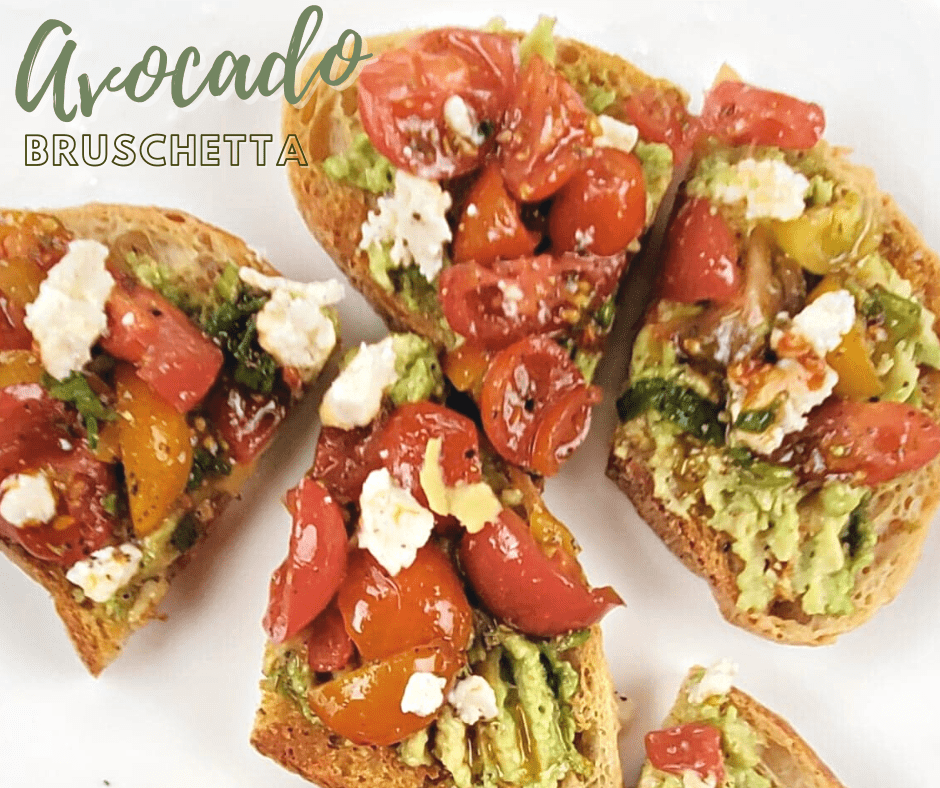 Mmmhh…what could be better than delicious bruschetta, made with your favourite artisan bread? Well, adding some smashed avocado, fresh basil, a swirl of rich balsamic vinegar and creamy honeyed goat cheese, I say!
Smashed avocado toast bruschetta is packed with nutrition and bursting with flavour. This easy-peasy, crowd-pleasing recipe is a keeper!
I jumped on the avocado toast craze after visiting Edinburgh, Scotland. It seemed as though every restaurant had this treat on their menu and, could be enjoyed any time of the day, for breakfast, lunch or as an appetizer. I was amazed at the array of cool pairings and flavours for an avocado smashed on toast. The options are endless!
Making avocado toast is quick and easy. First, starting out with your favourite bread is a must! Be it rye ( my go-to) or a fresh whole-grain bread is your best bet. I prefer to slice the bread a little thicker than standard toast bread, just to give the dish some substance. Next, toasting the bread in a toaster oven, toaster or even an air fryer gets it crisp and ready for the delicious toppings.
For a quick bruschetta, I chop 3 Roma tomatoes, 1 green onion, add a sprinkle of garlic powder, salt and sugar. I then drizzle in tiny bit of balsamic vinegar and the best extra virgin olive oil (EVOO). This can all be easily mixed up, right on the cutting board, a la Jamie Oliver! While the bread is toasting, mash the avocado with a fork. I like to leave a few chunks for added texture. Spread it over the toast and spoon on some of the fresh bruschetta. Finish it would some honeyed goat cheese and a sprinkling of Maldon or Fleur de sel salt. Ta-dah! It's that easy!
Have you ever tried Maldon sea salt flakes? It is a decadent finishing salt that enhances the flavour of foods. It is flaky and offers a clean finish, and surprisingly, not that salty! I always have a box on hand for finishing anything from fancy appetizers or salads to warm chocolate chip cookies. This salt is good for so many dishes!
Avocado Smash Pairing Ideas:
Radishes thinly sliced, arugula and finishing salt
B.L.T. avocado smash
Smoked salmon & red onion avocado smash
Poached egg, chili oil, seasoned avocado smash
Avocado seasoned with honeyed goat cheese and arugula tossed in honey & lemon
Avocado Health Benefits:
Avocados are great for your health! Avocados contain good fatty acids that have anti-inflammatory properties. They are high in fibre, so they're good for your digestive health. Avocados are a great source of Vitamin C, E, K and B-6, magnesium and potassium. Forget the apple! An avocado a day may keep the doctor away!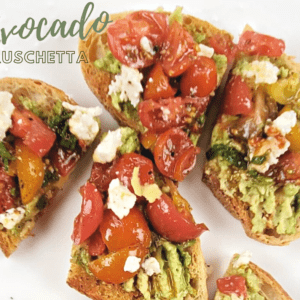 Smashed Avocado Bruschetta
Smashed avocado with a tasty bruschetta and finished with a tiny bit of honey goat cheese is a great way to start your day!
Ingredients
3-4

pieces

of Good Artisan Bread
For the Avocado
2

Avocados

Sprinkle of Garlic Powder

Cracked Pepper & Maldon Salt
For the Bruschetta topper
2-3

Roma Tomatoes, diced

washed and diced

1

Green Onion

chopped

1

tsp.

Parsley or Basil or any fresh herb that you love

chopped

Salt

Pepper, and a tiny sprinkle of sugar

1/2

tsp.

Balsamic Vinegar

2

tsp.

Olive Oil

Honeyed Goat Cheese

optional
Instructions
Mix all of the Bruschetta Ingredients together and taste the seasonings to your liking. Set aside.

Toast Bread. Using half an avocado for each slice of toast bread, take a fork and mash the avocado into the toast. Add a pinch of garlic powder, maldon salt (or sea salt), and cracked pepper.T

op with the Bruschetta Topping.

Finish with your favourite soft cheese. I love using Honeyed goat cheese.