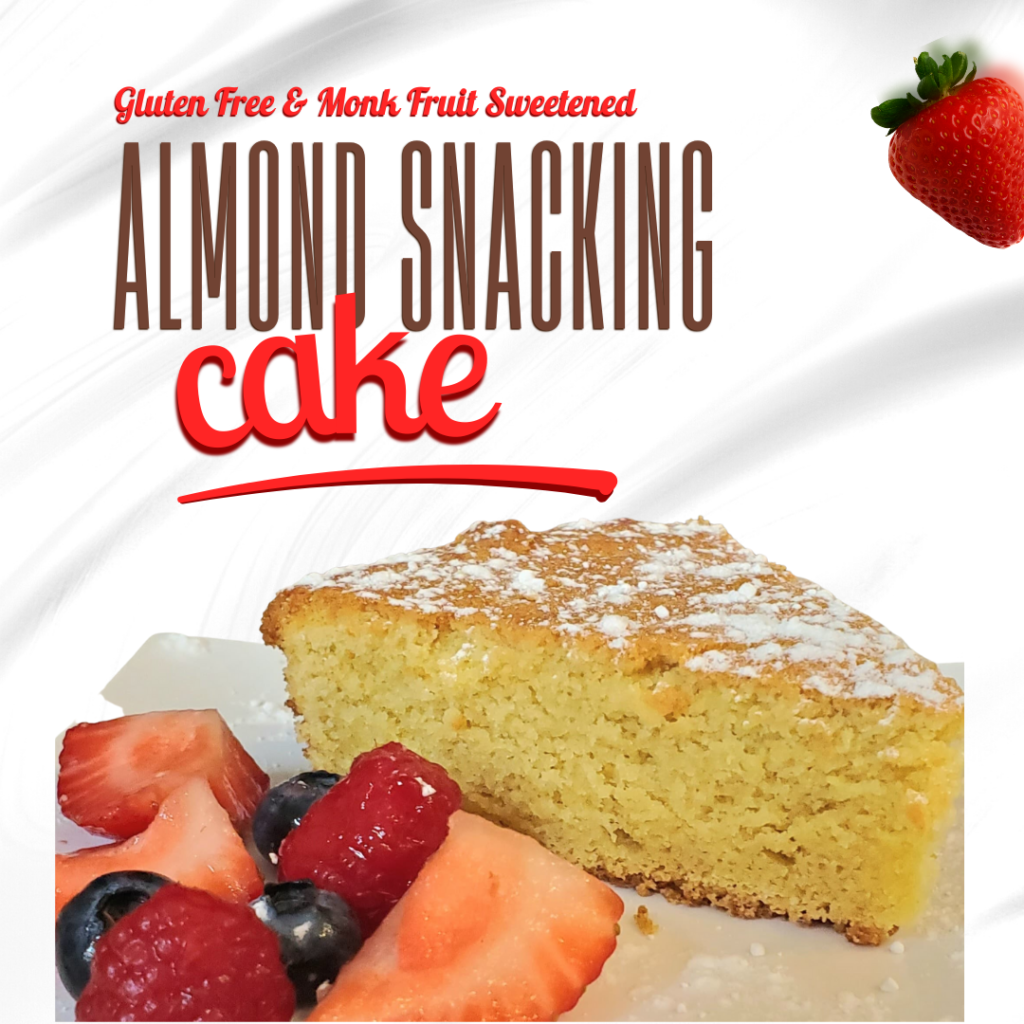 This delicious, gluten-free, almond snacking cake is light, crumbly and sweetened just right. It is a guilt-free, delicious dessert that would be great with a cup of coffee or tea.
Sweetened with monk fruit erythritol, ( a healthy alternative to white, refined sugar), this snacking cake is perfect for all health conscious folks. Not only is it diabetic-friendly, gluten-free, low calorie and keto diet-friendly, but it is simple to make and can be whipped up any day of the week!
This recipe was given to me by my neighbour, who loves to bake, especially healthy treats. She loves the science behind baking and is careful to select the perfect, healthy ingredients to satisfy the sweetest sweet tooth! Her enthusiastic explanation of all the reasons monk fruit erythritol is healthy and the ease of incorporating it into many baking recipes, was enlightening and inspiring to me. It is all she uses in her baking!
What is Monk fruit Sugar?
Monk fruit, is a fruit! A round green melon native to central Asia. Traditional Chinese medicine has used it for at least hundreds of years, with applications including treatment of diabetes and respiratory illnesses. Monk fruit makes a wonderful sugar substitute.
Monk fruit keto sweetener originates from the monk fruit itself. The skins and seeds are removed and the fruit is then crushed to collect the juice inside. The end result is very concentrated, up to 400 times as sweet as sugar. From here, it can be suspended in liquid, dried into a pure powder, or blended with other sugar alternatives to make a more suitable sugar substitute for baking and cooking. For more great information on Monk fruit sugar and great explanations on comparison substitute sugars check out this very informative website: https://www.wholesomeyum.com/sugar-substitutes/.
Benefits of Monk fruit erythritol
It reduces calories. Because monk fruit erythritol is metabolized differently than regular sugar, using it will decrease your caloric intake
It doesn't affect blood sugar and therefore good for diabetics
It's anti-inflammatory
It can help fight cancer
It doesn't cause cavities
As it is so satisfying sweet, a little goes a long way in baking.
Bakers rejoice! monk fruit erythritol has a consistency similar to granulated sugar and is heat stable, so it can be used for both baking and cooking purposes. Monk fruit is commonly used as a substitute for all sugar and works especially well in cookies, cakes, and bread. Surprisingly, it works well in soups, sauces and beverages. Who would have thought?
As mentioned above, it is much sweeter than sugar so a 1-to-1 substitution may be too sweet. Experiment in the kitchen and find the ratio that fits your needs. Consider starting with 1/3 cup monk fruit sugar for 1 cup sugar.
I was able to find all of the ingredients at the Bulk Barn, however my neighbour has suggested that I buy the monk fruit sugar and almond flour at Costco. If never of these stores are nearby, Amazon has both ingredients readily available for home delivery.
This recipe will make two 9 x 2″ round pans, or two 8.5 x 4.5″ parchment lined loaf pans. My neighbour also raves about her silicone round cake pans. Sounds like another useful item I need to purchase for all the baking I plan on doing!
One recipe – two variations
This particular recipe makes 2 large cakes, and as much as my family loves cake, I decided to experiment and make a couple variations.
Firstly, I served it as a simple snacking cake with a dusting of monk fruit icing sugar and fresh fruit. This would be a great dessert to serve with a cup of tea or coffee.
Secondly, I made a simple fruit trifle, a lovely layered dessert of English origin. As the cake cooled, I made a scrumptious whipped cream/mascarpone blend and mashed some fresh berries. At this point, basic assembly of the layers is all that's required. If my kids were little, they would have loved helping out at this point..so easy.
Each layer consists of a mashed berry medley, followed by a layer of whipped cream / mascarpone blend and then some fresh fruit. I was able to make two layers using only one of the cakes. This dessert looks impressive and tastes even better. You will surely floor your guests!
How to make monk fruit icing sugar? Simply, place the monk fruit sugar in a Vita-mix or blender and whirl it up into icing sugar. Done.
Berry Trifle with Whipped Mascarpone Cream
You can't mess it up! That is the best way to describe this easy assembly dessert recipe. A little of this and a little of that is all it takes! All you will need to do is prepare the whipped cream/mascarpone blend and wash some berries. Easy peasy!
For the recipe:
For the cake:
Slice the almond cake into 1/4 inch slices or rounds depending on the shape of your serving dish. Be sure to use a glass dish, so that you can see the pretty layers of cake, cream and berries
For the Berries:
1 quart fresh strawberries, hulled and quartered
1 pt. fresh raspberries
2 pt. fresh blueberries
1 tsp. monk fruit sugar
Directions:
Wash fruit thoroughly and dry on a paper towel. Add all of the fruit to a bowl and mix together.
Transfer 2 cups of the fruit to a separate bowl, sprinkle with the monk fruit sugar and mash with a fork or potato masher.
For the whipped mascarpone cream:
1 cup heavy whipping cream
1/2 cup powdered monk fruit sugar (see above for how-to)
1 tsp pure vanilla extract
1 (16-oz.) container mascarpone cheese
Directions:
Beat together cream, monk fruit sugar, and vanilla extract in a mixer on medium speed for approximately 3 to 4 minutes until soft peaks form. Add the mascarpone and beat, on medium speed, until just blended, about 30 seconds.
Assembly:
To make delicious trifle layers, add to your serving dish:
-Cake slices first
-spoon in a layer of mashed berries
-spoon in layer of whipped cream/mascarpone blend
*Repeat the layering at least 2 times*
Finish with the rest of the fresh fruit on top!
Let this rest in the refrigerator for at least 1 hour for the flavours to meld. Enjoy!
Another recommendation I received was to use this almond cake for the layers in tiramisu-a delicious, coffee-flavoured Italian dessert. Wow! The sky is the limit with this darn cake. There is just So many possibilities! I hope that you enjoy the cake as much as we all did!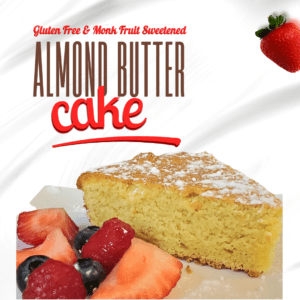 Keto Friendly Almond Snacking Cake
This Keto friendly Almond Snacking cake is gluten free, and made with monk fruit erythritol for a healthy sugar substitute. It is light, fluffy and sweetened just right. Guilt free and simple to make, this dessert can be made easily any night of the week.
Ingredients
2- 1/3

cup

Brown rice flour

1

cup

Almond flour

1-3/4

cup

Monk fruit erythritol

1/2

lb.

Unsalted soft butter

3/4

tsp.

Salt

2

tsp.

Baking powder

1

tsp.

Baking soda

1/2

tsp.

Xanthan gum

1

cup

Plain or vanilla flavoured greek yogurt

4

lg.

Eggs

2

tsp.

Vanilla extract
Instructions
Preheat oven to 350°. Position rack in lower third of oven

Grease two 9 x 2" round cake pans with parchment lined bottoms or two 8.5 x 4.5" parchment paper lined loaf pans.

In a mixing bowl, add brown rice flour, almond flour, monk fruit erythritol, butter and salt. Beat these ingredients with the stand mixer to combine until the mixture is the texture of brown sugar (about 2 minutes)

In a separate bowl, add eggs, vanilla extract, yogurt, xanthan gum, baking soda, and baking powder. Whisk until just together.

Add this wet mixture to the dry mixture and blend on medium-high for at least 2-3 minutes. The batter should be very smooth and fluffy.

Scrape the batter into the two prepared pans and bake for 30 minutes or the loaves 50-55 minutes or until a toothpick inserted into the centre comes out clean. It will turn a beautiful golden colour on the top. Watch carefully because all ovens will vary. Cool on a rack.