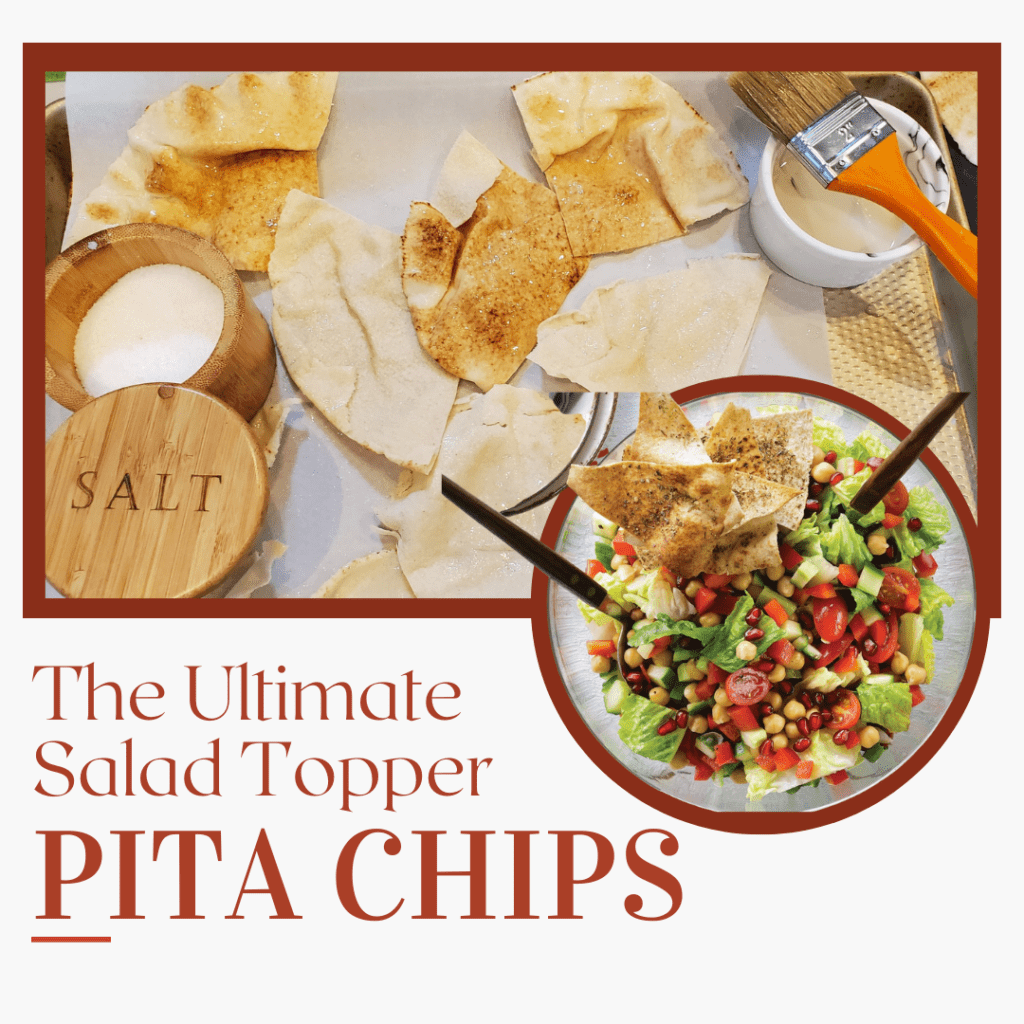 For the ultimate Salad topper these easy homemade pita chips are a classic! These crunchy pita chips are healthy, quick to make and can be customized with your favourite seasoning! Crush them on your salad or use them for snacking! This recipe is a great go-to recipe!
Is Pita Bread Healthy?
Pita bread is low in calories which is great if you are watching your weight. It is also a rich source of protein and carbohydrate and contains adequate amount of vitamin B, selenium and manganese that work together as antioxidants.
Ingredients you need:
Pita Bread
You can use plain or whole wheat pita bread for the pita chips. I like to separate the pita to make a thinner pita chip. I find they bake quicker, and are crispier than if you leave them whole.
Olive oil
Using extra virgin olive oil, brush both sides of the pita chip with a light coating of oil. This will give it some beautiful golden colouring when baking.
Seasoning
This is where you can great really creative. I personally like to sprinkle salt and maybe some granulated garlic on the the chips for a salad however you can add whatever you like in terms of seasoning. For some seasoning ideas you may want to add:
Plain & Simple Pita Chip: Salt/Garlic/Pepper
Middle eastern Pita Chip: Sprinkle with Za'atar
Greek Pita Chip: Sprinkle with garlic, oregano and lemon zest
Italian Pita Chip: Sprinkle with Italian seasoning
Sweet Pita Chip: Sprinkle with a blend of cinnamon & sugar
Parchment Paper
I am addicted to Kirkland's Parchment Paper. I love it so much, and use it for everything. I love using a sheet of parchment paper on top of my cutting board for when I cut chicken or any meat. In addition, I love to used it for cutting onions or garlic. I feel like it helps keep my cutting board clean. Simply put I used it for everything from baking to prepping. It is likely the most essential item that I use in the kitchen! lol
How to Store the Pita Chips
These Homemade Pita Chips store nicely if there are any left after you make them! Once the chips are cooled completely they store very nicely in an airtight container for up to 1 week.
Other ways to serve the pita chips
These homemade pita chips are so versatile and can be served in so many ways other than just salad. Some ideas may include: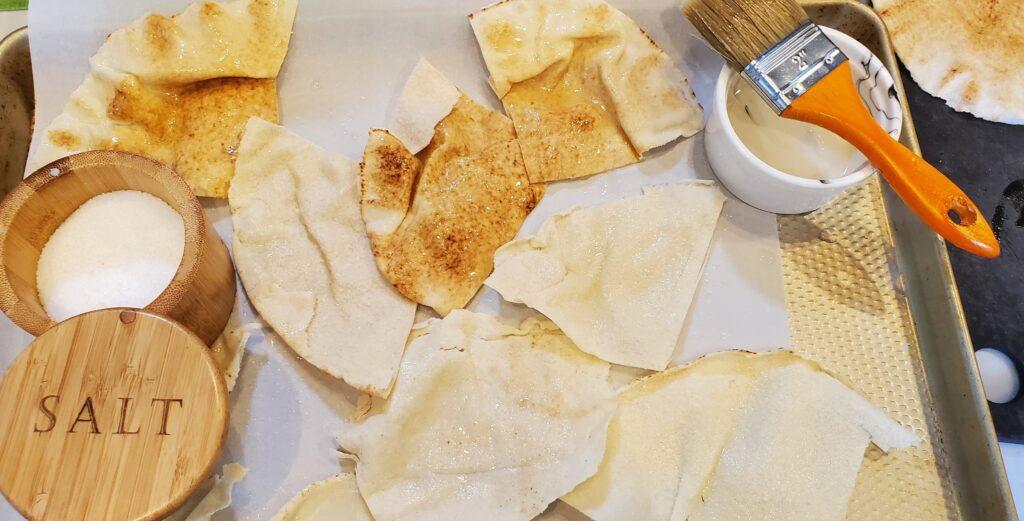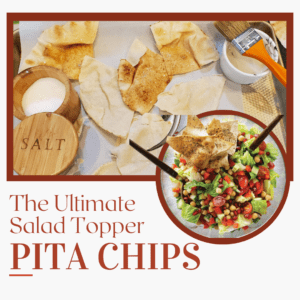 Homemade Pita Chips
These go-to crunch homemade pitas chips are a lovely snack or perfect for a salad topper! Easy and fast to make!
Ingredients
4

thin

6 Inch pita breads, regular or whole wheat

4

tbsp.

olive oil

Granulated Garlic

Salt
Instructions
Preheat the oven to 375 degrees. Line a sheet tray with parchment paper.

Separate each piece of pita bread to make two rounds. Using a pizza cutter, slice into for wedges.

Brush each side of the wedges with olive oil, then arrange on the tray. It's okay if the triangles are close together. Sprinkle generously with your preferred seasonings. I like to use garlic and salt for a plain type of pita chip.

Bake for 5 to 6 minutes or to your desired doneness. I like when they turn a slightly dark shade of gold, but not to dark. Cool on a wired rack. Store in an airtight container for up to a week.