Looking for a healthy, easy, and pretty looking appetizer for your next gathering?
Look no further than this 7-layer Greek dip recipe! Packed with fresh ingredients and bursting with flavour, this dip is not only a crowd-pleaser but also a healthy option for those looking to watch their calorie intake.
As a bonus, its colourful layers make it a visually stunning addition to any party spread. With a base layer of creamy hummus and layers of juicy tomatoes, tangy olives, crumbled feta cheese, and fresh parsley, this dip is easy to assemble and will impress even the pickiest eaters.
So why settle for boring chips and dip when you can wow your guests with this delicious and nutritious appetizer?
This colourful creation is really delicious and is great served with Homemade Pita Chips, or store bought Stacy's Pita Chips. For a gluten free option, I am loving these chips from Whole Foods that are made with Almond Flour and seeds. They are called: Simple Mills Almond Flour Crackers.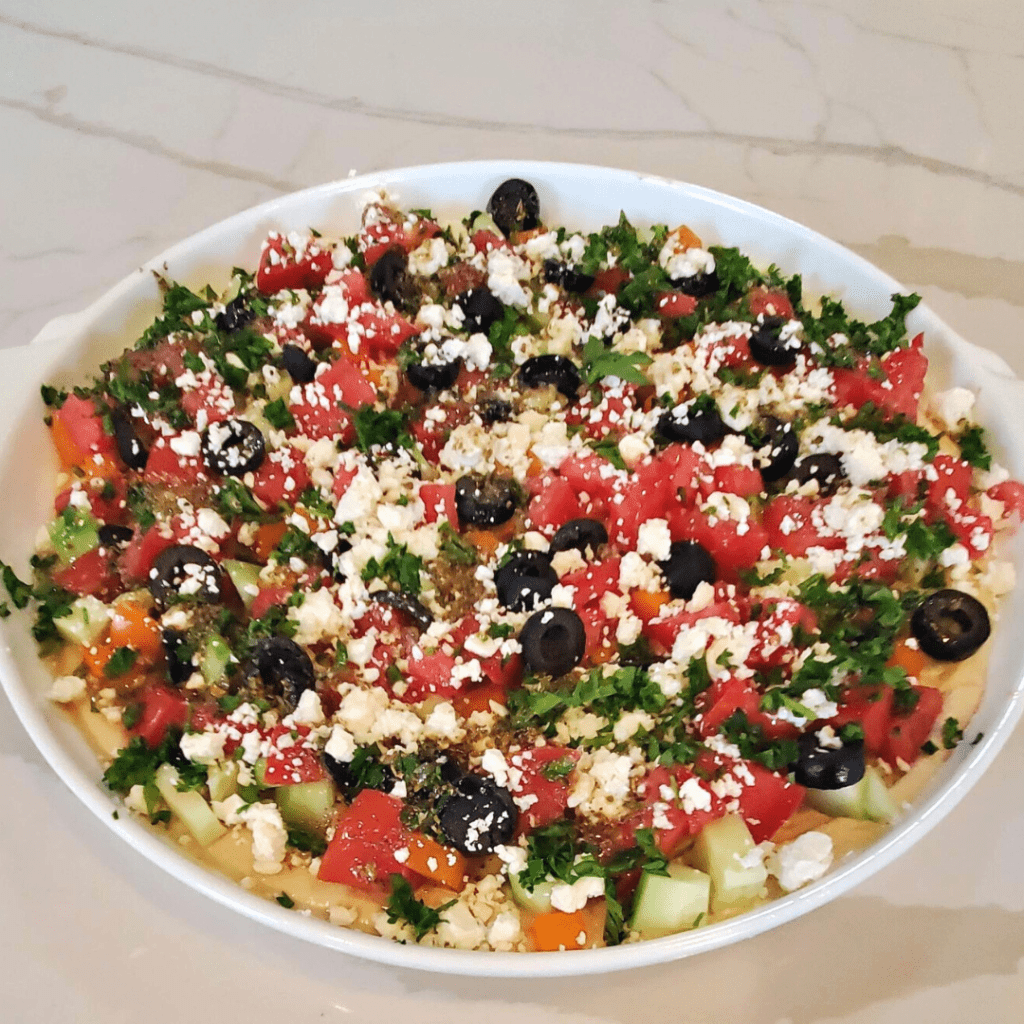 So here is the rundown of this easy 7-layer Greek Appetizer recipe. A simple layering of ingredients is all it's going to take to get this appetizer put together quickly.
We start out using hummus as our base. Secondly, you will add the following, diced tomatoes, red onion (optional), cucumbers, parsley, radish, olives (kalamata or black), and feta cheese.
Now to make it fancy looking, I like to toss some arugula with a greek salad dressing I like to make my own greek salad dressing (or you can use store-bought).
Arrange the dressed arugula over the top of the 7-layer greek appetizer. Add some fresh cracked pepper and there you have it! Done and delicious!
Ingredients for the 7-layer Greek appetizer
Here are the ingredients needed to make the 7-layer Greek Appetizer.
here's a recipe for a 7-layer Greek appetizer using hummus as the base:
Ingredients:
1-2 cup hummus (homemade or store-bought)
1/2 cup diced tomatoes
1/2 cup diced cucumber
1/2 cup red peppers
1/2 cup diced red onion (optional)
1/2 cup crumbled feta cheese
1/4 cup chopped Kalamata olives
1/4 cup radish sliced 
2 tablespoons chopped fresh parsley
Pita chips or sliced veggies, for serving
Instructions:
Spread the hummus in the bottom of a 9-inch pie dish or a similar-sized fancy serving platter.
Sprinkle the diced tomatoes, cucumber, and red onion, olives, red peppers, and radish evenly over the top of the hummus.
Sprinkle the crumbled feta cheese and parsley over the veggies.
Toss the arugula with some greek salad dressing and then spread a small layer over the top to make it look fancy. Add fresh cracked pepper over the entire dish.
Serve with baked pita chips and a homemade Tzatziki Sauce for dipping.
Note: You can adjust the amounts of each ingredient based on your personal preferences and the size of your serving dish. You can also add or substitute other ingredients, such as roasted red peppers, marinated artichoke hearts, or chopped fresh mint, to create your own customized version of this tasty appetizer. Enjoy!
Homemade Greek Salad Dressing
Here are the ingredients needed to make a delicious Greek Salad Dressing.
1/3 cup Olive oil
1/2 Lemon, juiced
1 tsp. Red wine vinegar
1 tsp. Granulated garlic 
1 tsp. Dijon Mustard
1-2 tsp. Dried oregano
1 tsp. Sugar
1 tsp. Salt & Pepper
A great appetizer to impress!
In summary, a 7-layer Greek appetizer is a perfect dish to bring to a party if you want to impress your friends.
Not only is it visually stunning, with its layers of colourful and flavorful ingredients, but it's also easy to make and highly customizable.
You can adjust the ingredients to suit your own tastes or dietary restrictions, and you can scale the recipe up or down depending on the size of the party.
Plus, it's a healthy and nutritious option that's sure to please even the most health-conscious guests. So whether you're hosting a gathering or attending a potluck, be sure to whip up this impressive and delicious appetizer that's sure to be a hit with everyone!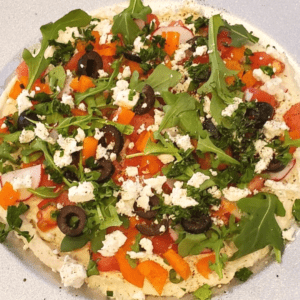 7-Layer Greek Dip Recipe
This 7-layer Greek di is simple to make and very satisfying. Made with fresh ingredients such as hummus, tomatoes, cucumbers, black olives, feta cheese and arugula. Topped with a greek dressing. So delicious!
Ingredients
Layered Greek Appetizer Ingredients
1

container

Hummus

1

cup

Fresh tomatoes, salted and drained in a colander. Gently dry with a paper towel 

1/4

cup

Sliced black olives or kalamata olives whichever you prefer

1/4

cup

Cucumbers

1/4

cup

Red or Orange Pepper

1/4

cup

sliced radish

1/4

cup

red onion, finely diced (optional)

1/2

cup

Feta cheese, crumbled

1

cup

Arugula 

Salt & Pepper
Greek Salad Dressing
1/3

cup

Olive oil

1/2

Lemon, juiced

1

tsp.

Red wine vinegar

1

tsp.

Granulated garlic 

1

tsp.

Dijon Mustard

1-2

tsp.

Dried oregano

1

tsp.

Sugar

1

tsp.

Salt & Pepper
Instructions
Layered Greek Appetizer
Layer in the order of the list of ingredients noted above.

Serve chilled with fresh Pita bread!
Greek Salad Dressing
Blend all ingredients and adjust to your liking if necessary