I visited Iceland in September on a 6 day trip to Iceland and couldn't wait to make their traditional Icelandic Lamb Soup. One of Iceland's most important dishes called kjötsúpa is a simple lamb soup made with winter root vegetables. It is warm, cosy and filled with earthy goodness. It reminds me of a soup that my grandmother would have made for a family get-together. This simple nordic soup is made with simple ingredients and I believe would be a perfect fall soup on a cool fall day.
Iceland seems so popular these days with the focus on waterfalls, geysers and glaciers, however, the food of Iceland is incredible and should not be overlooked when planning a trip!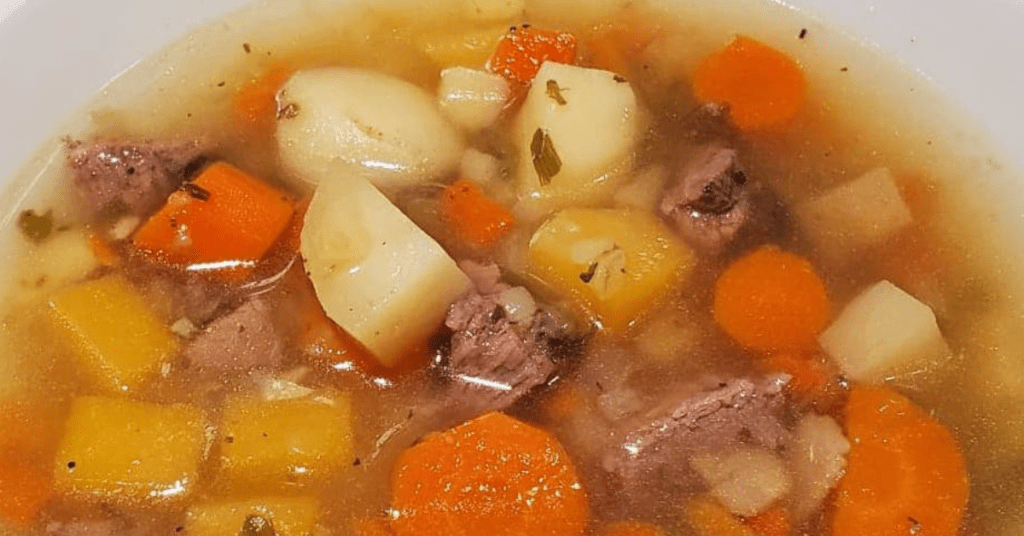 What is kjötsúpa?
The Icelandic name of this very traditional soup means "meat soup" and for most Icelanders, this is "THE" Icelandic soup, even though fairly similar soups can be found in other countries. It was always served on Christmas Eve but later it became more of an everyday soup.
The Secret Ingredient
The staple ingredients will always include rutabagas, carrots, and potatoes. Sometimes, the soup will be thickened with oatmeal or rice. The "soup herbs" are the secret ingredient here and are found in every Icelandic grocery store. I was able to find an online Icelandic grocery store that sells dried soup herbs. The online store is called Nammi.is.
More Icelandic Cooking Recipes?
I bought this beautiful cookbook while visiting Iceland called Icelandic Food and Cookery. This cookbook includes traditional and modern recipes of Iceland. It includes real Icelandic home cooking recipes and an overview of Icelandic food history. I just love cookbooks that also tell the stories behind the recipe.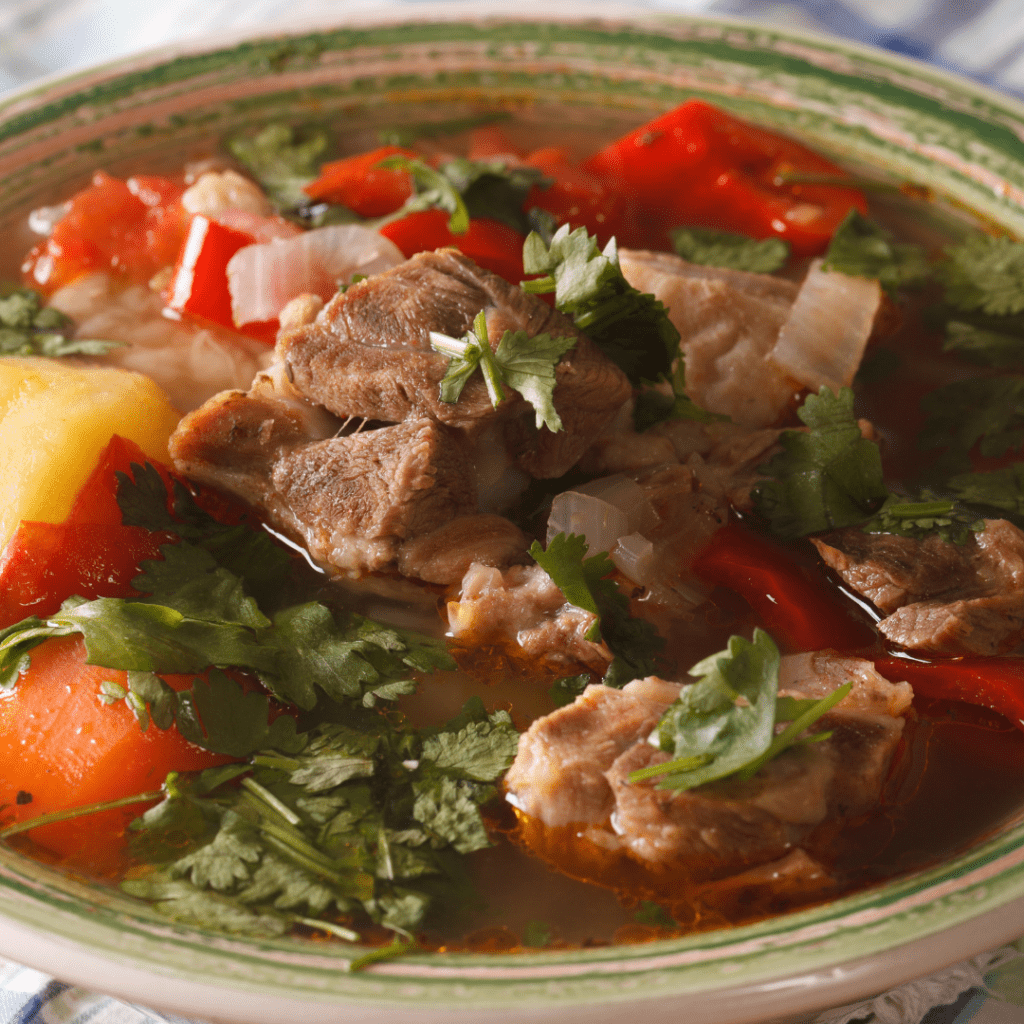 The Soup Journey
During my time in Iceland, I was very fortunate to take a tour called Inside the Volcano. The dormant Þríhnúkagígur volcano is a unique natural phenomenon. This inactive volcano had erupted 4500 years ago and it solidified a crater into the earth larger than the Statue of Liberty! To be able to experience this wonder, all you need is the willingness to do a moderate 45–50 minute hike (to get to the crater) and the guts to descend 120 meters/400 feet to the bottom of the crater in an open cable lift.
We were lowered into the volcano and had a chance to walk around inside this jaw-dropping crater within the earth for some time. It was truly a remarkable experience, and if you are ever visiting Iceland, this tour should definitely be on your bucket list! The reason I mention this amazing tour was that after the tour, we were brought back to the base camp and served this most incredible bowl of Icelandic Lamb Soup.
It was heartwarming and hearty and perfectly fitting after this amazing tour. It felt like a bowl full of love and a big warm hug with every spoonful! I just had to bring this Icelandic traditional soup recipe home for my family to try.
The Ingredients
Lamb:
Lamb is the most consumed meat in Iceland. Icelandic lamb has a wonderful flavour, is very lean and raised with no antibiotics, and no added hormones. Pesticides and herbicides are seldom used in Iceland where the climate naturally protects the land. For the traditional Icelandic Lamb soup they suggest using lamb on the bone and cut into big chunks.
Root Vegetables
Root vegetables are used as they are a staple food found in the Nordic countries. For this recipe, you must include rutabagas, potatoes, and carrots. Cabbage can be included also, but is considered optional.
Dried Soup Herbs "Secret Ingredient"
The secret ingredient for this soup is the dried vegetable soup herbs. Dried soup herbs can be found in any grocery store in Iceland. We made a special detour while in Iceland to pick up some packages of this essential ingredient! The dried Icelandic herbs consist of dried parsnip, carrots and leeks and add a backbone to the soup and incredible flavour. Cookbooks suggest that if you do not have the dried herbs you can substitute with chopped celery leaves or lovage leaves. You can also find the dried soup herbs online at Nammi.is where they sell everything Icelandic!
Onion
Onions add flavour and are the base ingredient for most soups. The recipe calls for one onion chopped finely.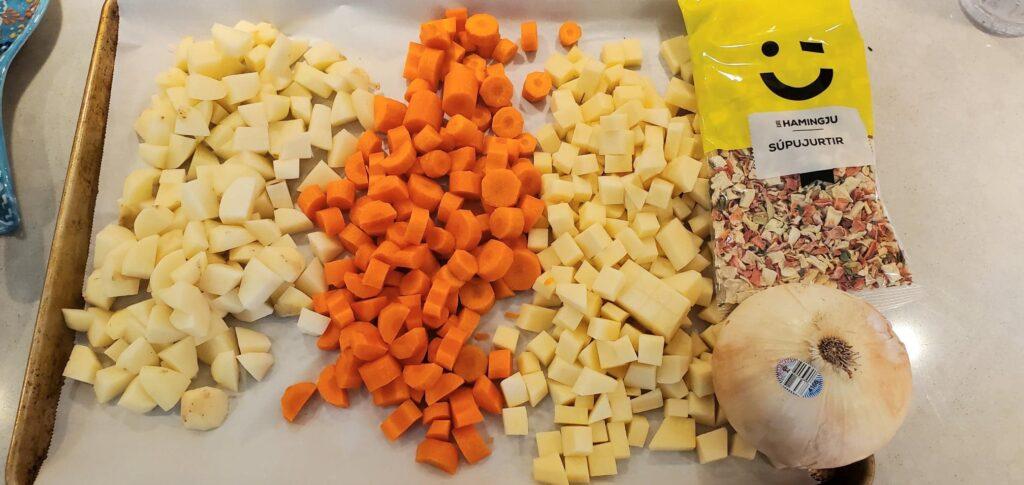 Method:
The method for creating this delicious soup begins by cutting any excess fat off the lamb and cutting it into large chunks. Place the chunks in 4-6 litres of cold water, and add 2 tsp. salt and slowly bring it to a boil. Skim the broth several times. Cook for at least 45 minutes and up to an hour.
After 45 minutes add the pepper, soup herbs, and onion. This is a great time now to peel your rutabagas, carrots and potatoes. The root vegetables should be cut small and the same size.
Once completed add all of the vegetables to the soup and simmer for another 45 minutes or when the vegetables are tender. Add the cabbage if you are including it and continue to simmer.
Remove the chunks of meat and cut the meat into small pieces. The meat was so tender and shredded so beautifully. Some Icelanders choose not to put the meat back into the soup and sometimes they do. It is optional.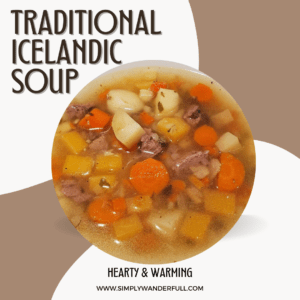 Traditional Icelandic Lamb Soup
Warming & hearty Icelandic Soup is a simple soup made with root vegetables, and lamb. It is wonderful on a chilly day served with crusty bread and homemade butter.
Ingredients
2

lbs.

Lamb on the bone, cut into big chunks

4-5

litres

Water

2

tsp.

Salt

1/2

tsp.

Ground Pepper

2

tbsp.

Dried Soup Herbs

2

tbsp.

Vegetable Soup Stock

1

Onion, small chopped finely

1

lb.

Rutabagas

3/4

lb.

Potatoes

3/4

lb.

Carrots

1/4

lb.

Cabbage
Instructions
Trim some of the excess fat off the meat. Place it in a large soup pot, add 6 cups of cold water and salt, slowly bring to a boil. Skim the broth several times, then add pepper, soup herbs, if using and onions. Simmer, partly covered, for about 45 minutes.

Meanwhile, peel the rutabagas and cut them into chunks. Peel the potatoes and halve or quarter them unless they are small. Peel or scrape the carrots and cut them into pieces. Add the vegetable soup stock and all of the vegetables (except the cabbage, if using) to the soup and simmer for 15 minutes more.

*When I made this soup I found that it took longer than 15 minutes for the vegetables to become tender.

Add cabbage and simmer for 5 to 10 minutes, or until all the vegetables are tender. Taste, season if needed and serve.

The soup is always eaten with meat but its often taken out and served on a separate plate. Some prefer to cut up their meat and place it back into the soup.
I hope you liked this recipe! If you have any questions or comments please feel free to comment below! Thanks for reading and Happy Cooking!