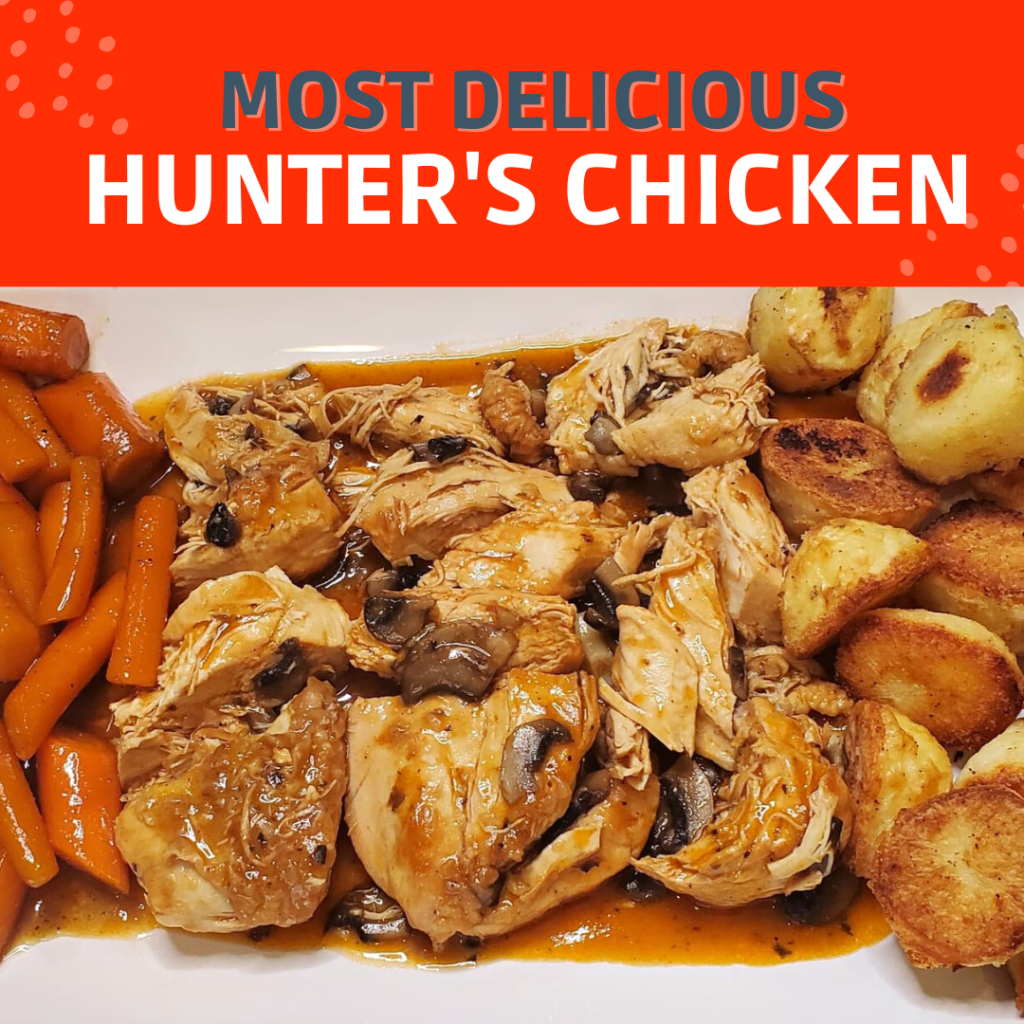 The Hunter's Chicken or in french chicken chausseur is a French stew made with chicken, stock, veggies and mushrooms. I just love different cooking techniques and this recipe fits the mould! It is a beautiful recipe to memorize as it can be added to a weekly rotation and most likely a weekend dinner. This is also a wonderful recipe to make if you are having company.
The Hunter Chicken is made by first cutting up a whole chicken, and separating the chicken breasts from the other pieces. The breasts will be used for the meal and the rest of the pieces are used for making the quick stock. I usually buy two more chicken breasts when making the dish. I love using my Crueset Dutch Oven when making this dish. I know it is expensive, but is totally worth it for a lifetime of cooking.
Prior to starting, I would recommend preparing the Ingredients or as the French would call it, Mise en Place. Mise en Place means: putting in place or gather. It refers to the setup required before cooking. I love to prepare my mise en place using a baking sheet lined with parchment paper for all my beautiful ingredients. I love the space it allows me without dirtying tons of dishes.
There are 2 cooking techniques required to make this dish.
Quick Stock: Make a quick stock in one pot, which will then turn into your gravy for the dish.
Braising: The second half of the recipe is to take your chicken breasts and braise them with the mushrooms and shallots.
Mix Together: Everything is mixed together at this point, the gravy, chicken and mushrooms are simmered together until ready to serve.
Tip:
Beurre Manie: I will mention making a Beurre Manie in this recipe. A beurre manie is just equal parts butter & flour mixed together to form a small dough like structure. This is a great way to thicken a sauce that is already prepared. This is how I thicken this Hunter's Chicken dish. It is done after the stock has simmered for a half hour.
Bouquet Garni: A Bouquet Garni is a bundle of herbs usually tied together with kitchen string and mainly used to prepare soups, stocks, casseroles and stews. I used fresh thyme, parsley and a bay leaf for this Hunter's Chicken recipe.
I love to serve this Hunter's Chicken with a Potato dish (mashed or roasted), Honey Bourbon Carrots, and a large Salad. It is the quintessential Sunday Dinner! Everyone will need a nap after this meal. So good!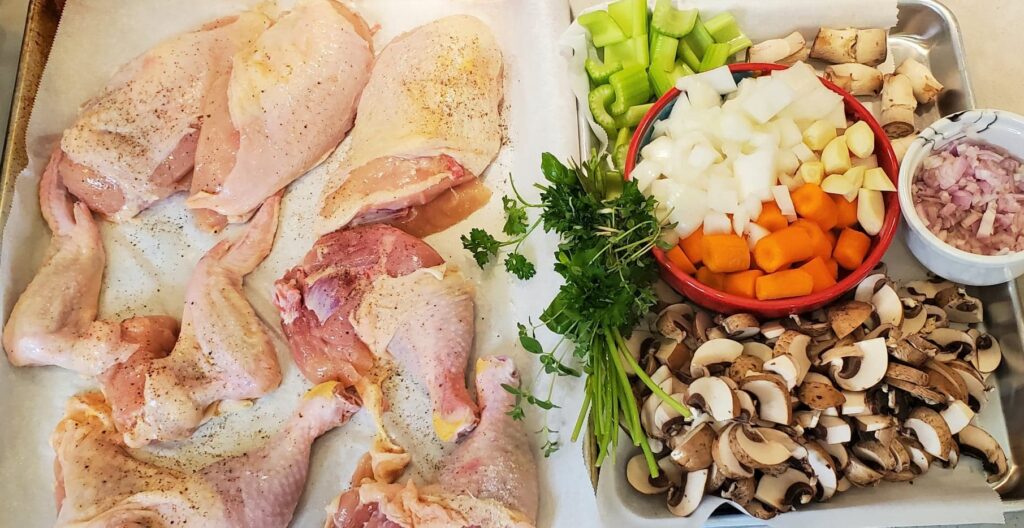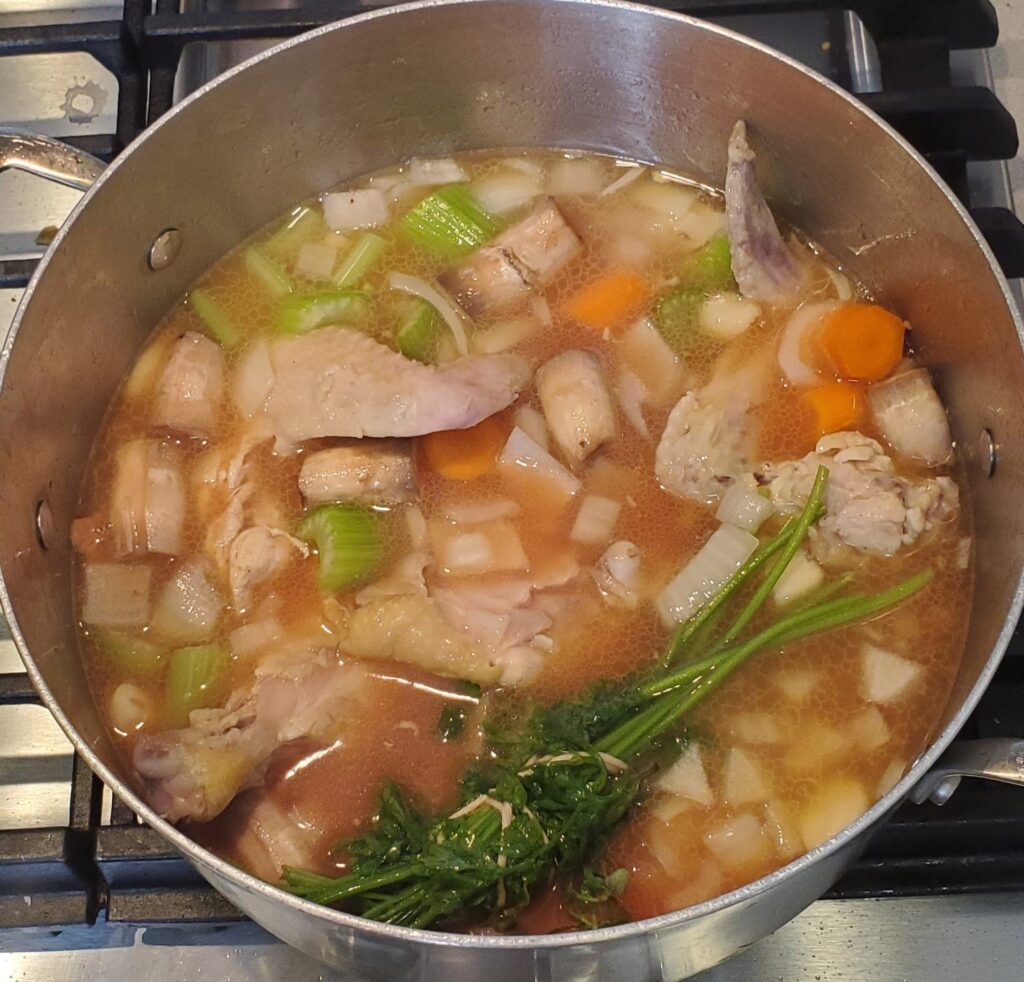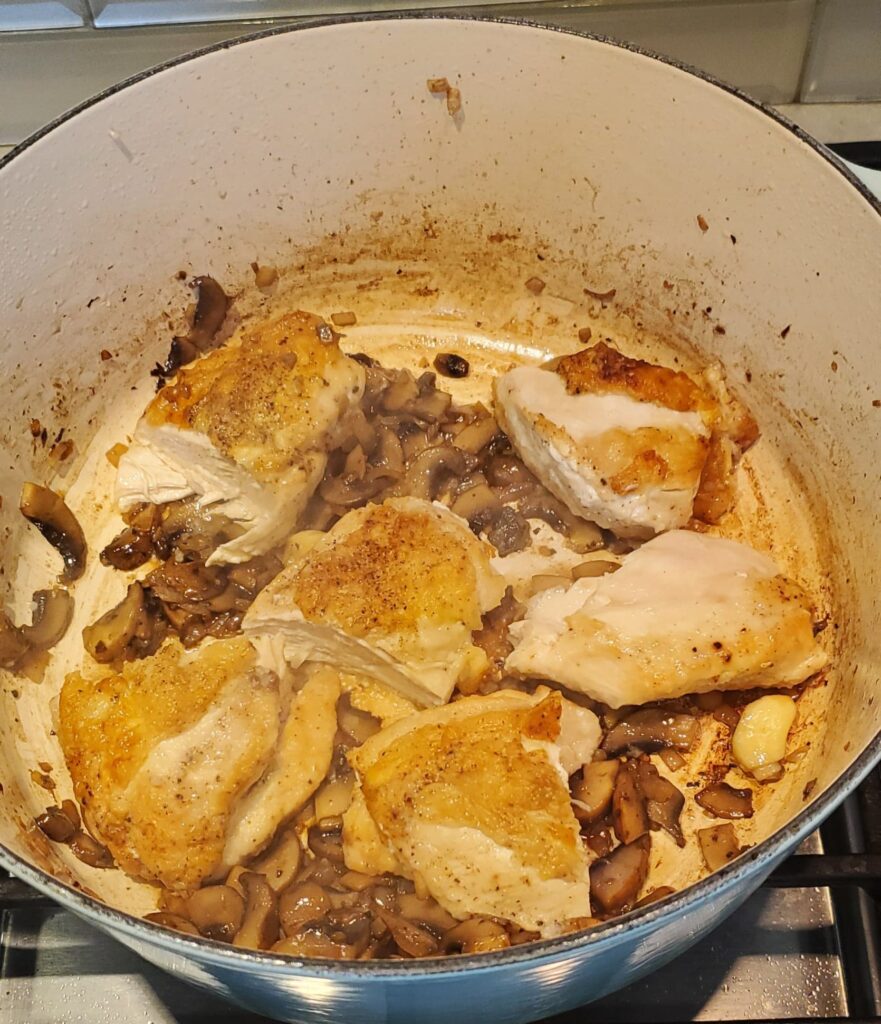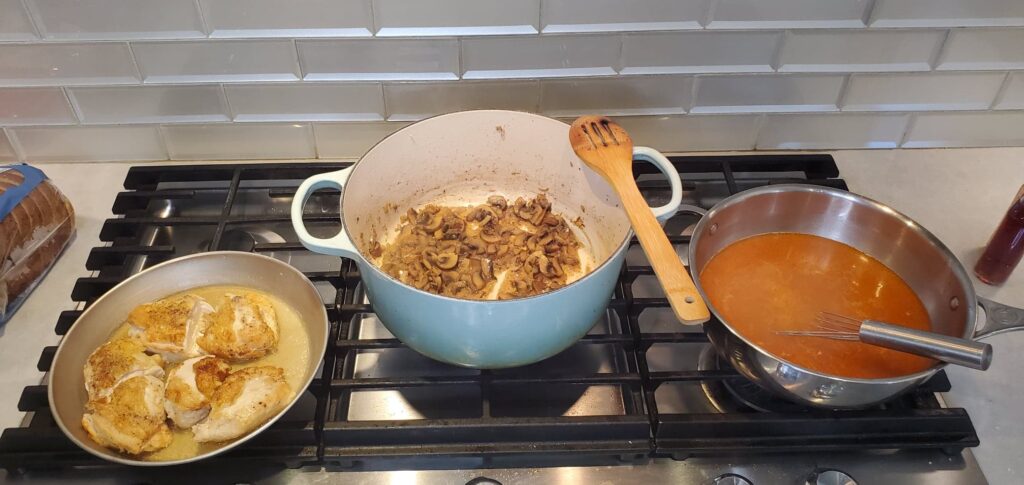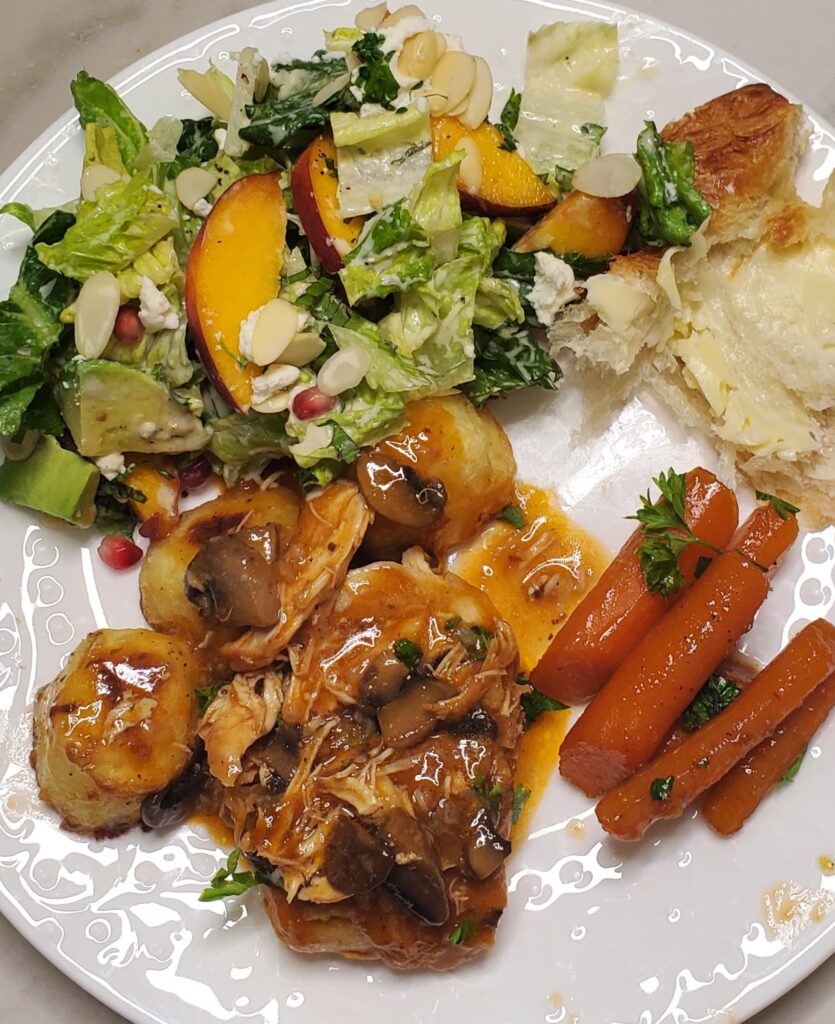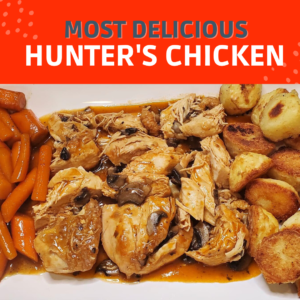 Hunter's Chicken or Chicken Chausseur
The quintessential Sunday Dinner Recipe! This is a show stopping chicken stew with mushrooms will impress. Great recipe for when having company over!
Ingredients
1

Whole

Chicken, cut up and separate the breasts

2

Chicken breasts skin on boneless

1

tbsp.

Olive Oil

2

Carrots, chopped large

1

large

Onion, chopped large

2

Garlic Cloves, peeled

3

cups

Chicken Stock

1

can

Tomato Paste

1

Bouquet Garni: Thyme, Parsley, Bay Leaf
Sauce
1

Shallot, finely diced

1

pkg.

Mushrooms

2

tsp.

Cognac, optional

1/4

cup

White Wine

1

tbsp.

Olive oil

Salt & Pepper
Beurre Manie
1

tbsp.

Butter

1

tbsp.

Flour
Instructions
Prepare your mise en place by chopping all the mushrooms, vegetables and cutting up the chicken. Prepare your herbs or bouquet garni by wrapping them in kitchen string. The chicken should be separated by: Chicken pieces (for the stock), Chicken breasts (for the meal).

It is also a good time to prepare the beurre manie and set aside.

Preheat your oven to 400°

For the Stock:

In a stock pot, add the olive oil and heat up. Add the chicken pieces and brown for approximately 8-10 minutes.

Pour in the onions, carrots, garlic, and bouquet garni. Mix.

Add the Stock and a heaping spoonful of tomato paste. Season with pepper.

Boil and Simmer for 30 minutes.

Discard all of the vegetables and chicken pieces. Pass the stock through a fine sieve.

Place the stock back onto the heat and bring the stock to a boil. Add in your beurre manie whisking constantly until the sauce thickens. Taste for seasoning. Add salt & pepper as necessary. Sometimes if it doesn't have enough umph as I see it, I like to add a teaspoon of teriyaki sauce or some type of dark umami sauce.

Your stock should now resemble a gravy. Thicker and shiny.

For the Sauce:

Heat oil in a large dutch oven.

Season the chicken breasts with salt & pepper. Dredge the chicken breasts in flour and add them to the hot oil. Brown the chicken approximately 3-5 minutes per side. Take the chicken out of the pot and place the chicken in a covered dish and continue cooking in the oven for 15 minutes.

The dutch oven will have the flavour from the chicken in the pan. Do not discard the flavourings. Using this dutch oven, add in the mushrooms and shallots. Saute for approximately 5 minutes.

If you choose, Flambe with cognac. Oompa! Then deglaze with the wine.

It is now time to pour your gravy over the chicken and mushrooms. I like to simmer the sauce at this point so that the flavours infuse into the chicken. Garnish with parsley. Yum

Serve with potatoes, carrots and a beautiful salad.