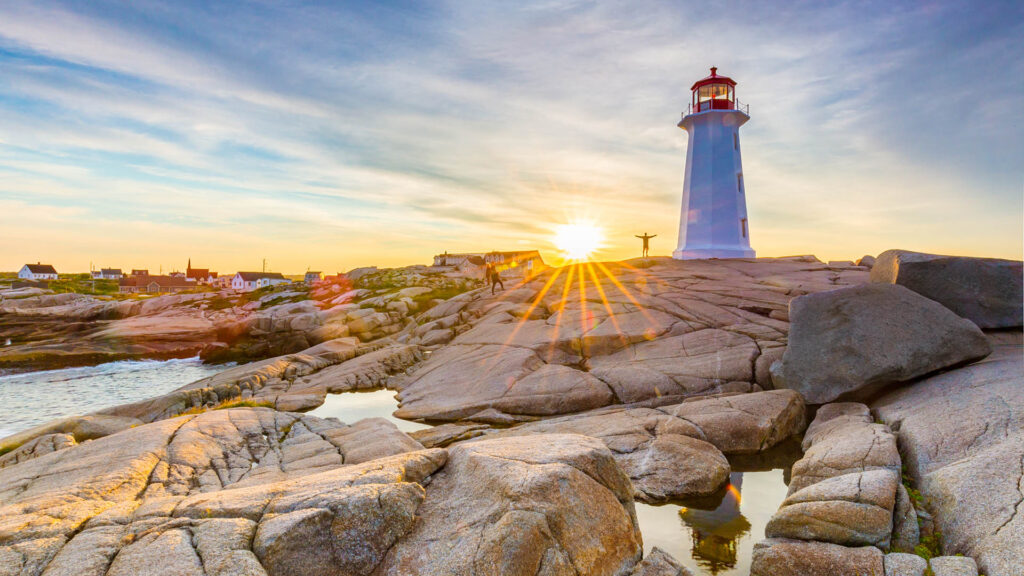 This is a short travel guide that will take you to Nova Scotia over a weekend. This itinerary will take you along the South Shores of Nova Scotia from Halifax to Liverpool. A wonderful itinerary with a mix of city, beaches, beautiful accommodations and authentic experiences.
I have to first start by saying that 72 hours in Nova Scotia is not enough time. This natural beauty playground could be visited for days, weeks or a lifetime! If you are looking for a peaceful, scenic getaway Nova Scotia should be on your bucket list.
Our 72 hours in Nova Scotia was initiated by a family reunion. My grandmother, who I adored was born in Liverpool, Nova Scotia and in particular Moose Harbour.
Liverpool is approximately 2 hours from Halifax. I hadn't been to Nova Scotia since I was 6 years old. I quickly remembered the beautiful scenery and especially the thunder of the ocean water hitting the rocks on my grandmother's family property. How beautiful❤️.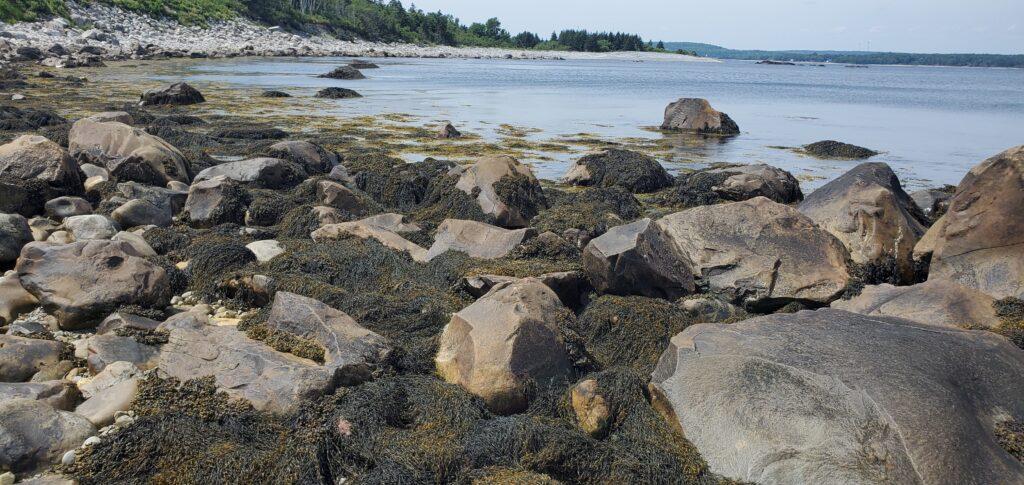 It was even more special to have my family standing on those same rocks where my grandmother grew up. She would have been so proud to show off her homeland to all of us. It almost felt like she had blessed us with the weather, as it was perfectly sunny the entire weekend!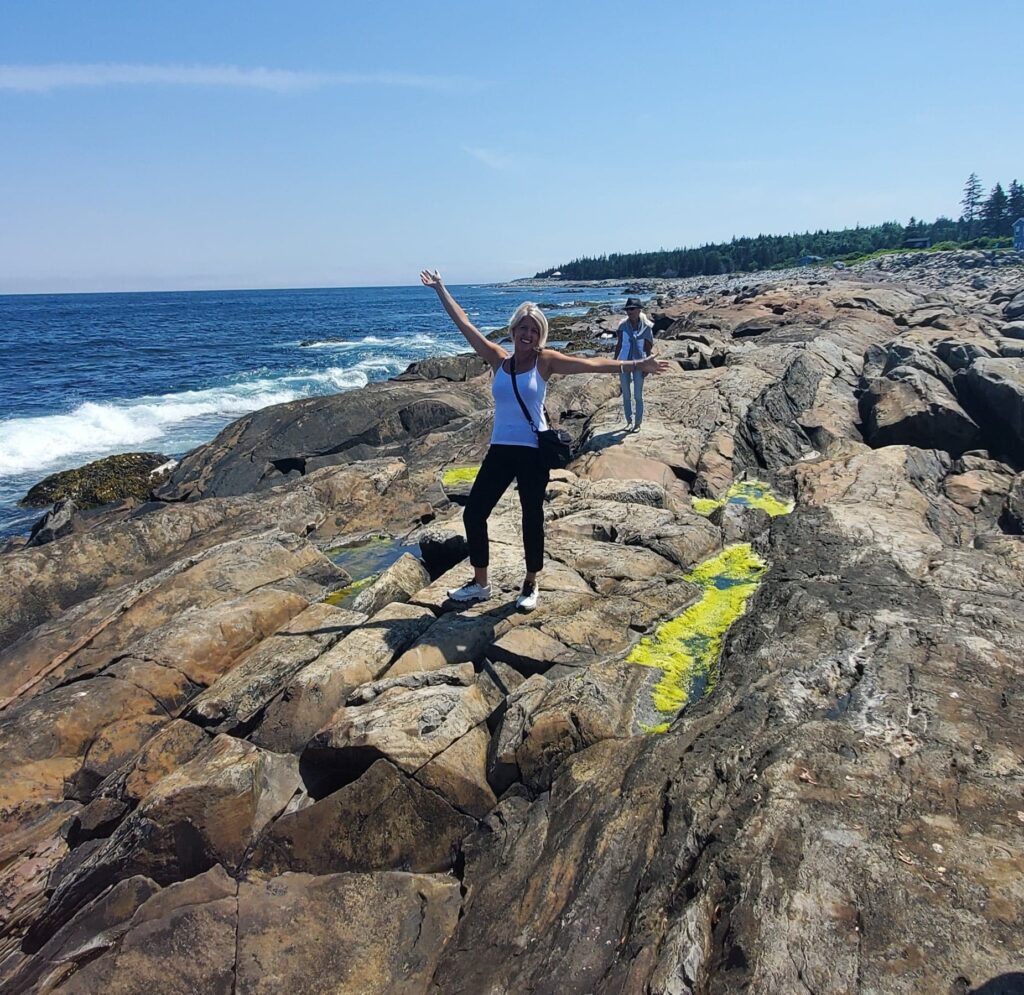 The perfect quick getaway will always have a mix of city and rural time. I think it makes for a nice balance. We discovered Halifax on the first night, and then headed south to the most beautiful town of Lunenburg, then onto Liverpool and the surrounding area. Our itinerary looked like this: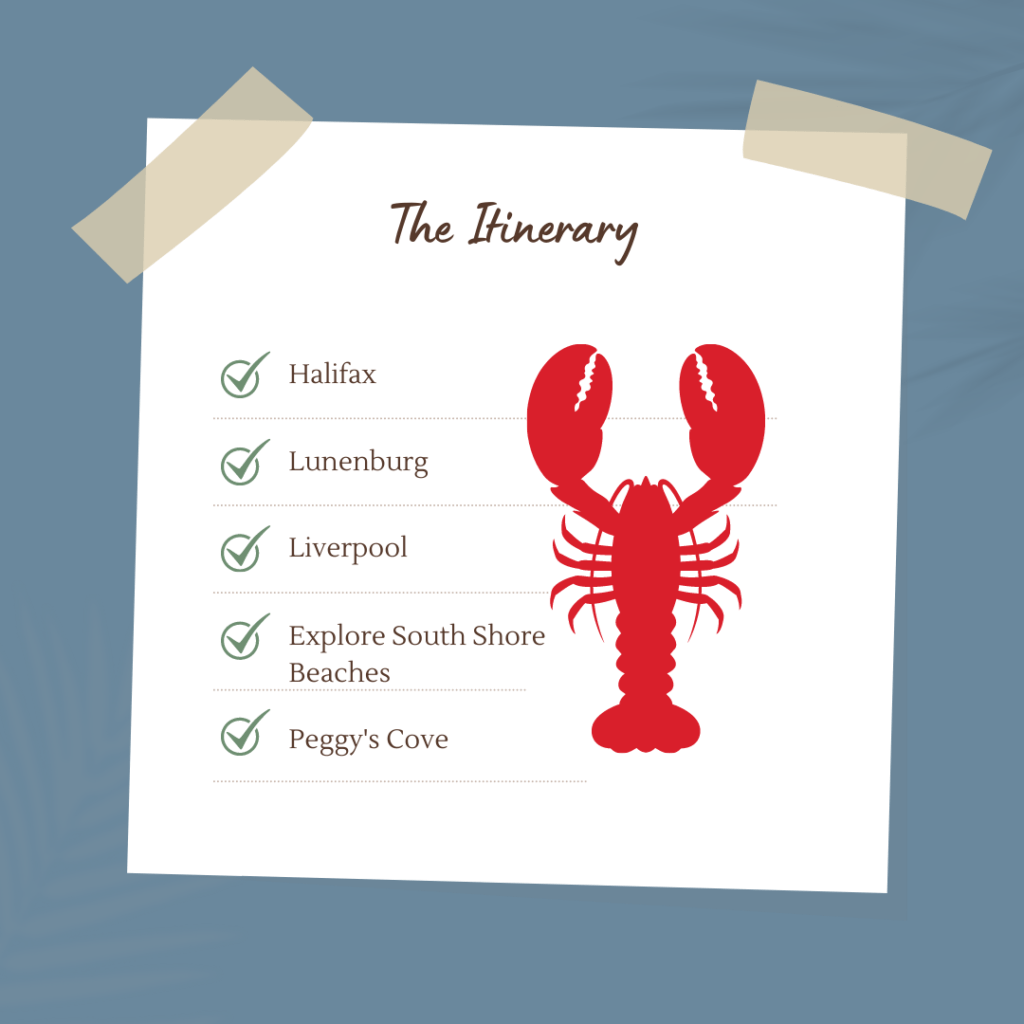 And more specifically:
Halifax ➡ Lunenburg ➡ Liverpool ➡ Summerville Beach ➡ Whitepoint Beach ➡Beach Meadows ➡ Peggy's Cove ➡Halifax airport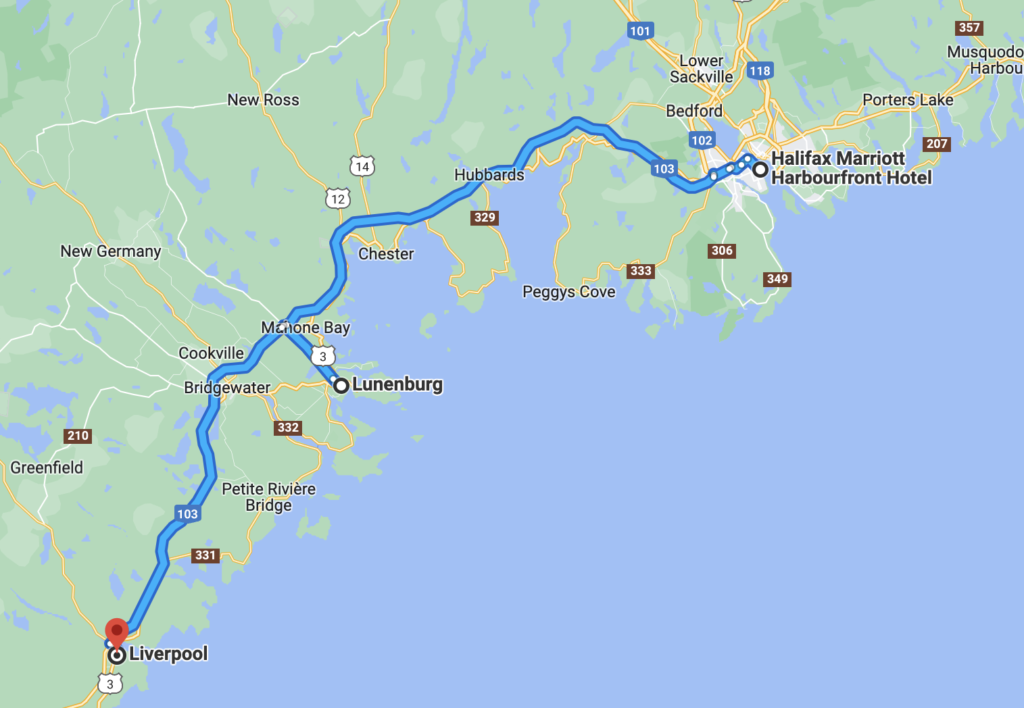 We had a direct flight from our city of Windsor, Ontario to Halifax which also made it a great reason to go to Nova Scotia. Flair Airlines has just started non stop flights from Windsor to Halifax for a very reasonable price. Fantastic! As we were only going for the weekend, we all packed lightly with only carry-ons for all of us. I also bought this amazing new Collapsible Water Bottle that fit in my purse and absolutely Love staying hydrated while travelling! Our experience with Flair Air was great! No hiccups thankfully.
Day 1 – Halifax, Nova Scotia
Upon arrival into Halifax, we picked up a car rental from the airport and away we went. The airport is just outside the city in Goffs. The drive from Halifax airport (YHZ) to downtown Halifax was approximately 25 minutes.
We stayed at the Marriott Halifax Harbourfront Hotel which is situated right on the water and harbourfront boardwalk. The Halifax Boardwalk follows the Halifax Harbour waterfront where you will find shops, restaurants, and historic properties. It is very beautiful and unique.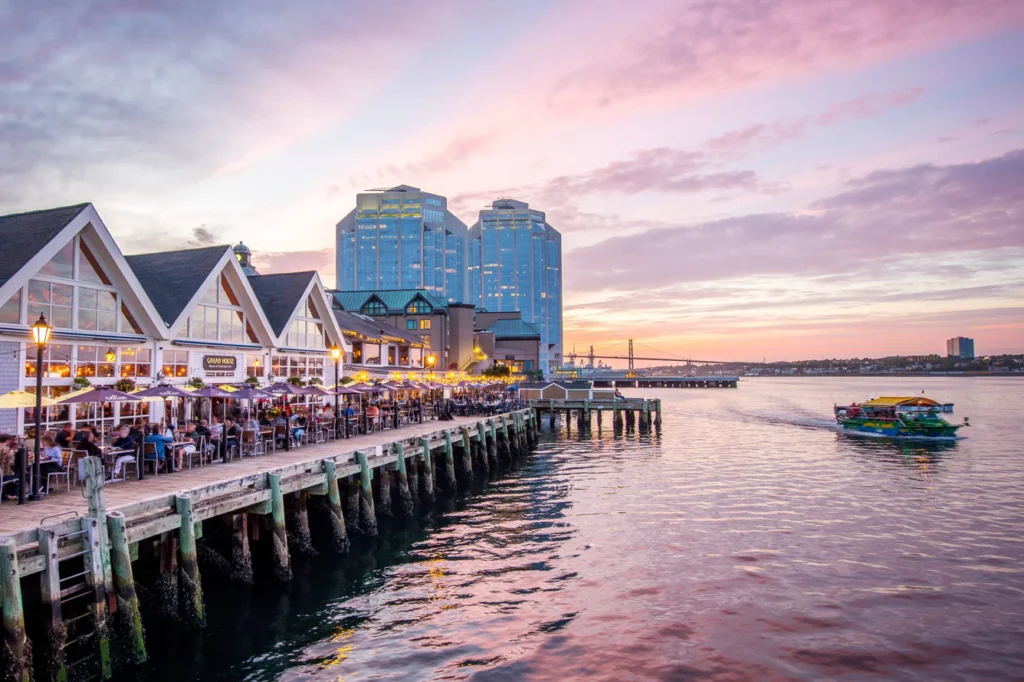 We arrived late and hungry. After checking into our hotel, we set off on foot to check out the town! We were drawn to the sound of a live band playing at the Split Crow Tavern. The Crow Crow has been know as, "Nova Scotia's Original Tavern" offering up toe-tapping music, cold drinks, and friendly service. This is a must see if you are visiting Halifax! The band was so lively and everyone was singing along to the songs! What an authentic experience.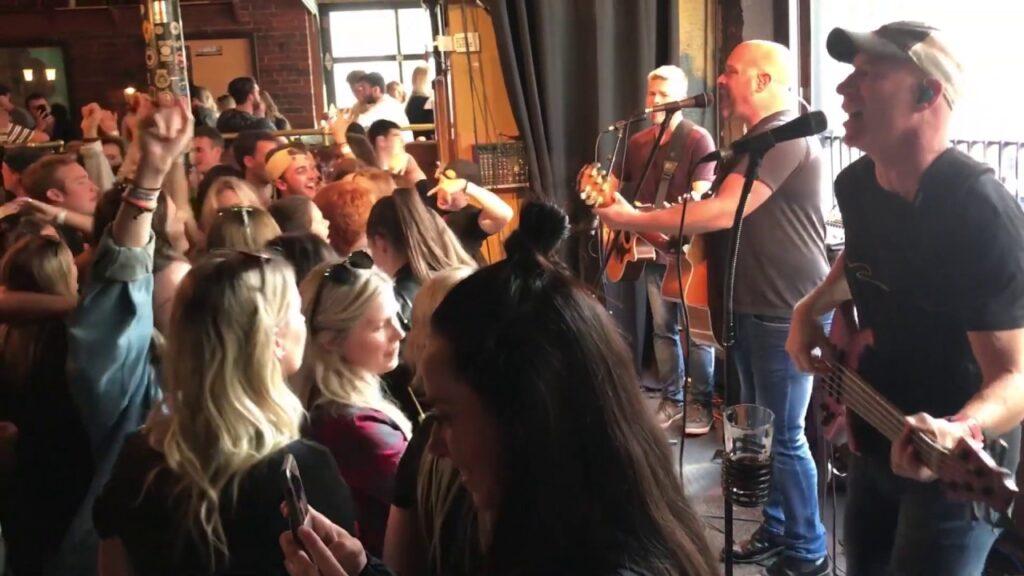 Day 2 – Halifax / Lunenburg
We woke up early as we had a very busy day planned! We set off on foot to discover more of Halifax. We grabbed a coffee and started walking. We made our way along the Harbourfront Boardwalk, stopping along the way to read some history boards and taking in the fresh sea air. We past by another beautiful and fancy looking hotel called the Muir Hotel. They were having a yoga session out on the boardwalk for its guests. The Hotel was in a great area and looked amazing.
We took the boardwalk all the way to the end where we ended up at the Halifax Seaport Farmer's Market. This is my most favourite thing to do anywhere I travel. There is nothing better than Fresh Homemade Breads, and pastries filling the air with good smelling happiness. The local farmer stalls had all of their fresh produce proudly displayed. We bought some delicious goodies including a homemade apple tart that was so tasty!
We continued up into the city to discover the Alexander Keith's Brewery . If we had more time, we would have done a tour of the brewery. The brewery has been there since 1820 over 200 years ago! A Restored and beautiful building. They had a small indoor market happening while we were there with vendors selling their homemade goods and foods. As we were pressed for time, we had to say goodbye to Halifax for now and got into our car and headed towards Lunenburg, Nova Scotia.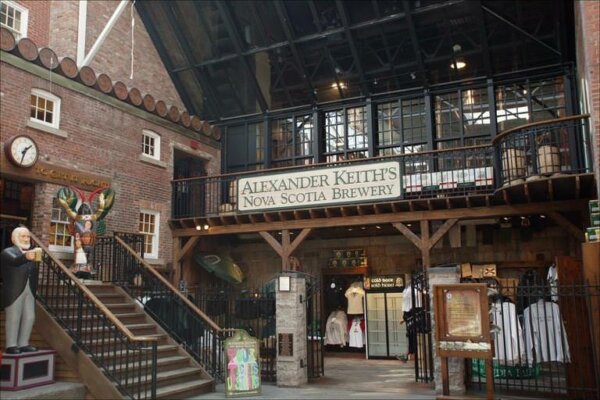 Lunenburg, Nova Scotia
Lunenburg Nova Scotia is noted as the "Prettiest Town in Canada". Lunenburg has won countless awards including "Prettiest Painted Places in Canada" and the "Most Beautiful Small Town in Canada". Lunenburg is approximately 1 hour from Halifax along the south shore coast and a must see! Offering gorgeous views and brightly painted houses, this little town is quintessential Nova Scotia.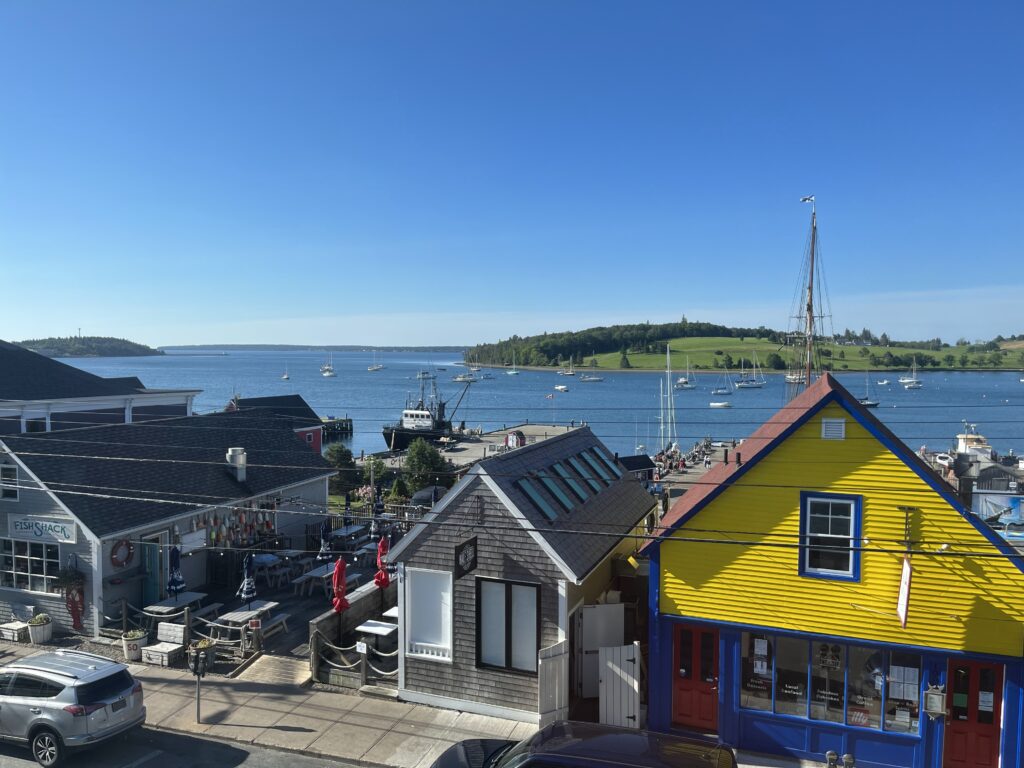 Did You Know? Lunenburg is home to the Bluenose Tall Ship. The Bluenose is the most famous ship in Canadian history and championship racer. The Bluenose was both a fishing and racing vessel in the 1920s and 1930s. You may recognize the Bluenose as it appears on the Canadian Dime!
We arrived and walked around the little town of Lunenburg. It felt like you were walking inside a postcard. A pretty little town right on the water boasting shops, restaurants and small inns. Very adorable.
My parents who were spending more time in Nova Scotia than us stayed at a little bed & breakfast on the main street called The Sail Inn Bed & Breakfast. They absolutely loved it. Central location, clean rooms, and delicious breakfast. Highly recommended.
We had lunch at the Half Shell Oysters & Seafood Restaurant and it was so delicious! We got there just as before they opened and they already a line to get in! It is a very popular place.
The Seafood: We tried Lobster, Oysters, Tuna and more! We apparently should have ordered the Seafood tower which boasts 3 tiers of seafood to share for the table. Our big event at lunch was all of us trying to tear apart the Lobster to get at that delicious fresh lobster meat.
My vegetarian daughter was mortified watching this spectacle! We had a good laugh!
Liverpool, Nova Scotia
Liverpool Nova Scotia is where my grandmother was born. A small quaint town with a population of 2653! The town has an interesting and diverse history being the birthplace of country music star Hank Snow, privateering history to seafaring and lighthouse heritage. Approximately 50 minutes south of Lunenburg on the south shore, is where Liverpool is located.
We rented a Charming Airbnb in Liverpool, Nova Scotia. It was located on the Mersey River. Lauri's Spa Oasis was a perfect location for us to stay for the reunion and perfect for day tripping around the South Shore of Nova Scotia!
Lauri was an amazing host paying close attention to details including the chocolates on the bed and spa music playing when we arrived. Nice touches. Lauri's home was clean and equipped. The highlights to this airbnb was the gorgeous porch for relaxing in nature, including a large hot tub, kayaks, and most definitely the beautiful sunset over the Mersey River. There are two grocery stores 2 minutes down the road, a Tim Horton's and a McDonalds. Nicely situated!
After checking into our Airbnb we raced off to Moose Harbour where my grandmother's family has land and homes right on the ocean.
It was so special to spend time on the same rocks overlooking the ocean and listening to the waves crash into to rocks. These being the very same rocks that my grandma would walk on as a young girl. I was very emotional to think how proud she would have been to know that her great grandchildren are walking on her stomping grounds. I'm am certain she was smiling looking down on us. How very special for all of us including my father.
My grandma's brother was a fisherman who owned a fishery right on the ocean property. It truly was remarkable and unique. A true authentic experience to remember for our life.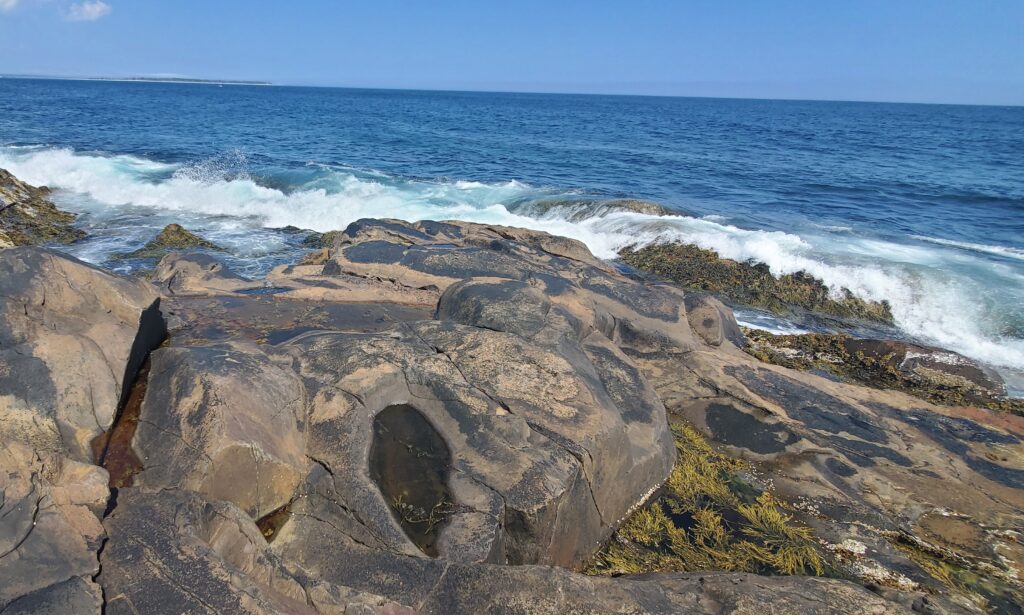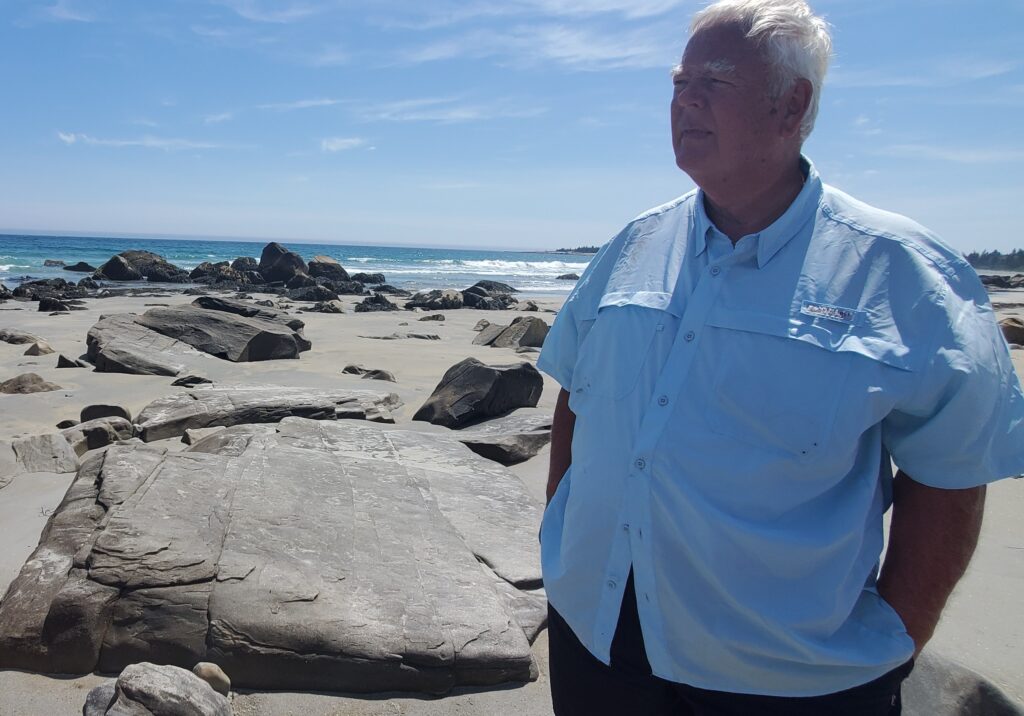 The Family Reunion was wonderful. We got to meet my dad's cousins and hear stories of them all when they were children. My father would spend two weeks each year in Liverpool as a child and hang out with his cousins building rafts, hitting all the nearby beaches, eating lobster and jumping rocks. The cousins recalled that it was like Christmas Eve the night before my dad arrived. They all couldn't wait.
My dad's cousin Walter, had the reunion dinner and served up Plank Salmon over his outdoor brick oven that he made years ago.
Plank Salmon: The Plank Salmon was made by strapping salmon to a piece of 3 inch thick hardwood. As a big foodie, Walter wanted me to prepare the salmon to get that true authentic experience of making salmon over an outdoor oven. The board had nails along the sides, and also included a row of nails running down the centre of the hardwood. The salmon was then propped up in front of the heated oven. Walter had made a fire and then tamed it down to hot coals.
This would create enough heat to cook the salmon. The Salmon was wrapped in bacon strips and then we used rabbit wire to brace to salmon to the board. We propped it up and sat down continuing to hear stories of the Chandler family. The Salmon was delicious.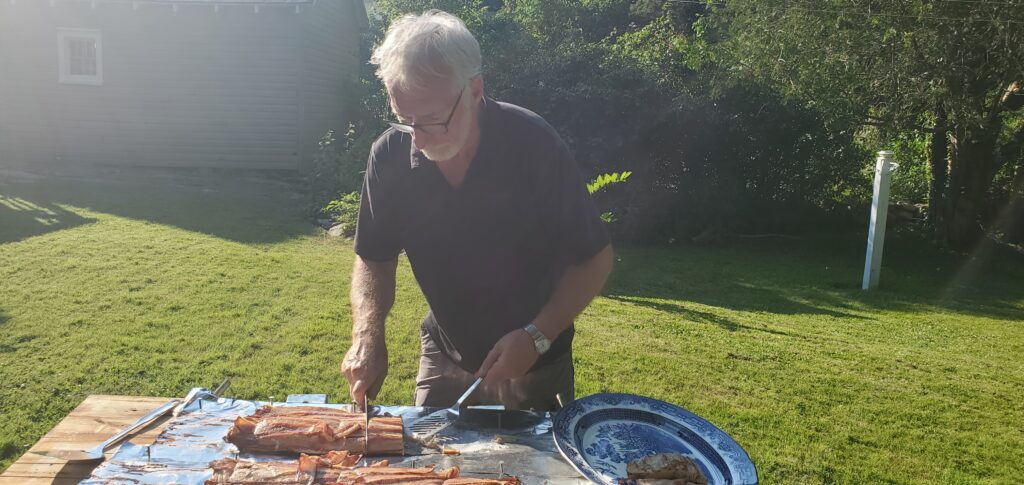 Our full day of events, came to an end watching the sun come down on the Mersey River. A perfect way to cap off the day!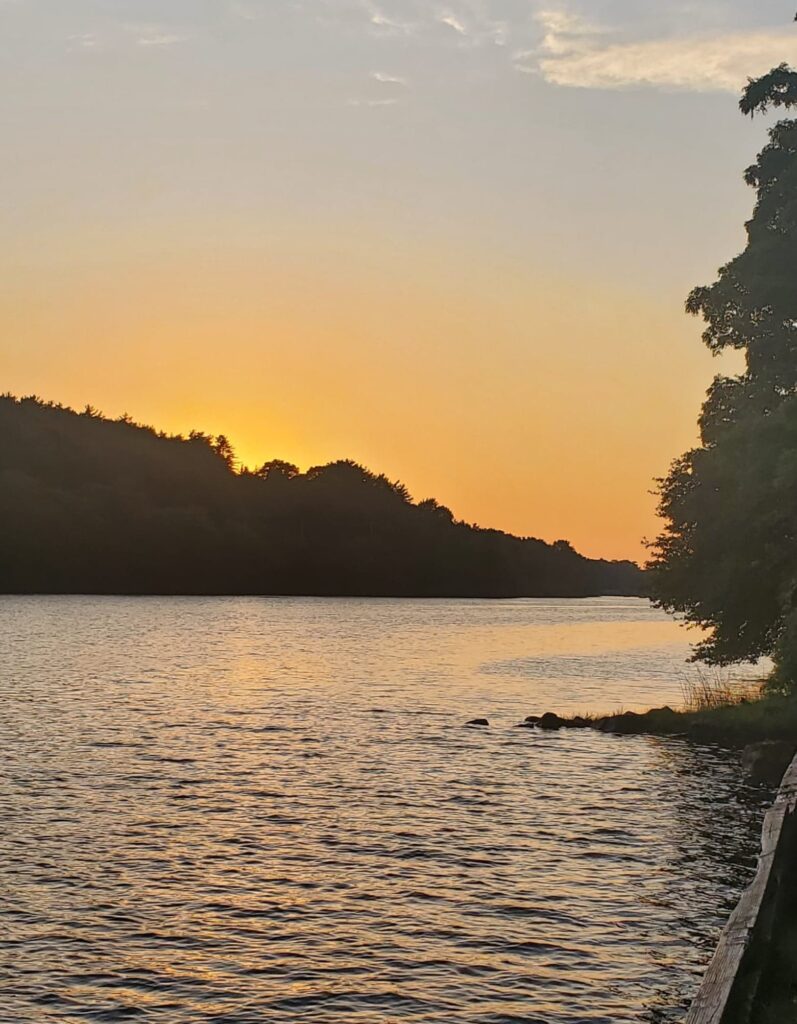 Day 3 – South Shore Beaches – Summerville Beach, Whitepoint Beach, Beach Meadows
Today was the day for discovering the nearby Beaches. You could literally drive along the South Shore coast and make stops at all the beautiful beaches and small villages along the way. All unique to each other, yet so close to one another. It is spectacular and you could make a whole vacation just exploring the beaches in the area!
Summerville Beach, Nova Scotia
Summerville Beach is one of the finest beaches along the south shore. The beach is 1km long with sand dunes, and an open salt marsh. It is so sprawling that you will feel like you are the only one there!
The Quarterdeck Resort is situated right on the beach and has been said that is the "Hidden Treasure of Nova Scotia". They have a variety of accommodations to choose from including villas, and shoreline rooms. It has a restaurant on site with a gorgeous deck overlooking the beach.
For the adventurer, there is Surfing Lessons for beginners. They were surfing the day that we were there. It looked like a ton of fun for someone who has never tried surfing before!
Whitepoint Beach, Nova Scotia
We then set off 10 minutes up the coast from Summerville to the Whitepoint Beach Resort. The Whitepoint Beach Resort is said to be Canada's Favourite Oceanfront Resort and I could definitely see why it receive these accolades.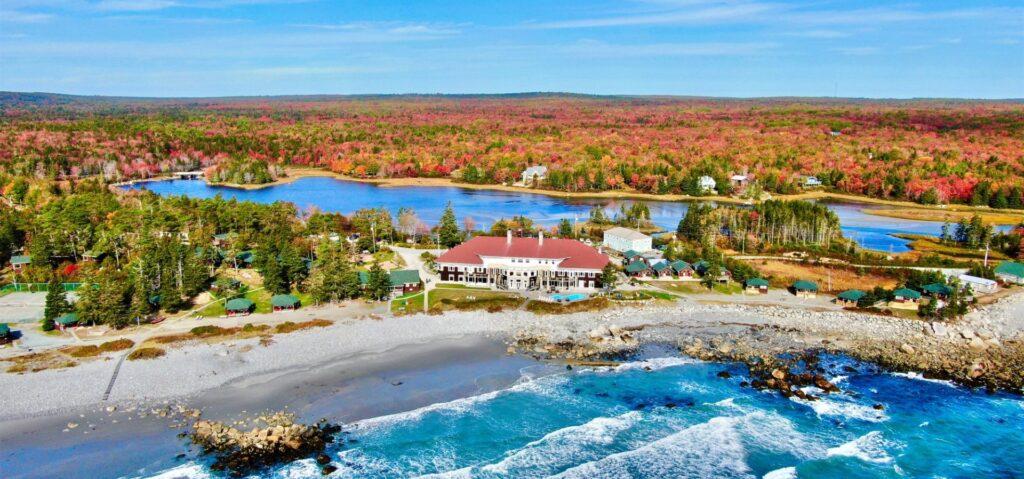 A gorgeous oceanfront setting, a beautiful restaurant overlooking the beach, and bunny rabbits hopping all around. My goodness, where are we?
The Whitepoint Resort has been in welcoming families for 90 years! They have a variety of accommodations to choose from including oceanfront treehouses, lakeside domes, cottages, and guest rooms. There is an accommodation to fit your needs! They said that families have been returning each and every year making it a cozy, special place to enjoy year after year. Nova Scotia people are so friendly and kind.
Our lunch was delicious! I had a bowl of Clam Chowder, and a Shrimp Salad. They were both so good!
Beach Meadows Beach, Nova Scotia
Our final beach on the "Beach Itinerary Day" was the Beach Meadows Beach. The Beach Meadow Beach is popular with locals. It is vast in length and curves around the coastline overlooking Coffin Island.
When we arrived, there was a very low hanging fog just above the sand along the beach and was totally sunny outside. It was very cool! I have never seen that before. It was cooler air than the other beaches. This would be a perfect beach for walking or a morning run! Gorgeous.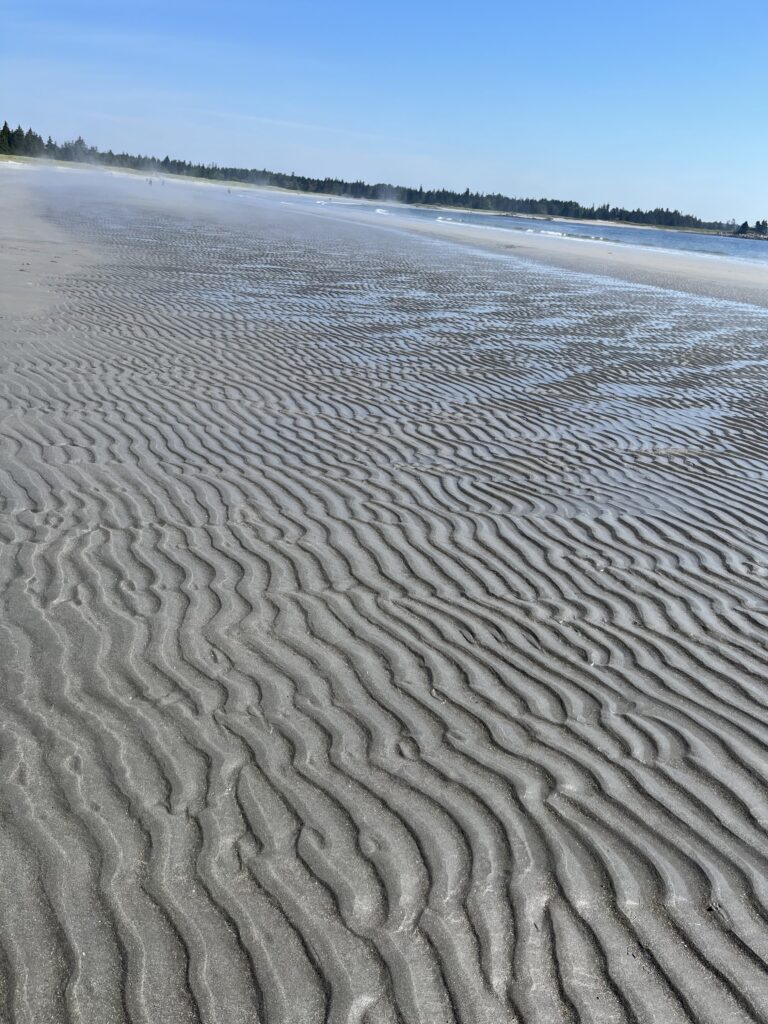 After we completed the Beach tour, it was off to visit a local artist in Liverpool. Roger Savage is an artist who uses watercolours to paint in outdoor settings. Roger has travelled all over the world to paint in natural settings.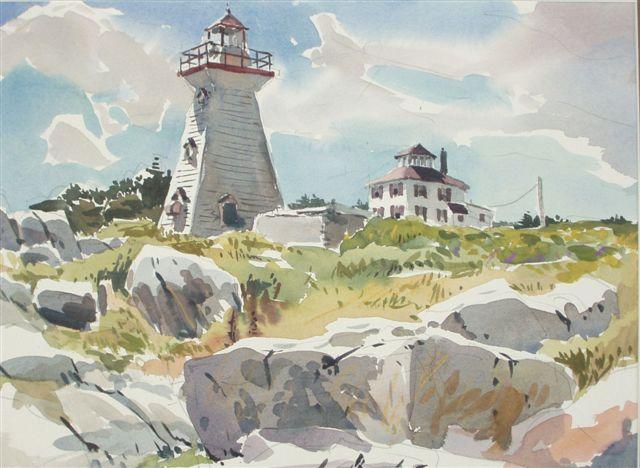 Roger Savage's work has been exhibited all over the world including Sweden, U.S.A., Colombia, Germany, Switzerland and the U.K. Within the Maritimes it is included in the permanent collections of the Art Gallery of Nova Scotia (Halifax), Confederation Centre Art Gallery (Charlottetown, Prince Edward Island), and the Owens Art Gallery (Sackville, New Brunswick).
Roger also runs a bed & breakfast out of his home and studio in Liverpool. My dad and step mom stayed at the bed & breakfast for their time in Liverpool. Their stay was gorgeous with breakfast included and the grounds were quiet and beautiful. A Retreat!
Roger has 4 acres of property on the ocean. It is spectacular! It has a winding hiking path amongst the trees that ends up on a large rock beach. It was truly stunning. We sat on the beach and watched sea otters peak their heads up from the water. We sat here for sometime appreciating the time on the warm healing rocks and listened to the birds in nature and the water break against the rocks.
We met Roger and his wife in his studio. A jolly man with many stories. His studio was filled with his beautiful artwork, each with its own unique memory and story. We picked out 3 gorgeous paintings and Roger explained the stories behind each painting.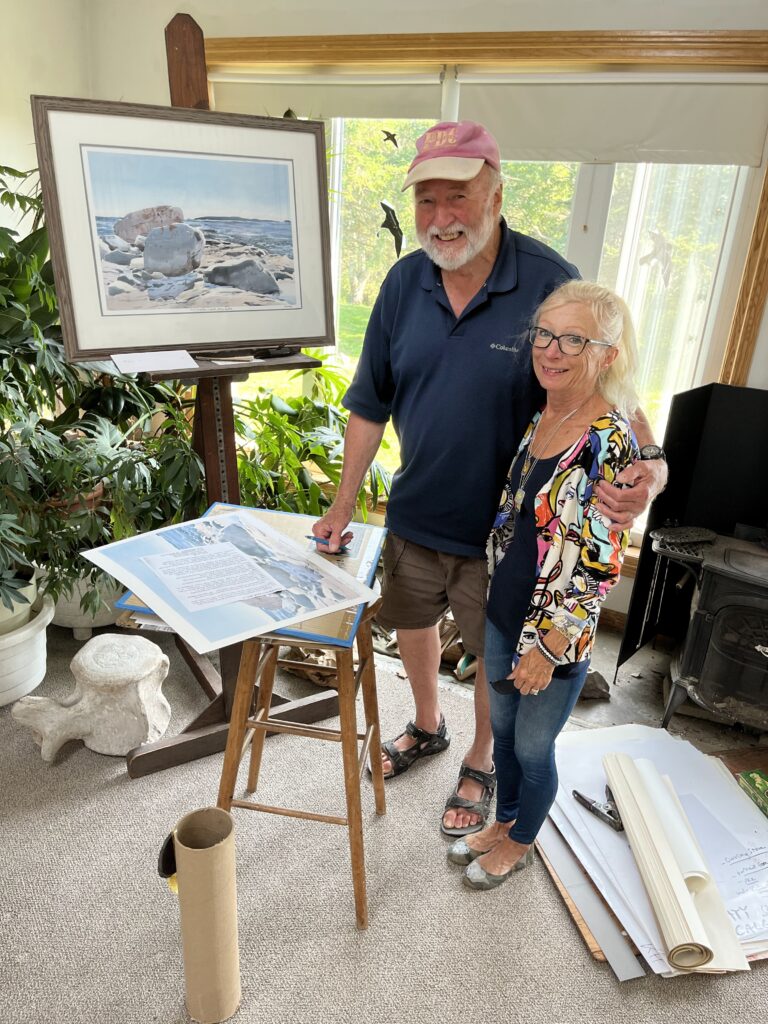 Our day ended back at Moose Harbour for one more look at this beautiful area. Grateful to be there and to have visited Nova Scotia.
Day 4 – Last Day – Peggy's Cove and Home
We headed out of Liverpool, back towards the airport and onto Peggy's Cove. Peggy's Cove is a short 20 minute jaunt off the main highway and close to Halifax. This was a great way to spend a half a day prior to our flight in the afternoon.
Peggy's Cove is known for its working Lighthouse and iconic picturesque East Coast setting. The rocks are wave washed soft and massive! A beautiful setting and must see Nova Scotia setting!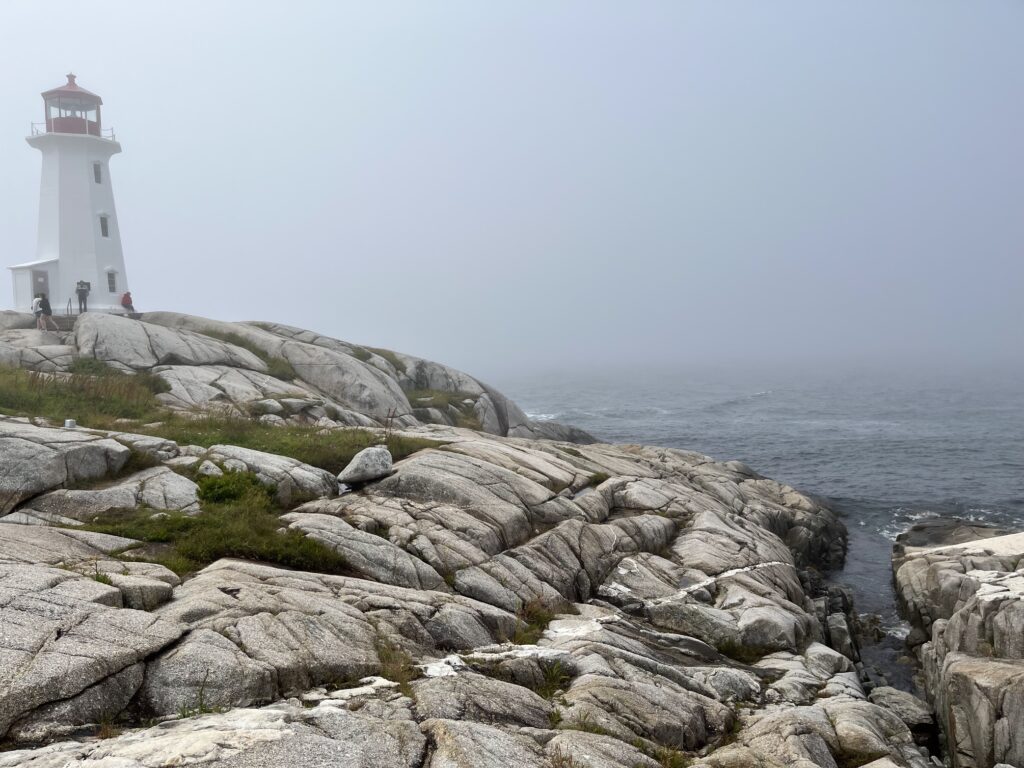 We packed so much in 4 days, that it felt like we had accomplished a week in Nova Scotia! I cannot wait to return and do it all again! I am so grateful to have been able to travel with my family and to make these wonderful memories.❤️