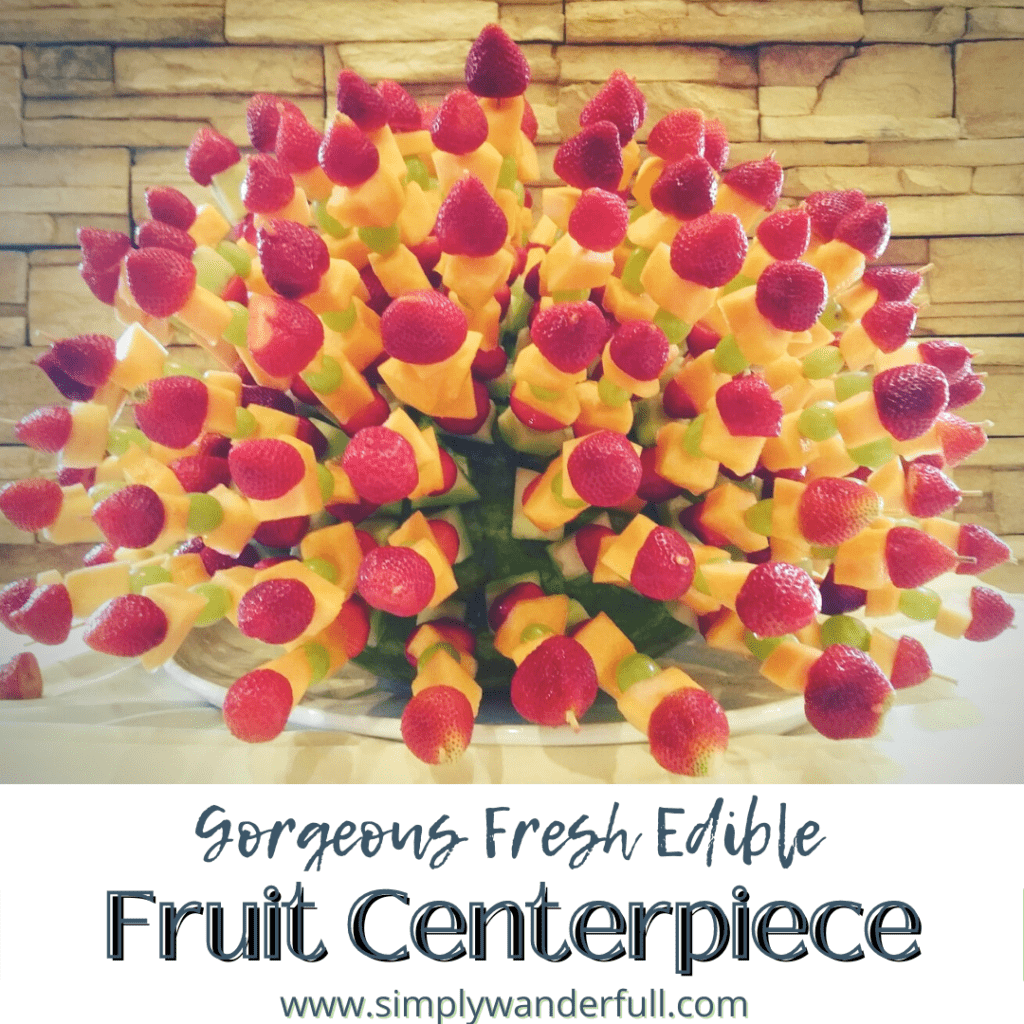 This Gorgeous Fresh Fruit Edible Arrangement is perfect for a Dessert Table for weddings, showers, family reunions and so on! It is absolutely Beautiful and guaranteed to be a highlight as a centrepiece! The best thing about this arrangement is that it is edible! It is very simple to make with a little preparation before hand, you could have this assembled in no time!
I made this particular edible arrangement for a friend that was getting married. It was so pretty and everybody loved it!
What You Will Need?
You will need to purchase fruit, and you will need enough to fill a large bowl. I used a case of strawberries, 1/2 case of cantaloupe, 1/2 case honeydew, 1 case of green grapes and one large watermelon.
You will also need to purchase skewers from the grocery store.
A good sturdy plate will also be needed as the bouquet will be very heavy once you are done.
The Prep:
So first things first, you must prepare your fruit. This will take some time. I love to have a helper when making this bouquet as the process will move quicker. Make sure to wash all of the fruit at the beginning. It is important to chop your fruit into cubes.
I like to have the bowls of the chopped fruit lined up as you will be assembling. Therefore, have a bowl for the Honeydew, Cantaloupe, Grapes and Strawberries. At the end of the line, have a baking sheet ready for the finished skewers. Do not place the final strawberry on top of each skewer as this will be done after the kabob has been stuck into the melon.
You will need to make a thin slice at the bottom of the watermelon so that it sits nicely on the plate without rolling around.
Assembly:
Now you are ready to assemble your Edible arrangement! I like to start by putting the first skewer at the top and centre of the watermelon. I then proceed to make a line of fruit skewers down each side of the watermelon, and then again cross-wise. This idea will resemble a cross with 4 quadrants. Now you can fill in each quadrant in a uniform manner. Add a strawberry on the top of the skewer after it has been placed into the watermelon. You will see that the arrangement will fill in nicely.
Keep cool until the event begins!