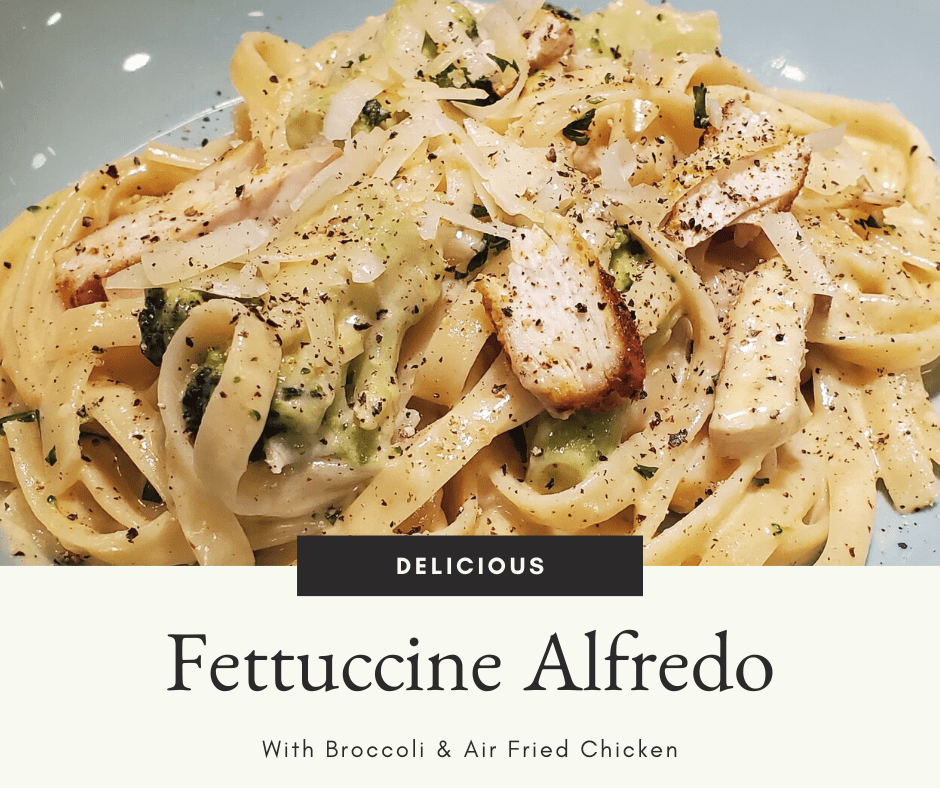 Do you own an air fryer? If so, I am sure that you would agree that is was a great purchase! This recipe for Delicious Fettuccine Alfredo is easy to make and so delicious! The Ultimate Comfort Food!
My Daughter requested this meal the other day. I was having a busy work day, and was able to whip this dish up quickly! I love my air fryer! It is really convenient when you don't have tons of time to be in the kitchen! I find that it makes chicken delicious and really quick! It is a healthy way to cook and fast for a busy work night. A quick suggestion would be to butterfly the chicken to even thickness and then season it. I find that the air fryer will cook it much more evenly.
A great tip for the broccoli is tossing it into the pot while the pasta is cooking. It cooks the broccoli perfect and everything is done at the same time!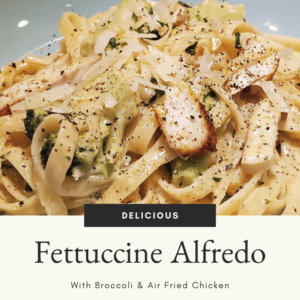 Fettuccine Alfredo With Broccoli & Air Fried Chicken
Quick & Easy Pasta Dinner Night Recipe Using Your Air Fryer!
Ingredients
2

boneless skinless chicken

butterflied fillets (or flatten chicken breast to 1/4 inch)

2

tbsp.

of JoJo's Seasoned Salt

See Recipe Below or your favorite seasoning salt

1

tbsp

Olive Oil

2 tbsp. Butter

1

shallot

finely chopped

3

cloves

garlic

minced

2 1/2

cups

heavy cream

Add in, 1/8 tsp. dry mustard, 1/2 tsp. Onion powder, garlic powder, and paprika

1

spoonful of flour

1/4

cup

chicken stock or water

1/2

cup

Parmesan Cheese

1

cup

of broccoli

fresh or frozen

1/4

cup

parsley

Salt and Pepper to taste
Instructions
Season the Chicken with Seasoned Salt on both sides. Reserve a little bit of the seasoning for the sauce.  I add a tiny bit of oil to the chicken to help marinate. Let marinate for 10 minutes or while you are preparing all of the other ingredients.

In a Measuring cup, Add in 1/8 tsp. dry mustard, garlic powder, onion powder, and paprika. Add a small amount of water to make a paste. Let sit for a few minutes. Add in the rest of the chicken stock, Cream, 1/2 tsp. Salt and pepper. Set aside. 

Set the Air Fryer to 400 degrees. Spray the wire rack with cooking spray. Place Chicken Breasts  on the wire rack, set timer for 10 minutes. Turn the chicken, and then air fry for another 5-7 minutes. Place chicken on a plate, wrap and let the chicken rest. I like to cut the chicken into strips, just before adding it to the finished pasta.

In a medium size frying pan with sides over medium heat, add olive oil and butter. Add the Shallots. Cook for 3 minutes. Add the Garlic, and the rest of the seasoned salt and cook for an additional minute.  Add in a spoonful of flour and whisk for 2 minutes consistently. This will burn off any flour taste. Add in the measuring cup of Cream/ Stock blend. Whisk well until thickened, usually 3-4 minutes. Add in the Parmesan, parsley and pepper.

Boil the water for the pasta. I like to salt the water good. Once boiling add fettuccine and cook according to the package. I like to add the broccoli half way through the pasta cooking time. I believe I added the broccoli after 5 minutes. It then cooked with the pasta for about 4 minutes. Drain reserving 1-2  cups of the pasta water for after.

Add in the fettuccine with cooked broccoli, chicken to the frying pan. Over high heat, mix everything together, adding a bit of the pasta water to make a delicious and creamy sauce. I like to cook everything together for approximately 3-4 minutes careful not to burn anything. Plate the dish right from the frying pan. Garnish with Fresh Parsley, and Pepper.

Jo-Jo's Seasoned Salt

2 tsp. Salt

2 tsp. Garlic Powder

2 tsp. Onion Powder

2 tsp. Paprika

1 tsp. Sugar

1 tsp. Pepper

1/2 tsp. Cayenne Pepper

Directions:

Mix all ingredients.