Knowing how to make a good bolognese sauce is a timeless recipe that will spread your love for years to come. This recipe is great for making lasagne, or simply boiling some noodles and then topping it with a dollop of honeyed goat cheese. Oh, its so darn good!
This bolognese meat sauce was one of the first recipes that I wanted to learn because it was always my husband's favourite dish. Well at the time of learning, he was still my boyfriend. I really wanted to impress him with a good-tasting spaghetti!
Well, I have definitely developed the recipe over the years to where it is now. My family loves this recipe and I am happy to share it with you.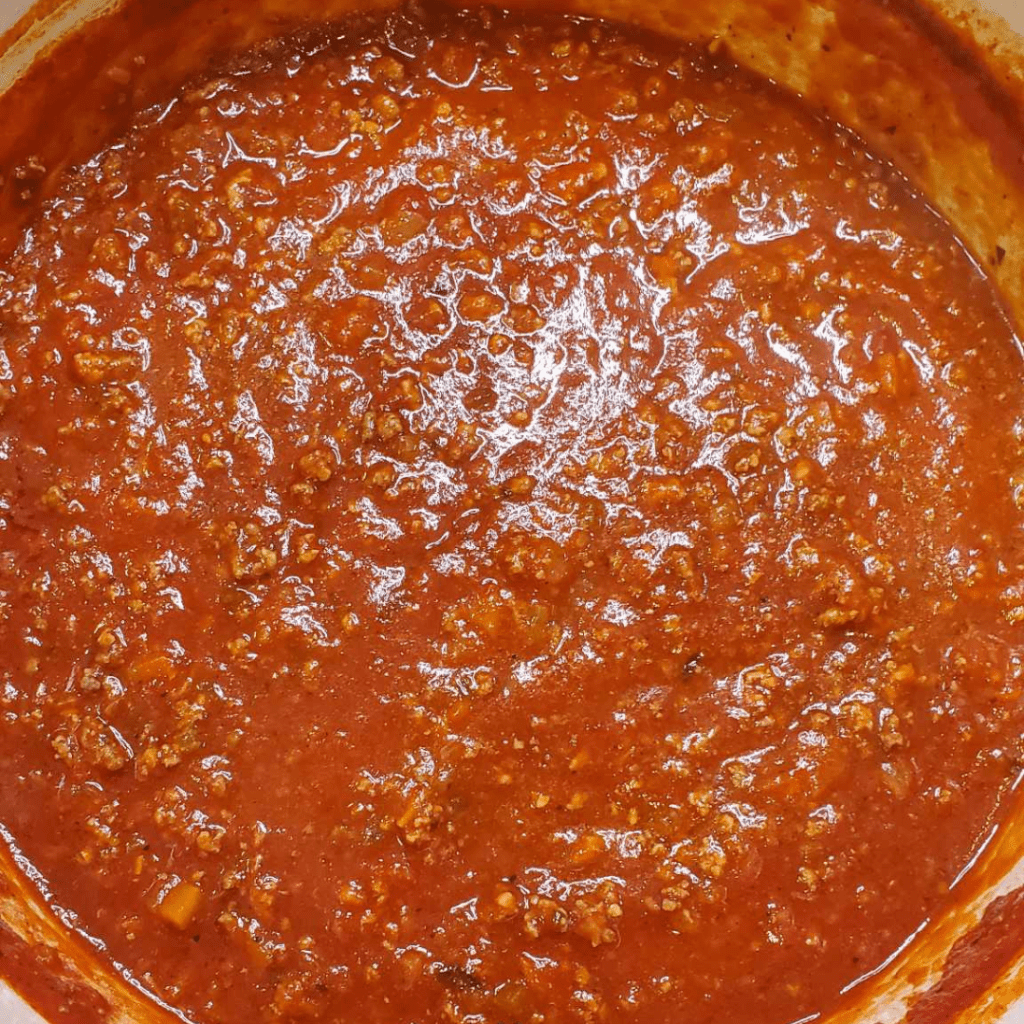 What makes a great tasting sauce? I believe its a layering of flavour that all come together nicely at the end. 
I like to have everything ready to go before I begin the cooking. 
There are essential ingredients that you will need and I wouldn't recommend starting if you don't have them on hand.
The essential ingredients are:
Beef & Pork Blend: I love to use a blend of ground beef and ground pork. I will usually have 1 lb. of lean ground beef and like 3/4 lb. of ground pork. I also like to season the meat in a bowl right away. The seasoning is salt, pepper, granulated garlic, Italian seasoning, and oregano.
Veggies: Make a mirepoix of diced carrots, onion, celery and garlic. I also like to have some fresh herbs chopped such as basil, thyme. I also like to use a bay leaf.
Liquids: So now we need some liquids! I love to use Marinelli Tomato Base or the equivalent Rao's Tomato Sauce. It's a great idea to find a sauce that you like because it will be good regardless! The second liquid will be red or white wine for deglazing. I also use a jar of Tomato Sauce for extra tomato flavour.  We need one can of tomato paste and finally, we need a stock. I like to use a beef stock, however you could really use what you have on hand. I am a big fan of using a powder-based Beef Stock.  I usually make 2-3 cups of the liquid stock to dilute the sauce. 
I just love a good cooking process! Making this sauce is a fun process that you will have down pat after a couple of times making it!
Now let's make the sauce!
Start by seasoning your meat with granulated garlic, Italian seasoning, dried oregano, salt and pepper. Mix with a fork until nicely blended.
Heat olive oil in a heavy pot over medium heat.
Saute the mirepoix (carrots, onions and celery) for approximately 5-6 minutes. It should look golden.
Add your blended seasoned meat to the pan. Turn the heat up to medium-high. Using a potato masher, break up the meat into smaller pieces while it cooks out.  Cook until no longer pink, approximately 6 minutes. 
Add in your wine and stir with a wooden spoon until the wine almost completely evaporates. *You will notice the steam from the alcohol is intense at the beginning and then dissipates. Once it dissipates you are ready for the next step.
Add in one jar of the Marinelli Meat Ready Bolognese Sauce, 1 jar of tomato sauce, 2 heaping tbsp. of tomato paste and the beef stock. Stir.
Add in a by leaf, fresh basil, Worcestershire sauce, 1 tbsp. ketchup, a small squeeze of hot sauce, 1 tbsp. sugar, and pepper. Stir.
Turn the burner right down to a simmer.
We now simmer the sauce, stirring every 15 minutes with the lid slightly on and off for 2 hours.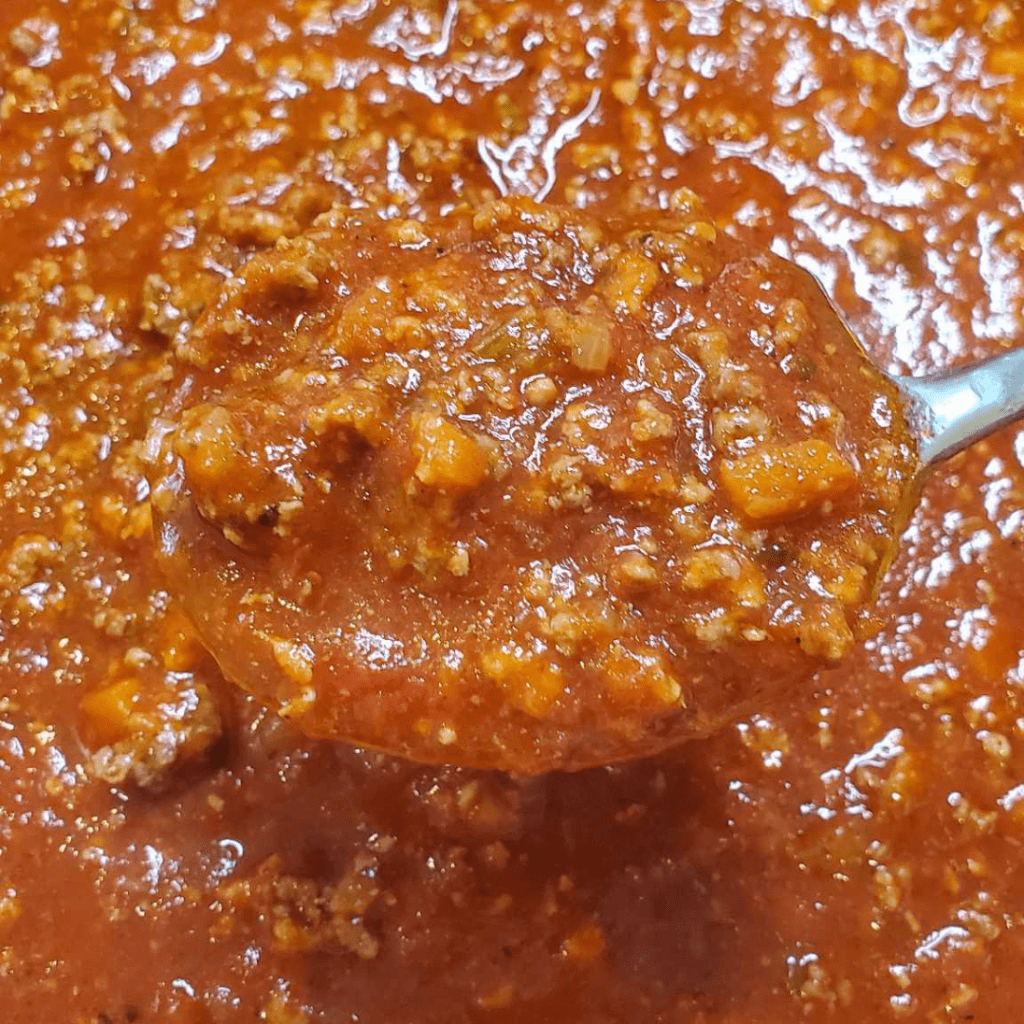 2 tablespoons olive oil
1 tbsp. butter
1 onion, finely chopped
3 cloves garlic, minced
1 carrot, finely chopped
1 celery stalk, finely chopped
1 pound (450g) ground beef
3/4 pound ground pork
1 can tomato sauce or passata
1 jar Marinelli bolognese sauce
2 tbsp. tomato paste
2 cups beef, and chicken stock
1/2 cup red or white wine
1 cup water
1 tbsp. Italian Seasoning
1 teaspoon dried oregano
1/2 teaspoon sugar
1 tbsp. ketchup
2 tsp. hot sauce
1 tsp. worcestershire sauce
Salt and pepper to taste
Fresh basil leaves, for garnish (optional
Add the ground beef and groud pork to a mixing bowl. Season with granulated garlic, salt, pepper, oregano, Italian seasoning and a tiny bit of oil. Mix with a fork.
Heat olive oil and butter in a heavy pot over medium heat. Add the chopped onion, carrots and celery. Sauté until translucent, about 5 minutes.
Add the seasoned meat mix to the pot and break up the meat using a potato masher. This will take approximately 5-7 minutes. 
Add the minced garlic, fresh herbs and the wine.  Cook until most of the wine evaporates, approximately 3 minutes. 
Add in the stock, tomato sauce, pasta sauce, tomato paste, water, ketchup, Worcestershire and hot sauce. Give it all a good stir.
Simmer the sauce for at least an hour and a half, stirring the sauce every 15 minutes. The lid should not be completely on. This leaves room for the steam. 
Taste for flavour and adjust if necessary. 
Make your favourite pasta dish or use for lasagne! Enjoy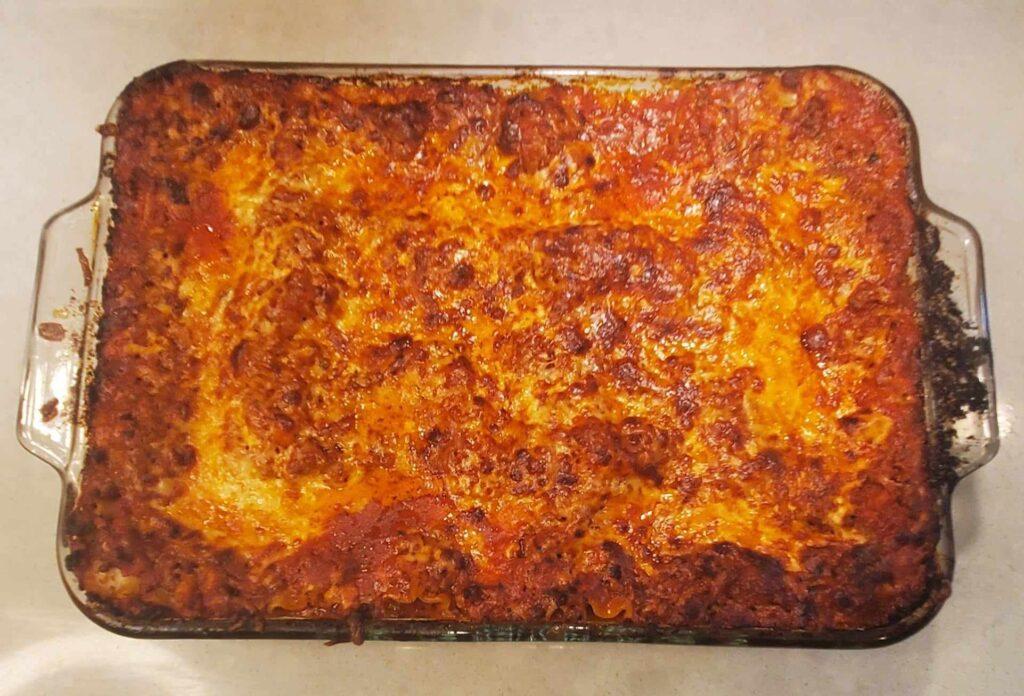 The Best Homemade Bolognese Sauce Recipe
My homemade bolognese sauce is made with ground beef and pork, tomato sauce and fresh vegetables. A great homecooked bolognese sauce that is easy to amake!
Ingredients
2

tablespoons

olive oil

1

tbsp.

butter

1

onion

finely chopped

3

cloves

garlic

minced

1

carrot

finely chopped

1

celery stalk

finely chopped

1

pound

450g ground beef

3/4

pound

ground pork

1

can tomato sauce or passata

1

jar Marinelli bolognese sauce

2

tbsp.

tomato paste

2

cups

beef

and chicken stock

1/2

cup

red or white wine

1

cup

water

1

tbsp.

Italian Seasoning

1

teaspoon

dried oregano

1/2

teaspoon

sugar

1

tbsp.

ketchup

2

tsp.

hot sauce

1

tsp.

worcestershire sauce

Salt and pepper to taste

Fresh basil leaves

for garnish (optional
Instructions
Add the ground beef and groud pork to a mixing bowl. Season with granulated garlic, salt, pepper, oregano, Italian seasoning and a tiny bit of oil. Mix with a fork.

Heat olive oil and butter in a heavy pot over medium heat. Add the chopped onion, carrots and celery. Sauté until translucent, about 5 minutes.

Add the seasoned meat mix to the pot and break up the meat using a potato masher. This will take approximately 5-7 minutes.

Add the minced garlic, fresh herbs and the wine.  Cook until most of the wine evaporates, approximately 3 minutes.

Add in the stock, tomato sauce, pasta sauce, tomato paste, water, ketchup, Worcestershire and hot sauce. Give it all a good stir.

Simmer the sauce for at least an hour and a half, stirring the sauce every 15 minutes. The lid should not be completely on. This leaves room for the steam.

Taste for flavour and adjust if necessary.

Make your favourite pasta dish or use for lasagne! Enjoy