This Super Easy Instant Pot Butter Chicken is rich and delicious! A simple dish to make with a blend of indian spices and is packed with flavor. This recipe is perfect for a busy weeknight dinner as it can be ready in a snap! If you love Indian food then you will love this butter chicken recipe! Serve the butter chicken over basmati rice, with and top with fresh cilantro and plain yoghurt!
I came to appreciate Indian food years ago when I lived with my aunt. We would eat a variety of Indian dishes. Our favourite dishes were curry chicken, matter paneer, Indian yellow split pea dal, tandoori chicken, mint yoghurt, masala milk tea and more. I just loved Indian food but was always intimidated by making Indian dishes because I was worried about blending the spices properly. You can purchase Indian spice blends at the grocery store or online or you can purchase the staple Indian Spices and blend them yourself!
List of Essential Indian Spices
Cumin
Coriander
Garam Masala
Turmeric
Indian red chile powder
Curry Powder
Cumin Seeds
Puree Garlic
Puree Ginger
Cumin Seeds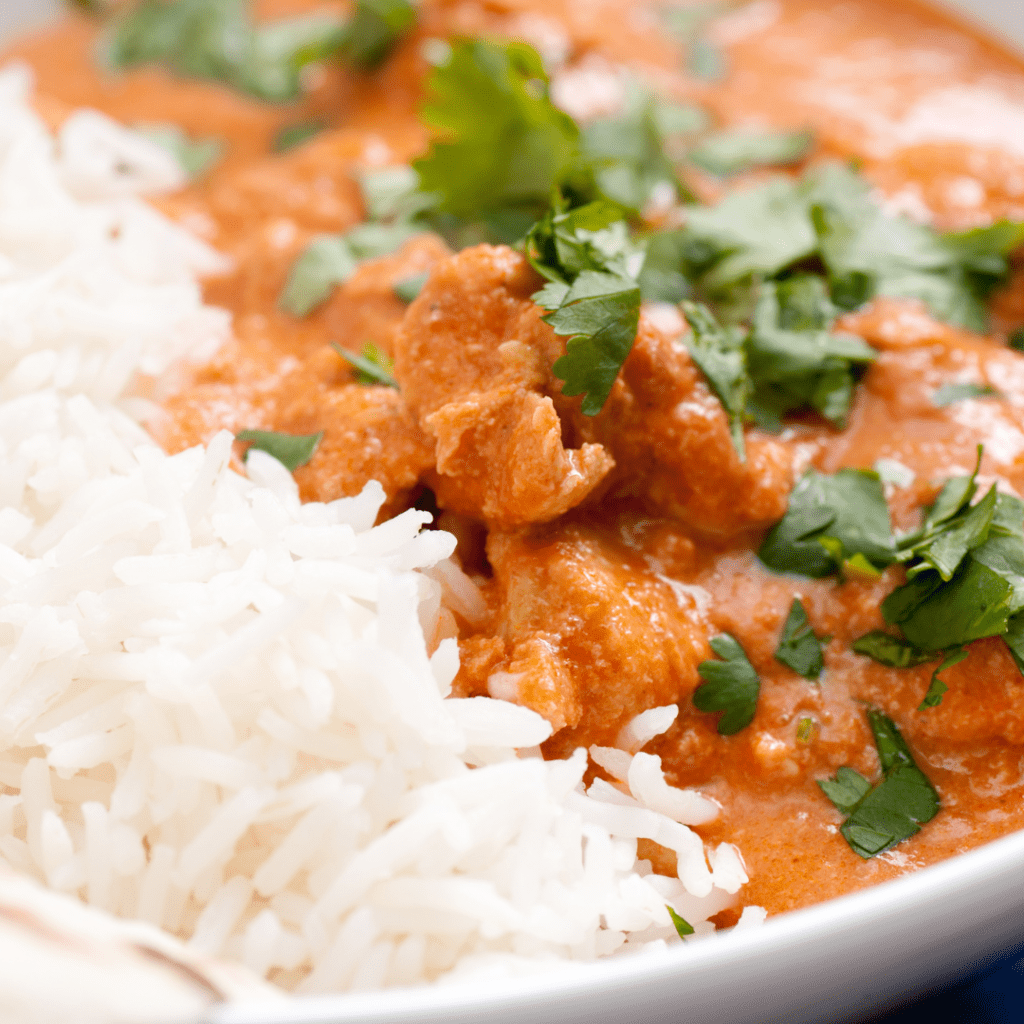 Essential Ingredients for Butter Chicken
Butter chicken is made by mixing spices with tomato sauce, chicken and cream. It is a simple dish when you have the spices in the house! The essential ingredients needed are:
Garlic, puree or fresh
Ginger, puree or fresh
Garam Masala
Cumin
Smoked Paprika
Turmeric
Chilli powder
Chicken Thighs
Cream
Method
The invention of the instant pot is downright amazing. It has literally cut cooking time and preparation down in half. To make this butter chicken the traditional way would take hours. However, this super easy recipe is absolutely delicious and quick to make.
For the preparation of this dish, you will need to have all of your ingredients prepped and ready to go because making it is quick and you don't want the garlic and ginger to burn.
While the Butter Chicken is in the instant pot cooking, I love to make some basmati rice in my beloved rice maker that I purchased at Zehrs for only $18! I highly recommend purchasing a rice cooker if you do not already own one. It makes perfect rice every time. It is compact, simple and easy to clean. In addition, I also think a rice maker would make a great shower gift or move-away-to-school gift for your child.
How to serve Butter Chicken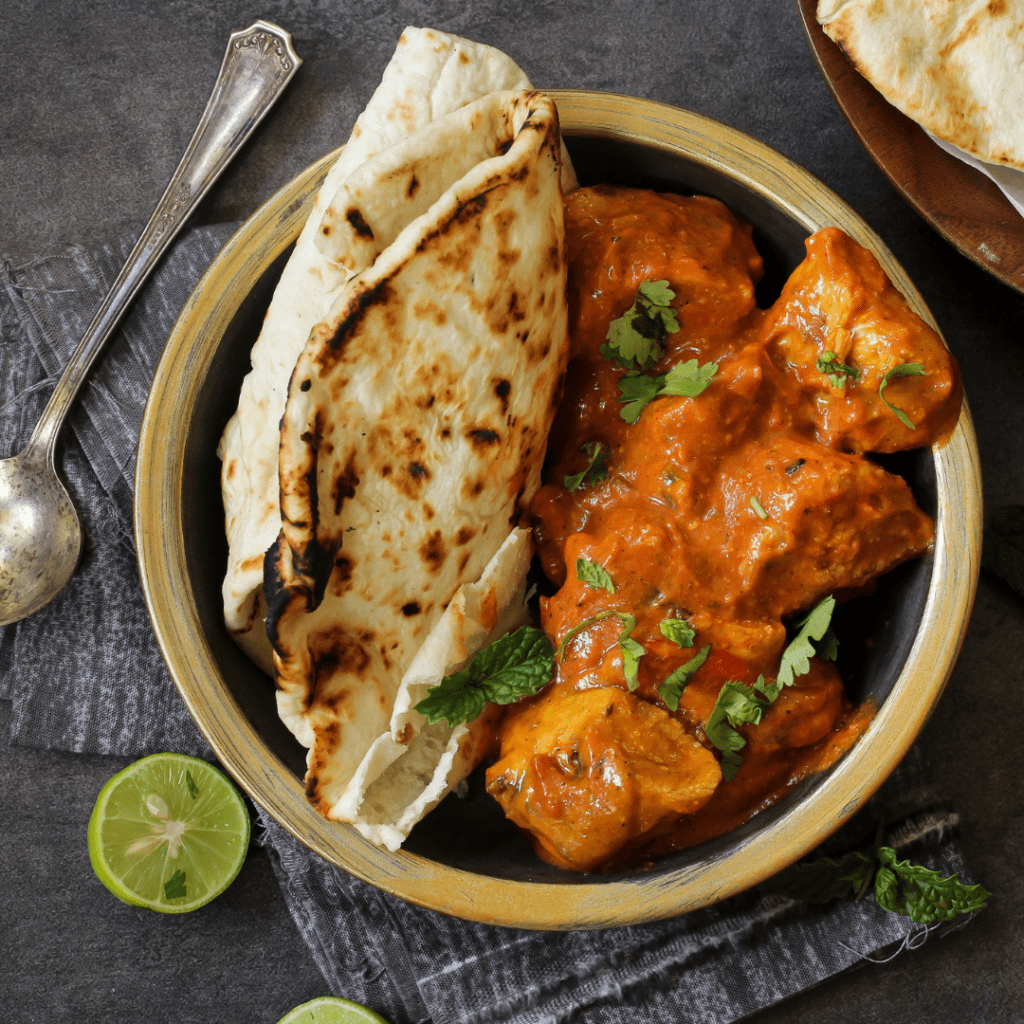 Serve the butter chicken with the basmati rice, a huge spoonful of plain yoghurt and warmed-up Naan bread. You can find frozen Naan bread at Walmart that can be easily thawed by throwing it into a frying pan with a little cooking spray, or even the oven. It pairs perfectly with the butter chicken.
For a different take on Naan bread and likely a bit more healthy this Avocado Paratha (Delicious Homemade Flatbread with avocado, Roti): Recipe by Manjula on Youtube is amazing! I make her flatbread often and especially when I have extra avocados. She has a nice channel with some great recipes!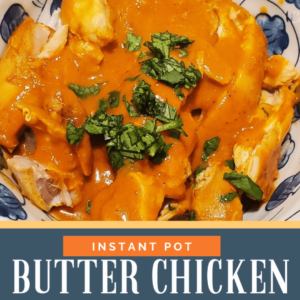 Best Instant Pot Butter Chicken
Easy, and Delicious Instant Pot Recipe! This Instant Pot Butter Chicken is full of flavour and quick to make for a busy weeknight!
Ingredients
3

tbsp.

Butter

5

cloves

Garlic, minced

2

inches

Ginger, grated

2

tsp.

Garam Masala

1

tsp.

Cumin, ground

1

tsp.

Smoked paprika

1

tsp.

Ground turmeric

1/2

tsp.

Chilli powder

1

tsp.

Curry powder

1

tsp.

Sugar & Salt

2

lbs.

Chicken thighs, skinless and boneless, diced into bite sized pieces

2

cups

Tomato sauce or 1 jar of passata

1/4

cup

Water

1

cup

Heavy cream

2

tbsp.

Fresh Cilantro for garnish
Instructions
Prepare all the dry spice ingredients in a small bowl and mix good and set aside. Set the instant pot to SAUTE and melt the butter. Add in the garlic and ginger and cook for approximately 1 minute. Add in the bowl of spices and cook for an additional minute. If it becomes too dry, add a teaspoon or two of water. Do not let it burn. 

Add in the Tomato Sauce, and Water. Mix good. Add the chicken and stir. Switch off the SAUTE setting on the instant pot. Secure the lid and make sure the vent is sealed. Select PRESSURE COOK/HIGH and set the timer for 6 Minutes. Once the cycle has completed, allow the instant pot to naturally release for 10 minutes before releasing the extra pressure in the pot. 

Carefully open the lid, and turn the SAUTE setting back on. Stir in the cream and stir everything together nicely. Allow the sauce to reduce to your desired thickness (maybe 5 minutes or more). Add in more salt or tomato sauce as necessary. 

Serve over Basmati Rice and top with fresh cilantro and plain yogurt.

Enjoy!
I hope that you enjoy my recipe for Instant Pot Butter Chicken! Drop me a comment or ask a question! Would love to hear from you! Happy Cooking!