Tomatoes, melted fresh mozzarella, garden fresh basil with a mustard mayo secret sauce is the best end-of-summer recipe that you could make! In this very short time between the end of summer and to beginning of fall tomatoes are at their best. Sweet, bright red and bursting with flavour it is time to use tomatoes in every dish!
What is so special about the Secret Spread?
What makes this recipe stand out from others is most definitely the secret sauce! Something happens when you pair tomatoes with mustard! Who knew? Although think mustard mayo on a burger and that is delicious…Interesting. The mustard deliciously enhances the flavour of the tomato. The ingredients for this special sauce include simple staple ingredients that you will find in most kitchens.
Mayonnaise
I like to use Hellman's mayonnaise for this dish as it adds a creamy and thick base to this sauce. It also pairs beautifully with tomatoes.
Dijon Mustard
The dijon mustard is the key ingredient here adding a tangy element needed to boost the flavour of the tomato.
Maple Syrup
I love to add a bit of sweet flavour to most dishes. I find that it smooths out the tanginess of dishes and balances flavours.
Italian Seasoning
Every good sauce needs herbs. Adding a small amount of Italian seasoning, garlic goes well with the tomatoes and adds a slight herb element.
I love using my Cuisinart air fryer convection oven for a variety of recipes. I especially like using it toast a baguette. It is a great way to toast multiple pieces of bread at once! For this recipe, I like to toast the baguette slightly, and then add the secret spread, tomatoes, and cheese. Secondly, I then continue to toast the baguette and then finish by using the broil setting to brown the cheese slightly.
Tomato Mozzarella Melts with a Secret Spread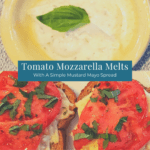 Fresh tomatoes, and basil on top of a secret sauce will have you craving this recipe over and over!
1 loaf of Good quality whole wheat bread sliced approximately into 1-inch slices 
2 Tomatoes, sliced, salted, peppered and a wee bit of sugar sprinkled on the tops
Shredded Mozzarella cheese
Freshly chopped basil
Simple Mayo Mustard Spread
1/2 cup Mayonnaise (Hellmans)
2 tbsp. Dijon Mustard
1 1/2 tbsp. Maple Syrup
1 tsp. Italian Seasoning
1 tsp. Garlic Powder
Salt & Pepper
Mix All ingredients for the Simple Mayo Spread, and set aside.

Directions for Assembly:

Toast the bread lightly in a toaster oven. Be careful not to toast the bread too much. Pull the Toast out and add a good amount of the Mayo/Mustard Spread to the bread slices. 

Top with Mozzarella cheese, Tomatoes, and Basil.

Place them back into the toaster oven (or oven) and broil them until the cheese has melted nicely. If the Tomatoes appear too dry, you could always add a little bit of olive oil when they come out. 

Serve immediately.