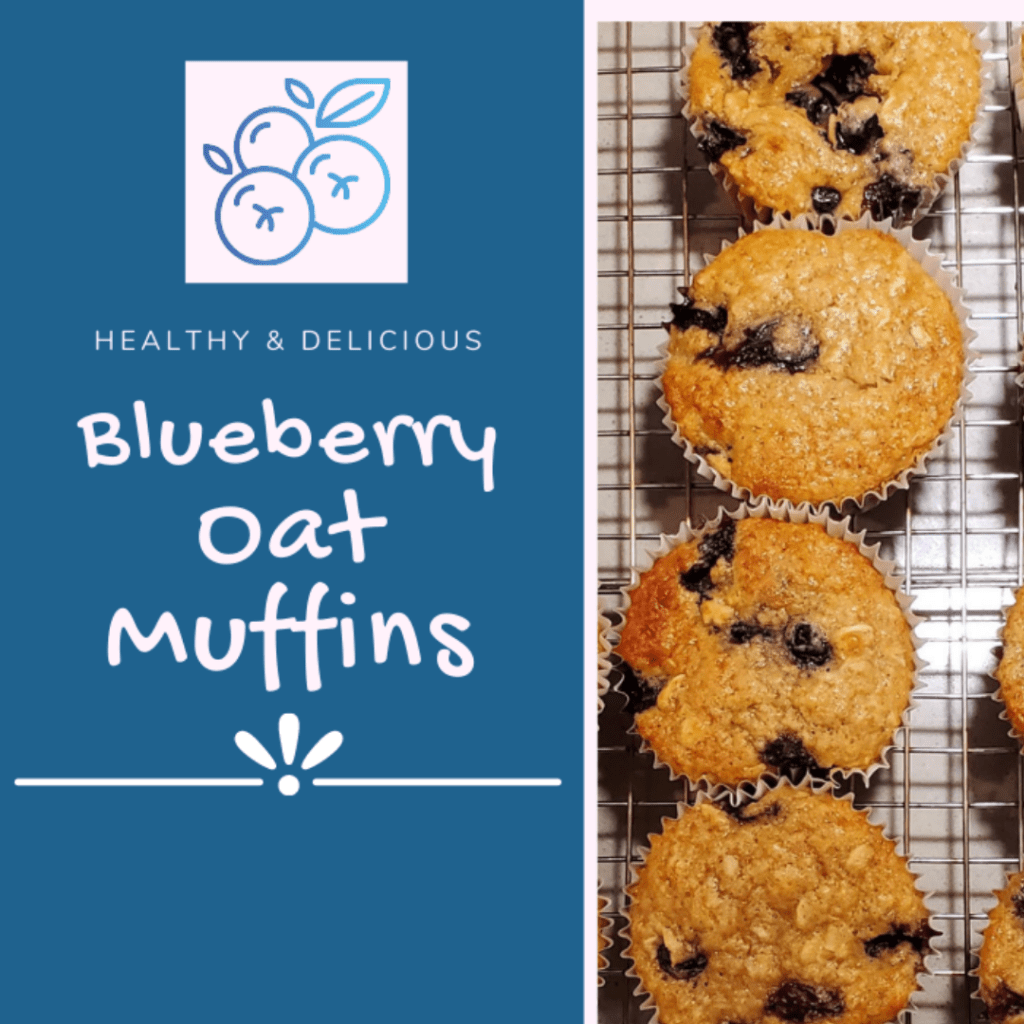 These delicious blueberry oat muffins are easy to put together and super satisfying! I think the trick here is to make sure that you use a lot of blueberries! I love to use vanilla sugar to add a sweet vanilla taste to the batter. I think this is a great little trick to bump up any sweet batter. These muffins make a great breakfast treat and a perfect addition to a hot cup of coffee!
Healthy Morning Blueberry Muffins
Delicious and Healthy Blueberry Muffins are a great go-to recipe. Substitute the blueberries for other fruits! Great basic muffin batter recipe!
Ingredients
3/4

cup

Milk – How To- Add enough fresh lemon juice to make 1 cup of liquid in total. Stir. (This is how to make a quick buttermilk)

3/4

cup

Oats

1

cup

All Purpose Flour

3/4

cup

Brown sugar

2

tbsp.

Sugar

2

tsp.

Dr. Oetker Vanilla Sugar

(optional)

1

tsp.

1 tsp. baking powder

1/2

tsp.

Baking soda

1/2

tsp.

Salt

1

tsp.

Cinnamon

1

egg

1 egg, room temperature

1/2

tsp.

Vanilla extract

1

tbsp.

Plain Yogurt

1/4

cup

Melted butter

1

pint

Fresh Blueberries, washed and dried
Instructions
Preheat oven to 375 degrees. Prepare 2 muffin pans with liners or spray with nonstick cooking spray. This recipe made approximately 16 muffins so I used two pans.

Add the milk/lemon blend to the oats and stir. Set aside for 15 minutes.

In another bowl, Mix all the dry ingredients: Flour, Sugars, Baking Powder, baking soda, salt, and cinnamon. Mix well.

To the Oat-buttermilk mixture: add in the melted butter, egg, yogurt, and vanilla extract. Stir everything together.

Add the wet ingredients into the dry ingredients. Fold in until mixed. Try not to overmix. 

Add in the blueberries.

Bake for approximately 12-18 minutes depending on your oven.

Enjoy!