This Recipe for BLT Bites is Delicious and simple to make! They really are a one bite wonder! Tomatoes, bacon, green onions, mayonnaise, parmesan, pepper all blended together makes for one decadent bite bursting with flavour!
I just love the colours on the plate! These BLT Bites are perfect for any holiday or party appetizer. Having a cocktail party? Other appetizers that you may like to try is the ever so popular Butter board, or my recipe for savoury Greek Feta Triangles.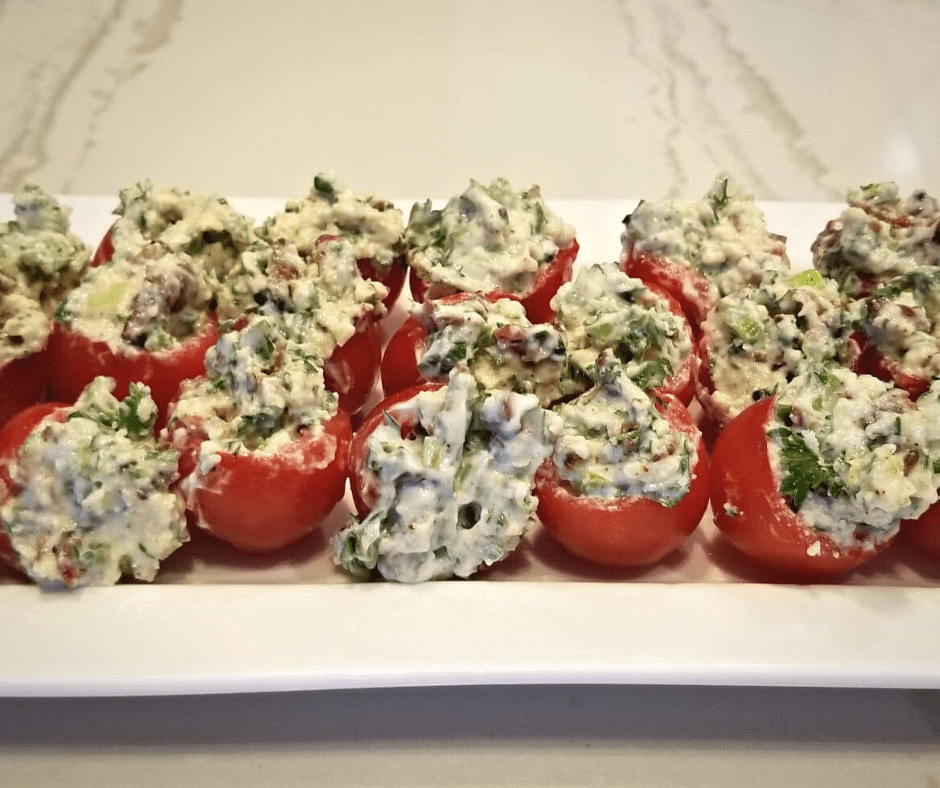 These little bites are great to bring to a party. Everyone will love them and will be surprised at how it tastes! It is a bit tedious coring the tomatoes although that is the only thing that takes time.
I like to use a tiny spoon and a paring knife to get the job done. Another little tip that I have picked up making these so many time is that I like to slice the bottoms of the tomatoes to allow them to sit on the plate without rolling around! Trust me your guests will love this little appetizer and likely wishing you had more!
For a keto take on this recipe you may want to try the BLT Keto Bites. They are also a nice option to serve at your next cocktail party.
The Setup:
I am a big fan of having everything set up before I begin a recipe. This appetizer is no exception. I like to core out the grape tomatoes and turn them over to get any of the tomato juice out of them.
Prepare the bacon and then crumble it into small pieces as the tomatoes are tiny.
Chop the green onions parsley. Measure out the parmesan and mayonnaise. Mix all the ingredients together and there you go!
These BLT bites can be made ahead of time and store in the fridge.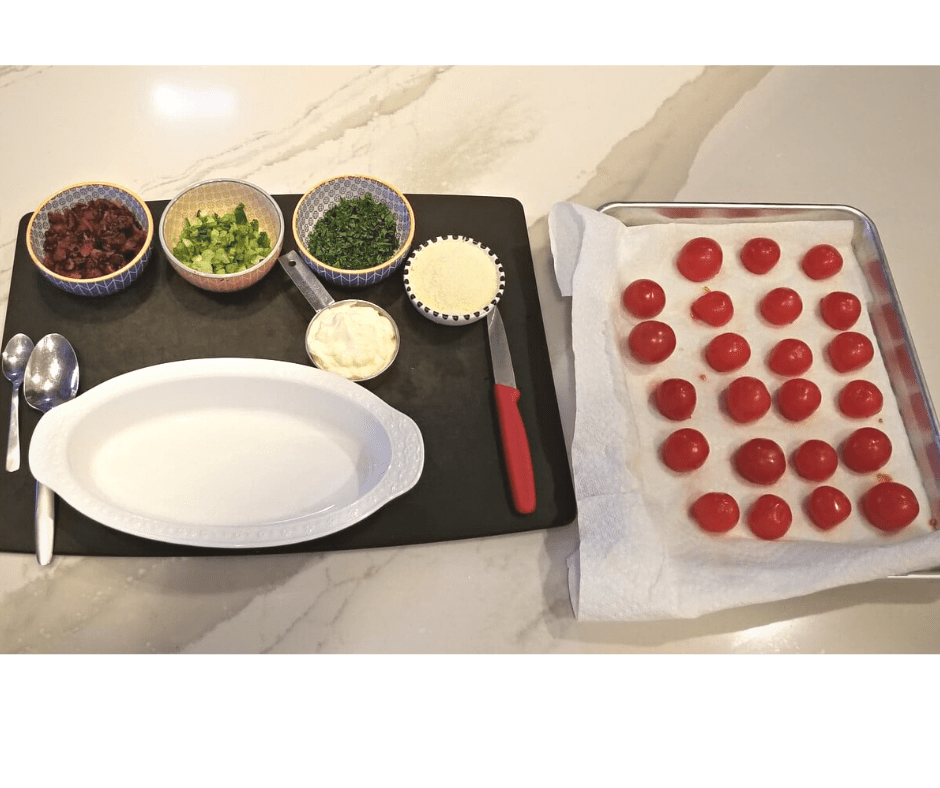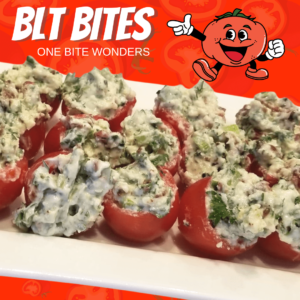 BLT Bites Appetizer
Amazing little 1-Bite Wonders! These BLT Bites are a perfect appetizer to bring to your next party! Bacon, lettuce, tomato, and mayo all in one bite and minus the bread! Delicious!
Ingredients
20

Cherry Tomatoes

1

lb.

bacon

cooked and chopped small

1/2

cup

mayonnaise

1/3

cup

chopped green onions

3

tbsp.

grated Parmesan cheese

2

tbsp.

fresh parsley

finely chopped

Fresh Cracked pepper
Instructions
Take a small slice off the top of the cherry tomato. Scoop out the pulp. I like to use a small teaspoon for this job.

Turn the tomatoes upside down to drain out the excess tomato juice onto a paper towel. 

In a small bowl, combine all the remaining ingredients. Spoon the mix back into the tomatoes. Refrigerate for at least a half hour. Enjoy!
I hope that you enjoyed this recipe! I would love to hear any feedback or comments about this recipe! Happy Cooking!