This Hello Dolly dessert bar recipe is super easy to make and tastes amazing! Picture this chocolate, pecans, coconut and sweetened condensed milk baked over top graham cracker crumbs. They are rich and so satisfying. They are a hit with everyone that tries them!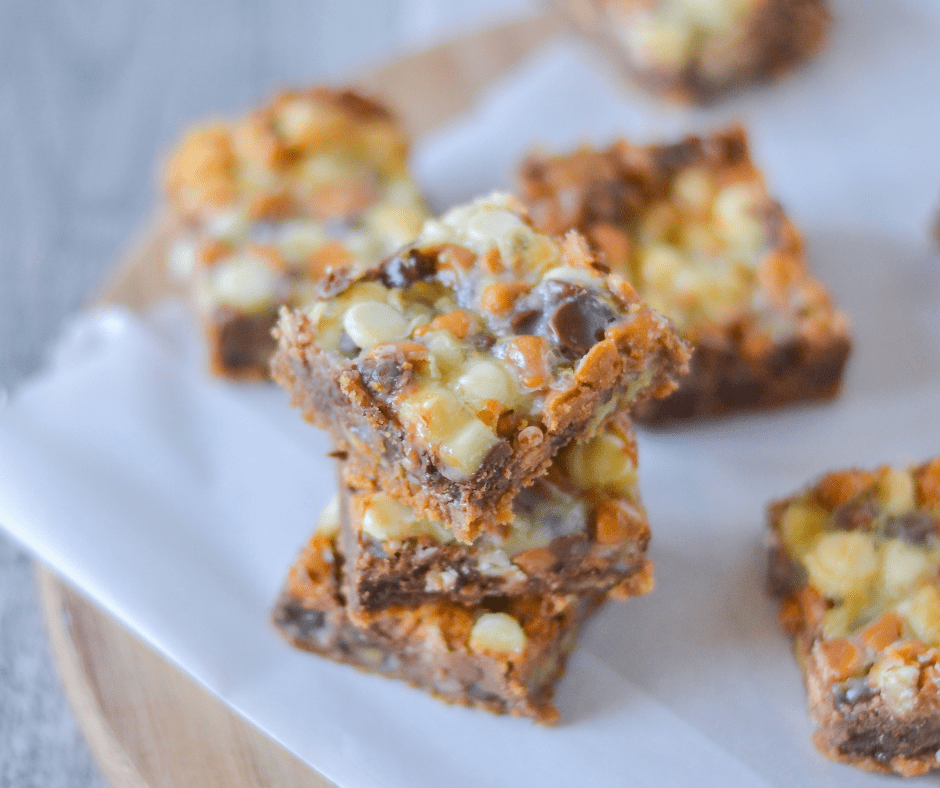 My mother has been making this recipe since I can remember. They are great to serve at a party or any event. Trust me everyone will love them!
You could replace the chocolate chips for butterscotch or white chocolate for a slightly different take on the recipe!
It is good to note that these bars freeze amazing!
The Ingredients:
Made with 6 simple ingredients makes this recipe nice and easy to make.
Chocolate chips
Shredded coconut
Pecans
Sweetened condensed milk
Butter
Graham cracker crumbs
Method:
Spray a 9×13 baking dish with cooking spray for easy lifting a the end. Start by melting the butter in the microwave. Mix the butter into the graham cracker crumbs and press the mix into the bottom of the pan. Add chocolate chips, coconut, pecans, and then sweetened condensed milk.
Bake 375° for 25 minutes and the sides are golden.
Cover and cool overnight.
These hello dollies freeze amazingly so you can have these delectable treats right from the freezer. For another easy holiday dessert recipe try my recipe for Gram's Shortbread Cookies.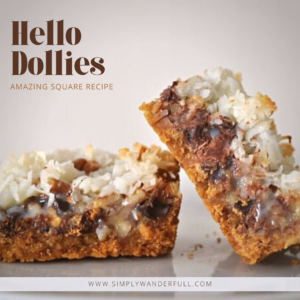 Hello Dollies Square Recipe
Best Loved Hello Dollie Squares are super simple to make and guaranteed to be a hit!
Ingredients
1/2

cup

Butter, melted

pour into bottom of pan

1

cup

Graham Cracker Crumbs sprinkle to create a layer at the bottom of the pan

1

cup

chocolate chips

1

cup

sweetened shredded coconut

1

cup

chopped pecans

1

can Condensed Milk
Instructions
Preheat oven to 350 degrees.

Spray a 9×11 pan with cooking spray.

Bake for 25 minutes or until the top looks golden brown.

Cut the squares while warm, let cool, refrigerate until completely cool.

Its best to make them the day before you want to serve them! Freeze any extra hello dollies that you have!
I would love to hear from you! Drop me a line or if you have questions let me know!
Happy Cooking!