My goodness these Veggie Burgers are delicious! Made with chickpeas, black beans, sweet potatoes, bbq sauce, 2 secret ingredients and spices. They are wonderful and healthy! Our family owned a Fruit & Vegetable market in our city and I created this Veggie burger recipe to sell in our store. I have tweaked this recipe so many damn times to get it the way we all like it! The Goal: not to have them fall apart. I hate when a veggie burger falls apart!
Being that we owned a fruit & vegetable market why wouldn't we sign up for a Vegetarian Day Festival in our city? We love to encourage healthy eating! We sold these veggie burgers in little mini sliders with my Homemade Ranch Dressing. We packaged these little sliders up in triangle pockets made of parchment paper and served them out of my RV. Hilarious! We spent hours folding these little pockets that turned out really cute. Loved every minute of that day!
These Veggie burgers are made with simple ingredients that most people will have in their pantry. You can use your favourite seasoned salt in the recipe. I love to use Joe Beef's Butcher's Blend Seasoning from Montreal! Made in Canada, it is a wonderful spice made with natural ingredients and no preservatives. Delicious for any bbq / veggie recipe! You can make these veggie burgers ahead of time, and they also freeze extremely well!
Ingredients to Make the Best Veggie Burger Possible:
Chick Peas – Other than being amazing, they are not too strong flavoured and packed with protein
Black Beans – Packed with fibre and offer a thick texture to help hold your burger together
Sweet Potatoes – I love the flavour that sweet potatoes bring to the burger, shred fine and squeeze out the liquid is essential!
Sauté Onions – Sautéing the onions adds a sweet and salty goodness to your veggie burger
BBQ Sauce – So I discovered that using BBQ sauce is Amazing! Gives a smokey, sweet BBQ taste that is definitely needed for the Ultimate Veggie burger
The Secret 2-Ingredients:
Shhh..Don't tell anyone, these secret two ingredients are really great for you and really great for up'ing your game for a great tasting Veggie Burger!
Organic Mushroom Powder: The Ultimate Superfood that is a great source of antioxidants and is used in herbal medicine to help increase energy and resistance to stress. It also tastes great and adds a depth of flavour to the Veggie Burger.
Red Beet Soluble Crystals: Aside from being the key ingredient to making your Veggie burger look like a burger by giving it a pinkish red colour, it also supports Healthy Blood Pressure and Circulation | Boosts and Improves Athletic Performance | Organic Source of Antioxidants.
Tips For Keeping your Veggie Burger Together:
Veggie burgers are amazing although I have struggled to find a balance for keeping them together without altering the flavour! I have tried different ingredients to keep them together and here is what I found:
Use an egg white! Even just one egg white will help bind your veggie burgers together without adding any flavour
Squeeze out the shredded sweet potatoes before adding them to the bowl
Add Panko or breadcrumbs
Use Black Beans! They have a firm texture and great for holding your veggie burger together
A word of advice, they can be delicate so I would recommend flattening them in the frying pan so that most of the surface gets the nice colouring.
Ideas for Vegetarian Toppings:
So now that you have the BEST tasting Veggie burger possible, it is time to add some GREAT toppings! Of course we need to keep them vegetarian why not try these:
Quick Tomato Salsa: Saute over medium heat; 1 chopped tomato, 1 tbsp.onion, 2 tsp. jalapeno, 1-heaping tbsp. ketchup and 2 tbsp. water. Let cool.
Mushroom Bacon – I basically slice cremini mushrooms and then bake them in the oven (375°) for 15-20 minutes and then toss them in a bowl with teriyaki sauce and a drop of liquid smoke (optional)
Honey Goat Cheese – I LOVE Goat cheese and I especially love the honey flavour if you can find it in the grocery store!
Arugula – Instead of head lettuce try the peppery flavoured arugula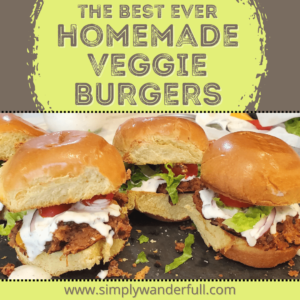 The Best Ever Homemade Veggie Burgers
These Healthy Homemade Veggie Burgers are super simple to make and packed with flavour! They are not overly salted which is nice! Made with simple ingredients such as chickpeas, black beans and sweet potatoes. No Fuss and Healthy!
Dress the burgers with homemade ranch dressing, lettuce, tomato and red onion! Oh my goodness they are really delicious! Makes approximately 10 mini burgers. They freeze great for future healthy and easy meatless nights!
Ingredients
2

cans

Chickpeas 398ml, drained and rinsed

2

can

Black beans 398ml, drained and rinsed

1

medium

Sweet Vidalia Onion, chopped

1

large

sweet potato, peeled and finely shredded

1

Egg White

2

tbsp.

Red Beet Soluble Crystals

1

tbsp.

Organic Mushroom Powder

3

tbsp.

BBQ Sauce, your favourite

1-2

tbsp.

Joe Beef's Montreal Spice Blend

1

tbsp.

Granulated Galic

1

tbsp.

Onion Powder

1

tbsp.

Salt & Pepper

1-2

tbsp.

Panko
Instructions
To a small skillet warm 1 tbsp. butter and 1 tbsp. Olive oil over medium heat. Add in your onions and saute them until they are translucent and sweet to taste. I like to add a little pinch of salt and sugar to my onions to balance out the flavourings and cook for approximately 8-10 minutes. Add in the finely shredded sweet potatoes and saute for an additional 2 minutes. Set aside.

In a large food processor add your chickpeas and black beans. You may need to add them in sections if your food processor is smaller. Process them until they are almost to a paste. They will be slightly chunky though as we took all the liquid out of them. This is ok. Add them to a large bowl.

To the same bowl, add the onion and sweet potato mixture, the bbq sauce and all of the seasonings. Mix everything together really good here. If you find that your mix is too wet, add in some chickpea flour or flour. You may want to add 1 to 2 tbsp. of the flour if you feel it needs it to hold together better. I didn't need to add anything extra when I made them.

Taste your mix! This step is very important because you want the flavouring to be to your liking. Adjust the seasoning as needed!

Shape your burgers into 3 inch round patties. Place them on a parchment lined baking sheet. They are ready to cook! *At this point you can freeze them in ziploc bags. Do not place them on top of each other unless you use parchment to separate them.

To Make them:

Add a small amount of oil to a skillet over medium heat. Add the burgers to the skillet. I like to flatten mine down to a 1/2 inch thickness as they are somewhat delicate to flip. This will cook a good part of the surface. Cook for approximately 4 minutes each side. Transfer to a baking sheet or your burger bun!

Garnish: Add Homemade Ranch Dressing, fresh lettuce, red onion and tomatoe to a toasted brioche bun! Enjoy!