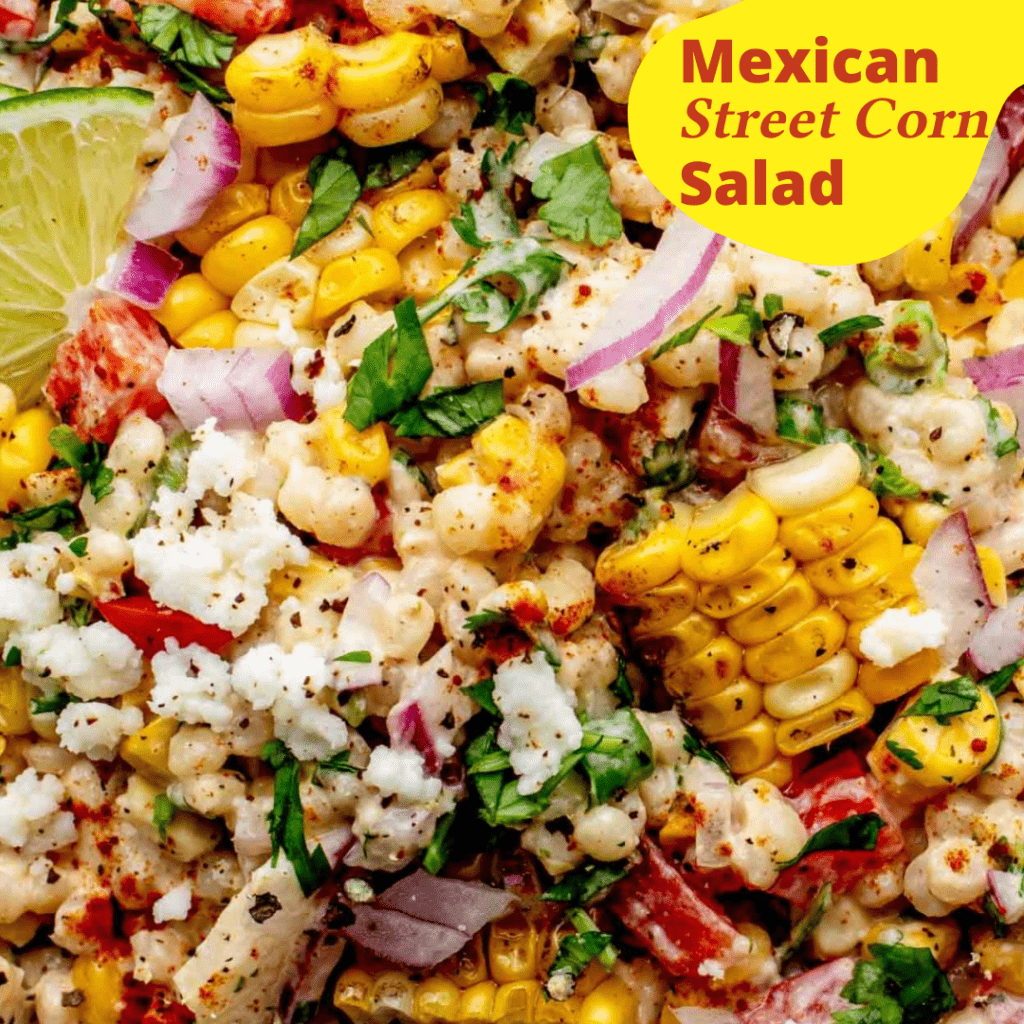 This most delicious Roasted Street Corn Salad is a great way to serve corn while it is still in season! A Fresh creamy summer salad mixed with roasted corn, mangos, avocados, peppers, tomatoes, green onions tossed in a creamy Mexican dressing. A Mexican Inspired salad that is healthy and tasty!
I have another Street Corn Recipe on my blog that is also a favourite in our house. It is a recipe for the Street Corn that is very similar to this and only served as a whole with mexican cojita cheese.
For the Corn:
I like to boil my corn for approximately 6 minutes. I then bring the corn to the bbq to finish off. This way you know for sure that your corn will be cooked and then charred slightly on the BBQ. It is so Flavourful! I like to brush the corn with a tiny bit of the creamy dressing while its on the bbq. Allow the corn to cool a bit before slicing the corn off the cob.
A Tip: I also love to use a quarter size baking sheet lined with parchment paper to fill up with chopped vegetables. I like to have everything prepped to go before starting my recipe. It is a nice way to keep organized.
For the Dressing:
The creamy dressing is super simple to make and not much thought into it. I used approximately 1/3 cup of mayonnaise, 1 heaping spoonful of Parmesan cheese, some chili powder, garlic powder, a tsp. of honey and fresh squeezed lime. You can also use a bit of this dressing to brush the roasted corn as I mentioned above.
The Ultimate Side Dish:
This quick salad would be great to bring to a bbq party, or for a side dish with tons of healthy ingredients! The more veggies the better!
You can serve this dish cold or at room temperature.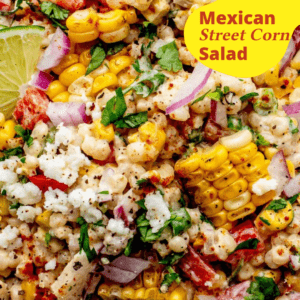 Mexican Street Corn Salad with Mango & Avocado
A Refreshing Summer Salad made by roasting corn, adding tons of fresh vegetables, mango for some sweet and all tossed in a creamy Mexican Style Dressing. Healthy & Delicious
Ingredients
4

Corn Cobs

1

Orange Pepper, diced

2

Green Onions, chopped

1

Ataulfo Mango, diced

1

Avocado, diced

1

tbsp.

Cilantro, diced

1

handful

Grape Tomatoes, cut in half
Creamy Chili Lime Dressing
1/3

cup

Mayonnaise

1-2

Lime(s), juiced

2

tbsp.

Parmesean Cheese

2

tsp.

Honey

2

tsp.

chili powder

1

tsp.

Garlic Powder

Salt & Pepper
Instructions
Preheat your BBQ to medium high heat.

For the Corn: Boil water and cook the corn for approximately 6-7 minutes. Remove from the water and place the cobs on a baking sheet. Add butter, salt and pepper to the corn if you wish.

Prepare the dressing by mixing the mayonnaise, chili powder, garlic powder, Parmesan cheese, honey, lime juice and salt & pepper. Set aside.

Roast the corn on the BBQ for approximately 5-10 minutes depending on how charred that you will like it. Turn often. I like to have only a little bit charred on all sides. At the end, and just before removing the corn, you can brush the corn with the dressing. Remove from heat. Cool. Cut the niblets off the corn and place in a large salad bowl.

Mix all of the vegetables including the mango over top of the corn. Using the creamy dressing add to the salad and mix. If you find it to dry you can add a little more lime juice or even water to loosen. Add salt & pepper if needed. Enjoy!