This gluten-free zucchini zoodle salad is a feast for the senses, boasting a colourful medley of fresh vegetables. Tossed in a simple yet invigorating lime, ginger, and garlic vinaigrette, each bite delivers a burst of tangy and aromatic goodness. 
Health Benefits to eating Zucchini Zoodles
Eating zucchini zoodles, especially when prepared in a gluten-free and healthy manner, offers a myriad of health benefits. 
Firstly, zucchini is low in calories and high in fiber, aiding in weight management and promoting digestive health. It's also rich in vitamins A and C, which boost immunity and promote healthy skin. By substituting traditional pasta with zoodles, you reduce carbohydrate intake and increase vegetable consumption, supporting blood sugar control and overall nutritional balance.
Additionally, zucchini is packed with antioxidants that fight inflammation and help protect against chronic diseases.
Embracing gluten-free zucchini zoodles is not only delicious but also a fantastic way to enhance your well-being.
Adding colourful veggies is good for You!
Adding a variety of colorful vegetables to your diet is a fantastic way to nourish your body and promote optimal health.
Each vibrant hue signifies the presence of different essential nutrients and antioxidants.
Red vegetables like tomatoes and bell peppers provide lycopene, a powerful antioxidant known for its potential to reduce the risk of certain cancers.
Orange and yellow vegetables such as carrots and sweet potatoes are packed with beta-carotene, supporting eye health and boosting the immune system.
Leafy greens like spinach and kale are rich in chlorophyll and offer a wealth of vitamins, minerals, and fiber.
Purple vegetables like eggplant and beets contain anthocyanins, which have anti-inflammatory properties. By embracing a rainbow of colorful vegetables, you ensure a diverse array of nutrients, antioxidants, and phytochemicals, supporting overall well-being and disease prevention.
Get yourself a sprializer
If you don't already own a spiralizer you need to get one! They are great to have and are a ton of fun to use!
I purchased a Star Fit Spiralizer from Walmart years ago and it is still Zoodling along!
This recipe needed for this colourful creation are here:
Zucchini – Green & Yellow
Red Cabbage
Grape Tomatoes 
Parsley
Fresh Basil
Green Onion
Ingredients For the Lime Ginger Vinaigrette:
Lime
Honey
Fresh ginger
Fresh garlic
Italian seasoning
Salt & Pepper
Olive Oil
Prepare the Honey Lime Vinaigrette by combining all of the ingredients. A little tip is to first dissolve the salt into the acids (vinegar and lime juice). Proceed to add all of the other ingredients and adjust if necessary.
Spiralize the Zucchini and add it to a large bowl.
Add All of the prepped vegetables to the bowl and toss really well and I would recommend eating it fairly soon after mixing.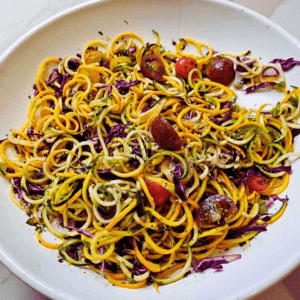 Healthy Zucchini Zoodle Salad
Spiralized Zucchini Zoodle Salad is a fresh happy bowl of goodness! Bright, healthy & Colourful makes this a great healthy choice for lunch or serve as a side for dinner! No cooking required!
Ingredients
3

Zucchini, Spiralized

1

cup

Cherry Tomatoes, sliced in half

1/2

cup

Red Cabbage, sliced

1

tbsp.

Parsley, chopped

1

tbsp.

Fresh Basil, chopped

1

Green Onion chopped
Lime Ginger Vinaigrette
1/2

Lime squeezed

1/2

tsp.

Apple cider vinegar

1/2

tsp.

White Wine Vinegar

1

tbsp.

Honey

1

Garlic clove, minced

1/2

inch

Ginger, minced

1

tsp

Italian Seasoning

Salt & Pepper
Instructions
Spiralize the Zucchini and add it to a large bowl. Add All of the prepped vegetables and add your favourite salad dressing. Toss really good and I would recommend eating it fairly soon after mixing.
Sweet Lime & Ginger Dressing Recipe
1 inch Ginger, peeled and grated, 1 Garlic Clove, minced, 1/2 of a Fresh Lime squeezed, 1/4 tsp. Apple Cider Vinegar, 1/4 tsp. white wine vinegar, 2 tbsp. honey, 1/4 cup Olive oil, Salt & Pepper.

Mix all ingredients together and adjust as needed.