A good Tzatziki Sauce recipe will take your grilled meats and vegetables to a new level of deliciousness!
Everyone loves a good sauce to top grilled food. Whether you're enjoying juicy grilled chicken, succulent lamb kebabs, or a medley of charred vegetables, this sauce is here to take your culinary adventure to new heights.
Bursting with freshness and this traditional Greek dip is a great way to elevate grilled meats, vegetables and even great as a side for roasted potatoes! 
Made with cucumbers, fresh dill, oregano, acids, and sour cream or yoghurt for a lighter option. You will most likely have the ingredients to make this quick recipe for Tzatziki Sauce.
Is Tzatziki a Sauce or a Dip?
Tzatziki can be classified as both a sauce and a dip, as it is versatile enough to be used in various ways. Tzatziki typically consists of a base made from strained yogurt, cucumber, garlic, olive oil, lemon juice or vinegar, and herbs such as dill or mint.
The texture of tzatziki can range from thick and creamy to slightly runny, depending on personal preference or regional variations.
As a sauce, tzatziki can be poured or drizzled over dishes like grilled meats, roasted vegetables, or as a dressing for salads.
As a dip, tzatziki is commonly served alongside pita bread, vegetables, or as a condiment for falafel or gyros. Its creamy and refreshing nature makes it a delightful accompaniment for dipping.
So, whether you use it as a sauce or a dip, tzatziki is sure to enhance the flavor of your dishes and add a touch of Mediterranean flair.
For an awesome cooking project try my recipe for Greek Feta Cheese Triangles. They taste so good when you dip them into this Tzatziki sauce. Oh it's so delicious! The Greek Feta Cheese Triangles are so delightful and taste wonderful with a glass of crisp white wine. 
two secret steps that will make your tzatziki the best!
So how do we go about making the best tzatziki sauce that will leave your family or guests wondering how the heck you made this delicious recipe? Well here are the two secret ways to elevate your tzatziki game.
Mixing Acids and Citrus
Dissolve the salt and sugar into the acid before adding other ingredients.
1. Why is mixing vinegars and citrus better for your sauce?
Mixing vinegars and citrus is a great way to create a unique flavoured sauce or even salad dressing. 
Chefs often mix vinegars and citrus together to create a vinaigrette that delivers a more nuanced and balanced taste.
The general rule of thumb that I like to use is to pick 3 vinegar flavours and then 1 acid. I use 1/4 tsp. of each of my picks. You can be creative here. Trust me they will all work nicely together!
For example, I will use red wine vinegar, apple cider vinegar, white wine vinegar and then lemon juice. I will use 1/4 tsp. of each and mix together. 
Vinegar brings a tangy and slightly pungent note, while citrus, such as lemon or lime, contributes a refreshing and zesty element.
The combination of vinegars and citrus adds layers of acidity and brightness to the dressing, resulting in a more complex flavour profile.  By combining these two types of acids, chefs can achieve a harmonious blend that enhances the overall taste of the vinaigrette.
Whether used as a salad dressing, marinade, or sauce, this combination of vinegars and citrus adds a delightful and well-rounded flavour to elevate any culinary creation.
2. does dissolving salt into the vinegar really help?
Dissolving salt into vinegar as the first step in creating a dressing offers several benefits that contribute to a more well-balanced and evenly seasoned final product.
When salt is dissolved in vinegar, it disperses more uniformly throughout the liquid, ensuring that it gets evenly distributed in the dressing.
This allows the salt to enhance the flavours of the other ingredients more effectively.
By dissolving salt in the vinegar, you create a brine-like solution that helps to draw out and enhance the natural flavours of the ingredients, resulting in a more flavorful dressing.
Additionally, dissolving salt in vinegar helps to ensure that the salt is fully dissolved before adding other ingredients, preventing any gritty or uneven texture that can occur when salt is added directly to the final mixture.
Overall, dissolving salt into vinegar as a preliminary step allows for better flavour integration and a smoother, more enjoyable dressing experience.
Tzatziki sauce has its origins deeply rooted in Greece, where it has been enjoyed for centuries as a traditional and beloved accompaniment to countless Greek dishes.
The recipe finds its roots in Greek cuisine, where yoghurt was a staple ingredient. Combining strained yoghurt, cucumbers, garlic, olive oil, and various herbs like dill or mint, tzatziki sauce emerged as a refreshing and cooling condiment.
Its origins can be traced to the Mediterranean region, where the use of yogurt and fresh herbs was prevalent. Tzatziki has become an integral part of Greek culinary heritage, gracing tables during festive celebrations, family gatherings, and everyday meals.
For this recipe, you will need a cucumber, fresh dill, oregano, yoghurt or sour cream (for a thicker sauce), red wine vinegar, apple cider vinegar, white wine vinegar lemon juice, garlic, agave nectar or honey and salt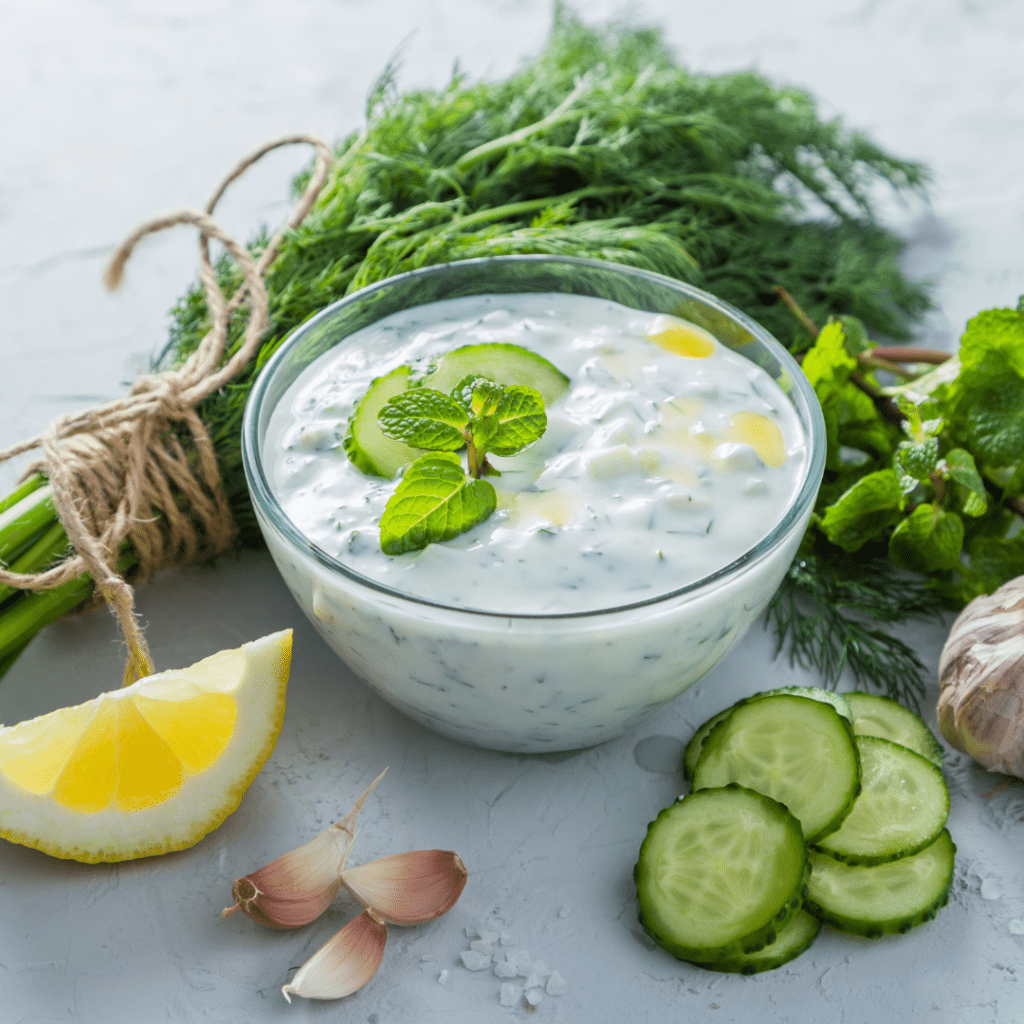 The ingredients needed to make the Tzatziki Sauce are:
2 cups Sour Cream or Plain Yoghurt
1/2 cucumber, finely shredded 
Fresh Dill, chopped
1-2 tsp. Oregano
1 Garlic clove minced
1/2 tsp. each of the following: Red Wine Vinegar, White Wine Vinegar, Apple Cider Vinegar, lemon juice
1 tsp. Salt
1 tsp. Agave Nectar or Honey
1-2 tbsp. Olive Oil
Here's a simple recipe with instructions to make tzatziki:
Start by grating the cucumber using a box grater. Squeeze out any excess moisture.
In a medium-sized bowl, start by adding the salt first and then add in all of the vinegars and lemon juice. Stir until the salt has dissolved into the acids.
Add in the dried oregano, minced garlic, fresh dill, yoghurt, agave, grated cucumber and olive oil
Add the extra virgin olive oil
Mix all the ingredients together until well combined.
Season the tzatziki with salt and pepper according to your taste preferences.
Serve the tzatziki as a dip with pita bread, fresh vegetables, or as a sauce to accompany grilled meats, kebabs, or roasted vegetables
use tzatziki on these awesome recipes!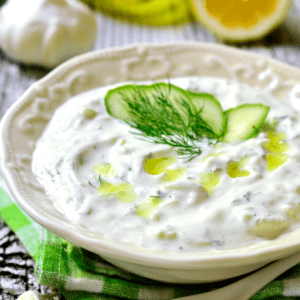 The Best Restaurant Style Tzatziki Sauce Recipe
Easy & Fresh Tzatziki Sauce is a perfect sauce for gyros, grilled vegetables and meat!
Ingredients
2

cups

Sour Cream or Plain Yogurt

1/2

Cucumber, shredded and drained

1

Garlic Clove, minced

3

tbsp.

Fresh Dill, chopped

1-2

tsp.

Oregano

1

tsp.

salt

1

tsp.

sugar or honey

2

tbsp.

Olive Oil

1/2

tsp. each

White Wine Vinegar, Red Wine Vinegar, Apple Cider Vinegar

1/2

tsp.

Fresh Lemon
Instructions
Start by grating the cucumber using a box grater. Squeeze out any excess moisture.

In a medium-sized bowl, start by adding the salt first and then add in all of the vinegars and lemon juice. Stir until the salt has dissolved into the acids.

Add in the dried oregano, minced garlic, fresh dill, yoghurt, agave, grated cucumber and olive oil

Add the extra virgin olive oil

Mix all the ingredients together until well combined.

Season the tzatziki with salt and pepper according to your taste preferences.

Serve the tzatziki as a dip with pita bread, fresh vegetables, or as a sauce to accompany grilled meats, kebabs, or roasted vegetables