Get ready to experience a tantalizing burst of tangy goodness with these mouthwatering tangy lemon icebox cookies.
These delightful treats combine the bright zestiness of lemons with a melt-in-your-mouth texture that will leave you craving for more.
Whether you're a lemon lover or simply in search of a refreshing cookie option, these tangy lemon icebox cookies are sure to satisfy your taste buds and bring a sunny twist to your snacking adventures. 
icebox cookies are great!
The origin of icebox cookies dates back to a time when refrigeration was not as common as it is today. These delightful treats earned their name from the method used to prepare them – by chilling the cookie dough in an icebox, or what we now know as a refrigerator.
This unique technique allowed bakers to conveniently store the dough, enabling them to bake fresh cookies whenever desired.
Icebox cookies quickly gained popularity due to their ease and convenience.
Their simple yet ingenious preparation method meant that anyone could whip up a batch of delicious cookies without much effort.
The dough could be prepared in advance and kept in the fridge, ready to be sliced and baked at a moment's notice.
The versatility of icebox cookies allowed for endless flavour combinations, making them a favourite among bakers who wanted to experiment with different ingredients.
Today, icebox cookies continue to be cherished for their simplicity, versatility, and delectable taste, making them a beloved choice for both novice and experienced bakers alike.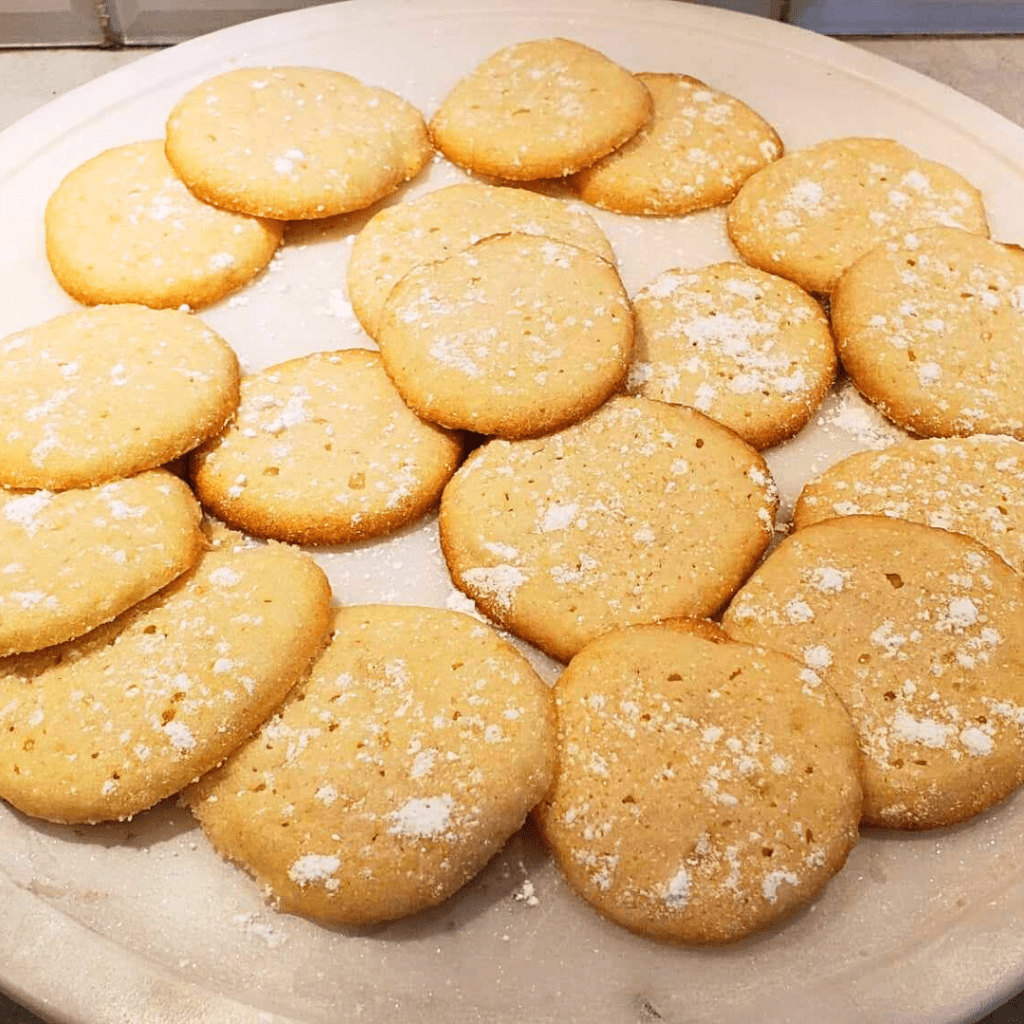 3/4 cup (1 1/2 sticks) unsalted butter, softened
1 cup granulated sugar
2 tablespoons fresh lemon zest (3 lemons)
2 tablespoons fresh lemon juice
1 teaspoon vanilla extract
1 ½ cup all-purpose flour
1 ½ teaspoon baking powder
1/2 tsp. baking soda
¼ teaspoon salt
Powdered sugar (for rolling)
In a large mixing bowl, cream together the softened butter and granulated sugar until light and fluffy.
Add the fresh lemon zest, lemon juice, and vanilla extract to the bowl. Mix until well combined.
In a separate bowl, sift together the all-purpose flour, baking powder, baking soda and salt. 
Gradually add the dry ingredients to the wet ingredients, mixing until a dough forms. Be careful not to overmix.
Divide the dough in half and shape each portion into a log, about 2 inches in diameter. Wrap the logs tightly in plastic wrap and refrigerate for at least 2 hours or until firm.
Preheat your oven to 350°F (175°C) and line a baking sheet with parchment paper.
Unwrap the chilled dough logs and roll them in powdered sugar until coated.
Slice the logs into ¼-inch thick rounds and place them on the prepared baking sheet, spacing them about 2 inches apart.
Bake in the preheated oven for 8-10 minutes or until the edges turn just golden.
Remove from the oven and let the cookies cool on the baking sheet for a few minutes, then transfer them to a wire rack to cool completely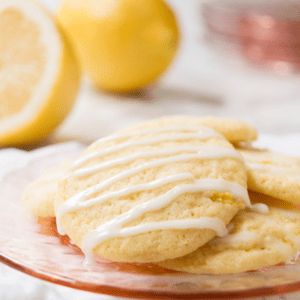 Tangy Lemon Icebox Cookies
These tangy lemon icebox cookies are easy to make. These zesty treats offer a refreshing burst of flavor in every bite.
Ingredients
3/4

cup

unsalted butter

softened

1

cup

granulated sugar

2

tablespoons

fresh lemon zest

3 lemons

2

tablespoons

fresh lemon juice

1

teaspoon

vanilla extract

1 ½

cup

all-purpose flour

1 ½

teaspoon

baking powder

1/2

tsp.

baking soda

¼

teaspoon

salt

Powdered sugar

for rolling
Instructions
In a large mixing bowl, cream together the softened butter and granulated sugar until light and fluffy.

Add the fresh lemon zest, lemon juice, and vanilla extract to the bowl. Mix until well combined.

In a separate bowl, sift together the all-purpose flour, baking powder, baking soda and salt.

Gradually add the dry ingredients to the wet ingredients, mixing until a dough forms. Be careful not to overmix.

Divide the dough in half and shape each portion into a log, about 2 inches in diameter. Wrap the logs tightly in plastic wrap and refrigerate for at least 2 hours or until firm.

Preheat your oven to 350°F (175°C) and line a baking sheet with parchment paper.

Unwrap the chilled dough logs and roll them in powdered sugar until coated.

Slice the logs into ¼-inch thick rounds and place them on the prepared baking sheet, spacing them about 2 inches apart.

Bake in the preheated oven for 8-10 minutes or until the edges turn just golden.

Remove from the oven and let the cookies cool on the baking sheet for a few minutes, then transfer them to a wire rack to cool completely