Looking for a fun twist on the classic Rice Krispies treat? Look no further than peanut butter and butterscotch Rice Krispies! This delicious recipe adds a tasty combination of sweet and salty flavours to the already beloved dessert.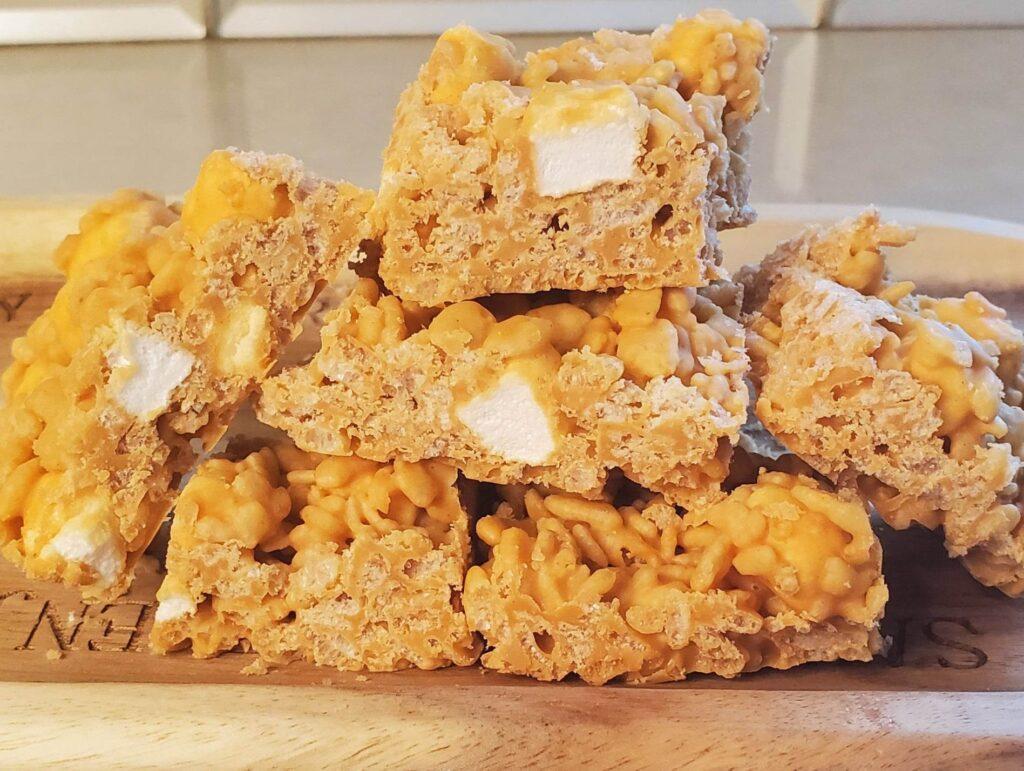 With only 4-ingredients needed, this recipe is great for kids learning to bake!
To make these super simple peanut butter and butterscotch Rice Krispies, you'll need some key ingredients. You'll need Rice Krispies cereal, marshmallows, peanut butter, and butterscotch chips. You can also add in some vanilla extract for extra flavour.
Start by melting the peanut butter, and butterscotch chips together in a large pot over medium heat. Add in the vanilla extract after everything is melted.
In a separate bowl, mix Rice Krispies, and marshmallows together. Add in the melted mix of peanut butter and butterscotch chips. Next, stir until everything is fully coated in the mixture.
Pour the mixture into a greased 7×11-inch pan and use a spatula to press it down evenly. Freeze for at least 1/2 hour. I like to cut them at this point and then place them into a zip loc bag and return them to the freezer. Eat them from frozen. 
The result? A delicious and indulgent dessert that's perfect for any occasion. The combination of the salty peanut butter with the sweet butterscotch chips is a match made in heaven. Plus, the Rice Krispies add a satisfying crunch to every bite.
This recipe is also incredibly versatile. You can even swap out the butterscotch chips for white chocolate or caramel chips.
Whether you're looking for a quick and easy dessert to make for a party or just craving a sweet treat, peanut butter and butterscotch Rice Krispies are a perfect choice. Give this recipe a try and see for yourself why it's become a family favourite.
For another kid-friendly dessert try this recipe for Raspberry Almond Bars. They are so delicious and easy to make!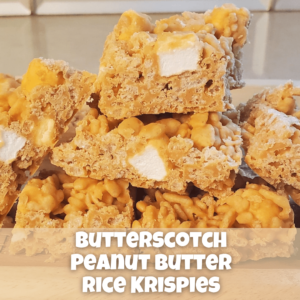 Butterscotch Peanut Butter Rice Krispie Recipes
With only 4 Ingredients needed these Butterscotch Peanut Butter Rice Krispie Recipe is Super Simple and tastes Great! This is a Fantastic recipe for kids to make and they really taste Amazing!
Ingredients
4

cups

Rice Krispies

1

cup

Butterscotch Chips

1

cup

Peanut Butter

1 1/2

cups

Marshmallow
Instructions
Spray a 7x11 rectangular pan and place parchment down.

Melt the Peanut Butter with the butterscotch chips over a double broiler.

Place the Rice Krispies and Marshmallows in a bowl. Pour the melted mix overtop. Spread in the pan. Freeze for 1/2 hour. Once frozen I took them out and cut them into squares. I placed them into a Ziploc bag and returned them to the freezer. Eat from Frozen! Enjoy!