Everyone needs a good homemade ranch salad dressing. This homemade ranch salad dressing is hands down the best! This staple salad dressing is made with fresh herbs, mayonnaise, easily made buttermilk and a few other ingredients. Simply put, this salad dressing is easy to assemble and makes a huge batch that will last for a week!
Ranch salad dressing is the ultimate comfort food and this recipe is definitely a family favourite. To sum it up once you start making this ranch dressing recipe I guarantee that you will not want to use store-bought dressing again!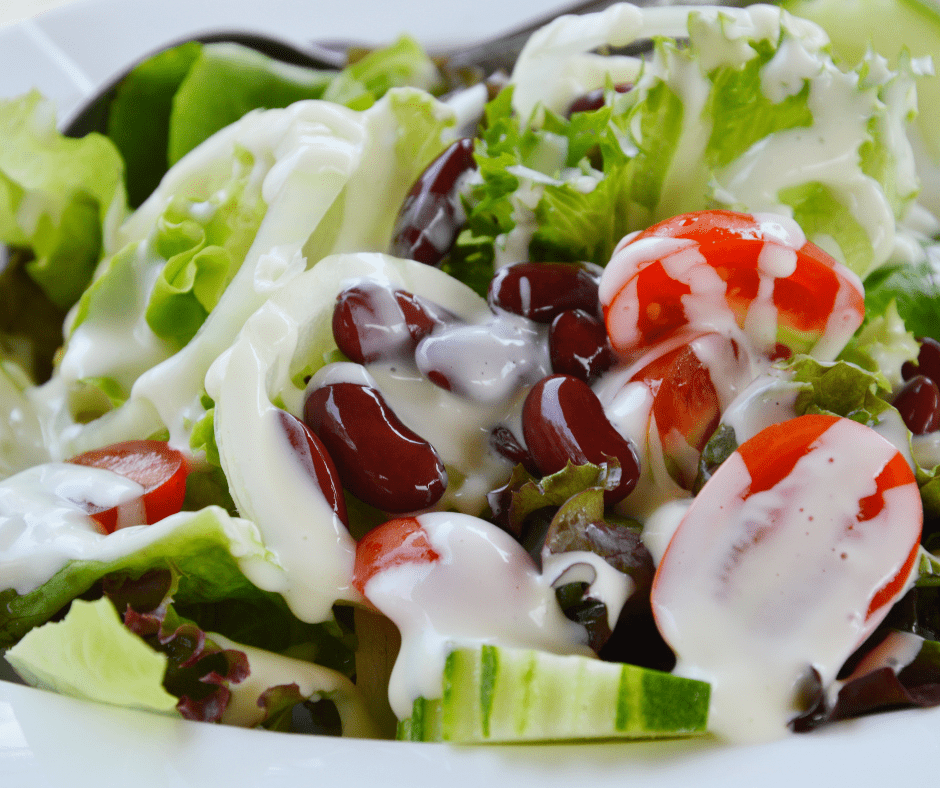 Ranch Salad Dressing Is the Best On Everything!
I think that we can all agree that ranch dressing makes anything taste better! Pair this ranch salad dressing with any of these ideas!
Salads
Veggie wraps
Chicken Delights: lettuce, tomato, red onion and ranch
French Fries sweet potato fries
Chicken Wings
Veggie burgers
Burgers
Use as a dip for Veggies
Pizza dip
Quesadillas
And more……
History of Ranch Salad Dressing
Ranch salad dressing is one of the ultimate comfort foods that add so much flavour to foods. Ranch salad dressing has been the best-selling salad dressing sold in the United States since 1992 which overtook Italian!
History tells us ranch dressing was created in 1949 by a plumber-turned-cowboy in Alaska. Steve Henson is the man behind this dressing perfection. In fact, Henson moved to California and purchased a ranch he called Hidden Valley Ranch, which made the now-famous dressing a staple.
This recipe is a tweaked version of the California Pizza Kitchen recipe. I find that their recipe is slight too acidic and therefore I like to add a tiny bit of sugar. I just love their Ranch dressing!
Ranch Dressing Ingredients:
This recipe is super fresh and has certain ingredients that are key to making this dressing a success:
Mayonnaise
Mayonnaise is the key ingredient. It adds the correct texture and is the number one ingredient for a good ranch dressing.
Buttermilk
First of all, I never actually buy buttermilk! When I started making this salad dressing I would buy the buttermilk and use it only for this recipe and then it would expire before using it all! For a simple hack, add 3/4 cup of milk and then squeeze a fresh lemon to make it 1 cup and stir. Now you have buttermilk!
Greek Yogurt / Sour Cream
You can use either greek yoghurt or sour cream for this part of the recipe. It adds a creamy, tangy taste and balances out the mayonnaise and buttermilk
Fresh Herbs
I feel like fresh herbs and green onions are essential! This is where the fresh taste comes in and really gives the classic ranch flavour! Fresh herbs include basil, dill, green onion and parsley. So Delicious!
Acid
For the acid element, I use fresh lemon juice and apple cider vinegar. Every good dressing needs acid! I love adding at least two different acids to any dressing. It really gives it your own flavour and will taste professionally made, trust me!
Sugar
Yes I know, Sugar! Sugar is so essential for balancing out the flavour. In my eyes, it is almost as important as using salt! It takes some of the strong acidic flavours and smooths the taste out. Finally, it is a very small amount anyway…lol
Other recipes that use Ranch Dressing
I love this Ranch dressing so much that you will find a common theme throughout my recipes on my blog. Here are some other recipes on my blog that use this ranch dressing that you may want to give a try!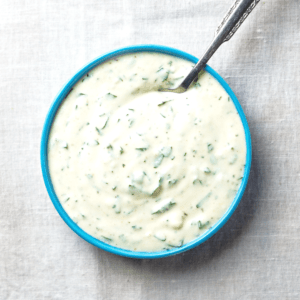 The Best Ranch Salad Dressing Recipe
From my family to yours, this recipe for Ranch Salad Dressing will become a family favourite! Use this dressing for Chicken Pitas, Salads, a delicious Veggie dip and many more!
Ingredients
1/2

tsp.

dry mustard

1/4

tsp.

cold water

2 3/4

cups

mayonnaise

1

cup

buttermilk or substitute

*3/4 milk, 1/4 fresh lemon juice

7

tbsp.

Plain Yogurt

2 1/2

tbsp.

Apple Cider Vinegar

2

tsp.

sugar

1 1/2

tbsp.

thinly sliced green onion

2

tsp.

minced garlic

2

tsp.

fresh Italian parsley

1 1/2

tsp.

Worcestershire sauce

1

tsp.

minced fresh dill

1/4

tsp.

dried Oregano

1

tbsp.

Fresh Basil

1/2

tsp.

pepper
Instructions
In a large mixing bowl, stir the mustard and cold water to form a paste, set aside for 10 min. Add all of the remaining dressing ingredients to the bowl and using a whisk blend together until smooth. No need to over-mix. Cover with plastic wrap and refrigerate. I keep my dressing in a mason jar and use it as needed. Great for salads, cut up veggies, chicken pitas, pizza dip and many more options
I would love to hear from you! Drop me a line if you have any questions or comments!
Happy Cooking!