Get ready to discover the perfect fall weekend getaway from brews to views in and around Waterloo, Ontario! 
From raising a stein in celebration of Oktoberfest to traversing the scenic trails of the Niagara Escarpment, and a stop at the St.Jacob Farmers market for the freshest fall produce and other treasures.
Join us as we dive headfirst into the perfect fusion of cold brews, awe-inspiring adventures and Ontario's largest year round outdoor farmers market!
The View: Hiking Rattlesnake point
Rattlesnake Point is located in Milton, Ontario on the Niagara Escarpment in Ontario, Canada.
It's a popular conservation area known for its scenic trails and impressive views of the surrounding countryside.
The Niagara Escarpment is a prominent geological formation that stretches from New York State, through Ontario, and into Wisconsin, providing unique landscapes and ecosystems along its path.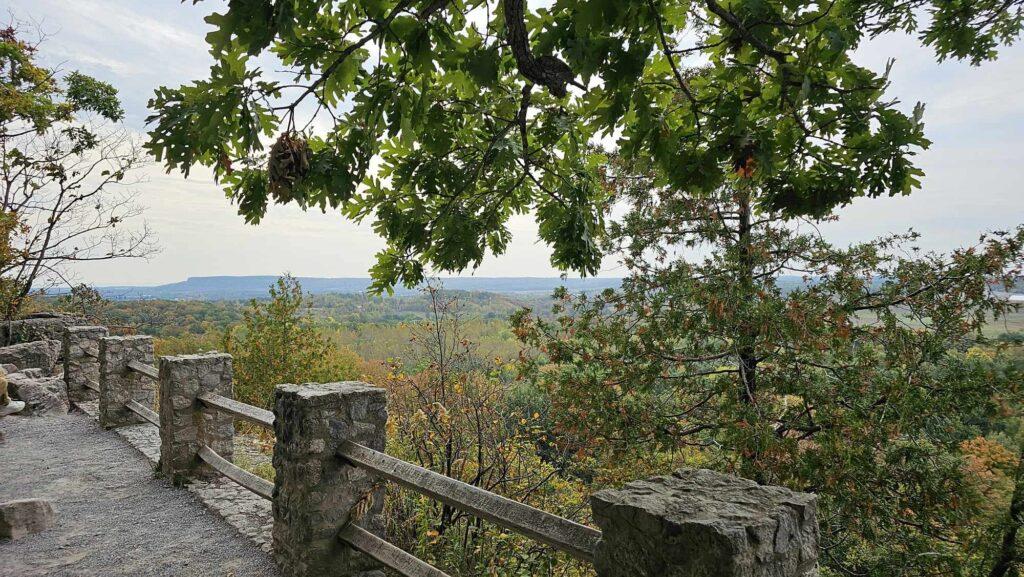 Popular Hiking Trails at Rattlesnake Point
Here are some of the most popular trails:
Nassagaweya Canyon Trail: This trail offers breathtaking views of Nassagaweya Canyon and Crawford Lake. It's known for its rugged terrain and scenic lookout points.

Crawford Lake Trail: This is a loop trail that goes around Crawford Lake. It's about 1.4 kilometers long and offers picturesque views of the lake.

Rattlesnake Point Trail: This trail leads to the Rattlesnake Point lookout which offers stunning panoramic views of the surrounding countryside. It's one of the highlights of the conservation area.

Kingridge Trail: This trail is known for its challenging terrain, taking you through rocky outcrops and dense forests. It's a bit more strenuous compared to some of the other trails.

Vista Adventure Trail: This is a shorter trail but leads to a beautiful lookout point.

Bruce Trail: The Bruce Trail runs through the Rattlesnake Point Conservation Area. This is a much longer trail that extends for over 900 kilometers offering hikers a chance to experience some of Ontario's most stunning natural landscapes.
The hiking trails were marked nicely and great for beginner hikers.
We found the trails to be a bit rocky but wide and clearly marked.
We also loved how easy it was to drive to. Located a short distance from the Highway 401 made it was great to get into the woods and hike quickly! The park is located in Milton, Ontario which is approximately 40 minutes from the Toronto Pearson Airport.
The hike took us approximately 2 hours and could have been longer if we had more time. The hike to Crawford Lake would take approximately 3-4 hours as it was approximately 9 kms round trip.
For a quick hike and gorgeous lookouts, consider the Vista Adventure Trail. It is 1.5 km trail in length and has 3 gorgeous lookouts.
We sat and enjoyed the view at the Pinnacle Lookout point of the trail. We watched an eagle soar through the sky amongst the beauty of the fall changing colours. It was a truly memorable part of our hike.
The park opens at 9am and closes at 9pm. The admission at the gate is $12 plus HST for adults. If you purchase tickets online they are $10.50 plus HST. For more ticket info check out the website here: Rattlesnake Point Conservation Area.
The Brew: Oktoberfest Kitchener-Waterloo
The Oktoberfest in Kitchener-Waterloo is an exuberant celebration of Bavarian culture and one of the most anticipated events in the region.
From lively parades and traditional folk music to the heartwarming camaraderie of locals and visitors alike, this festival offers an unforgettable experience for all.
Whether you're indulging in delectable pretzels and sausages, participating in lively dance performances, or simply soaking in the joyful ambiance, the Oktoberfest in Kitchener-Waterloo promises a truly fun-filled and culturally enriching adventure for everyone.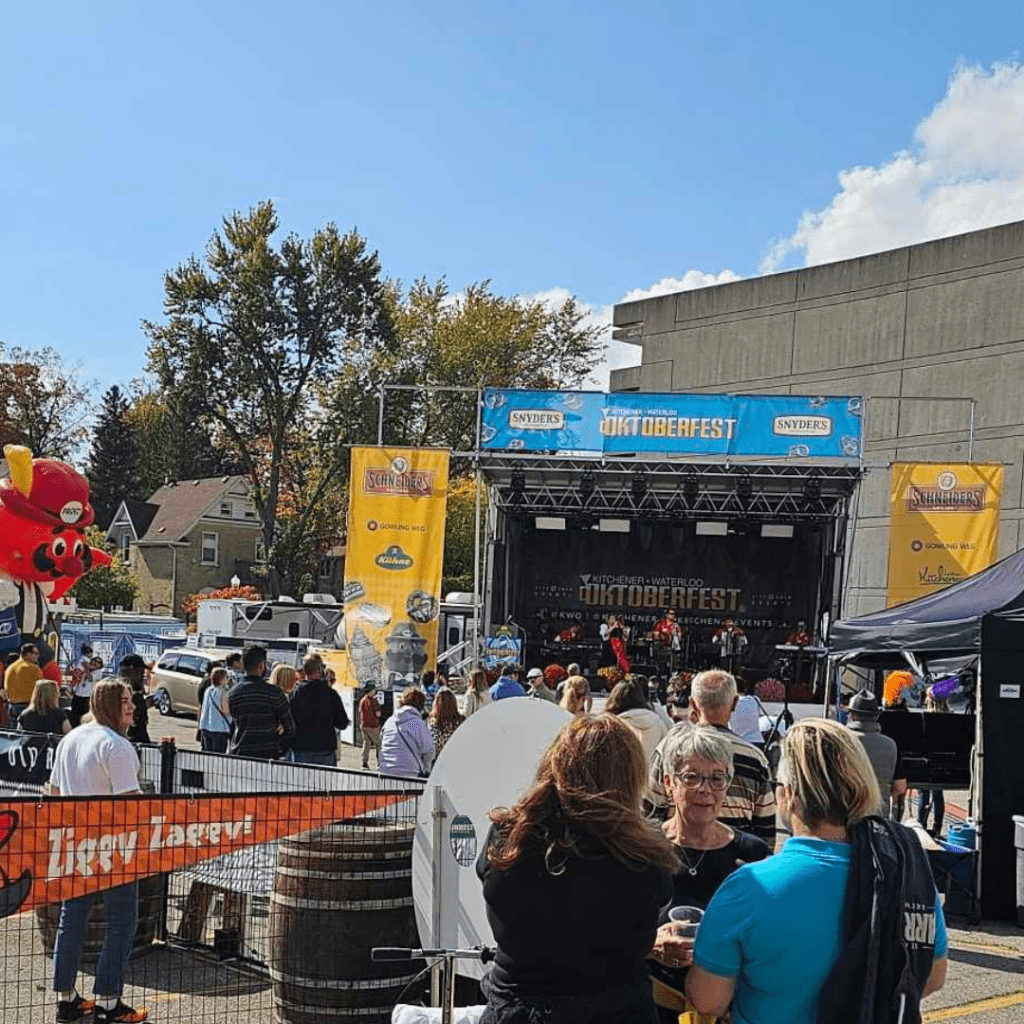 With events scattered around the region there is no shortage of activities for all to enjoy!  From parades, concerts, golf tournaments, beer gardens, to Kidtoberfest it is surely one happening place to be in October! Here are some fun facts about the Kitchener-Waterloo Oktoberfest that you may find interesting:
Historical Roots: Kitchener-Waterloo's Oktoberfest has been celebrated since 1969 and is deeply rooted in the region's German heritage.

Largest Outside of Germany: It's the largest Oktoberfest celebration outside of Germany, attracting over 700,000 visitors annually.

Grand Parade: The festival's Oktoberfest Thanksgiving Day Parade is one of the highlights, featuring colorful floats, marching bands, and various community groups.

Traditional Garb: Many participants, both locals and visitors, don traditional German attire like dirndls and lederhosen, adding to the festive atmosphere.

Official Keg Tapping: The festival officially kicks off with the "Tapping of the Keg," where the mayor of Kitchener performs the ceremonial first tap.

Miss Oktoberfest: Since 1969, a Miss Oktoberfest is crowned each year to serve as the festival's ambassador.

Beer Consumption: A staggering amount of beer is consumed during the festival. In 2019, over 50,000 liters of beer were served!

Cultural Events: Beyond beer, the festival hosts various cultural events like Bavarian dancing, traditional German meals, and live music.

Economic Impact: The festival has a significant economic impact on the region, with local businesses benefiting from the influx of tourists.

Family-Friendly: While known for its beer-related festivities, Oktoberfest in Kitchener-Waterloo also offers a range of family-friendly activities, making it an inclusive event for all ages.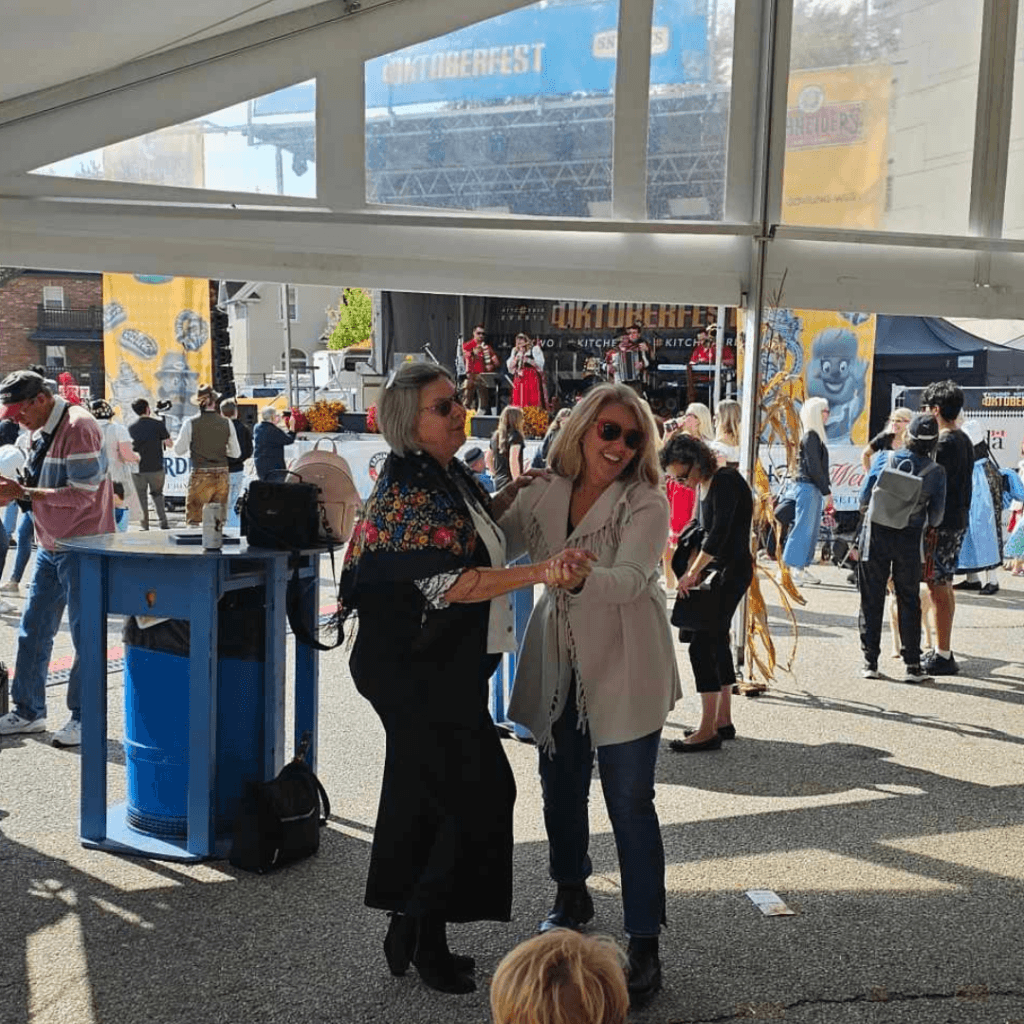 We visited the Willkommen Platz Bavarian Village for the official Keg Tapping Event. There was music, games, and of course Bavarian foods! Pretzels and sausages and beer! Because I am a Foodie at heart, I have to mention that the Snyder's Of Hanover Pretzels: Honey Dijon Mustard were absolutely the BEST pretzels that I have ever eaten!
They had a large selection of Craft Beers from all around Ontario as well as the official German Beer Erdinger.  Some of the Craft Breweries that were showcased were:
It is also worth mentioning that after leaving the Willkommen Platz Village which is located at (Gaukel Block – 44 Gaukel Street, Kitchener) we walked around downtown Kitchener. The streets were closed off and there were vendors selling Oktoberfest souvenirs, street food and more!
St. Jacobs Farmer's Market
This weekend wouldn't be complete without a visit to the St. Jacob's Farmer's Market, located in St. Jacobs, Ontario and just a short distance from Waterloo. 
The atmosphere is lively, with cheerful farmers offering warm greetings and sharing stories of their bountiful harvests. A stroll through the market feels like a journey through the heart of fall, where the sights, scents, and sounds encapsulate the essence of this enchanting season.
Each vendor's display is a testament to the dedication and care that goes into cultivating these autumn treasures, making a visit to St. Jacobs Fresh Market in the fall a truly magical experience.
Here are some fun facts about St. Jacobs Market located in St. Jacobs, Ontario:
Amish Country: St. Jacobs is known for its large Amish population, and the market is situated in the heart of this charming, traditional community.

One of Canada's Largest Farmers' Markets: St. Jacobs Market is one of the largest year-round farmers' markets in Canada, featuring over 300 vendors.

Open Year-Round: Unlike many farmers' markets, St. Jacobs Market operates year-round, providing fresh produce, handmade goods, and unique products regardless of the season.

Local Artisans: The market is a hub for local artisans and craftsmen, offering a wide variety of handmade items, including jewelry, clothing, and home décor.

Culinary Delights: Visitors can indulge in a diverse range of culinary delights, from fresh produce and cheeses to baked goods and international cuisine.

Eco-Friendly Initiatives: The market is committed to sustainability, implementing eco-friendly practices like waste reduction and recycling programs.

Tourist Attraction: St. Jacobs Market draws visitors from across Canada and around the world, making it a significant tourist attraction in the region.

Historic Setting: The market is situated in a picturesque, historic village setting, adding to the unique and charming atmosphere.

Community Events: The market often hosts special events, including festivals, craft shows, and themed weekends, providing additional entertainment for visitors.

Scenic Surroundings: The market is surrounded by the beautiful countryside of Waterloo Region, offering stunning views and a peaceful atmosphere for shoppers and tourists alike.
Have you heard the saying, that your eyes are bigger than your stomach? Well, that is just what happened to us! The Beautiful bountiful fall produce, and vibrant colours of the fresh and crisp produce. This place is a buzz! From apples, to peppers and potatoes, squash and pears and crisp fresh beans and so much more! If you have time, you must visit the inside at the market for fresh baked breads and pastries, the best cheese that I have ever tasted (Check out: Meadow Song Farms Fresh Cheese: Sharp Sheep Gouda), oils, meats and so much more. It is truly a foodie heaven! 
The indoor market is OPEN YEAR ROUND and the Farmer's Market is open Thursdays: 8am to 3pm
Saturdays: 7am to 3:30 pm
I bought the biggest hamper of gorgeous bright red Shepard Peppers that were perfect for roasting! I just love a cooking project and roasted red peppers! 
I spent Thanksgiving Day roasting, and making a sweet and spicy brine for the peppers. I then packaged them up in single servings in ziploc bags and placed them in the freezer! They turned out beautiful.
The Kitchener-Waterloo and extended area offers a selection of luxury accommodations.
Here are some notable options:
If you are looking for some good eats in the Kitchener-Waterloo area check out these great choices:
Check out some other great trip ideas!
I hope that you enjoyed my article on Brews to Views in and around Kitchener-Waterloo! Would love to hear any feedback or questions, comments etc. 
The area is bursting with things to do from the outdoor enthusiast to great food! Thank you for reading my article and hope that you get some great information.