Beautiful Whistler, British Columbia Canada, a winter wonderland and ski lovers' paradise. Snow-capped mountains, the largest ski terrain in North America, and a super fun après-ski scene. It truly is spectacular. 
The Whistler village is pedestrian free and packed full of restaurants, shopping and hotels. It is super quaint and especially cozy and charming on a winter's day. 
Is this a bucket list trip for you? If so, read on for some great travelling information!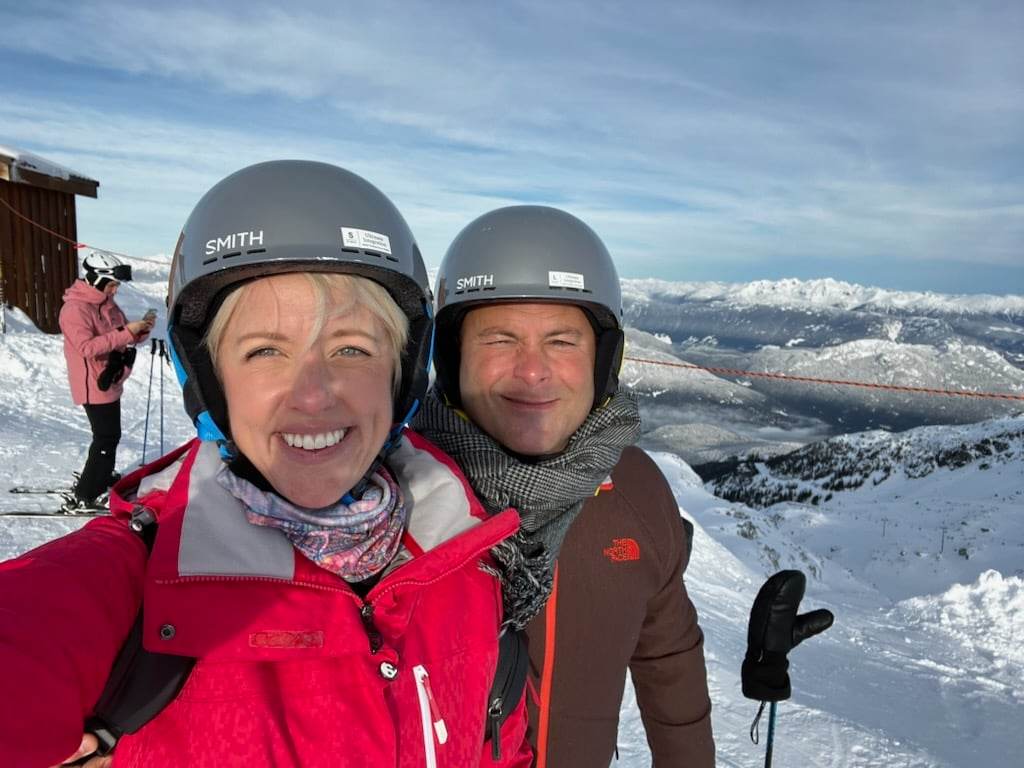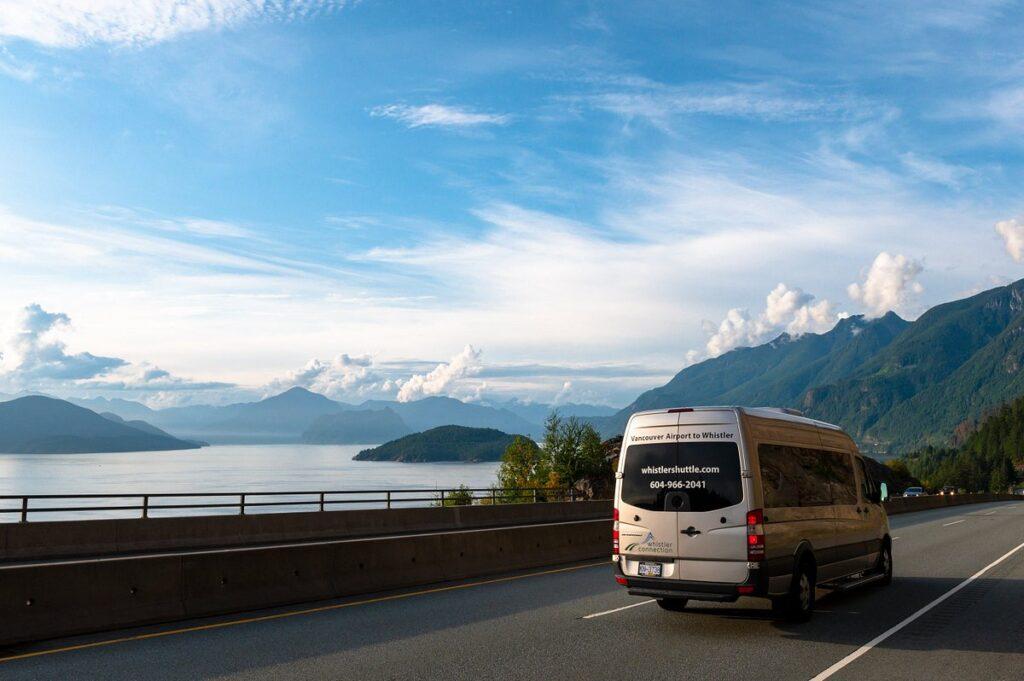 There are many ways to get to Whistler. Most people will fly into Vancouver and then make the 2-hour trek up to Whistler along the Sea to Sky Highway. It is an incredibly scenic ride with stops along the way to take photos. Those two hours will fly by because there is so much to look at! Here is some practical information on getting to Whistler:
Flights: You must find your way to the Vancouver International Airport or airport code: YVR. I love to use Kayak for finding the best prices and timetables for flights to Vancouver or where ever I may travel.
Car Rental From Vancouver Airport: You will find all of the major car rental companies here at the airport. 
The car rental companies inside the terminal are Alamo · Hertz · Dollar Thrifty · Avis · Budget · Enterprise Rent-a-Car and National. 
I like to use carrentals.com or kayak when I reserve a car rental. They always seem to give me the best price even better than directly from the car rental website. You can also cancel anytime without penalty. 
Shuttle & Private Transfers From Vancouver Airport:  Check out the Whistler Connection company. They offer Shared Airport Shuttle Service and Private Airport Shuttle Service to and from Vancouver. 
The Shared Service offers shuttles leaving throughout the day to accommodate flight arrivals. You will be asked for your flight information, be greeted by a representative within the airport and be transported to Whistler as quickly as possible. The ride is 2.5 hours. The shuttles are Sprinter Vans so they are definitely comfortable. This is likely one of the cheapest options for getting to and from Whistler. They will drop you off at your hotel or wherever you wish to be dropped off within Whistler village.
The Private Shuttle Service is also available for a bigger fee that can accommodate larger groups or smaller groups and will be a quicker option than the Shared Service. 
Taxi: There is also the option for a taxi to take you to Whistler from Vancouver Airport. The price is steep however running you in the range of $350 each way. 
For more booking information and other ways to get to Whistler check out Ridebooker.com to compare pricing and options. 
Where to Stay in Whistler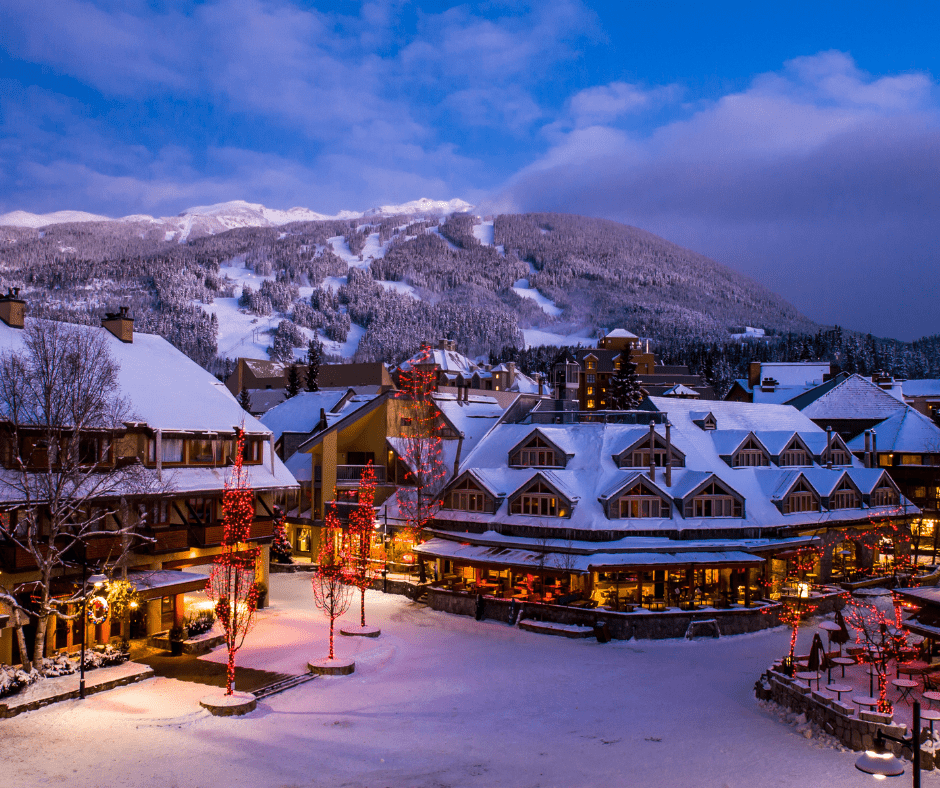 Four Seasons Hotel – This hotel is nestled into Blackcomb village and offering an intimate luxury wilderness retreat. The rooms are warm and inviting, they also offer heated pools, spas, sauna, eucalyptus steam, smores by the fire, and complimentary wine tasting for guests at 4 pm each day. Snowshoeing is included in your daily fee. They offer 2 full-service gourmet restaurants and more. TIP: We booked our stay 6 months in advance and got an awesome rate on the hotel that included cancellation. They couldn't believe the rate that we got at check-in.
The Fairmont Chateau Whistler nestled directly at the base of Blackcomb mountain is great for families, meetings and weddings alike. A classical elegance set in an alpine setting. They offer 4 dining options that are on-site for a variety of dining options. Rooms are cozy and tastefully decorated. They offer complimentary yoga classes, toboggan rentals, an indoor/outdoor pool and a full-service spa.
The Westin Resort & Spa – A luxury hotel tucked away in the mountains. Situated in the heart of Whistler village and featuring upscale amenities for a cozy stay.
The Nita Lake Lodge is located a short drive away from the village and nestled on Nita lake for stunning views of the lake and cascading mountain landscape. The rooms are Contemporary with large suites that have fireplaces and comfortable beds and tastefully decorated bathroom amenities. The Den restaurant located in the hotel offers a farm-to-table dining option with an emphasis on its seasonal ingredients and the menu reflects. The hotel offers a shuttle service to and from Whistler village and is also located at the base can also be accessed. The base of the Creekside ski lift is a short distance away from the hotel.
Other Options:
Whistler Platinum: Luxury home and townhome rentals
Google Travel: Offers a variety of accommodations and combs the internet for the best price!
Kayak.com: Kayak is a great search engine that looks for the best price on hotel rooms, cars, flights and more. I love using it to compare and then I usually go right to the site to book.
Whistler and Blackcomb are two separate mountains. If you are standing at the base and facing them, Whistler is on the right and Blackcomb is on the left.
They previously rivalled each other until 1997 when they amalgamated into 1 gigantic ski resort.
With 8,100 acres of skiable terrain ranging from easy to expert, they have done an amazing job creating a trail for every level.
It is the largest ski resort in North America. From top to bottom of the mountain, you will descend a whopping 5,200 feet or 7 kilometres from the top to bottom in one single run! It will take you approximately 40 minutes to ski from the top to the bottom if you are old like me! Get your legs warmed up for this amazing leg-burning workout! 
Whistler Blackcomb also offers 5 snowboarding terrain parks so plenty of options for snowboarding. 
Whistler Blackcomb Mountain Stats
Average Snowfall: 448 inches (37.3 feet/11.38 metres/1,138 centimetres) snow per year.

Total Terrain: 8,171 acres (3,307 hectares).

Trails: 200+.

Longitude/Latitude: 50° latitude, 122° longitude.

Mountain Restaurants: 17 with a total of 6,540 seats.

Highest Lift Accessed Elevation: 2,284 metres (7,494 feet).

Whistler Village Elevation: 675 metres (2,214 feet).

Creekside Base Elevation: 653 metres (2,140 feet).

Number of Lifts: 35

Lift Capacity: 69,939 skiers per hour
Retreived from URL: https://www.whistlerblackcomb.com/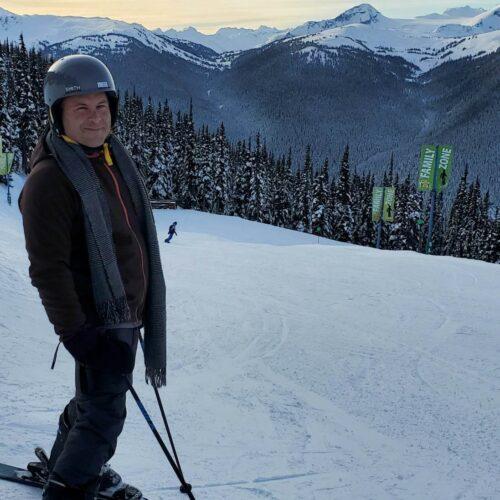 Planning your ski day is a great idea. With over 200 runs, it can be very overwhelming to know where to start! I would recommend taking the main gondola up to the main station on either Whistler or Blackcomb first. You can now spend 3/4 of your day traversing trails on either mountain and taking shorter chair lifts back up. For the final run of the day, we loved to take the chair lift right to the Peak of Whistler and then ski right to the bottom using the Burnt Stew Green Run. This took us approximately 40 minutes. We skied right into the Apres-Ski scene! Perfect way to end the ski day. 
Best Ski Trails - Green & Blue Runs
We stayed mostly on GREEN and BLUE runs. Some of our favourite runs are listed here. For a trail map click here: Whistler / Blackcomb Trail Map
TIP: They had a Whistler/Blackcomb representative available near the large trail map located at the main station and after exiting the gondola. They are there to help you plan your route depending on your level of skiing. This was very helpful!
BURNT STEW & MATTHEW'S TRAVERSE

– Both of these trails are

GREEN

and start at the Peak of Whistler Mountain. Accessed by the Peak & Harmony Chair

PONY TRAIL, PAPOOSE AND BEAR CUB – All of these trails are GREEN and are located on Whistler mountain. Meandering through the trees and a nice smooth run. Accessed by the Big Red Express Trail.
PEAK TO CREEK TRAIL – These trails are BLUE and are located on Whistler mountain. This trail will take you from the Peak of Whistler right to the bottom of Creekside. Accessed by the Peak Chair.
EASY OUT– This trail is GREEN and located on the Blackcomb side. A great beginner run and can be accessed by the Catskinner Chair.
GREENLINE, AND EXPRESSWAY – Greenline and Expressway are GREEN runs and located on Blackcomb. They can be accessed by the 7th Heaven chairlift.
SUNSET BOULEVARD TO GREEN LINE – Both of these runs are GREEN and in my opinion the most beautiful trail of all trails! Sunset Blvd. meanders on the side of Blackcomb and the views are incredible of Whistler and surrounding areas. We ended up at the Blackcomb Gondola Midway station, hopped on the gondola (which was warmer that a chairlift) and then took it back to the main station Blackcomb. Awesome!
HUGH'S HEAVEN, UPPER CLOUD NINE, LOWER CLOUD NINE – All of these trails are BLUE and can be accessed by the 7th Heaven Chairlift on Blackcomb and offer incredible views from the Peak of Blackcomb. The trails are wide and you literally feel like you are on top of the World here.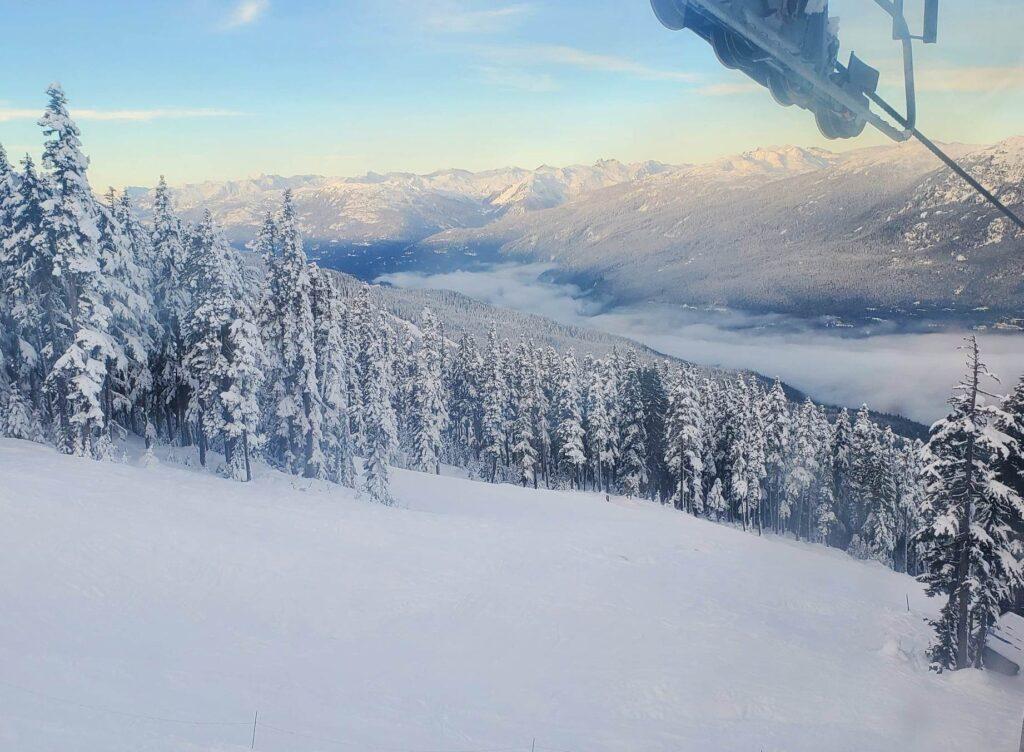 The Peak 2 Peak Gondola is an incredible experience itself! This one-of-a-kind gondola connects both mountains at the top. Years ago you would likely ski one mountain each day and now you can swoop back and forth as much as you would like! It is very convenient.
It is the World's highest lift of its kind. From 1427 feet above the valley floor and spanning 1.88 miles, it is an exhilarating experience! The ride takes approximately 11 minutes, and the views are seriously incredible on a clear day! 
Ski Rentals and Lift Ticket
Ski & Snowboard Rentals: During the Winter Season, ski and snowboard rentals are available online at: Epic Mountain Rentals.
Equipment can be rented out online in advance or on the day at the store. You can also pre-book an Epic Mountain representative to come to your hotel room and they will fit you for your equipment. You can then pick up your equipment at the shop located at the base of the mountain. We took advantage of this and it was really convenient.
Some hotels have a ski valet or ski concierge that are usually located at the base of the mountain so you can literally ski to the bottom, take your skis off and drop them off right there! They store them for you along with your shoes for super easy access at the beginning and end of your ski day. How convenient is that?
Lift Tickets: Lift Tickets can be purchased in advance or on the day at the base of the mountain at any ticket window. You save a bit when you purchase your tickets online and you will also skip the line for your ticket pickup.
They also allow you to be flexible with your ticket. We decided to switch days and there was not a problem at all.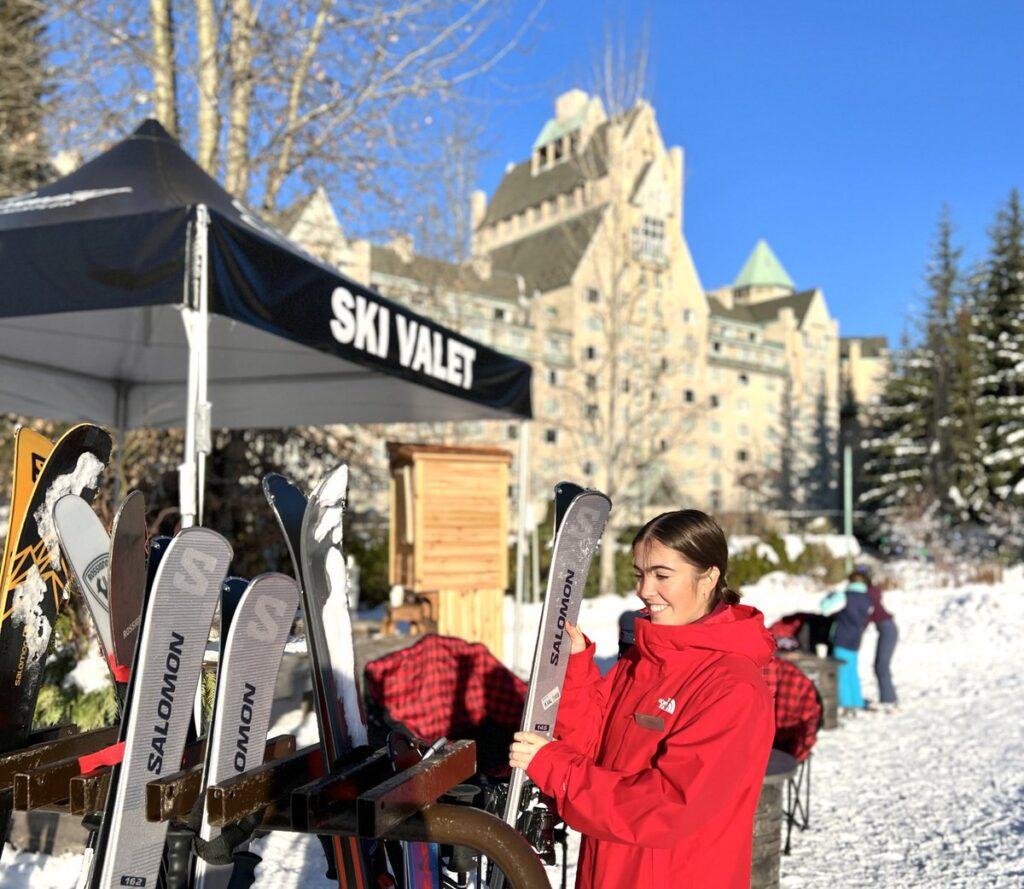 With more than 170 dining options at Whistler Blackcomb, you will be sure to find a cuisine of your choice! From steak, seafood, sushi, Italian, French, and Mexican, quick and tasty to multi-course indulge the choices are unlimited.
There is nothing better than spending a full day on the slopes and then taking that final run right into the Apres-Ski scene for a cold beverage, some great music, sun blazing (hopefully), and a great chat on the day's events!
Apres-Ski Picks:
Longhorn Saloon: Situated right at the base of Whistler mountain offering large communal fire tables, a DJ, cold drinks and hearty pub-style food. So much Fun and definitely the place to be at the end of the day!
Merlin's Bar & Grill: Situated at the bottom of Blackcomb mountain offering a large patio, live music, cold drinks and a banh-mi chicken sandwich that is worthy of a visit just for that! I love that you don't need to wait for service and that you go inside the bar, place your order and they deliver your food to your table. Grab a cold drink and relax outdoors or inside and enjoy the enjoyable apres-ski scene!
Dubh Linn Gate Irish Pub: Situated at the base of Whistler offering 25 beer taps, whiskey, wines and cocktails you will be sure to find a cold beverage of your choice after the ski day! They serve up some delicious high-quality nachos worthy of a stop.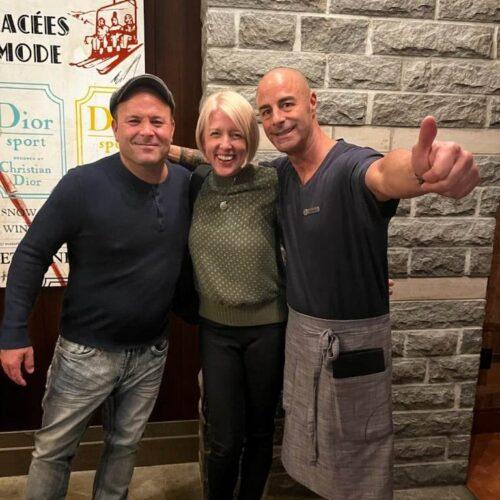 Braidwood Lounge: Located inside the Four Seasons, tastefully decorated in an alpine interior. It offers a cozy low-lit atmosphere and serves up the best-seasoned popcorn that will ever eat! I don't even know the spice blend that they use but it will be highly addictive!
Fine Dining Options
SIDECUT STEAKHOUSE Four Seasons Whistler Serving well-crafted classics –focusing on prime hand-cut steaks seasoned with Chef's Classic Rubs – fireside lodge dining is elevated in a contemporary and sophisticated take on the traditional steakhouse.
ARAXI Features seasonally updated Pacific Northwest cuisine in a lively atmosphere with a sleek, contemporary feel. The Seafood and Oyster Bar allows close-up views of the chefs in action while the summer patio is a perfect spot for people-watching. Executive Chef James Walt has been recognized by Canada's Globe and Mail™ as "one of the top seven chefs in the country shaping the nation".
IL CAMINETTO Il Caminetto brings a fresh, contemporary style of dining to the mountains. The reimagined concept features a spectacular main dining room, bar, and lounge. Executive Chef James Walt showcases both local and Italian ingredients on a regionally-inspired menu.
HY'S STEAKHOUSE  A warm and inviting oasis for the hungry, discerning palate, this restaurant is well-known for its great steak with all the fixings and an elegantly casual setting, complemented by attentive service. We especially loved the Caesar Salad made table side. It was authentic and delicious!
HARAJUKU Harajuku's interior is inspired by a Japanese village in the early 1900s and on "Izakayas", Japanese gastropubs popular throughout Japan known for quick, tapas-style food. With cozy nooks, large booths and a lively atmosphere it is suitable whether you're on a romantic first date or looking to celebrate a milestone birthday.
NAGOMI SUSHI Located in the Upper Village, Nagomi Sushi features Chef Joon's original creations with a wide selection of Japanese menu items.
MEXICAN CORNER Experience authentic Mexican cuisine for the first time in Canada. While you will find the usual "traditional" dishes it is their speciality items as well as their margaritas that will have your taste buds question everything that you thought you knew about Mexican food.
PORTOBELLOS Features a relaxed cozy atmosphere and serves up food all day. Freshly baked bread and pastries, sandwiches and a dynamite breakfast bowl to fuel you up for the day.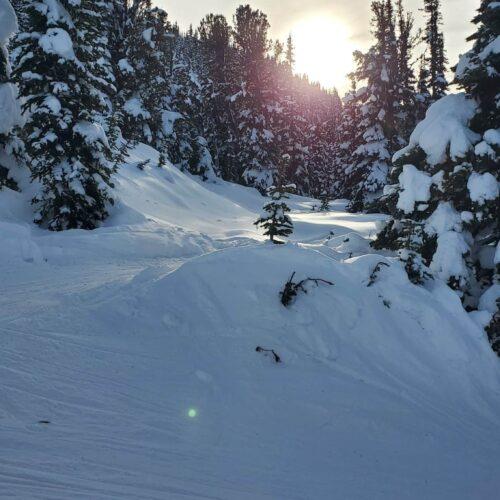 If downhill skiing isn't your thing, there are still plenty of other activities to partake in and around Whistler. Some other ideas to fill your day are:
ZIPTREK ADVENTURES Experience high-flying exhilaration ziplining and crossing high-suspension bridges through the alpine country.
DOG SLEDDING Embark on a true Canadian experience as you are whisked away on a dog sled throughout the forest. You will also learn a little bit about the fur trappers and their dogsledding history in Canada.
SCANDINAVE SPA WHISTLER Spend a relaxing day at the spa and indulge in a soothing massage or spend time in the thermal heated pools. Breathe in the clean mountain air and take time for yourself. 
BOBSLEDDING A truly unique experience. Race through twists and turns as a passenger inside a piloted bobsled. Reach speeds up to 125 km/h and feel the acceleration of up to 4 g-forces. 
SNOWMOBILING Take a snowmobile and set off on a guided tour through the snow-covered forest on a true Canadian past time. 
We visited the Whistler Contemporary Gallery inside the Four Seasons and fell in love with some of the pieces of art by Jane Waterous. Her beautiful compilations of Après–ski  are beautiful, peaceful and bright.
My sister is also an artist and paints similar pieces of art of Après–ski  that are absolutely gorgeous. She recently surprised me with a gift of her first painting of Après–ski. It is amazing and I am so lucky to have one of her paintings up in my house. 
Check out her online shop: Katie E Original Art  and view her beautiful art pieces   https://www.katieeoriginalart.com/
I feel very grateful to have experienced Whistler in the winter. A bucket list-worthy trip for sure. I loved being able to park our car and spend our 4 days with plenty of activities, wonderful restaurants, great memories and the most amazing scenery in the world. I hope that you find some helpful information here to plan your trip to Whistler, BC Canada.
If you enjoyed this read on Whistler, check out more of my travels and itineraries, including my recent trip to Iceland! This is another bucket-list worthy trip that I would highly recommend. I include everything in the article including, hotels, car rentals, activities and more.
I would love to hear your feedback or if you have questions send me a message! I would love to help answer any questions.