Get ready for a meaty masterpiece with this OMG So Good Homemade Meatloaf Recipe! Made with a flavorful blend of ground beef, ground pork breadcrumbs, and aromatic spices, this classic comfort food is sure to become a family favourite.
Topped off with a tangy glaze that perfectly balances the savoury flavours, each bite of this delicious meatloaf will have you craving more.
Everyone needs a good go-to homemade meatloaf and I think you will love this recipe. It is super easy to throw together for a warm and comforting down home recipe.
Plus, it's easy to make and can be customized to your liking, making it a versatile and tasty dish for any occasion.
Get ready to indulge in meatloaf as you've never tasted before!
Meatloaf: The ultimate comfort food
Meatloaf is often associated with homey comfort food because it's a classic dish that has been enjoyed by families for generations. The hearty, filling nature of meatloaf is perfect for feeding a crowd or providing leftovers for days. 
The act of making meatloaf can also be a comforting experience, as the smell of it baking in the oven can fill the house with warm, inviting aromas. All of these factors combine to create a sense of nostalgia and comfort that many people associate with this beloved dish.
The glaze for a tangy meatloaf is the perfect finishing touch that takes this classic comfort food to the next level. The combination of savory meatloaf and tangy glaze creates a delicious balance of flavors that is both satisfying and addictive. The sweetness of the glaze pairs perfectly with the bold flavors of the meatloaf, while the tanginess adds a zesty kick that elevates the overall taste. 
The glaze also helps to keep the meatloaf moist and tender, ensuring each bite is full of juicy, flavourful goodness. 
1 pound ground beef
1 pound ground pork
1/2 cup breadcrumbs
1 sweet onion, diced
1 egg
1 tbsp. beef bouillon stock powder
3 tbsp. lemon juice
1/3 cup of the homemade glaze  
1 tablespoon Dijon mustard
1 teaspoon salt
1/2 teaspoon black pepper
1/4 cup ketchup
For The Glaze:
You can double up this recipe if you want extra for dipping.
1/2 cup ketuchup
1/3 cup brown sugar
1 tbsp. lemon juice
1 tsp. dry mustard
Preheat your oven to 350°F (180°C).
Make the glaze: In a small bowl combing ketchup, brown sugar, lemon juice, dry mustard. Mix until smooth. 
Saute onions in a frying pan on medium-low heat until soft, translucent and sweet. You may wish to add a little bit of salt and sugar to season the onions. Cool.
In a large mixing bowl, combine the ground beef, ground pork, breadcrumbs,  sauteed onion, egg, beef bouillion, 2 tbsp. lemon juice, 1/3 cup of the Glaze Mix, salt, and black pepper. Mix until everything is evenly combined.
Transfer the meatloaf mixture to a greased 9×5 inch loaf pan and press down lightly to even it out.
Bake the meatloaf for 60 minutes.
Spoon 1/3 of the glaze mix to the top of the meatloaf.
Bake for another 10-15 minutes or until the internal temperature reaches 160°F (71°C). Pour off the fat. 
Let the meatloaf rest for 10 minutes before slicing and serving
Side dishes perfect for meatloaf
Mashed potatoes and honey carrots are the perfect sides for a meatloaf dinner because they complement the flavours of the meatloaf and provide a variety of textures and flavours.
Creamy mashed potatoes are a classic comfort food that pairs well with hearty and savoury meatloaf.
The mild flavour of the potatoes also helps to balance out the tanginess of the meatloaf glaze. I absolutely love the mashed potatoes from the Keg restaurant and I always try to mimic the recipe. Here is a recipe that is comparable to Restaurant Style Mashed Potatoes. 
Honey-glazed carrots, simply done on the stovetop are easy and add a touch of sweetness to the meal, which can help to cut through the richness of the meatloaf and provide a contrasting flavour. The natural sweetness of the carrots also complements the tangy glaze on the meatloaf.
Overall, this trio of meatloaf, mashed potatoes, and honey carrots makes for a well-rounded and satisfying meal that is sure to please everyone at the dinner table.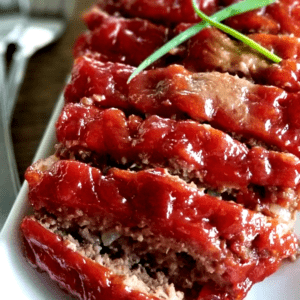 The Best Homemade Glazed Meatloaf Recipe
This homemade meatloaf recipe is a mouthwatering combination of juicy ground beef, savory spices, and a tangy glaze that will leave your taste buds begging for more!
Ingredients
1

pound

ground beef

1

pound

ground pork

1/2

cup

breadcrumbs

1

sweet onion

diced

1

egg

1

tbsp.

beef bouillon stock powder

3

tbsp.

lemon juice

1/3

cup

of the homemade glaze

1

tablespoon

Dijon mustard

1

teaspoon

salt

1/2

teaspoon

black pepper

1/4

cup

ketchup

For The Glaze:

You can double up this recipe if you want extra for dipping.

1/2

cup

ketchup

1/3

cup

brown sugar

1

tbsp.

lemon juice

1

tsp.

dry mustard
Instructions
Preheat your oven to 350°F (180°C).

Make the glaze: In a small bowl combine ketchup, brown sugar, lemon juice, dry mustard. Mix until smooth.

Saute onions in a frying pan on medium-low heat until soft, translucent and sweet. You may wish to add a little bit of salt and sugar to season the onions. Cool.

In a large mixing bowl, combine the ground beef, ground pork, breadcrumbs,  sauteed onion, egg, beef bouillion, 2 tbsp. lemon juice, 1/3 cup of the Glaze Mix, salt, and black pepper. Mix until everything is evenly combined.

Transfer the meatloaf mixture to a greased 9x5 inch loaf pan and press down lightly to even it out.

Bake the meatloaf for 60 minutes.

Spoon 1/3 of the glaze mix to the top of the meatloaf.

Bake for another 10-15 minutes or until the internal temperature reaches 160°F (71°C). Pour off the fat.

Let the meatloaf rest for 10 minutes before slicing and serving