A classic baked sweet potato can be transformed into a mouth-watering dish with just a few simple ingredients. Our twice-baked sweet potato with fresh thyme, maple syrup, cinnamon, and garlic is the perfect balance of sweet and savory. The combination of earthy thyme, sweet maple syrup, warm cinnamon, and aromatic garlic create a delicious and comforting flavor profile. With a crispy exterior and a soft, fluffy interior, this dish is sure to become a favorite at any meal.
Health benefits of sweet potatoes
Sweet potatoes are not only delicious, but they are also packed with various health benefits. Here are some of the key health benefits of sweet potatoes:
High in nutrients: Sweet potatoes are rich in vitamins A and C, potassium, fiber, and antioxidants.

Promote gut health: The fiber content in sweet potatoes promotes a healthy digestive system and can help reduce the risk of colon cancer.

May improve blood sugar control: Sweet potatoes have a low glycemic index, which means they can help regulate blood sugar levels.

Anti-inflammatory properties: Sweet potatoes contain anti-inflammatory compounds that can help reduce inflammation in the body.

May boost brain function: The antioxidants in sweet potatoes can help protect the brain from damage and may improve cognitive function.
Overall, sweet potatoes are a nutrient-dense food that can provide numerous health benefits when consumed regularly as part of a balanced diet.
make-ahead dish that is perfect for entertaining
Twice-baked sweet potatoes are an excellent choice for entertaining and making ahead of time because they can be prepared in advance, making them a stress-free option for hosting guests.
By baking the sweet potatoes in advance and then scooping out the flesh and mixing it with delicious ingredients like fresh thyme, maple syrup, cinnamon, and garlic, you can create a tasty and visually impressive side dish that can be reheated just before serving.
Not only are twice-baked sweet potatoes a crowd-pleaser, but they are also an easy make-ahead option that can free up time on the day of your event, allowing you to focus on other preparations.
4 medium-sized sweet potatoes
2 tablespoons of butter
2 tbsp. of maple syrup
1 tbsp. garlic powder
1 tablespoon of fresh thyme leaves finely chopped
1 teaspoon of cinnamon
Salt and pepper, to taste
Preheat your oven to 375°F (190°C).

Wash the sweet potatoes and pierce them several times with a fork or knife. Place them on a baking sheet and bake for about 45-50 minutes, or until they are tender when pierced with a knife.

Remove the sweet potatoes from the oven and let them cool for a few minutes. Cut them in half lengthwise and scoop out the flesh into a mixing bowl, leaving a 1/4 inch border around the skin.

Add the butter, maple syrup, garlic powder, fresh thyme, cinnamon, salt, and pepper to the mixing bowl with the sweet potato flesh. Mix well until everything is combined.

Spoon the sweet potato mixture back into the potato skins, making sure to distribute it evenly. You can make ahead this recipe to this step and keep them refrigerated until you are ready to bake them.

Return the stuffed sweet potatoes to the oven and bake for another 15-20 minutes or until the tops are golden brown and crispy. You can also broil the tops if you wish for 2-3 minutes.

Let the sweet potatoes cool for a few minutes before serving. Enjoy your delicious and comforting twice-baked sweet potatoes with fresh thyme, maple syrup, cinnamon, and garlic!
Other delicious side dishes to try!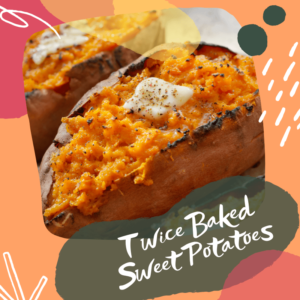 Twice Baked Sweet Potatoes With Fresh Thyme
Twice Baked Sweet Potatoes are so healthy & Delicious! Fresh Thyme is the secret ingredient here by adding a fresh lift. This recipe can be made ahead of time. A perfect side dish for entertaining or any holiday or occasion.
Ingredients
6

sweet potatoes

scrubbed clean

1

tbsp.

olive oil

1

tbsp.

butter

1

shallot

minced very very fine

4

sprigs of fresh thyme

taken off the stem and chopped

2

tbsp.

heavy cream

A good bit of salt & pepper
Instructions
Preheat the oven to 375 degrees. Using a knife, score the sweet potatoes all around to allow for steam to release. Place on a parchment lined baking sheet. Rub a small amount of oil on each sweet potato and add a little bit of salt. 

Bake for 40-45 minutes. Make sure the inside is cooked well and not hard.

Cool. Using a paring knife, make an oval shape on the top of the sweet potatoes. Peel the skin back and discard. Scoop out the inside into a medium sized bowl. I make two extra sweet potatoes to allow for more filling. Therefore, use the two extra sweet potatoes as just filling alone. 

Add in the shallots, butter, fresh thyme, cream, salt and pepper. Mix well. Place the filling back into the four sweet potato shells and add a little pepper on top.

Bake for 20-25 minutes or until the tops are a little brown. If you wish, you could always add a little more fresh thyme for a garnish. Serve warm.

* I like to make a couple extra sweet potatoes to the number of guests to make sure that the filling in each sweet potato is substantial.