I just love making salmon and it is so great to have an easy go-to recipe on hand! This recipe is packed with flavour, and even better easy to make. 
You can make this recipe by using a cedar plank or you can bake it in the oven. Either way that makes it tastes delicious! I will give the instructions for both cooking methods below.
It is easy to make, healthy, and a great recipe for entertaining. Picture this, a sweet maple Dijon marinade with a fresh herb topper it is so delicious. It hits every flavour you will desire!
How to make the Salmon Garden Herb Topper:
The fresh garden herb topper offers so much flavour to the salmon. Similar to a chimichurri It is a perfect blend of sweet, salty and mustardy goodness. It is a marriage made in heaven when paired with the salmon!
While the list of ingredients for this recipe is provided as a suggestion, feel free to adjust the amounts of each herb based on your personal taste. However, it's recommended to include parsley and green onion as they are considered essential ingredients for this dish.
Ingredients for the Maple Dijon garden herb topper
This fresh herb topper pairs so nicely with the salmon. The topper is a blend of fresh herbs, maple syrup and mustard. Easy and packed with fresh flavours. A rule of thumb is to chop up approximately 1 cup of fresh herbs of your liking and then some dried oregano, garlic powder, onion powder maple syrup and Dijon mustard. 
To make the garden herb topper I chop approximately 1 cup of the fresh herbs of your liking, 1 tsp. dried oregano, 1/4 cup maple syrup, 1/4 cup Dijon mustard and 1 tsp—each of the garlic and onion powder. Add Salt and pepper. Mix. This will be spooned over the salmon and then baked your preferred way. That is it! Simple.
These are the herbs that I like to use:
Curly Parsley
Green Onion
Fresh Basil
Dried Oregano
 Granulated Garlic
Onion Powder
Fresh Thyme
Fresh Mint
Fresh Dill
Maple Syrup
Dijon Mustard
Salt & Pepper
Cooking Methods: Baked vs. Cedar Plank
Preheat oven to 400 degrees. 
Line a baking sheet with parchment paper. Sir together the maple dijon garden herb topper ingredients.
Place the salmon skin side down on the prepared baking sheet and then spread the herb mixture evenly over the salmon.
Top with lemon slices if you desire.
Bake until the salmon is just opaque in the centre, approximately 15-20 minutes. 
Serve.
Cedar Plank Salmon Method
The benefit of using a cedar plank to make salmon is that the salmon will not burn, and it won't stick. You will also get that wonderful cedar flavour throughout the fish. It is a win-win!
I will mention that this method will take longer to make than the baked method because it requires soaking and the cooking takes a bit longer on the grill. 
Soak the Cedar Plank First:
It is important to soak the cedar plank for at least 1 hour and ideally up to 3 hours before putting it on the grill. This will prevent the cedar plank from catching on fire. You can find cedar planks at any grocery store, or Walmart or online!
Grill Time!
I like to cook the salmon on indirect heat on the barbecue. First, fire up two sides of your barbecue on medium to high heat.
Place your prepared cedar plank on the barbecue on the side of the barbecue that is not lit. Add your piece of salmon, skin side down onto the cedar plank. Close the lid to the bbq and continue cooking for approximately 20-30 minutes or to your desired doneness. Serve on a platter with fresh steamed vegetables carrots or air-fried broccoli. Enjoy!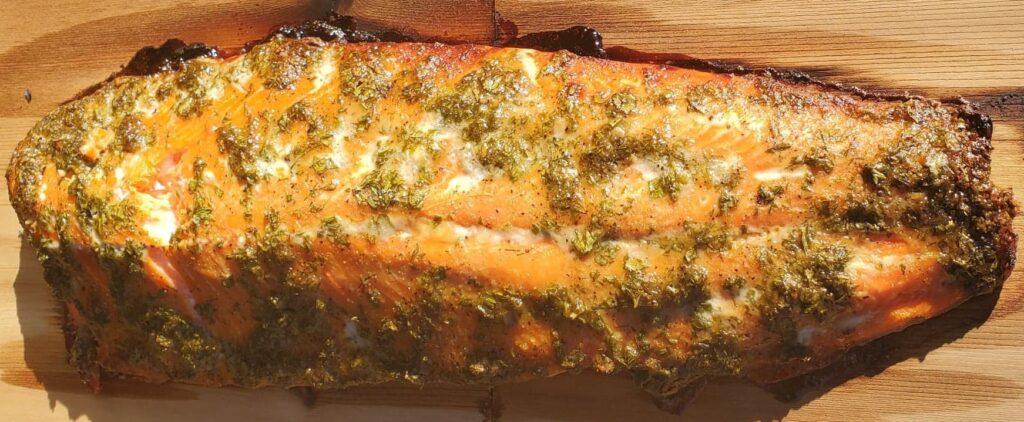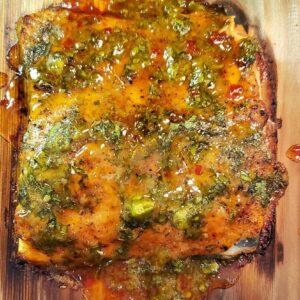 Maple-Dijon Salmon with a Garden Herb Topper
This easy healthy salmon recipe is bursting with flavour. Fresh herbs, with a tangy sweet maple mustard mix makes this a memorable salmon recipe!
Ingredients
1

cup

Blend of herbs of your choice, parsley, basil, dill, mint or thyme, chopped

1/4

cup

Maple Syrup

1/4

cup

Dijon Mustard

1

tsp.

Garlic powder

1

tsp.

Onion powder

1

tsp.

Dried Oregano

2

Green Onions, chopped

3 lb. Salmon with skin on (Costco)

1/2

tsp.

Salt & Pepper

Lemon Slices
Instructions
Preheat oven to 400°.

Line a baking sheet with parchment paper. Stir together mixed herbs, green onion, maple syrup, Dijon mustard, salt, garlic powder, onion powder salt & pepper.

Place salmon skin side down on a prepared baking sheet.

Spread the herb mixture evenly over the salmon. Top salmon with lemon slices.

Bake in preheated oven until salmon is just opaque in the centre approximately 15-20 minutes.

Serve with fresh lemon slices
side dish Ideas to serve with the salmon