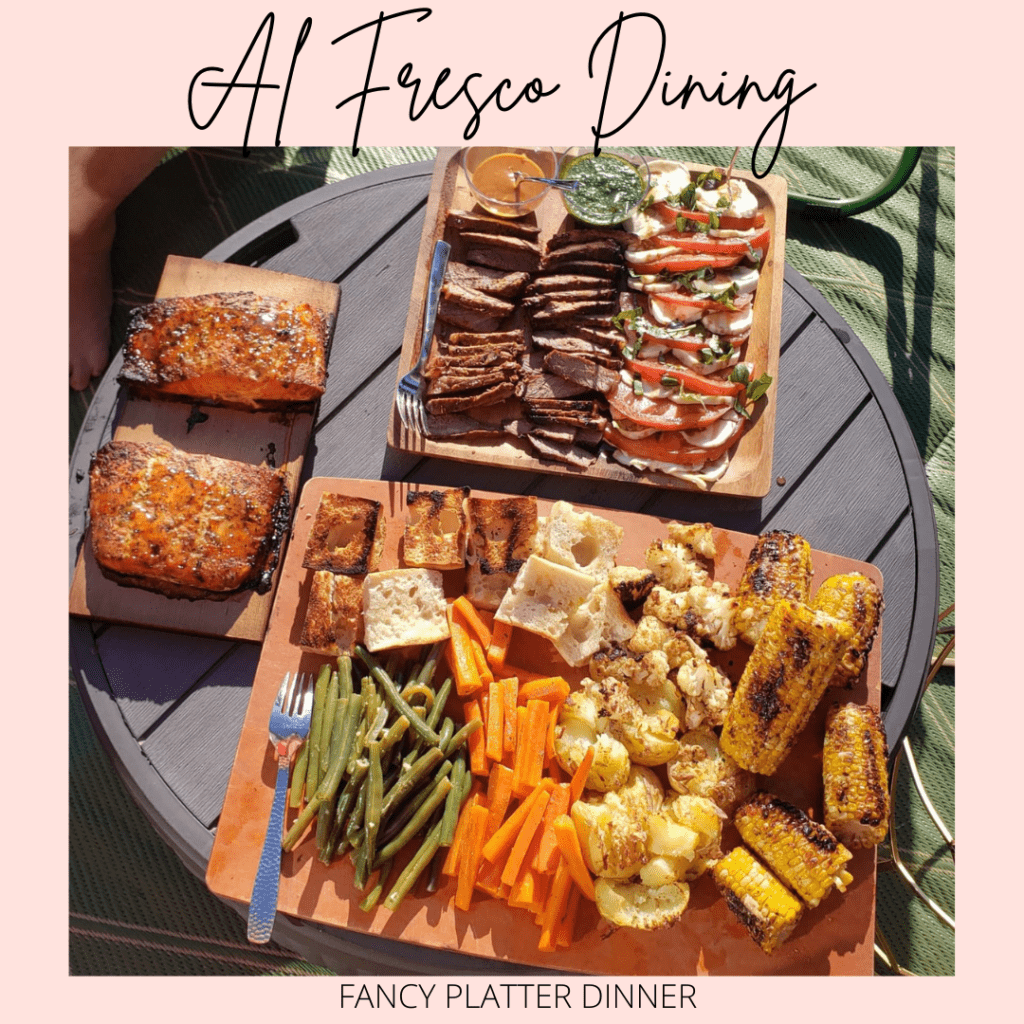 This idea of Serving Everything on a Platter is not only appealing on the eyes, but creative and fun to make! This is great for entertaining as most of the work is pre done allowing you more time to be with your guests and not in the kitchen!
Included on the Dinner Board is:
Steak, sliced
Salmon on a cedar plank
Caprese Salad with Fresh Mozzarella, Basil, and Tomatoes
Street Corn
Roasted Potatoes
Steamed Carrots with Rosemary and honey
French Green Beans
Grilled Baguette with Olive oil and garlic
Chimichurri Sauce
Steak Sauce
For the Veggies: I basically made all the vegetables ahead of time and simply warmed them up just before serving.For the Potatoes: I par boiled the Potatoes earlier in the day. Seasoned them with Olive Oil, Garlic, salt and pepper. I placed them in a roasting pan and put them on the barbecue when I started the salmon and steak.
For the Street Corn: I par boiled the corn for 7 minutes earlier in the day. I put butter, salt and pepper on them and placed them in a roasting pan. Just before serving everything, I put the corn directly on the barbecue and brushed them with mayo, lime juice, and chilli powder. For the Salad: I made this Ahead of time on the board, and placed in the fridge to keep cool.
For the Chimichurri Sauce: In a small food processor, I placed fresh parsley, fresh cilantro, fresh garlic, dried oregano, red wine vinegar, olive oil and salt and pepper.
For the Salmon: I marinated the salmon earlier in the day. I soaked a cedar plank in water approximately 2 hours before I put it on the barbecue. I place the salmon on the plank and allow them to cook for the entire time until serving. I brushed them at the end with a Thai garlic chilli sauce.
For the Steak: I marinated the steak earlier in the day. Just before serving the steak and after it rests a bit; I sliced it thin and placed it on the board.
Grilled Bread: I sliced a baguette in half and brushed it with olive oil and garlic powder. I placed the bread face down on the grill for only a few minutes. Watch this closely as it will burn quickly.
I served everything on wooden boards and handed out small plates for the dishes. It was really delicious and a relaxing way to enjoy a meal! Great for Summer Entertaining!