This Skillet Zucchini Cornbread recipe drizzled with a warm honey jalapeño drizzle is absolutely fantastic and very addicting! Flavours of sweetness and then some heat from the jalapeño and the delicious texture of the cornbread. Mmmm, it is so good!
It is made with Zucchini, red onion, cheddar cheese, Corn and jalapeño. It is then finished with a drizzle of charred jalapeño honey that is simple to make. This skillet zucchini cornbread recipe is a great side dish to serve as an appetizer or a vegetarian side dish! It may sound intimidating but it is really easy to put together!
One Skillet Wonder!
This recipe is all done in one pan making it great for a simple cleanup! It is all done in a large skillet and finished in the oven. You can't go wrong. It is sweet and salty with a little kick!
I think this is a great dish to serve for a bbq or with a big bowl of chilli! This also makes a great appetizer!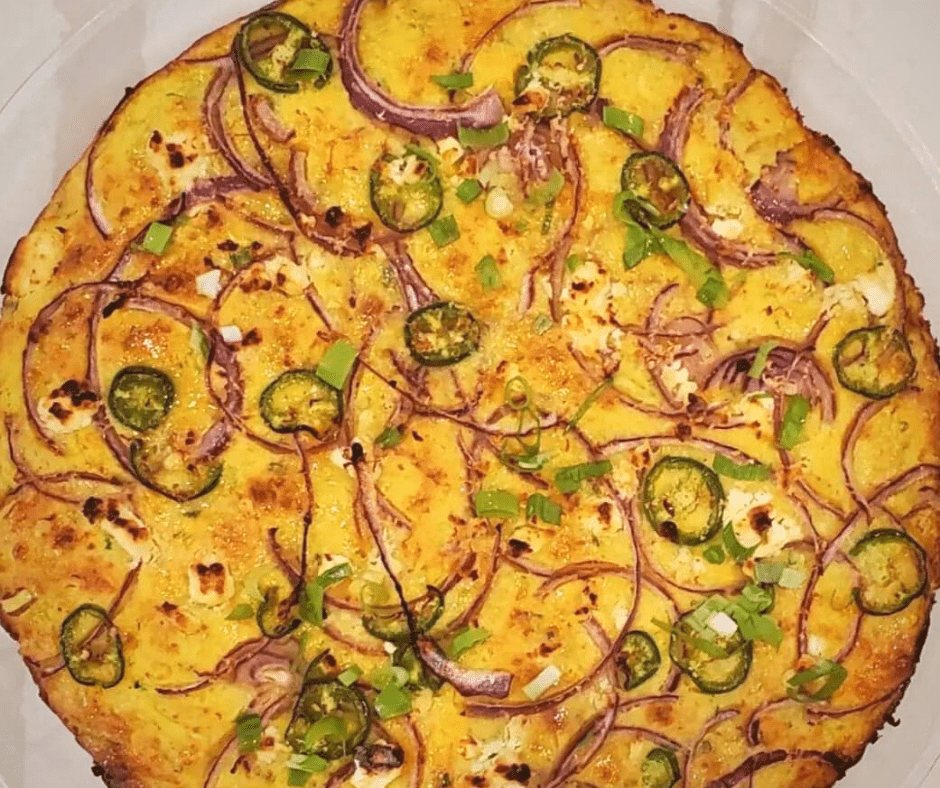 The Ingredients Needed:
For this recipe you will need:
2 zucchini shredded and squeezed
1 cup 127 g all-purpose flour
1 cup 160 g cornmeal
3 tablespoons granulated sugar
1-1/2 teaspoons medium-grained kosher salt
2 teaspoons baking powder
1/2 teaspoon granulated garlic
1 tsp. Chilli powder
1/2 tsp. Cinnamon
1/2 teaspoon granulated onion
1/4 teaspoon dried chile flakes
1 cup 240 ml heavy cream
4 eggs
2 tablespoons olive oil
2 ears of corn husked and sliced off the cob
1/2 cup 56 g grated old cheddar cheese
1 tablespoon butter
1/2 cup 57 g crumbled queso fresco, or feta
1 jalapeño stemmed and sliced into thin rings
1/2 red onion peeled and cut into thin slices
2 tbsp. Green Onion Chopped
1/2 cup cilantro leaves
Jalapeño Honey Drizzle
What makes this recipe so interesting is the jalapeño Honey Drizzle. It is a wonderful sweet yet slightly hot addition to the zucchini cornbread. Drizzle the warm honey jalapeño mixture over top of the zucchini cornbread once it comes out of the oven. It seeps into the zucchini cornbread for a scrumptious finish.
What to Serve it With?
I love to serve this Skillet Zucchini Cornbread with Vegetarian Chilli as all of the flavours pair so nicely together. It is also great to serve with a Mexican-themed dinner and my recipe for Smokey Chicken Tacos with Chipotle Mayo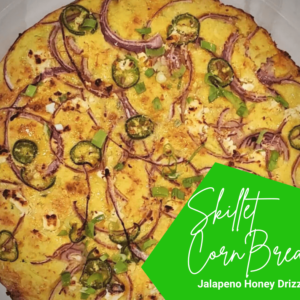 Skillet Cornbread with Jalapeno Honey Drizzle
This super delicious cornbread recipe is packed with flavour! It is all made in a skillet so very easy! Great as an appetizer or a side dish for a bbq or even a big bowl of chilli!
Ingredients
Skillet Cornbread
2

zucchini

shredded and squeezed

1

cup

127 g all-purpose flour

1

cup

160 g cornmeal

3

tablespoons

granulated sugar

1-1/2

teaspoons

medium-grained kosher salt

2

teaspoons

baking powder

1/2

teaspoon

granulated garlic

1

tsp.

Chilli powder

1/2

tsp.

Cinnamon

1/2

teaspoon

granulated onion

1/4

teaspoon

dried chile flakes

1

cup

240 ml heavy cream

4

eggs

2

tablespoons

olive oil

2

ears of corn

husked and sliced off the cob

1/2

cup

56 g grated old cheddar cheese

1

tablespoon

butter

1/2

cup

57 g crumbled queso fresco, or feta

1

jalapeño

stemmed and sliced into thin rings

1/2

red onion

peeled and cut into thin slices

2

tbsp.

Green Onion Chopped

1/2

cup

cilantro leaves
Jalapeno Honey Drizzle
1

Jalapeños

1

Garlic clove, smashed

1/2

tsp.

Salt

1/2

cup

Honey
Instructions
Directions For The Skillet Cornbread
Preheat an oven to 400°F with a 10-inch cast iron skillet on the middle rack.

Using the large holes of a box grater, grate the zucchini onto a clean, lint-free kitchen towel. Spread out the strands, then roll up in the towel quite tightly. Leave, bundled, while you make the rest of the batter.

In a medium bowl, whisk together the flour, cornmeal, sugar, salt, baking powder, all the spices, and chile flakes. Set aside.

In a large bowl, whisk the cream, eggs and olive oil together. Cut the kernels from the cobs and add to the liquids.

Fold the zucchini and cheddar into the mixture, followed by the dry ingredients.

Mix until just combined.

Carefully pull the hot skillet from the oven. Melt the butter in the pan, swirling to coat the surface. Pour in the batter.

Crumble the queso fresco over the surface, scatter the jalapeño, onion, the chives, and half of the cilantro on top.

Bake in the hot oven until puffed and golden, and a tester inserted in the centre comes out almost clean, 35 minutes.
Directions for the Jalapeno Honey Drizzle
Over a bbq or on a small, cast iron skillet over high heat, char the jalapeños and garlic until blackened on all sides, two to three minutes for the chilies, and about one minute for the garlic. Pull from heat.

When cool enough to handle, rub the skin from the jalapeños, then stem, seed, and chop them roughly. Scrape the chilies into a mortar along with the garlic, then use the pestle to grind to a paste. (Alternatively, simply chop the chilies and garlic finely by hand.) Spoon the purée into a small saucepan.

Place over low heat and stir to cook off some of the moisture, about 90 second. Sprinkle in the salt, then pour the honey over all. Stir until the honey loosens and warms slightly, about 30 seconds. Remove from the oven and let cool. Use honey as is, blend with an immersion blender, or strain, depending on preference. Transfer to an airtight container and refrigerate. Use within two days.
Final Touch
I hope that you get a chance to make this delicious skillet zucchini cornbread recipe. I would love to hear any feedback! Drop me a line below with comments or questions. Happy Cooking!