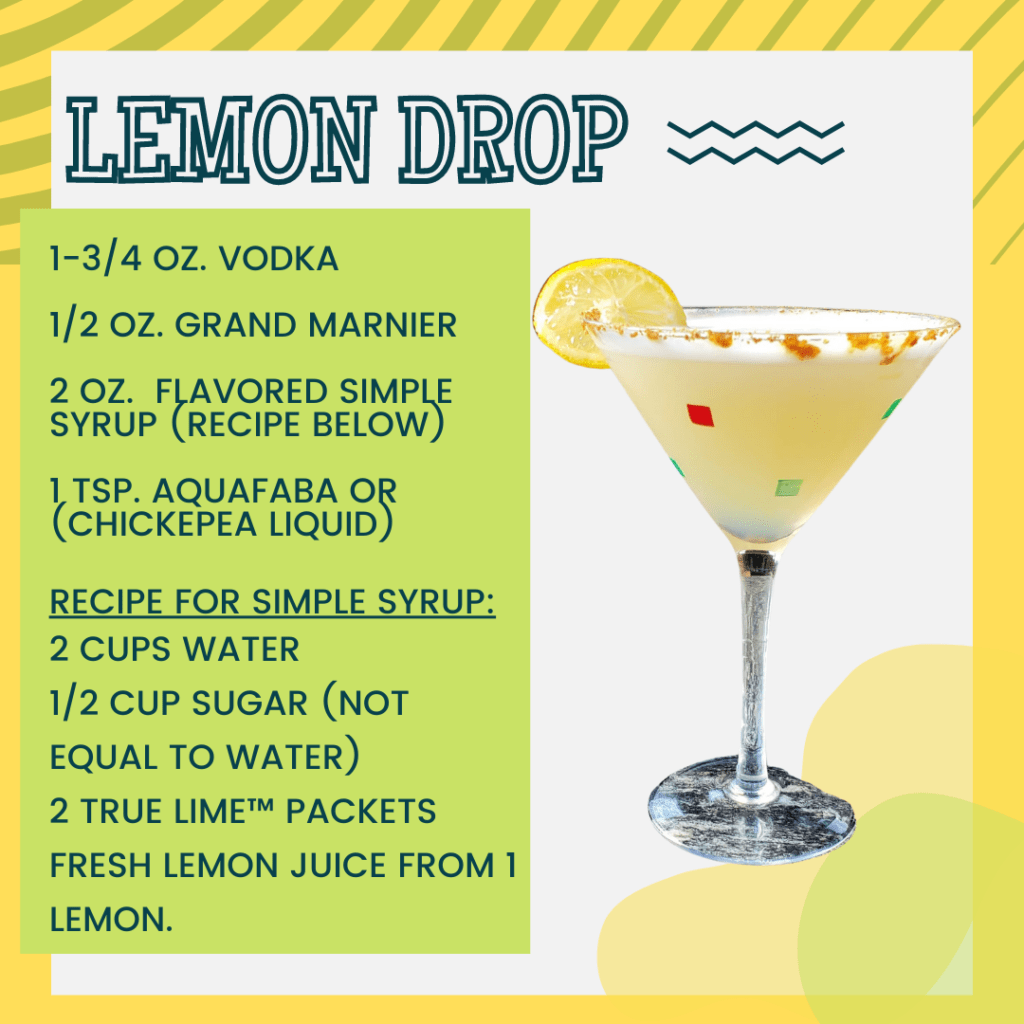 This Lemon Drop Martini Cocktail is so refreshing! A Slightly sweet and sour cocktail is so satisfying. I am not that good at making cocktails so using these precise measurements has worked well for me when mixing! This simple syrup is made on the not so sweet side because I personally do not like a sweet cocktail. I like the idea of using the simple syrup/mix as one together. Its like I already know how sweet or sour it will be! I use to add the simple syrup and the mix separately and found myself constantly adjusting and then making a real mess of a cocktail! This takes the guess work out of all that!
Have you ever heard of Aquafaba? It is a fancy word for chickpea liquid from the can! lol
What is Aquafaba?
Aquafaba is the starchy liquid in which legume seeds such as chickpeas have been cooked. Due to its ability to mimic functional properties of egg whites in cooking, aquafaba can be used as a direct replacement for them in some cases, including meringues, marshmallows, and cocktails.
Why is Aquafaba great for cocktails?
Aquafaba is a fantastic swap for cocktails that have traditionally made with egg whites. When mixed in a cocktail it creates a frothy, foamy texture and smooths or balances out the taste!
I also have discovered these True Citrus™ Crystallized Citrus Packets are Wonderful for adding hints of lime or lemon to a drink. These little packets are low calorie, that has no sugar, no artificial sweeteners like aspartame, sucralose. They are truly wonderful!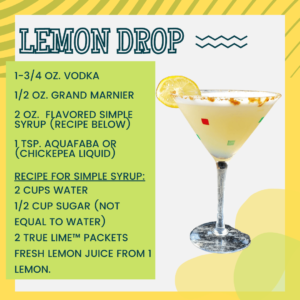 Lemon Drop Martini
A Refreshing Sweet & Sour Easy to Make Drink Martini perfect for a Warm Summer's Day
Equipment
1 Cocktail Shaker

1 Strainer
Ingredients
Lemon Lime Simple Syrup
2

cups

Water

1/2

cup

Sugar

2

packets

True Lime Packets

1

only

Fresh Lemon juice
Instructions
For The Simple Syrup
Bring all ingredients to a slight boil, stir until the sugar has dissolved and cool.

The simple syrup recipe will make approximately 4 drinks. It can be kept in an airtight jar and refrigerated if you do not use it all! 
For The Cocktail
Add Ice to a Cocktail Shaker and then add all of the ingredients. Give a good shake for at least 30 seconds and then strain into a Martini glass. Serve Chilled.