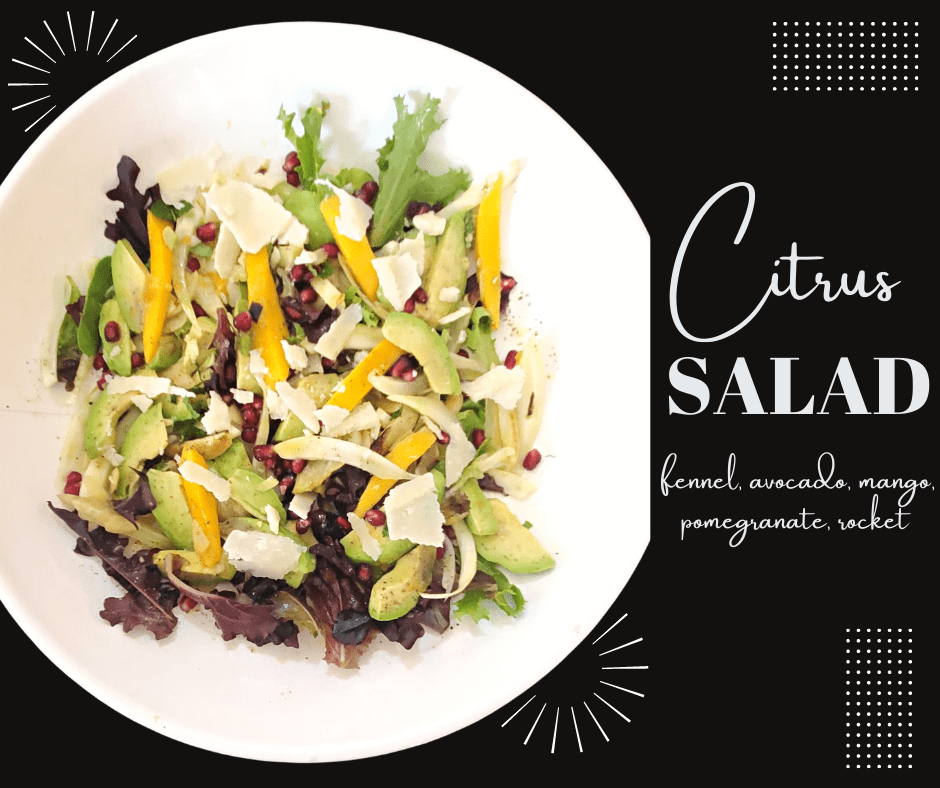 This refreshing salad is light and tasty! A delicious summer salad with a different take from a traditional green salad! I loved using the fennel in two ways! I sliced the fennel in half and roasted the one side and then kept the other side freshly sliced. It is amazing how the flavour changes between roasting and fresh fennel! I added mango for sweetness, pomegranate for the colour and nutrition, avocado for the texture and fresh taste and then rocket greens (spring mix), and topped off with salty fresh shaved parmigiano reggiano. I made a quick citrus salad dressing using juice from an orange, garlic honey mustard, and olive oil.
Healthy, refreshing and so colourful! This salad will be sure to catch their attention!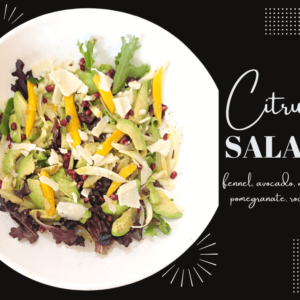 Refreshing Citrus Salad
This Citrus Salad is refreshing, healthy and colourful! A wonderful summer salad to bring to any party! I love the fennel used in two ways! This salad is yum!
Ingredients
1

fennel bulb, slice in half and separated

1

ataulfo mango sliced

1

avocado, sliced

2

tbsp.

slivered almonds

1

tbsp.

mint, chopped

2

cups

Spring Mix
Citrus Dressing
1/4

cup

olive oil

1

garlic clove, minced

1

tbsp.

Honey mustard

2

tbsp.

Parmigiano reggiano, slivered

1

tbsp.

apricot jam

1

fresh orange, juiced

1

tbsp.

apple cider vinegar

Salt & Pepper
Instructions
Preheat a grill to medium high.

Prepare the Fennel. Slice a fresh fennel in half. One half will be used as the fresh fennel. Cut the fresh side into slices. For the other half of the Fennel, slice it and add to a bowl. Season with salt, pepper and olive oil. To a hot grill, I placed the fennel onto a shish-kabob disposable tray so it wasn't touching the grill directly. Grill the fennel for approximately 8-10 minutes. It should have some charring and wilting when it is done. Slice some more if needed and set aside.

To the salad bowl that you will be using, add the fresh fennel. Add half of the Citrus salad dressing and allow it to sit until the roasted fennel is completed.

Slice the avocado, and mango and add them to the salad bowl. Sprinkle the salad with pomegranate seeds, almonds.
Citrus Dressing
Add all of the ingredients minus the olive oil. Whisk well. Slowly add in the Olive oil until it comes together. Adjust the salt and pepper if needed.