These healthy protein bars are packed with everything you need to kickstart your day! I have been making these healthy bars for years! My husband bought me a cookbook many years ago that had a recipe for health bars. I have tweaked the recipe over the years and this has become my Healthy Protein Bar Creation!
These bars must be left frozen because they thaw out fast and can fall apart quickly! They are super healthy and very tasty. I love to have coffee at these bars. I also like to double or triple this recipe and have them as a quick, easy, healthy snack for my family.
I put parchment paper down on a large rimmed baking sheet and spread the mix out so you can maximize the number of bars. These bars have been a hit with everyone I have shared them with! I hope they are a hit with your family too!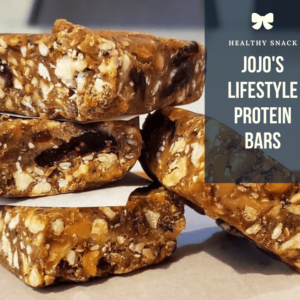 JOJO'S Lifestyle Protein Bars
Grab and go these Healthy Protein bars for a healthy snack! They will definitely give you a nice jolt! This Recipe makes a large amount! Cut them into bars and freeze them. Eat them from frozen with a coffee. They sure are Yummy and a healthy treat!
Ingredients
1/2

cup

raw unsalted almonds

1/2

cup

pecans

1/4

cup

coconut oil or 1 tbsp butter and 1 tbsp. olive oil

1/2

cup

peanut butter

2

tbsp.

blackstrap molasses

1

tsp.

honey

pinch

of salt

1/4

cup

flax seed

1

tbsp.

chia seeds

1

tsp.

vanilla extract

1

tbsp.

instant espresso

I like Nescafe Gold Espresso Instant Coffee

1/4

cup

sesame seeds or hemp seeds

1/2

cup

cranberries or any dried fruit

1/2

cup

butterscotch chips
Instructions
Preheat oven to 400 degrees.

Line baking sheet with parchment paper. Toast nuts in oven until just golden (7 minutes). Let cool.

Transfer nuts to a food processor. Add in flax seeds. Pulse until nuts are coarsely chopped.

In a large stainless steel mixing bowl, combine coconut oil, peanut butter, molasses, honey and sea salt. Heat this mixture over a pot of boiling water. Create a double broiler. It will melt quickly.

Once melted, take the bowl off the heat and add vanilla, coffee granules, chopped nuts, sesame seeds, chia seeds, cranberries and butterscotch chips. Mix well.

Place on a large rimmed baking sheet and line it with parchment paper for easy lifting at the end.

Put in the freezer for 1 hour. Cut into bars and place in zip loc bags. Freeze. 

Serve frozen