If you're looking for a savoury and delicious appetizer that's easy to make, look no further than these Greek feta cheese triangles made with phyllo dough. 
The combination of crumbly feta cheese, fresh dill and flaky phyllo pastry is a match made in heaven, and with just a few simple ingredients, you can whip up a batch in no time. Perfect for entertaining or as a quick snack, these triangles are sure to impress your guests and satisfy your cravings. They freeze amazingly so you will always have some on hand for a quick appetizer or snack!
So, let's get started and learn how to make this tasty treat!
This recipe makes a large number of triangles, and they freeze great. If you have guests coming over, or if you want a quick meal pop these in the oven and in 20 minutes you are ready to serve! Pair them with a glass of wine for a perfect match!
Greek Cheese Triangles, A popular greek appertizer
Cheese triangles, also known as Tiropita, are a popular snack and appetizer in Greek cuisine. Greeks have been making and enjoying these delicious treats for generations. One reason they are so popular is their versatility – they can be served warm or at room temperature, making them perfect for any occasion. 
Another reason is their irresistible flavour and texture, with the combination of crumbly feta cheese and flaky phyllo pastry creating a mouthwatering taste that's hard to resist.
Overall, cheese triangles have become a beloved staple of Greek cuisine for their delicious taste, versatility, and ease of preparation.
What brand of phyllo dough is good to use?
There are several brands that produce high-quality phyllo dough, so it ultimately comes down to personal preference. However, some popular and well-regarded brands for phyllo dough include Athens, Kontos, and Krinos. These brands are widely available in many grocery stores and offer a consistent texture and taste that is suitable for a variety of phyllo-based dishes.
don't even bother starting unless you have fresh dill!
Dill is often used as an essential ingredient in Greek feta cheese triangles due to its distinctive flavour and aroma. Dill has a slightly tangy and herbal taste that pairs perfectly with the tanginess of the feta cheese, adding an extra layer of flavor to the dish. It also provides a fresh and fragrant aroma that makes the dish more appealing. In addition to its flavor and aroma, dill has some health benefits, including being a good source of vitamin C and antioxidants. Overall, dill is a popular ingredient in Greek cuisine and is an essential component of feta cheese triangles, adding both flavour and nutrition to the dish. 
other strange ingredients needed:
White Pepper: The main reason why white pepper is used in tiropita is that it has a milder flavour than black pepper. White pepper has a more subtle, earthy taste that complements the delicate flavours of the cheese and herbs without overpowering them. Additionally, the colour of white pepper is less visible in the filling, which can help to maintain the attractive appearance of the pastry.
Club Soda: Club soda is often used in recipes for Greek cheese triangles, or Tiropita, as a way to create a lighter and more airy texture in the filling. When club soda is added to the cheese mixture, it reacts with the other ingredients, such as eggs and cheese, to create tiny bubbles that expand when heated. This results in a lighter, fluffier filling that has a less dense texture compared to a filling made without club soda.
Cornmeal: Cornmeal can help to absorb excess moisture and prevent the dough from becoming soggy during baking.
Making Greek Cheese Triangles is a process. Being prepared before you begin is essential. I like to have everything ready before beginning. Here are some tips that I like to do to get the setup ready.
Saute the onion for approximately 10 minutes and when it becomes slightly sweet. Set aside to cool.
Chop your fresh dill
Break up the feta into small pieces
Melt your butter first, and then add the equal amount of oil to the butter mixture
Have cornmeal on hand and cottage cheese or ricotta, and white pepper
Have a can of club soda or sparkling water
Have paper towels handy and close by as it gets oily quickly!
I like to place parchment paper down on the counter for my phyllo dough as it stays cool.
Have a basting brush close by and ready to go
You will need large Ziploc bags to place the triangles inside after you make them to store in the freezer.
Cooking spray is great for spraying the inside of the Ziploc bag so that the triangles will not stick and they will be ready to bake straight from the freezer at a later date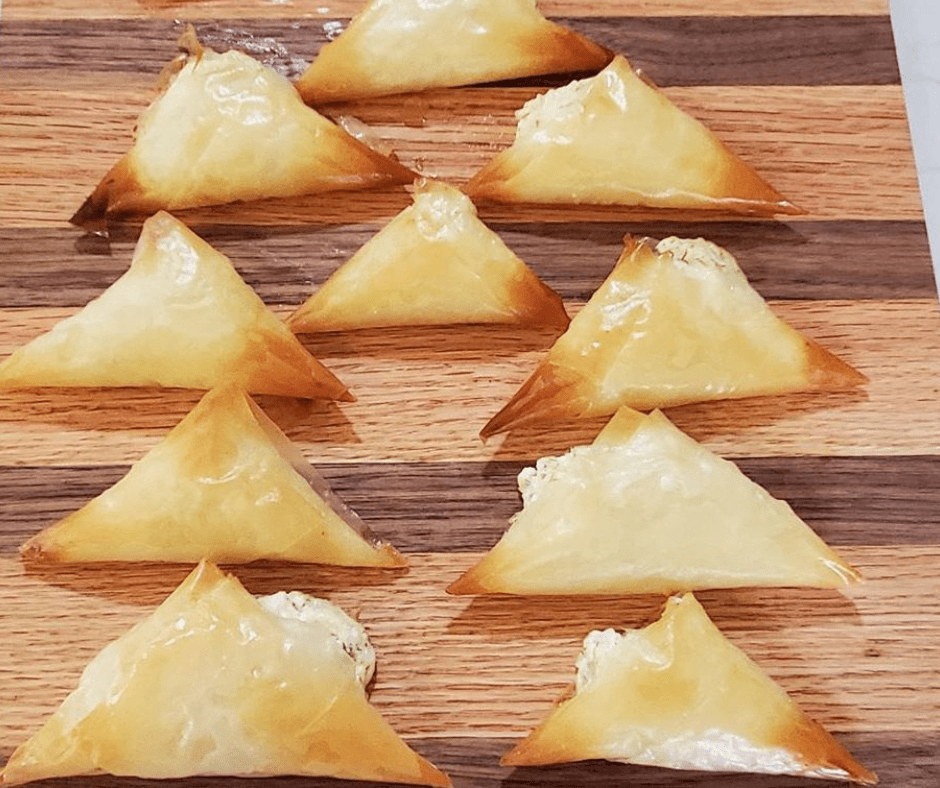 Phyllo Dough, I buy the large container from Costco when I make this recipe
Greek Feta Cheese, I like to buy the big container from Costco
Fresh Dill, Do not attempt to make these without fresh dill! This ingredient is essential
Sweet Onion
Cornmeal
Equal mix olive oil and butter
Egg
Lemon
A little secret buy yourself some Vegeta Seasoning. It adds a salty little kick that fills in that missing part
Greek Feta Cheese Triangles
These savoury bites are so delicious! A Great Vegetarian option. Serve as an appetizer or a dinner! This recipe makes a large batch and they freeze well!
Ingredients
1

lb.

Feta Cheese

1

container Ricotta Cheese or cottage cheese

1

Egg

1

Vidalia Onion

chopped

1

bunch fresh Dill

(must be fresh)

1/2

Lemon squeezed

1 1/2

tbsp.

Vegeta Seasoning

1/2

tsp.

white pepper

1/4

tsp.

salt

2

tbsp.

Cornmeal

1

pkg. Phyllo dough

Soda Water

1/2

cup

butter

melted

1/2

cup

oil
Instructions
Saute Onion on medium low, in 1 tbsp. oil and 1 tbsp. butter. Add a little sugar to sweeten the onion as its sautéing. Once translucent and slightly browned put on a plate and press with a paper towel to discard the extra oil. The onion should be sweet and soft. cool.

In a bowl, mix feta cheese, ricotta cheese, onion, egg, dill, fresh lemon, white pepper, salt, and cornmeal. 

Melt butter and then mix the oil and butter together.

The Prep:It is a good idea to have everything prepared at this point as the phyllo dough is delicate. To prepare have the following ready to go in advance before starting.

-Place soda water in a bowl (you will only need very little)

-Have the oil and butter mixture melted and ready 

-Have a basting brush ready

-Have a pizza cutter for trimming and sectioning the dough

-A clean surface or parchment paper down to work off of.

-Zip loc bags for storage

-Cooking spray 

-baking sheet, sprayed with cooking spray

-paper towel

To Assemble:

Step 1: Using your Pizza cutter cut the dough into 5 sections. This will make your first 5 triangles. 

Step 2: Place one sheet of Phyllo dough down, dip the brush into the oil butter mix, and proceed to "flick or sprinkle the butter/oil mix on the first layer of phyllo. Do not saturate the dough, just sparingly sprinkle the dough with the mix. Use your fingers to flick a little bit of soda water onto the phyllo dough. Add your next sheet of phyllo dough. Repeat, using another sheet of phyllo dough.

Step 3: Place a spoonful of the cheese mixture, at the bottom of the phyllo strip and then fold over to the left, lift the dough straight up once, then fold to the right, fold straight up, then fold to the left, and continue this process until you get to the top of the phyllo dough strip. You can trim and excess dough to make it clean looking.Place the triangle on the baking sheet and then brush the top with butter/oil mix. Complete this process until you have completed 1 baking sheet.

Open the Zip Loc bag and spray the inside of the bag with cooking spray. Carefully lay the triangles inside the bag. Do not overlap any of the triangles. Try not to have them touch. They must freeze flat. 

Continue this whole process until you are out of the cheese mixture, or dough.

To Bake:Preheat Oven is 350 degrees. Place the triangles on a parchment lined baking sheet and bake for 20-25 minutes or until the triangles are nicely golden brown. Serve as an appetizer or a meal accompanied with a salad! You could also serve with a little sour cream and green onion mixed together as a dip.

Hope You Enjoy!
In conclusion, Greek cheese triangles, or tiropita, are a delicious and beloved pastry that has been enjoyed in Greek cuisine for generations. Whether served as an appetizer, snack, or main course, these crispy and creamy treats are sure to delight your taste buds. With a few simple ingredients, such as phyllo dough, cheese, eggs, and herbs, you can easily make your own tiropita at home and enjoy the flavors and traditions of Greece.