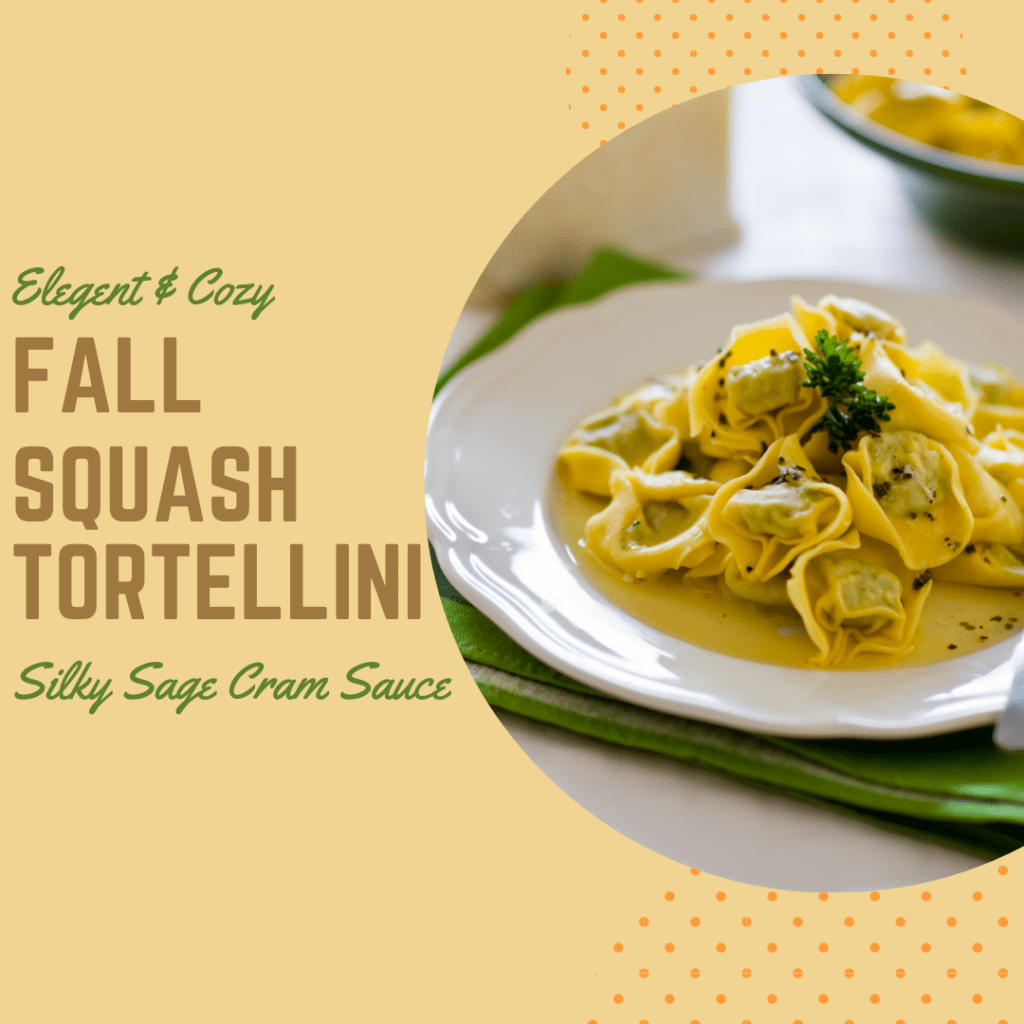 I love squash and sage together! This most delicious dish is perfect for a chilly fall day! I purchased some freshly made Squash Tortellini and then made a super simple cream sauce flavoured with sage, a dash of cinnamon and a tad bit of maple syrup. This most definitely checks off every essential fall taste you can think of! I made a fall themed green salad with pumpkin seeds, cranberries and a garlic ginger vinaigrette to top off this cozy meal!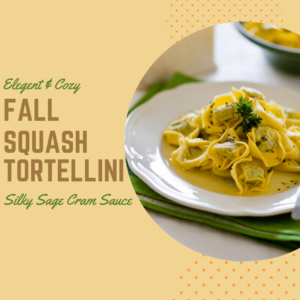 Fall Squash Tortellini With A Sage Cream Sauce
Warm up with this delicious Squash Ravioli in a Sage Cream Sauce. Cozy and Satisfying!
Ingredients
1/2

cup

Butter

2

Shallots, finely chopped

3

clove

Garlic, minced

A nice handful of fresh Sage chopped

1/4

cup

1/4 cup white wine

3/4

cup

3/4 cup chicken or vegetable stock

1 1/2

cup

Heavy cream 35%

1/3

cup

Romano cheese

1

tbsp.

1 tbsp. Maple syrup

1/8

tsp.

Nutmeg

1/8

tsp.

Paprika

1/8

tsp.

Cinnamon

1

bag

Squash Tortellini, cooked Al dente

Salt & Pepper to taste
Instructions
In a saucepan, over medium heat melt the butter. Once the butter is melted add the shallots. Saute for 3 minutes. Add garlic and sage, and continue to cook for another minute. Add wine and reduce almost until the wine has evaporated approximately 3-4 minutes. Add in the chicken stock. Reduce for another 3-4 minutes then add in the cream, and spices including the dash of cinnamon. Simmer now for 5 minutes or until thickened. Taste. If you would like add in maple syrup and do so now. It gives a nice soft subtle sweet flavor to the sauce. Salt and Pepper to taste

Boil the Tortellini according to the package directions for Al dente. Drain . You can reserve a bit of the Tortellini water for the sauce.

To a large frying pan add the pasta. Using a sieve, strain the cream sauce into the pan with the Tortellini. Turn on the heat to medium. Stir the pasta and the cream sauce together. Add some of the Tortellini liquid if the sauce is too thick. Add the Romano cheese and stir it all together nicely. Add freshly cracked pepper, a little more fresh sage and Serve! Enjoy👌