This elegant appetizer offers sweet & savoury flavours that are sure to please the palate. The sweet, caramelized richness of roasted grapes mingles with the creamy, tangy notes of feta, creating a harmonious contrast. All of this is elevated by a drizzle of fresh thyme-infused garlic oil, adding an aromatic depth that lingers on the senses.
It is a wonderful elegant appetizer that is sure to WOW your guests!  
A recipe full of inspiration
A good friend of mine collects and saves recipes from magazines and in particular PEOPLE magazine. She loves to entertain and serve recipes from her finds! She found this recipe by Crystelle Pereira for a Roasted Grape Crostini. My friend served this at a girls dinner and it was a hit! Elegant and beautiful! If you are looking for some recipe inspiration check out the PEOPLE magazine for more great recipes!
It is easy to prepare and can be made in advance and quick to assemble when you are ready to serve. It feeds a crowd and it looks so pretty on a large platter!
For the ingredients you will need the following:
4 tbsp. olive oil
2 garlic cloves, grated
1-2 tbsp. fresh thyme
1 bunch Red, Green or Black Seedless Grapes
1/4 cup thinly sliced fennel
1 cup feta cheese
3 tbsp. feta cheese brine
1-2 tbsp. goat cheese or cream cheese
1/2 tsp. salt
1 tsp. pepper
1/3 cup chopped pecans
1 French baguette
1 1/2 tbsp. honey
Preheat oven to 400 degrees.
Place olive oil, garlic, 1 tbsp. fresh thyme; in a small saucepan and simmer for 10 minutes to infuse the flavours. Remove from the heat and set aside.
Place grapes on a small baking sheet and toss with 1 tbsp. of the infused garlic oil. Roast in the oven for approximately 10 minutes. Cool for 5 minutes and then slice each grape in half so they sit nicely on the crostini.
Add feta, brine, goat cheese or cream cheese, salt and pepper in a food processor and blend until it is smooth about 1-2 minutes. (If its too chunky at 1 tsp. of water to help smooth it out into a nice spread)
Cut the baguette diagonally into 1/2 inch thick slices. Using a pastry brush paint each slice of baguette with the garlic oil. Bake until crispy approximately 8 minutes.
To assemble, spread the whipped feta onto each piece of the toasted baguette. Top with the roasted grapes, sliced fennel, pecans and the fresh thyme. 
Drizzle with honey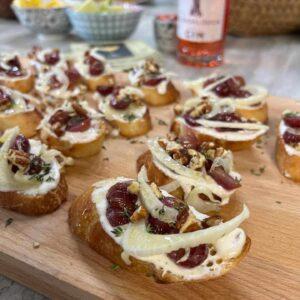 Elegant Roasted Grapes & Whipped Feta Crostini Appetizer
Ingredients
4

tbsp.

olive oil

2

garlic cloves

grated

1-2

tbsp.

fresh thyme

1

bunch Red

Green or Black Seedless Grapes

1/4

cup

thinly sliced fennel

1

cup

feta cheese

3

tbsp.

feta cheese brine

1-2

tbsp.

goat cheese or cream cheese

1/2

tsp.

salt

1

tsp.

pepper

1/3

cup

chopped pecans

1

French baguette

1 1/2

tbsp.

honey
Instructions
Preheat oven to 400 degrees.

Place olive oil, garlic, 1 tbsp. fresh thyme; in a small saucepan and simmer for 10 minutes to infuse the flavours. Remove from the heat and set aside.

Place grapes on a small baking sheet and toss with 1 tbsp. of the infused garlic oil. Roast in the oven for approximately 10 minutes. Cool for 5 minutes and then slice each grape in half so they sit nicely on the crostini.

Add feta, brine, goat cheese or cream cheese, salt and pepper in a food processor and blend until it is smooth about 1-2 minutes. (If its too chunky at 1 tsp. of water to help smooth it out into a nice spread)

Cut the baguette diagonally into 1/2 inch thick slices. Using a pastry brush paint each slice of baguette with the garlic oil. Bake until crispy approximately 8 minutes.

To assemble, spread the whipped feta onto each piece of the toasted baguette. Top with the roasted grapes, sliced fennel, pecans and the fresh thyme.

Drizzle with honey