This easy

Instant Pot Dal

recipe has an incredible depth of flavour and is so good for you too! It's a wonderful dal recipe that is ready in less than 30 minutes using your instant pot!
Indian Dal has been an integral part of India's culinary history for centuries and served almost at every meal. It is packed with nutrition, hearty and so delicious! If you are like me and love Indian food this is a great recipe to start with! You may also want to try two other of my favourite Indian dishes Mater Paneer and Instant Pot Butter Chicken.
Easy Instant Indian Dal Recipe
This recipe is mostly made in the instant pot and then finished on the stove. 
Why do you ask? 
There are two parts to making the dal. First, you need to cook the lentils with flavourings of onions, garlic, ginger, chilis, tomatoes and spices all together in the instant pot. The second part of making the dal is done is called the "Tadka" or tempering of spices. Tempering or Tadka is a cooking technique used in India, Bangladesh, Nepal, Pakistan and Sri Lanka, in which whole spices are roasted briefly in oil or ghee to liberate essential oils from cells and thus enhance their flavours, before being poured together with the oil into a dish. – Wikipedia. This second step is done on the stove quickly and then you will add the lentil stew from the instant pot to the wok or large-rimmed saucepan. The Indian Dal is served with basmati rice, plain yoghurt and naan bread. Oh-So-Delicious!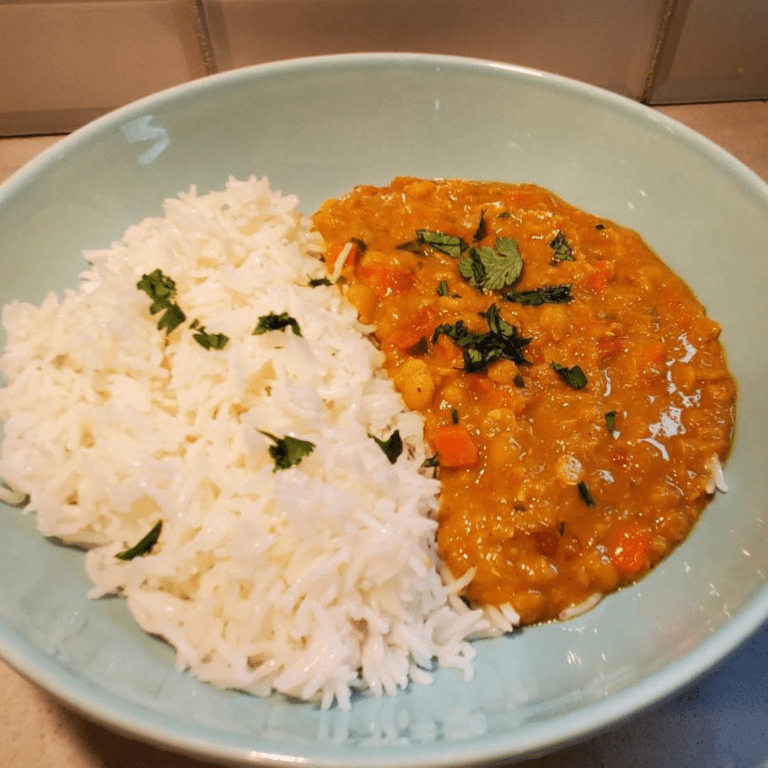 1/2 cup yellow split peas
1/2 cup red lentils
3 tbsp. olive oil
1 large onion, chopped
5 garlic cloves minced or 1 heaping tbsp. garlic puree (jar)
1 heaping tbsp. Ginger puree (jar)
2 dried red chiles
Spices:
1 tsp. cumin
1 tsp. coriander
1tsp. garam masala
1tbsp. turmeric
1/2 tsp. Indian red chile powder or 1/4 tsp. cayenne pepper
4 cups water flavoured with a tbsp. of dried vegetable stock powder
1 tsp. salt
1 tomato chopped
1/4 cup cream or coconut milk
1/2 lemon juice fresh
Fresh cilantro
Tadka:
1 tsp. cumin seeds
1 onion, chopped
1 tbsp. garlic puree
1 tbsp. ginger puree
1-2 red chile
1 tsp. red chile powder
1 tsp. garam masala
1 small tomato, chopped
1 tsp. onion powder
For Serving:
Basmati rice and naan
1. Rinse the lentils 2-3 times making sure the water becomes clear. Add fresh clean water and soak for 15 minutes.
2. Select the Saute setting on the instant pot and let the heat up for a few minutes. Add the olive oil followed by the onion and turmeric. Cook until the onion and turmeric are translucent 3 to 4 minutes. 
3. Add the garlic, ginger, and chillies and continue to cook for 1 minute. Add a few tbsp. of water if it begins to stick. Add the ground cumin, coriander, garam masala, and chile powder, and stir vigorously. 
4. Select the Cancel setting on the Instant Pot and pour in the vegetable stock. Using a wooden spoon scrape any bits the off the bottom and then add the soaked and drained lentils, salt and tomatoes. Stir to combine. 
5. Secure the lid and set the Pressure Release to sealing. Select the Pressure Cook setting at high pressure and set the cooking time to 10 minutes. 
6. Once the 10-minute timer has been completed and beeps, allow a natural release for 10 minutes. Vent after 10 minutes. 
To Make the Tadka:
While the lentil stew is naturally releasing, you can make the Todka. Heat a medium saucepan or skillet on the stove over medium-high heat. The process is quick so have everything ready. Add 2 tbsp. olive oil and when it is hot add in the cumin seeds. The cumin seeds will puff up and sizzle. Add in the onions and red chile. Cook for 1-2 minutes. Then add in the garlic, ginger and tomatoes. Continuously shake the pan so nothing burns. Add in the chile powder, coriander, onion powder, and salt. Stir and continue to cook for 2 minutes. The onions will float, when this happens the Tadka is done. Save 1/4 of a cup of the the Tadka to garnish the top. 
Pour the lentil stew into the skillet and stir really good. To a large bowl top the Dal with the remainder of the Tadka mix. Serve with basmati rice, naan and fresh plain yogurt. So Good!
I hope that you enjoy this recipe! Drop me a line or if you have questions please reach out. I would love to hear from you!