Indulge in a culinary sensation that has taken TikTok by storm: Spicy Sushi Cups! 
Made with Japanese marinated teriyaki salmon, fresh avocado, green onions, and sushi rice, baked in a nori shell. I love to drizzle a little more of that teriyaki sauce, spicy mayo and sprinkled sesame seeds. 
These delectable bite-sized delights are a feast for the eyes and the taste buds.
Bursting with vibrant flavours and a kick of spice, these sushi cups are the perfect fusion of traditional sushi and modern creativity.
 Get ready to roll and make a splash with this viral recipe!
take a bite out of the recipe here
This recipe is actually pretty simple. The more that I make this recipe, the better I am getting at it. I love playing with the delicious flavours in this dish.
To get all the details on this recipe, here's how it works…
I usually start by making the Teriyaki Marinade & sauce. I usually make enough for the marinade and then set some extra aside to drizzle at the end. It is a sauce that is just that good!
Next step, we need to marinate the salmon. I usually cut the salmon into small chunks and then marinate the salmon for at least a half hour.
After marinating the salmon, I like to make sushi rice. I just love my rice cooker and always make sushi rice in it. I bought a cheap rice maker from Walmart and use it almost daily. 
While the rice is cooking, I chop up an avocado, green onions and make a quick spicy mayo. 
In addition, I like to cut up my nori sheets. I usually cut one sheet into 4 square pieces.
To really ramp up your sushi game, you can have some pickled ginger and wasabi for the side. 
Some little tips that I picked up after making these salmon sushi cups. Pick up these ingredients if you don't already have them. They really make everything taste good!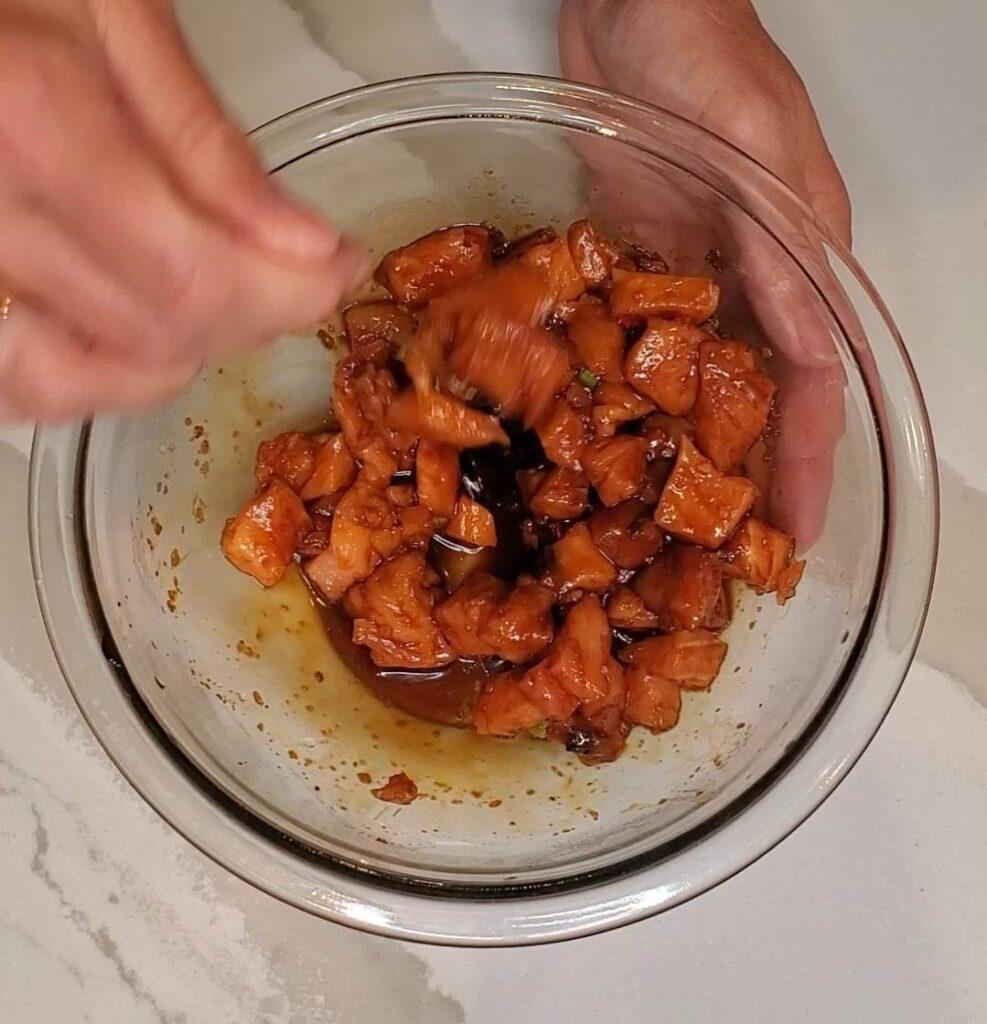 How to Make the Japanese Teriyaki Marinade & Sauce
This delicious Japanese teriyaki marinade and sauce is full of umami flavours coupled with garlic, ginger, and some chili garlic oil. It's so good. A little bit of this and that goes a long way. 
I begin by making a simple homemade teriyaki sauce. It is made with equal parts of Tamari or Soy Sauce and brown sugar. I usually make a large batch of this and keep it in the refrigerator and use it for so many things!
To make the sauce, I place it in a pot and simmer it on the stove until the sugar dissolves completely. Cool and store.
Japanese Teriyaki Marinade and sauce - Ingredients
*Note that the marinade and the sauce are the same recipe. To make it a sauce, I add in one forkful of cornstarch and thicken it on top of the stove.
Ingredients:
1/2 cup teriyaki sauce (equal parts tamari and brown sugar – simmered until the sugar dissolves)
2 tbsp. water
1 tablespoon rice vinegar
1/2 lime squeezed
1 tbsp. Spicy Chili Oil
1 tbsp. garlic paste
1 tbsp. ginger paste
1 tsp. wasabi paste
1 tbsp. chopped green onion
1 teaspoon cornstarch (optional, for the drizzle sauce)
A good spicy mayo just adds another layer of flavour with every bite. I also love how it looks drizzled over top. It brightens the dish up! Here are the ingredients:
1/2 cup mayonnaise
1 tsp. wasabi paste
2 tsp. chipotle sauce
1 tsp. garlic paste
1 tsp. ginger paste
1 tablespoon sriracha sauce (adjust for desired spiciness)
1 teaspoon lime juice
1/2 teaspoon garlic powder
Pinch of salt
The best rice to use for sushi is short-grain Japanese rice, commonly known as sushi rice. Its sticky texture and ability to hold shape make it ideal for rolling sushi. Look for varieties labeled as "sushi rice" or "Japanese rice" for the best results in achieving that classic sushi texture.
how to make sushi rice in a rice maker: The perfect recipe
Ingredients:
2 cups sushi rice
2 cups water
1/4 cup rice vinegar
2 tablespoons sugar
1 teaspoon salt
Instructions:
Rinse the sushi rice: Place the sushi rice in a fine-mesh sieve and rinse it under cold water until the water runs clear. Drain well.

Add rice and water to the rice cooker: Transfer the rinsed sushi rice to the rice cooker's inner pot. Add water, following the recommended water-to-rice ratio provided by the rice cooker manufacturer (usually 1:1 ratio for sushi rice).

Cook the rice: Close the rice cooker lid and start the cooking process. The rice cooker will automatically cook the rice and switch to the "keep warm" mode when done.

Prepare the sushi vinegar mixture: In a small saucepan, combine rice vinegar, sugar, and salt. Heat the mixture over low heat, stirring until the sugar and salt dissolve completely. Remove from heat and let it cool.

Season the cooked rice: Once the rice cooker switches to the "keep warm" mode, let the rice sit for about 10 minutes. Then, transfer the cooked rice to a large mixing bowl. Gradually pour the sushi vinegar mixture over the rice while gently folding and mixing it in. Be careful not to overmix.

Cool the rice: Allow the seasoned sushi rice to cool to room temperature. Use a wooden spatula or rice paddle to handle the rice, as it prevents sticking
The Assembly of the Spicy Salmon Sushi Cups
Once you have all of your sauces ready to go its an assembly from this point.
Here's how the process goes:
Cut one nori sheet into four squares.
Add 2 tbsp. of the sticky rice.
Place the filled square into a cupcake shell
Add 1 heaping spoonful of the marinated salmon
Bake at 400 degrees for 12-15 minutes depending on how you like your salmon
Remove from the cupcake pan to a serving plate
Drizzle some of the reserved teriyaki sauce
Drizzle the spicy mayo on each shell
Sprinkle chopped green onion and sesame seeds
Optional add pickled ginger and wasabi on the side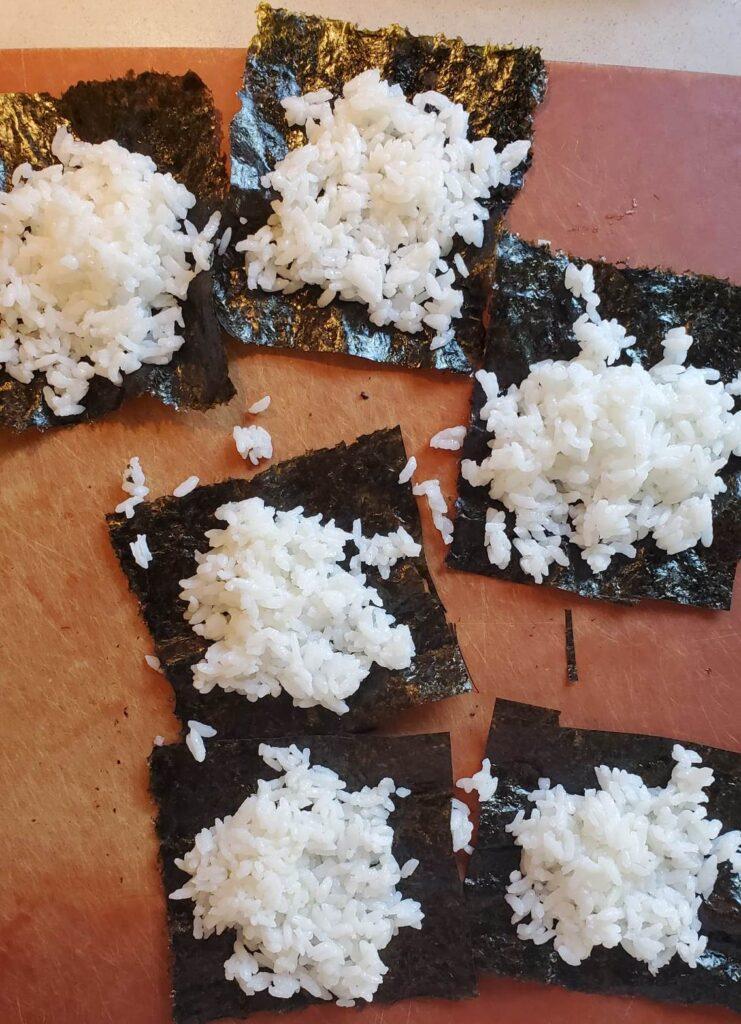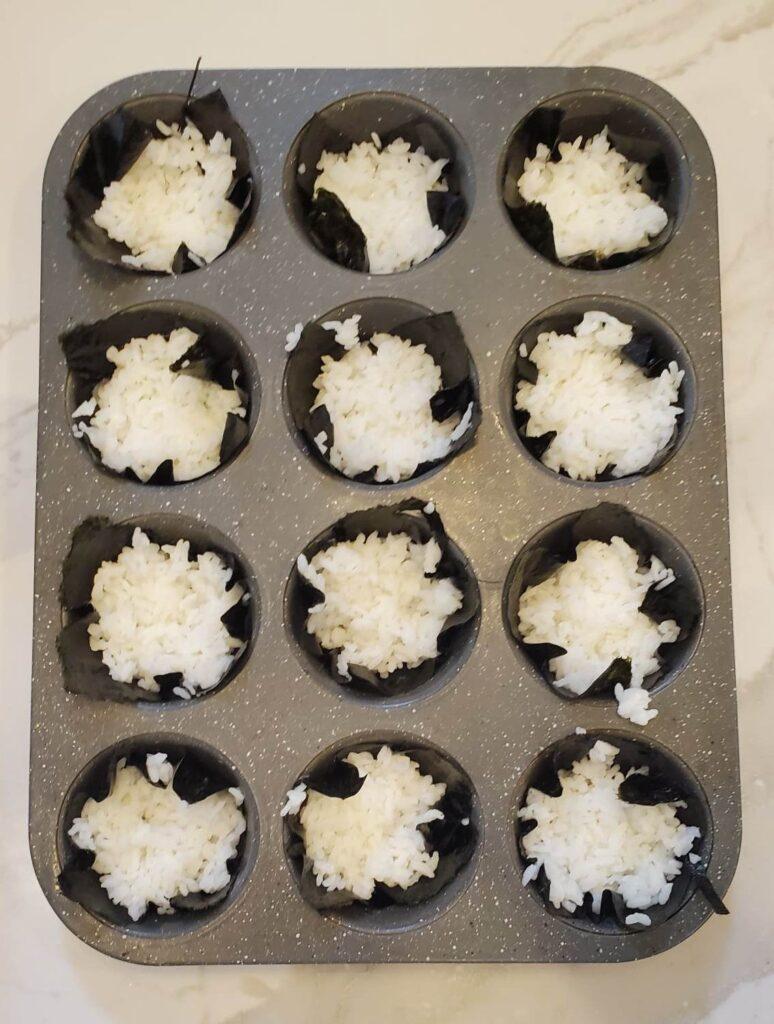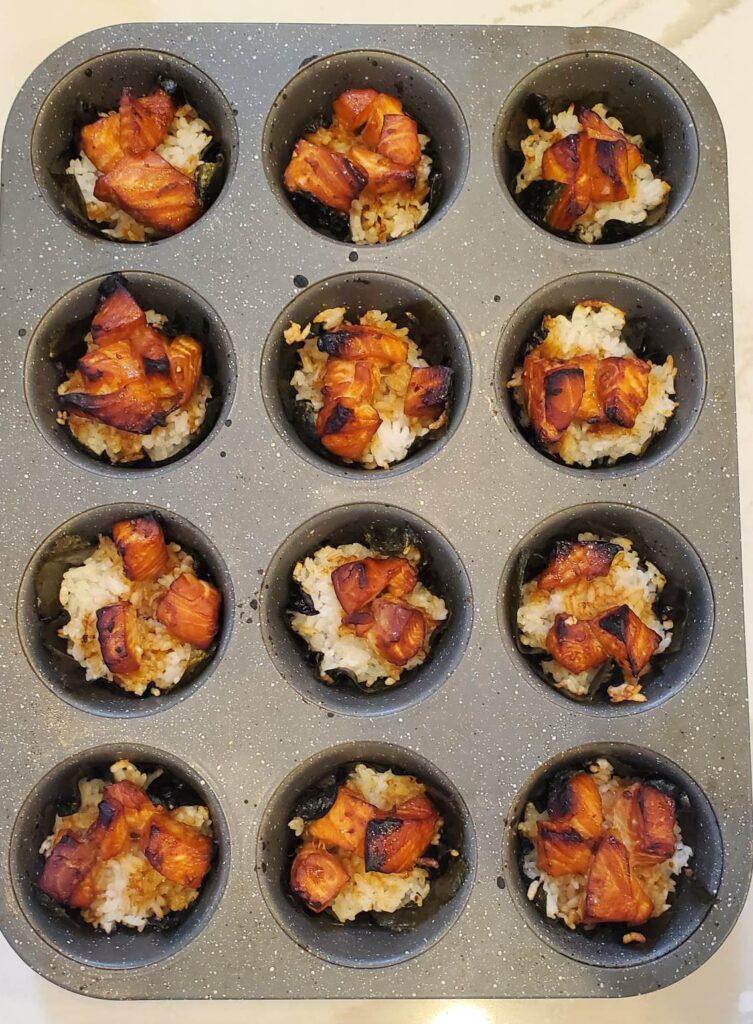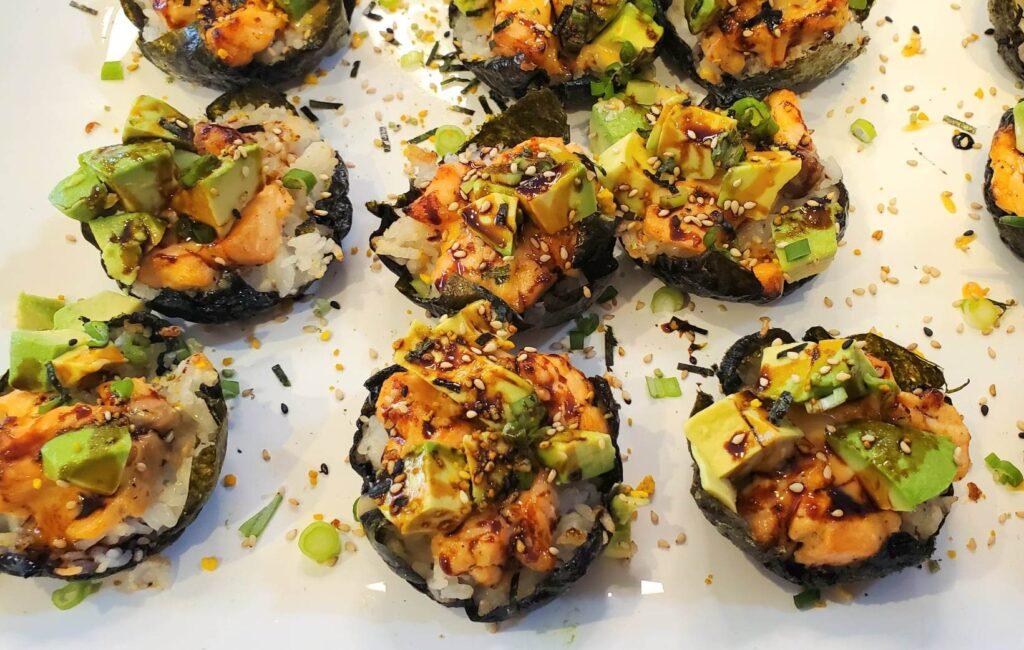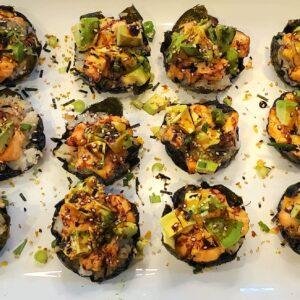 Delicious Spicy Salmon Sushi Cups
Spicy Sushi Cups! These delectable bite-sized delights are a feast for the eyes and the taste buds. Using nori sheets as your cup, then adding a layer of sushi rice and marinated teriyaki salmon baked and then topped off with a spicy mayo, fresh avocado and green onion. So good!
Ingredients
Ingredients:
2-3

pieces

of Salmon

skinned and chopped into cubes

1

avocado

chopped

1

tbsp

green onion

1

tbsp

sesame seeds

2

tbsp.

Pickled ginger

optional garnish

1

tbsp.

Wasabi paste

optional garnish

3

Nori Sheets
Ingredients for the Japanese Teriyaki Marinade & Sauce
* 1/2 cup teriyaki sauce

equal parts tamari and brown sugar - simmered until the sugar dissolves

* 2 tbsp. water

* 1 tablespoon rice vinegar

* 1/2 lime squeezed

* 1 tbsp. Spicy Chili Oil

* 1 tbsp. garlic paste

* 1 tbsp. ginger paste

* 1 tsp. wasabi paste

* 1 tbsp. chopped green onion

* 1 teaspoon cornstarch

optional, for the drizzle sauce
Ingredients for the Spicy Mayo
* 1/2 cup mayonnaise

* 1 tsp. wasabi paste

* 2 tsp. chipotle sauce

* 1 tsp. garlic paste

* 1 tsp. ginger paste

* 1 tablespoon sriracha sauce

adjust for desired spiciness

* 1 teaspoon lime juice

* 1/2 teaspoon garlic powder

* Pinch of salt
Ingredients for the sushi rice:
* 2 cups sushi rice

* 2 cups water

* 1/4 cup rice vinegar

* 2 tablespoons sugar

* 1 teaspoon salt
Instructions
Prepare your Japanese Teriyaki Marinade & Sauce by mixing all of the ingredients together. Reserve a 1/4 of the sauce to thicken with a little cornstarch at the end

Prepare the Spicy Mayo by mixing all of the ingredients and then set it aside.

Prepare the sticky rice in the rice cooker.

To Assemble the Sushi cups:

Cut one nori sheet into four squares.

Add 2 tbsp. of the sticky rice.

Place the filled square into a cupcake shell and Add 1 heaping spoonful of the marinated salmon

Bake at 400 degrees for 12-15 minutes depending on how you like your salmon

Remove from the cupcake pan to a serving plate

Drizzle some of the reserved teriyaki sauce

Drizzle the spicy mayo on each shellSprinkle chopped green onion and sesame seeds

Optional add pickled ginger and wasabi on the side
More great recipes for inspiration