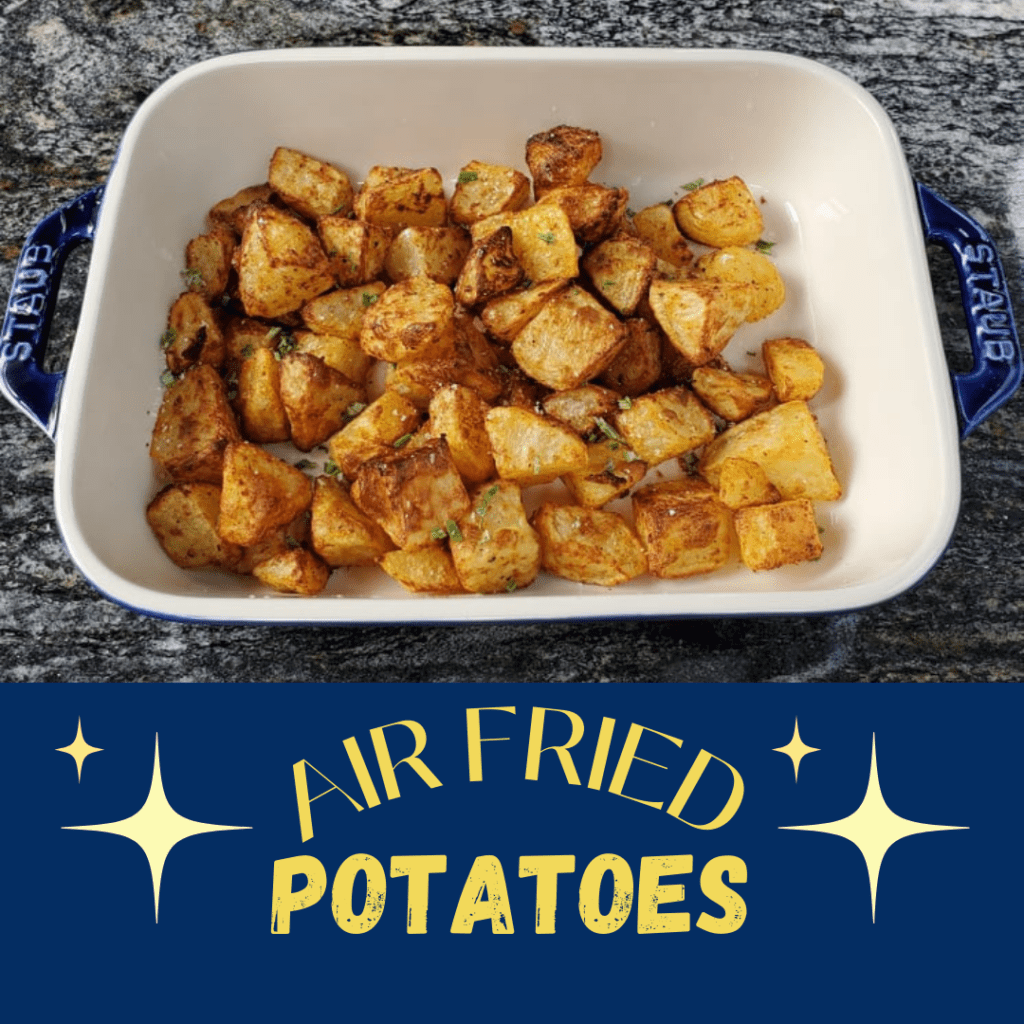 Air Fried Potatoes makes a great side dish for any meal! I par boiled the potatoes and then finished the in the air fryer. They were fluffy on the inside and crispy on the outside making them super delicious! Cube the potatoes to save time as the cooking time is much quicker!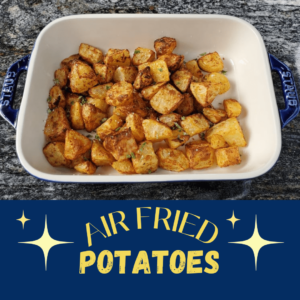 Crispy Air Fried Potatoes With Rosemary
Easy and Delicious Air Fried Potatoes are easy to make and makes a great side dish!
Ingredients
Yukon Gold Potatoes, peeled and then cubed

1

tbsp.

Olive oil

Salt, Pepper, Granulated Garlic & Chopped Fresh Rosemary
Instructions
Bring a small amount of water to a boil in a sauce pan. You should have just enough water to cover the potatoes. Once boiling add the potatoes to the boiling water. Boil for approximately 6 minutes. Drain in a colander. Shake the potatoes in the colander to ruffle the potatoes up slightly.

Pour the potatoes on a baking sheet to cool slightly. Add the olive oil, and a spray of cooking oil. Sprinkle the salt, pepper, garlic. Coat evenly. You can prepare this step early and then proceed to the next step 10 minutes before serving your dinner.

Place the potatoes in the air fryer and careful not to have them touch. You may need to air fry the potatoes in two batches.

Place the air fryer on 400 degrees. Air Fry for 8-10 minutes.

Checking to make sure that they do not burn. Air Frier's temperatures may vary.

Garnish with a little extra salt and freshly chopped rosemary.