If you're looking for a delicious and easy dessert that doesn't require any baking, this no-bake cherry cheesecake recipe is perfect for you. Made with whipped topping and cream cheese, this cheesecake is light, creamy, and bursting with the sweet and tangy flavour of cherries. 
With just a few simple ingredients and minimal preparation time, you can whip up this decadent dessert in no time. I just love making this cheesecake in a pinch, and it looks so pretty. So, let's get started and make this mouth-watering cherry cheesecake!
Highlights to this Cherry cheesecake dessert
Here are some highlights for making a cherry cheesecake with whipped topping and cream cheese that doesn't require baking:
No oven is required, which means no heat and less time in the kitchen.
Simple and quick to prepare with minimal ingredients and easy-to-follow steps.
The combination of whipped topping and cream cheese creates a light and fluffy texture that's creamy and indulgent.
The addition of cherries adds a fruity and tangy flavour that complements the sweetness of the cheesecake.
It can be easily customized by using different types of fruit toppings or flavours of whipped topping.
Store bought or make your own: tips on the crust
A graham cracker crust is a popular type of pie crust that is made from crushed graham crackers mixed with melted butter and sugar. For a true no-bake crust you can purchase a pre-made graham cracker crust for an even quicker option. If you love a graham cracker crust check out this recipe for Key Lime Pie tarts made with a graham cracker base. They are simply delectable and look so pretty!
I prefer to make my crust as it takes so very little time to mix some crumbs, sugar and melted butter and then pop it in the oven for 8-10 minutes. It's so easy. 
Here are some tips and tricks for making a graham cracker crust:
Use a food processor or blender to crush the graham crackers into fine crumbs, or put the crackers in a sealed plastic bag and crush them with a rolling pin. This will ensure that the crumbs are evenly sized and will hold together well.
Mix the graham cracker crumbs with melted butter and sugar until well combined. The mixture should be moist and clump together when squeezed.
Press the mixture firmly and evenly into the bottom of the spring-form pan using the back of a spoon or the bottom of a glass. Make sure the crust is packed tightly, especially around the edges, to prevent it from crumbling or falling apart.
Bake the crust for 8-10 minutes before adding the cheesecake filling. This will help the crust set and become more solid, which will make it easier to cut and serve later.
If you're making a no-bake cheesecake, chill the crust in the fridge for at least 30 minutes before adding the filling. This will help the crust firm up and prevent it from getting soggy.
For a chocolate graham cracker crust, mix in cocoa powder or melted chocolate with the graham cracker crumbs before adding the butter and sugar.
To make a gluten-free graham cracker crust, use gluten-free graham crackers or substitute with gluten-free cookies such as ginger snaps or shortbread cookies.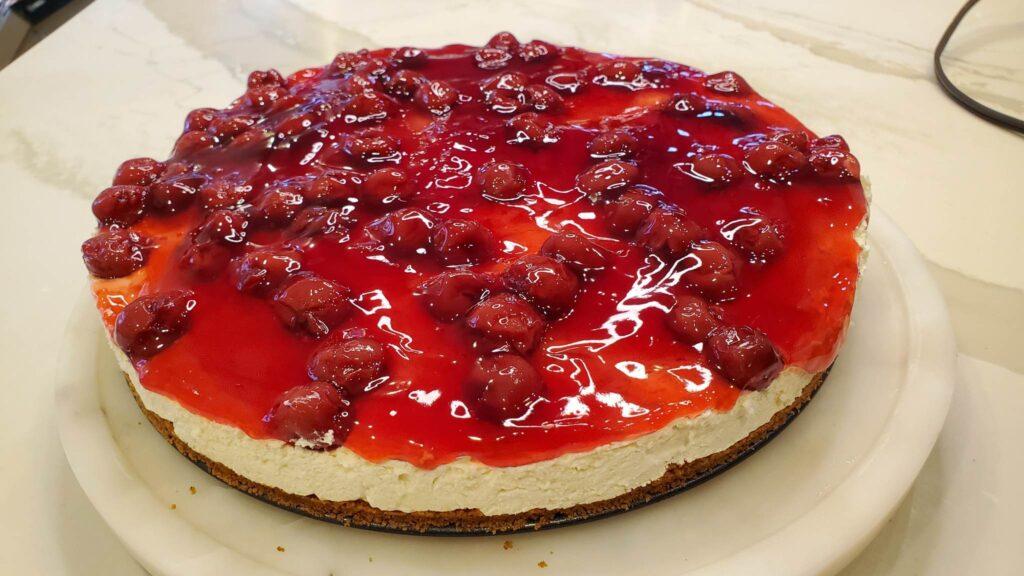 Ingredients:
1 1/2 cups graham cracker crumbs
1/3 cup granulated sugar
1/4 cup unsalted butter, melted
8 oz cream cheese, softened
1/2 cup sugar
zest of 1 lemon
1 tsp vanilla extract
1 tub (8 oz) Cool Whip whipped topping, thawed
1 can (21 oz) cherry pie filling
Instructions for an easy graham cracker crust if you are not planning to use a store bought prepared crust:
In a mixing bowl, combine the graham cracker crumbs, granulated sugar, and melted butter until well combined.
Press the mixture firmly with the back of a spoon and evenly into the bottom of a 9-inch spring-form pan. Bake at 350 for 8-10 minutes and golden brown around the edges.
In a separate mixing bowl, beat the cream cheese until smooth and creamy.
Gradually add the powdered sugar and vanilla extract to the cream cheese, beating until well combined.
Fold in the Cool Whip whipped topping until the mixture is smooth and creamy.
Pour the cheesecake filling into the prepared crust, spreading it evenly.
Spoon the cherry pie filling on top of the cheesecake filling, spreading it out evenly.
Chill the cheesecake in the refrigerator for at least 2 hours, or until set.
Serve chilled and enjoy!
Let's cut the cheesecake!
This cherry cheesecake made with Cool Whip and cream cheese is a delicious and easy dessert that's perfect for any occasion. With its light and creamy filling and sweet cherry topping, it's sure to impress your family and friends. Plus, since it can also be a no-bake recipe, you can whip it up quickly without having to turn on your oven. Give this recipe a try and enjoy a slice of creamy, fruity goodness! Happy Baking!