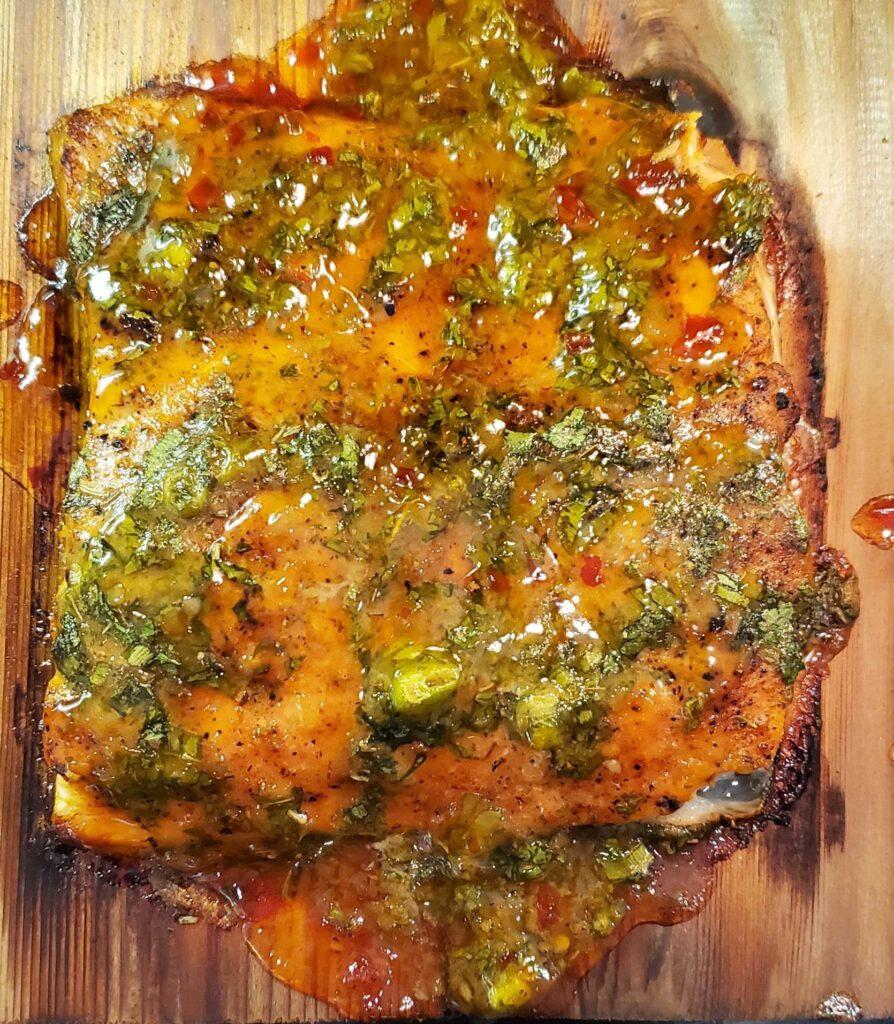 Cedar plank salmon is one of my all-time favourites! It is easy to make, healthy, and a great recipe for entertaining. Picture this, blackened seasoned, a fresh herb-topper, and finsished with a chili garlic sauce. It hits every flavour you will desire! With a fresh, sweet, salty blend and then the flavors from the smoky cedar plank- it could honestly be the best thing you have ever tasted!
The benefit of using a cedar plank to make salmon is that the salmon will not burn, and it won't stick. You will also get that wonderful cedar flavour throughout the fish. It is a win-win!
This fresh herb topper pairs so nicely with the salmon. The topper is a blend of fresh herbs, maple syrup and mustard. Easy and packed with fresh flavours.
Soak the Cedar Plank First:
It is important to soak the cedar plank for at least 1 hour and ideally up to 3 hours before putting it on the grill. This will prevent the cedar plank from catching on fire. You can find cedar planks in any grocery store, or Walmart or online!
How to make the Salmon Herb Chimmichurri Topper:
The herb topper offers so much flavour to the salmon. Similar to a chimmichurri It is a perfect blend of sweet, salty and mustardy goodness. It is a marriage made in heaven when paired with the salmon! This list of ingredients is a suggestion and it's really up to your own preference on how much you would like to use each herb. I will say that parsley is essential. To make the topper chop approximately 1 cup of the fresh herbs of your liking, 1/4 cup maple syrup, 1/4 cup dijon mustard and 1 tsp—each of the garlic and onion spices. Add Salt and pepper. That is it!
These are the herbs that I like to use:
Fresh Curly Parsley
Green onion, finely chopped
Fresh Basil
Fresh Dill
Fresh Thyme
Fresh Mint
Maple Syrup
Dijon Mustard
Granulated Garlic
Onion Powder
Salt & Pepper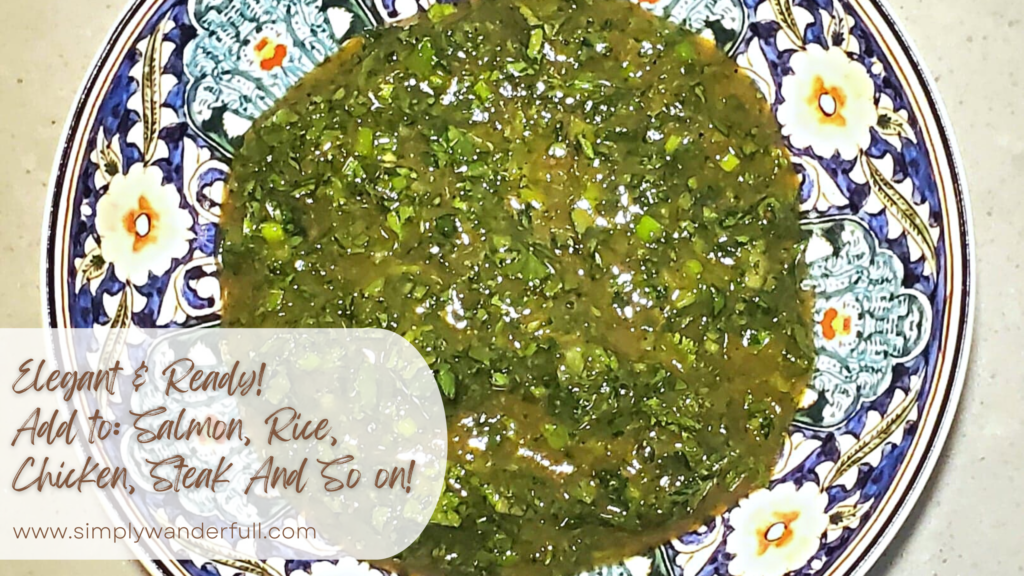 Preparing the Cedar Plank Salmon:
To begin, rinse the salmon under water and then pat it dry with paper towel. Place your salmon on a baking sheet lined with parchment paper. Drizzle olive oil and squeeze a little lemon over the salmon. Season with salt, pepper and blackened seasoning. I like to use Chef Paul Prudhomme Magic Seasoning however you can use any blackened seasoning that you prefer.
Spread the Herb topper marinade evenly over the entire piece of salmon. You can keep it marinating until you are ready to put it on the barbecue.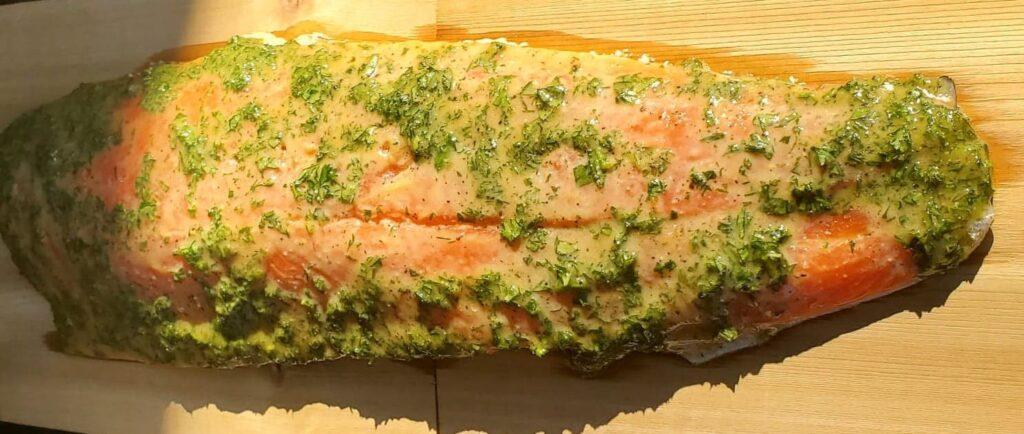 Grill Time!
I like to cook the salmon on indirect heat on the barbecue. First, fire up two sides of your barbecue on medium to high heat.
Place your prepared cedar plank on the barbecue on the side of the barbecue that is not lit. Add your piece of salmon, skin side down onto the cedar plank. Close the lid to the bbq and continue cooking for approximately 20-30 minutes or to your desired doneness. Serve on a platter with fresh steamed vegetables carrots or air fried broccoli. Enjoy!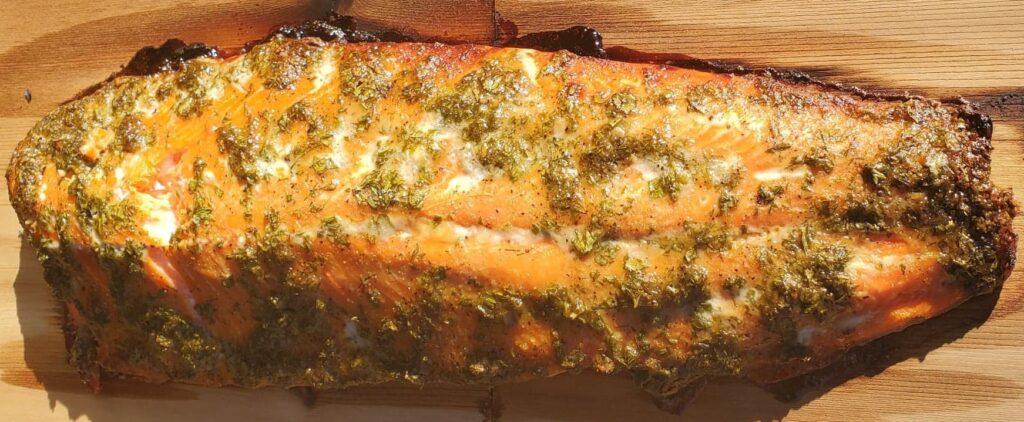 I would love to get your feedback or if you have questions, please drop me a line! Happy cooking!