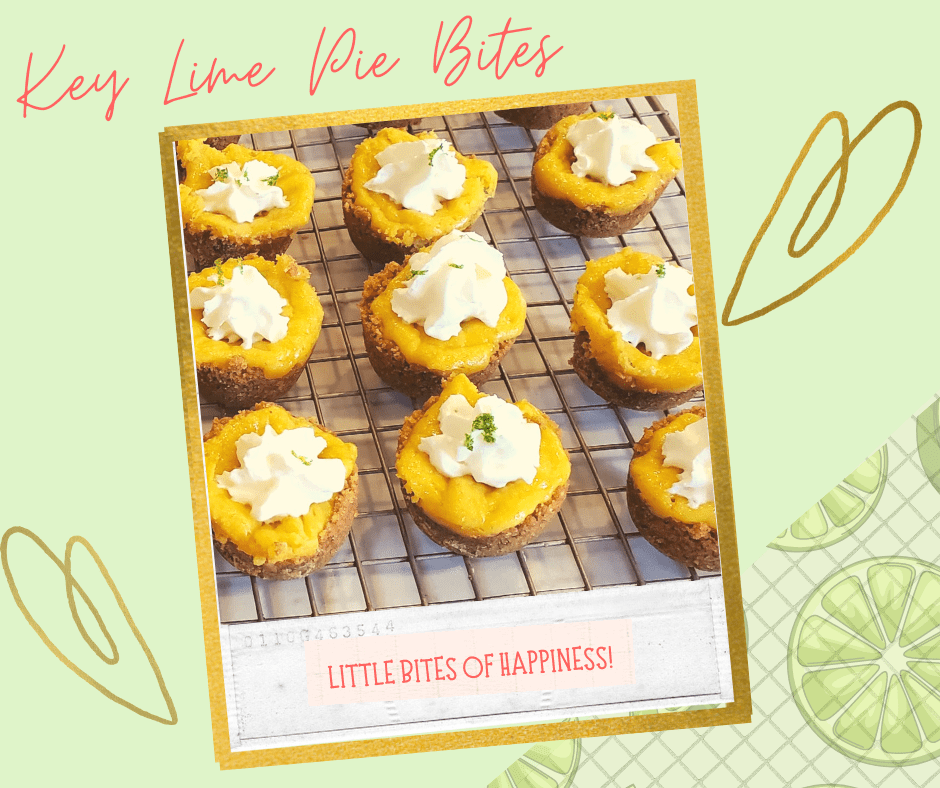 These Key Lime Pie Tarts are little bites of happiness! One bite will bring you back to your most beloved Florida or Caribbean vacation! They remind me of my 40th birthday vacation in Key West. The start of that most amazing day was a large piece of Key Lime Pie! There was no better way to ring in my 40's!
This recipe is fairly easy to make. The longest part of the recipe is zesting all those limes! I purchased fresh lime juice that I found in the organic section at my local grocery store making the lime juice portion easy.
I also used a smaller muffin tray which holds 20 muffins. I find this makes the perfect bite sized treat.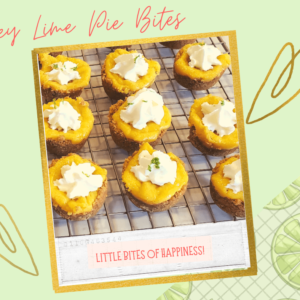 Key Lime Pie Bites
These Little Bites of Happiness will export you to a tropical destination instantly! A Perfect balance of sweet & sour! They are so pretty on a plate making this a perfect dessert for summer party!
Ingredients
2 1/2

tablespoons

grated lime zest

4

egg yolks

14

ounce

can of sweetened condensed milk

1 1/2 small cans

1/2

cup

lime juice

1 1/2

cups

graham cracker crumbs

3

tbsp.

granulated sugar

5

tbsp.

melted unsalted butter

1

can of Cool Whip
Instructions
Preheat oven to 325 degrees.

In a large mixing bowl fitted with the whisk attachment, combine the lime zest with the egg yolks. Whisk on medium speed for 2 minutes or until pale green. Add the condensed milk, followed by the lime juice. Set the bowl aside for the filling to thicken.

In a separate bowl, combine the graham cracker crumbs, sugar, and melted butter. Mix thoroughly with a fork. Place 1 tbsp. of crumb mixture in each muffin shell. With your fingers, press down and up the sides to mold the shell of the muffin tin.  Bake for 8 minutes or until it is golden brown. Let cool for 15 minutes.

Pour the filling into the crusts, and bake the tarts for 15 to 17 minutes. Set aside to cool to room temperature. Chill in the fridge for 2 to 3 hours. 

When ready to serve, use a knife to lift the tarts out of the muffin tin. They should lift fairly easy. Add a dollop of cool whip. Garnish with a little bit of extra lime zest. Shut your eyes, and pop one of these heavenly treats into your mouth and Enjoy!