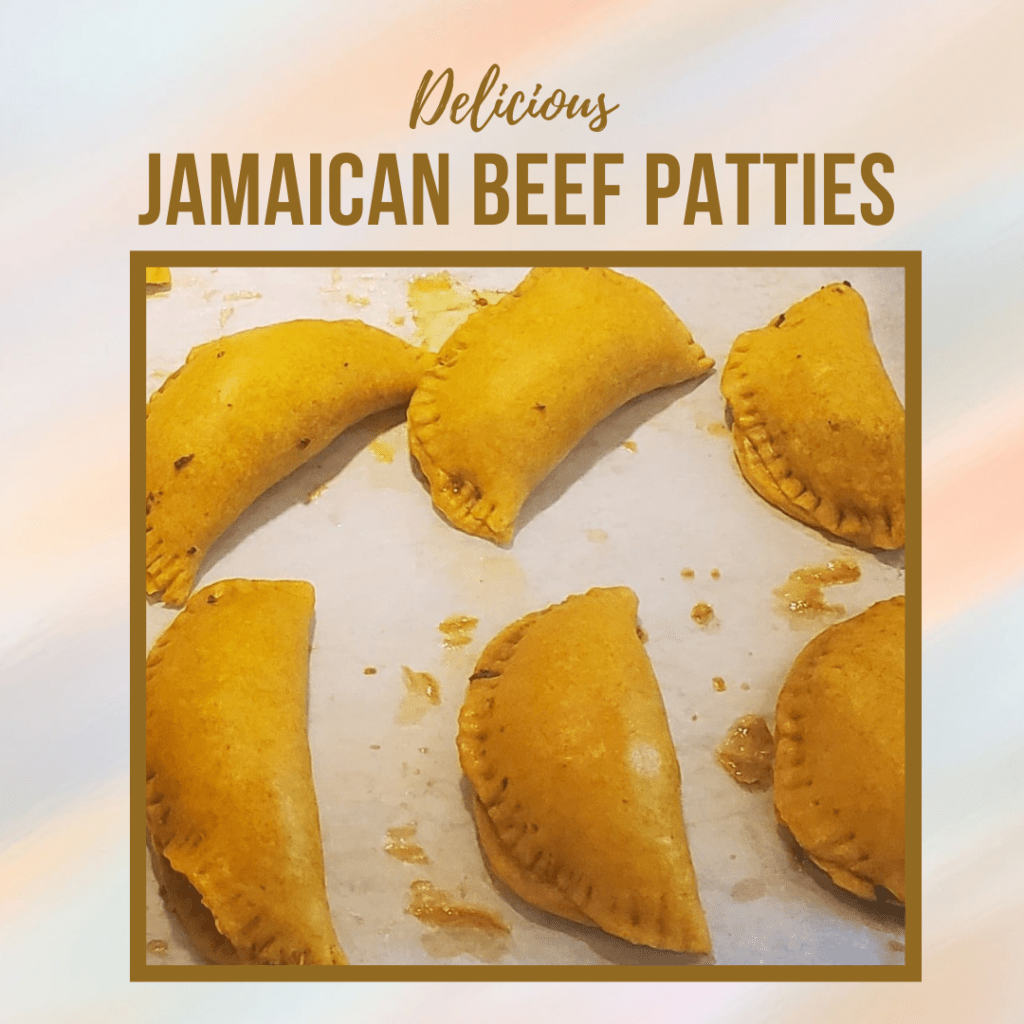 These Delicious & Savoury Jamaican Beef Patties are a huge hit in our house! When our kids were younger, we visited Beaches Turks & Caicos. This resort is amazing for kids and adults alike! One of my fondest memories of the Resort was hands down the food! There were so many options for everyone to enjoy! My most favourite snack was the Jamaican Beef Patties! They were so darn good! I ate at least one a day while I was there! Here is my recipe for Jamaican Beef Patties because this was something I needed to know how to make at home!
If you have more of the meat mixture leftover, I like to mix rice into the meat and serve as a rice dish! The meat is so delicious!
Jamaican Beef Patties
The Most Delicious Hand Held Jamaican Beef Patty Recipe! Easy to make and easy to serve!
Ingredients
1

Vidalia onion

chopped

3

cloves

Garlic

minced

1

Scotch bonnet

chopped

3

Green onions

chopped

2

tbsp.

Fresh thyme chopped

1/3

cup

Bread crumbs

1

Beef bouillon

2

lbs.

Lean ground beef

1

tbsp.

Olive oil

2

tbsp.

Ketchup

1

tbsp.

Chili Garlic Sauce

1/2

cup

Water
Seasoning:
1

tbsp.

Paprika

1

tbsp.

Curry Powder

1

tsp.

Black pepper

1

tsp.

Salt

1/2

tsp.

Sugar

1

tbsp.

Garlic Powder

1

egg

use for the egg wash
Instructions
For The Dough
Mix Well: Flour, sugar, beef bouillon, and turmeric

Add: Using a cheese grater, grate the cold butter into the flour mixture. Blend well using your hands to mix the flour mixture and butter. 

Add in the water. Mix to form a ball out of the dough. The dough should be the consistency of play dough. If the dough becomes to wet, add in a little more flour. Wrap and place into the fridge for 30 minutes.
For the Meat
Add oil to a large frying pan, add onion and saute for 5 minutes. Add garlic, green onion, scotch bonnet, beef bouillon (crumbled) and thyme. Saute for 2 more minutes. Add in the meat, cook and break up the meat using a potato masher. Once the meat is browned, drain in a colander. Add the meat mix back to the frying pan and add 1/2 cup water, 2 tbsp. ketchup, 2 tbsp. chili garlic sauce, and breadcrumbs. Cook until the mixture becomes thicker and blended well.
Assembling the Patties
Roll out the dough to 1/4 inch onto a floured surface. Using a small bowl flipped over, or you can use a 2-2 1/2 inch round cookie cutter form a circle in the dough. Add in 2-3 tbsp. meat to the middle of the dough. Fold the dough over, and seal with a fork.

Continue this process until all of the dough is used. Brush the patties with the egg wash. You may also add a touch of maldon salt to the tops of the patty if you have it.
Bake:
Preheat Oven to 350 degrees

Place the patties on a baking sheet lined with parchment paper and bake for 20-25 minutes or until nicely golden brown. Serve warm with a side of sour cream.