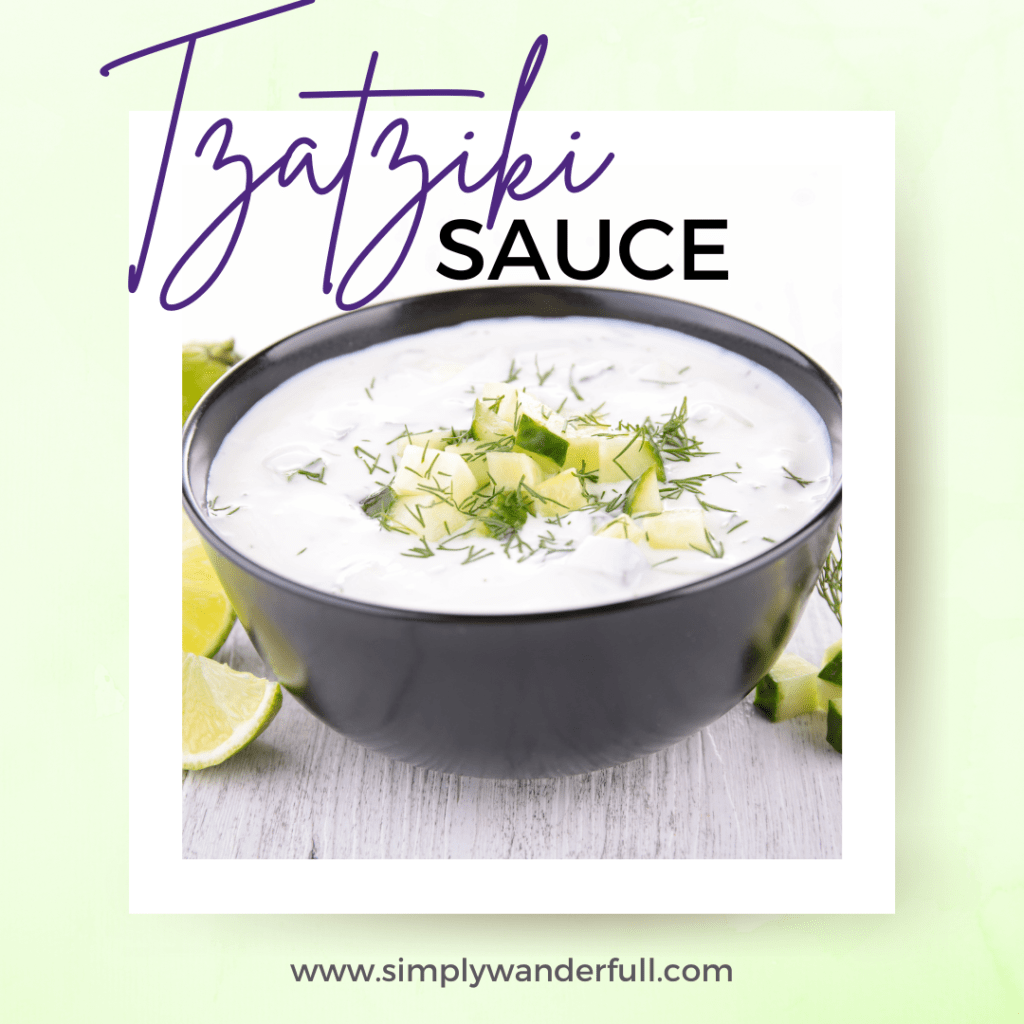 This authentic homemade Tzatziki Sauce is so easy to make and really worth the short time it takes to make it. Your next chicken gyro will be memorable for sure! This sauce is really good for chicken, and lamb or even a dip for french fries!
We are big fans of Greek Town in Detroit, Michigan and in particular Pegasus Restaurant. They have been serving authentic greek food for over 25 years! It is so good and especially good is the greek chicken. I tried to replicate their chicken here in my recipe for Lemon Sauce for Chicken Recipe. A blend of butter and lemon juice at the end just gives your that greek flare that lifts your chicken dinner! Now pair it up with the tzatziki sauce and wow, it is really good!
For a good little tip, add the plain yogurt to a sieve lined with a coffee filter. Let the liquid drain for a little bit. This will make your dip thicker which is nice.
The Ingredients:
Cucumber
Oregano
Fresh Dill, is essential
Plain Yogurt
Lemon
White Wine Vinegar
Olive Oil
Salt and Sugar
Quick Dinner Idea:
For an easy dinner night, pick up a cooked rotisserie chicken and pick up some greek pita. Rip the chicken apart and saute the chicken in a frying pan, season the chicken with oregano, garlic and a good squeeze of lemon. It's nice to grill the pita bread before assembling. To the pita, add the chicken, tzatziki sauce, red onion, tomato and lettuce. You are ready to serve!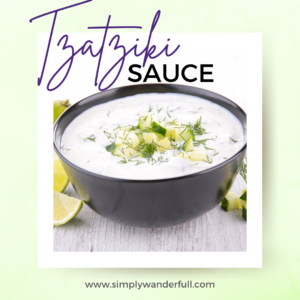 Homemade Tzatziki Sauce
Easy & Fresh Tzatziki Sauce is a perfect sauce for Chicken Gyros!
Ingredients
2

cups

Plain Greek Yogurt, Drained

1/2

Cucumber, shredded and drained

1

Garlic Clove, minced

3

tbsp.

Fresh Dill, chopped

1

tbsp.

Oregano

1

tsp.

salt

1

tsp.

sugar or honey

1/4

cup

Olive Oil

1

tbsp.

White Wine Vinegar

1/2

Lemon, Squeezed
Instructions
Drain the plain yogurt over a sieve lined with a coffee filter.

Add the remaining ingredients and mix well. Refrigerate until ready to use.